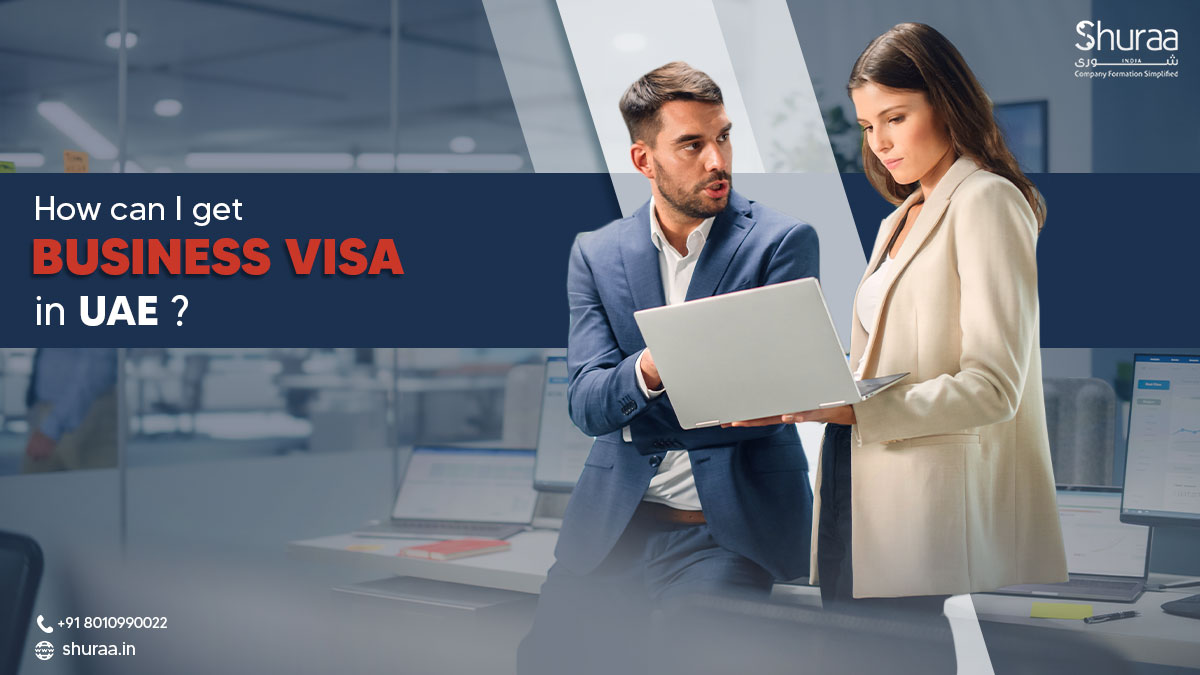 17 Jun

How can I get a Business Visa in UAE?

If you're considering expanding your business into the United Arab Emirates, securing a business visa is essential for entering and conducting operations in the country. The process of obtaining a business visa may initially seem overwhelming due to the various requirements involved. However, there's no need to worry! In this comprehensive blog post, we will provide you with a step-by-step guide on how to obtain a business visa in UAE.

We will start by explaining what a business visa is and the necessary criteria you need to meet for your application. One important aspect to note is that you will need to establish a company, which will serve as the basis for your visa application. Additionally, we will share valuable tips to enhance your chances of success. So, without further ado, let's delve into the details and equip you with the knowledge you need to navigate the process effectively. 
Benefits of Establishing a Business in the UAE
Dubai, a city of dreams and endless possibilities, beckons aspiring entrepreneurs with its enchanting allure. Like a vibrant tapestry woven with innovation and ambition, Dubai offers a canvas for businesses to paint their success stories. From the captivating free zones that unlock a realm of opportunities to the kaleidoscope of cultures that fuel creativity, this desert oasis is a playground for visionary minds.
In Dubai, dreams take flight as tax exemptions lift burdens, and a pro-business environment nurtures growth. It's a realm where startups and small businesses flourish, propelled by the magnetic energy of a diverse market. Step into this world of boundless potential, where the entrepreneurial spirit finds its true home – Dubai, the gateway to greatness. 
Why should you choose to set up a business in Dubai, UAE?
Here are the key points for why you should choose to set up a business in Dubai: 
Strategic Location:

Dubai's geographical location at the crossroads of Europe, Africa, and Asia provides unparalleled access to global markets. Its world-class infrastructure, including ports, airports, and logistics networks, facilitates seamless trade and connectivity with diverse consumer bases.

 

Global Exposure:

Dubai's vibrant business ecosystem attracts multinational corporations, investors, and professionals from around the world. By establishing your business in Dubai, you gain access to a multicultural workforce and an extensive network of industry leaders, potential partners, and clients, elevating your brand's global visibility.

 

Favorable Tax Procedures:

Dubai offers a highly advantageous tax regime with no personal income tax or capital gains tax. This translates into significant cost savings and increased profitability for businesses. The absence of complex tax procedures and burdensome regulations enables entrepreneurs to focus on business growth and the exploration of new opportunities.

 

Exceptional Quality of Life:

Dubai provides an exceptional quality of life, with world-class infrastructure, luxurious residential areas, vibrant arts and culture, and a wide range of recreational and leisure activities. This attracts top talent from around the world, ensuring access to a diverse pool of skilled professionals to support business growth.

 
When setting up a business in the UAE, obtaining a business visa or investor visa is a pivotal step. These visas are typically granted for a duration of two years, with the possibility of renewal thereafter. This allows entrepreneurs and investors to establish a strong foundation and navigate the vibrant business landscape of the UAE. With the visa serving as a gateway to endless opportunities, it paves the way for long-term growth and success in this thriving business destination. 
How to set up a business in Dubai, UAE?
Research and Planning:
Identify the industry and type of business you want to establish.

 

Conduct market research to assess demand, competition, and potential customers.

 

Develop a comprehensive business plan outlining your goals, strategies, and financial projections.

 
Legal Structure and Licensing:
Determine the legal structure of your business (e.g., Sole Establishment, Civil Company, or LLC).

 

Understand the licensing requirements specific to your business activity and sector.

 

Consult with a local legal advisor to ensure compliance with UAE laws and regulations.

 
Choose a Business Location:
Explore the various free zones or mainland areas available for setting up your business.

 

Consider factors such as proximity to target customers, logistical advantages, and industry-specific requirements.

 

Evaluate the benefits and limitations associated with each location option.

 
Company Registration:
Reserve a trade name for your business with the Department of Economic Development (DED).

 

Prepare the necessary documents.

 

Submit the required paperwork to the relevant authorities for company registration.

 
Sponsorship and Visa Process:
Identify a local service agent, depending on the legal structure chosen.

 

Apply for a business visa or investor visa, ensuring compliance with visa requirements.

 

Complete the visa application process, including medical tests and obtaining the necessary permits.

 
Corporate Bank Account and Financial Setup:
Open a corporate bank account in a local or international bank.

 

Fulfill the financial requirements, such as the minimum capital deposit, if applicable.

 

Set up accounting systems and engage with a professional accountant or accounting firm.

 
Once your business has been established, it becomes imperative to initiate the process of applying for a business visa. This pivotal step opens the gateway to success and enables you to unlock unparalleled opportunities in Dubai. Below, we present the essential points to consider in order to navigate the business visa application process seamlessly, propelling your entrepreneurial aspirations to new heights. 
What is the process for a visa once you set up your business in UAE?
Once you have successfully set up your business in the UAE, the visa process begins to secure your residency and legal status. Here are the important points to understand regarding the visa process, which typically takes place in Dubai: 
Medical Examination:

As part of the visa application process, you will need to undergo a medical examination at an approved medical center in Dubai. This examination typically includes tests for communicable diseases, such as tuberculosis and HIV, to ensure public health and safety.

 

Biometric Enrollment:

You will need to visit a designated visa center in Dubai to provide your biometric data, including fingerprints and a photograph. This information is crucial for identity verification and documentation purposes.

 

Residency Approval:

Once your biometrics and medical tests are completed, your visa application will be submitted for residency approval to the relevant government authorities in Dubai. This process involves reviewing your business documentation, financial statements, and compliance with legal requirements. Post which you will be getting Emirates ID.

 

Visa Renewal:

Business visas in UAE are typically valid for a specific duration, often two years. It is important to keep track of your visa's expiration date and initiate the renewal process before it expires to maintain your legal status and residency in the country.

 
It's worth noting that visa processes and requirements can be subject to change, so it is advisable to consult with relevant government authorities or seek professional assistance to ensure you have the most up-to-date information and adhere to the correct procedures throughout the visa application process. 
What are the types of business visas in Dubai?
Dubai offers a range of business visa options tailored to suit diverse needs. These include: 
Investor Visa:

For those investing a substantial amount in a business or startup.

 

Employment Visa:

Granted to individuals employed by a Dubai-based company.

 

Partner Visa:

Designed for those entering into a partnership or joint venture.

 

Freelancer Visa:

Ideal for self-employed professionals and consultants.

 
These visas provide pathways for entrepreneurs and professionals to thrive in Dubai's dynamic business landscape, contributing to its growth and success. 
Get your business visa for UAE with Shuraa 
Embarking on the path of establishing a business in the UAE and obtaining a business visa presents a host of unparalleled advantages. The UAE, renowned for its strategic location, business-friendly environment, world-class infrastructure, access to a diverse market, and highly skilled workforce, emerges as an enticing destination for entrepreneurs.
Notably, Dubai stands out with its cutting-edge infrastructure, facilitating seamless transportation of goods and effective communication with clients. The city's dynamic population and thriving economy offer businesses access to a broad spectrum of customers and clients, while the availability of a highly skilled and multilingual workforce ensures the acquisition of qualified personnel.
However, it is imperative to adhere to essential procedures, including careful selection of suitable business activity and acquiring the requisite approvals and licenses. By aligning with Shuraa as your trusted partner, the process of establishing a business in the UAE and securing a business visa transforms into a remarkable opportunity to expand your enterprise and enter new markets.
Get in touch with Shuraa by calling on +918010990022
FAQs
Q1. What is the processing time for a UAE business visa application?
The processing time for a UAE business visa application is approximately 4 to 5 working days.
Q2. Can the processing time be expedited?
The processing time is generally standardized to ensure fairness and thoroughness in the application process. Expedited processing may be possible under exceptional circumstances, but it is advisable to check with the relevant authorities for any available expedited processing options. 
Q3.
What is the cheapest business visa in the UAE?
The cost of a business visa in UAE can vary depending on several factors, such as the type of visa, duration, and specific requirements. It is best to consult with the relevant authorities or visit official sources to get accurate and up-to-date information on the current pricing and options available for business visas in the UAE.