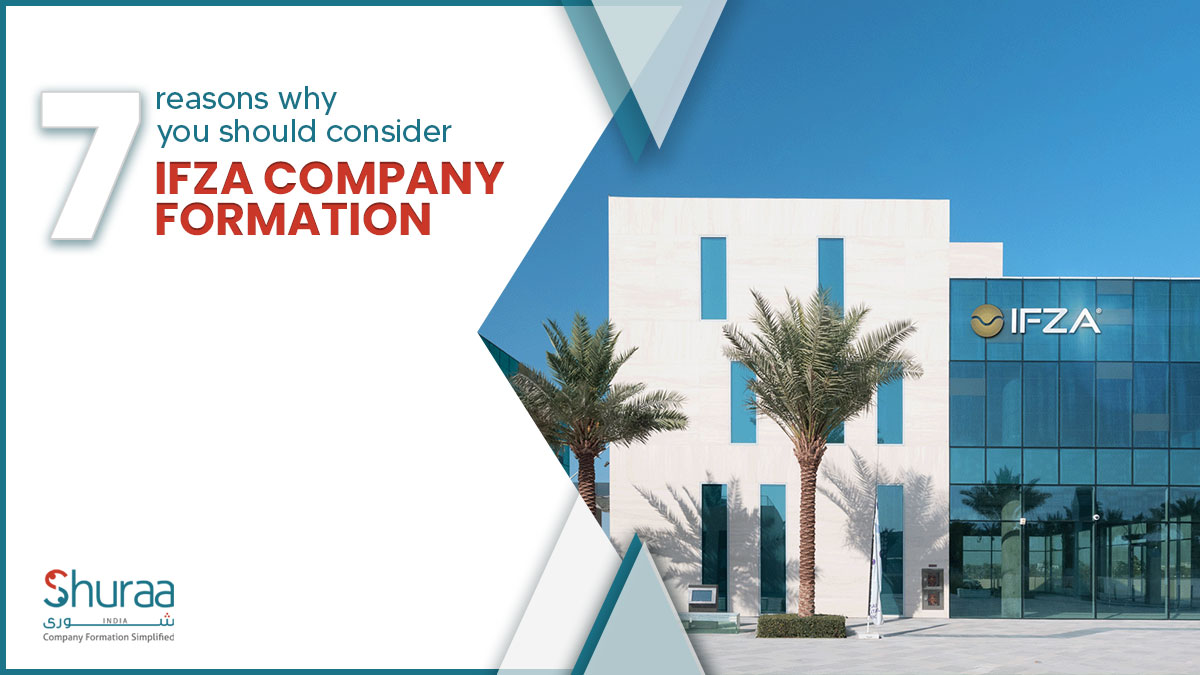 24 Mar

7 Reasons Why you should Consider IFZA Company Formation

Ever since its establishment in 2018, the International Freezone Authority (IFZA) has quickly risen to become a preferred option for entrepreneurs seeking to establish a company in the UAE.

IFZA is a free zone located in the UAE's Emirate of Dubai. With flexible business licenses, simplified legal procedures, and a range of benefits such as no income taxes and no trade barriers, it is the perfect destination for many entrepreneurs.

In this blog, we will highlight the reasons that entrepreneurs should consider IFZA for their company formation. 
7 Major Benefits of Company Formation in IFZA
There are a number of advantages for entrepreneurs who are moving their companies from another country to the UAE. Here are some of them:
1.
Located in the heart of Dubai
IFZA is strategically located in the heart of Dubai, which provides easy access to major business hubs and international transportation links. This makes it an ideal location for businesses that require global connectivity.
2.
Tax exemption by the UAE government  
The tax benefits of a free zone are often cited as its primary advantage. By setting up your business in a free zone, you can enjoy a 0% corporate and personal tax rate, as well as an exemption from the current 5% VAT. Furthermore, free zone enterprises are not restricted by currency regulations or import and export tariffs. It is worth noting that Shuraa offers top-notch tax consulting services to help you maximise your tax advantages.
3.
Multiple Business Activities Opportunities 
IFZA allows businesses to operate across a wide range of sectors, including trading, consultancy, media, technology, and more. This means that businesses have the flexibility to pursue their interests and leverage their skills to create value in their chosen areas of expertise.
4. Unlimited Networking Possibilities
The main benefit of IFZA company formation is the networking opportunities. You will be able to meet other entrepreneurs and learn from their experiences. You can also learn about different types of businesses, which might come in handy when starting your own company.
5. Continuous support from the authorities
The government bodies in the UAE are quite hospitable when it comes to helping new entrepreneurs set up their businesses. You will have access to 24*7 help from the helpline numbers and emails. It's important to have someone who can give you advice on how to do things properly, especially if you are new to Dubai.
6. 100% Foreign Ownership & Easy Setup of a Bank Account
As a free zone, IFZA allows 100% foreign ownership of businesses, which means that entrepreneurs can retain full control of their companies without the need for a local sponsor.
One of the most significant benefits of having an IFZA business license is that it eliminates the need for lengthy paperwork and other tedious requirements that can often impede the process of opening a bank account. 
7.
Option to open an LLC company 
Having an LLC structure enables business owners to separate their personal finances from their company's liabilities, providing a layer of protection against potential financial risks. While not all free zones offer this structure, the IFZA Free zone distinguishes itself by offering it to businesses. This makes IFZA an appealing option for companies seeking greater financial security and independence.
Other important features of the IFZA free zone 
Here is a list of some common but equally important features that you'll enjoy with IFZA company formation:
Exemption from submitting an annual audit report, which can save investors both time and money.

No requirement for paid-up share capital, allowing investors to use their funds more flexibly.

The ability to apply for up to 3 years of visas for both owners and employees, gives businesses the time and resources to establish themselves in the market.

No need for a deposit guarantee for employees working in the free zone, which can reduce the financial burden on businesses.

The option to establish a virtual office, which provides a cost-effective solution for businesses looking to minimise overheads.

Investors do not need to be physically present during the company formation process, making it more accessible to international investors.

No need for a No Objection Certificate (NOC) from the current visa sponsor, simplifying the process of changing sponsorship.
Types of licenses available in IFZA
IFZA offers a variety of licenses to meet the diverse needs of businesses. These licenses include:
Service Licence:

Suitable for businesses offering services such as consultancy, advertising, or IT.

Industrial License:

Ideal for manufacturing or industrial companies that want to set up their operations in IFZA.

Trade License:

Suitable for companies engaged in trading activities, such as import and export.

Commercial License:

Designed for businesses that engage in commercial activities, such as retail or wholesale trading.
When you're ready to start your own business, Shuraa can help you get started with a business incorporation service and assist you in obtaining licenses. Let us help make this process easier!
To know more, reach out to us at +918010990022