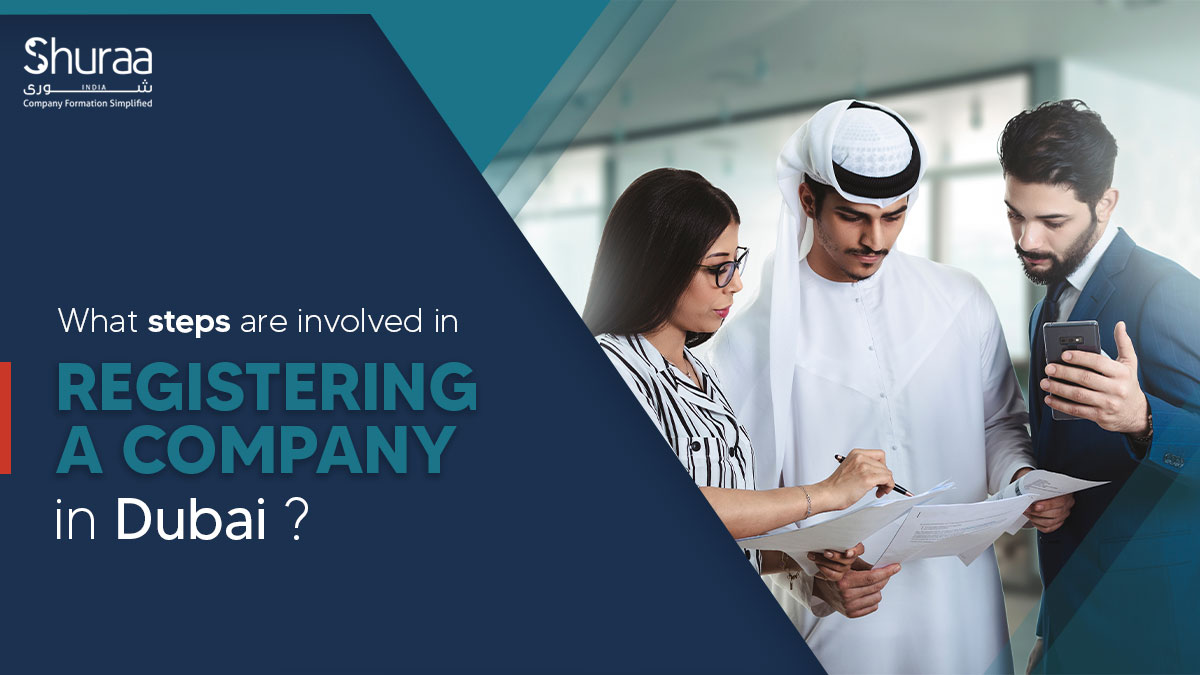 17 Apr

What Steps are Involved in Registering a Company in Dubai?

Dubai is an excellent location for businesses seeking to expand their global presence. Dubai's strategic location makes it an ideal gateway to the Middle East and North Africa region, as well as Asia and Europe. In this blog, we will learn about registering a company in Dubai in detail. 

The city also has a highly skilled and diverse workforce, with professionals from all around the world contributing to its economy. Furthermore, the city's commitment to innovation and technology has also made it a hub for startups and entrepreneurs. To register a company in Dubai, entrepreneurs must first choose a legal structure that best suits their business goals.  

Furthermore, they will then need to obtain a trading name and reserve it with the Department of Economic Development (DED). After reserving the trade name, the entrepreneur must prepare the memorandum and articles of association, which must include all the essential details about the business activities, capital, and management structure. 

After obtaining initial approval from the DED, the entrepreneur will need to submit the necessary documents and fees to obtain a commercial license. They will also need to apply for visas for themselves and their employees and register for social security and medical insurance. Finally, the company must be registered with the Dubai Chamber of Commerce and Industry and obtain any other required permits or approvals. 
Steps for Registering a Company in Dubai
If you're an entrepreneur looking to register with a company in Dubai, there are several steps to follow.  By following these steps, you can successfully register your company in Dubai.  
The following are the steps for registering a company in Dubai: 
Company's Legal Structure
Before beginning the registration process for your company in Dubai, it's crucial to determine its legal structure. Entrepreneurs can open a Limited Liability Company (LLC) in the mainland region to access the benefits of local markets while enjoying 100% foreign ownership.  Furthermore, the UAE government has amended the company's law to allow for over 1000 company activities and complete ownership. 
Registering a Trade Name
The next crucial step in registering a company in Dubai is to register a trade name. Entrepreneurs must choose a suitable name for their company while adhering to the naming conventions issued by the government. Moreover, this helps to avoid delays in the registration process. Additionally, while selecting a name, it's important to ensure that it does not convey any offensive meaning or sentiments related to religion. 
Location of Business
The location of a business in Dubai can significantly impact tax regulations, infrastructure, resource availability, and exposure to diverse economies. After obtaining a tenancy contract, entrepreneurs can lease office space if it's necessary. Furthermore, it's important to consider the actual need for office space before making a decision. 
Drafting LSA and MoA
Entrepreneurs registering their business in Dubai mainland must work with a Local Service Agent (LSA). Furthermore, he will provide assistance in obtaining licenses and approvals without interfering in business activities or decisions. Moreover, entrepreneurs can maintain full control of their business with LSA assistance and without giving 51% of shares to a UAE national.  
Applying for a Company License
To register a company in the mainland, entrepreneurs must obtain a license from DED. Local authorities will issue a license for companies registered under the free zone. Entrepreneurs must also obtain external approvals from other governing bodies if required after obtaining a business license. 
Opening a Bank Account
The next step for the company is to open a bank account after completing all necessary steps and obtaining all required paperwork, licenses, and approvals. Entrepreneurs should select a bank that best suits their business needs and demands. Furthermore, which can provide attractive benefits and offers to reduce business costs. 
Benefits of registering a business in Dubai
The following are the potential benefits of registering a business in Dubai:- 
Registering a company in Dubai offers access to a large and diverse market.

 

Dubai's strategic location between Europe, Asia, and Africa makes it an ideal hub for global business. 

 

The government has implemented various policies and initiatives to support businesses and encourage economic growth.

 

Additionally, liberal and open business policies here make it easy for foreign investors and entrepreneurs to establish and run businesses in the city.

 

Registering a company in Dubai provides businesses with the ability to tap into a skilled and diverse workforce.

 
Costs Associated with the Registration of the Company in Dubai
The estimated costs for Dubai business registration depend on company type, location, and legal permissions required. Although costs can vary, setting up a business in Dubai may require an estimated expense of 20,000 AED to 30,000 AED.  
Despite the initial perception of high expenses, understanding the proper steps for Dubai business registration can lead to the benefits of low-cost business formation. Therefore, the companies must budget accordingly for the cost of registering in Dubai. However, working with professional advisors and service providers can help companies to process efficiently and minimize costs. 
How Can Company Registration Expenses be Minimized in Dubai?
Taking a strategic and cost-effective approach can help businesses save money on company registration costs in Dubai. 
Here are some tips to reduce the cost of registering a company in Dubai: 
Choosing the correct legal structure can lower registration and compliance expenses.

 

Sharing office space with other companies or Virtual Ejari can be a cost-effective solution for start-ups and small businesses to save on rental costs.

 

Completing certain registration procedures can be done using online services, which can save companies time and money.

 

Professional advisors and service providers can assist businesses in efficiently navigating the registration process and minimizing costs.

 

Carefully reviewing all costs can help companies avoid unnecessary expenses.

 
Get in touch with Shuraa Experts
Businesses must be aware of the various costs involved in the registration process of a company in Dubai.  Moreover, I know about obtaining a trade license, paying registration fees, leasing office space, and appointing a local sponsor or service agent. The cost can vary depending on several factors. 
It is important for businesses to carefully review all costs and ensure that they are essential to the registration process. However, businesses can reduce the cost of company registration in Dubai by taking various cost-saving measures. Moreover, taking a strategic and cost-effective approach can help minimize costs and allow businesses to focus on growth in the dynamic Dubai market. Connect with Shuraa Business Setup India Branch for Business Setup in Dubai.