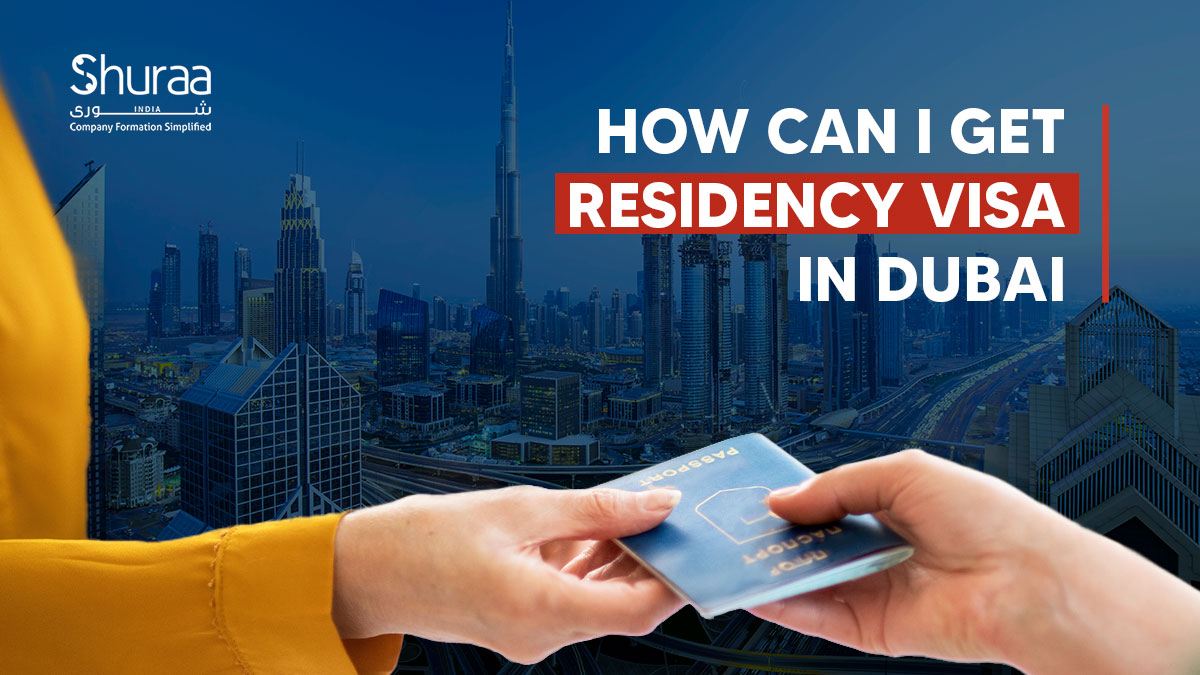 16 Jan

How can I get a Residence Visa in Dubai?

Foreigners who want to live and work in Dubai for an extended period of time must obtain a Residence Visa. A residence visa for the UAE provides the holder with numerous advantages. However, in order to obtain a Residence Visa in Dubai, you must first meet certain eligibility requirements, such as finding work or investing in one of the emirates. 
Who can apply for a residence visa? In Dubai
To be eligible for a Dubai Residence Visa, you must fall into one of the following categories: 
Work for a government agency or a commercial enterprise in Dubai.

 

You will attend a university in Dubai.

 

You are a dependent of a UAE national or foreign resident (child, parent, maid, or a close relative).

 

You have made an investment in Dubai.

 

You have bought a property in Dubai.

 

You plan to retire in Dubai.

 
UAE Residence Visa Types
The types of UAE residence visas are classified according to the purpose of your trip. As a result, there is: 
UAE Work Visas are granted to foreigners who have found work in the UAE and obtained a Work Permit.

 

UAE Student Visas are issued to foreign nationals who have been accepted into an educational institution in the UAE.

 

The UAE Family Visa is granted to close family members of UAE citizens or foreign residents.

 

The UAE Investment Visa (long-term residence) is granted to foreign nationals who make significant investments in the UAE. This visa is valid for a longer period than other types of residence visas (up to ten years).

 

Work Remotely from Dubai is a program for aspiring freelancers who want to work remotely in Dubai.

 
What are the prerequisites for obtaining a residence visa in Dubai?
When applying for a UAE Residence Visa, you must have a number of supporting documents, including: 
The UAE Visa Application Form.

Your genuine passport.

 

Two passport-sized photographs, in accordance with UAE visa photo requirements.

 

Your visa for entry.

 

Proof of your sponsor's legal residency/citizenship in the UAE.

 

You must provide proof that you have passed a medical fitness test.

 

Evidence of UAE health insurance coverage.

 

Include proof of family ties, such as birth/marriage certificates, when applying for a family visa.

 

Your sponsor must include the work contract as well as copies of the company's valid trade license and a valid firm card when applying for a work visa.

 

Any additional documents related to your travel purpose.

 
Application for a UAE Resident Visa
You must apply for a Residence Visa once you have arrived in the UAE, which means you must first enter with an entry permit. Furthermore, as with the entry permit, you cannot apply for your own residence visa: you must have a sponsor, such as your employer, spouse, or others, applying on your behalf. 
Who is eligible to apply for my UAE residence visa?
A Residence Visa can only be obtained through a sponsor. In some cases, however, you may be your own sponsor. 
Your employer is your sponsor for a UAE Work Visa.

 

Your school is your sponsor for a UAE Student Visa.

 

Your family member is your sponsor for a UAE Family Visa.

 

If you are an investor or have purchased a property in the UAE, you can apply, and your company/property will serve as a sponsorship.

 
Costs of residence visa in Dubai
Depending on how long your visa is valid, different fees apply for UAE residency. The UAE Residence Visa costs AED 3,000-3,500. Please be aware that there may be changes to the visa fees as well as additional costs for medical testing and health insurance.
What is the difference between an entry permit and a residence visa in Dubai?
As the name implies, there is a difference between an entry permit and a residence visa for the United Arab Emirates. 
The Entry Permit is only valid for a limited period of time and allows the holder to enter the UAE (usually up to three months). Depending on the reason for your visit, entry permits may be granted. For instance, a UAE Tourist Visa is an entry permit for tourism. 
Before you enter the UAE, your sponsor must submit an application for your entry permit. Your sponsor can then apply for your residence visa once you have arrived in the country with an entry permit. 
Additionally, some nationalities can obtain an entry permit upon arrival or don't even require one. The two are essentially the same thing, so if you are exempt from a UAE tourist visa, you don't need to obtain an entry permit. 
Long-term residence in the UAE is permitted for those who hold a residence visa. Your sponsor must apply for your residence visa to the pertinent visa-issuing authorities as outlined above after you arrive in the country. 
How much time can I spend in the UAE on a residence visa?
Depending on why you are traveling, UAE residence visas will be issued for 2 years and are renewable. 
Obtaining a UAE Residence Visa renewal before the expiration date
Your sponsor must extend your residence visa no later than 30 days before its expiration date. 
However, if it is still within the UAE residence visa expiry grace period, your sponsor may also renew your visa after it has expired. 
Similar to when you first received your visa, your sponsor must submit an application to the relevant emirate's general directorate of residency and foreigners' affairs. 
What is the grace period before a UAE residence visa expires?
The UAE government grants foreigners a 30-day grace period beginning with the date their visa expires. Accordingly, even if your visa has expired, you are still permitted to stay in the country for an additional 30 days. However, if your visa has not been renewed by then, you will need to leave the nation and re-enter using an entry permit. 
Conclusion
One of the seven emirates that comprise the nation of the United Arab Emirates is Dubai. As a result, obtaining a Dubai residence visa follows the same procedure as obtaining one for any other UAE emirate (as explained above). 
You need a sponsor in Dubai in order to invest or purchase property there. Then, at one of the authorized typing locations of the General Directorate of Residency and Foreigners Affairs (GDRFA) in Dubai or an Amer center, your sponsor must submit an application for your entry permit and residence visa. 
When renewing a visa in the UAE, it's a good idea to work with an expert like Shuraa Business Setup to help you make sure that this is the case. 
We provide visa and immigration services and can take care of all necessary government permissions, work permits, and visa applications so that you can live and work in the United Arab Emirates. 
In other words, our professionals can handle everything on your behalf, create your application, and handle all the required admin, freeing you up to focus on running your business.