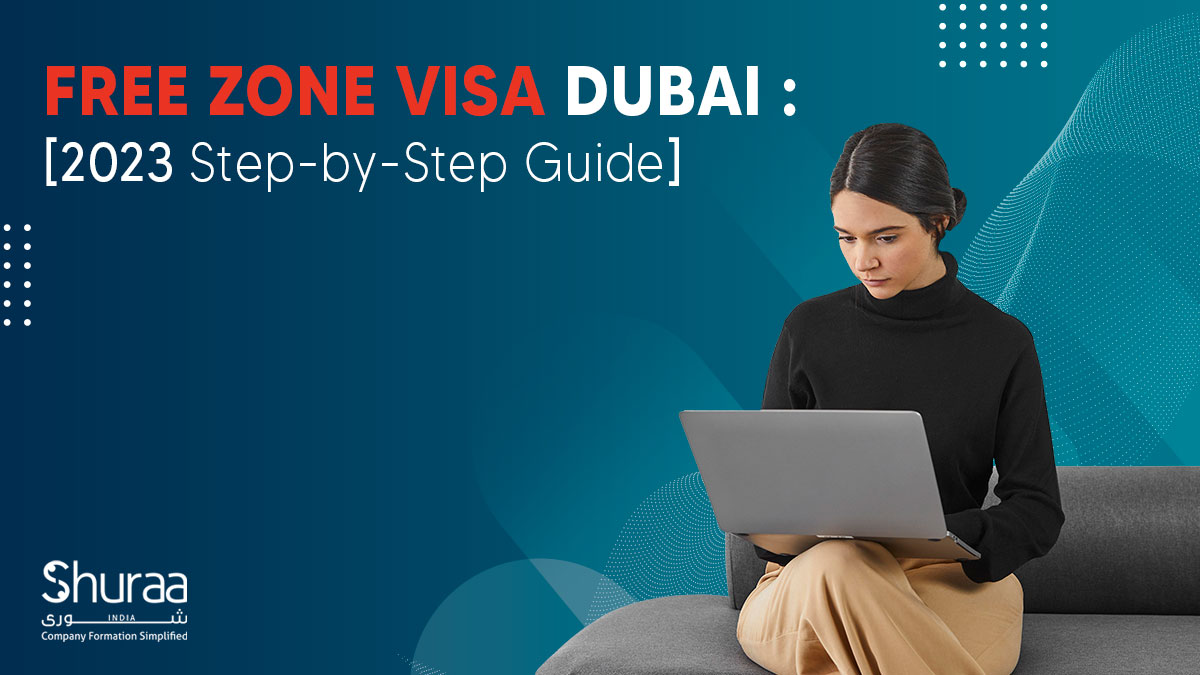 19 Apr

Free Zone Visa Dubai – Step-by-Step Guide

Dubai is a top business hub in the Middle East among the seven emirates that make up the UAE. Dubai's infrastructure and policies foster business growth for both startups and established companies. In this blog, we will learn about Free Zone Visa Dubai in detail. 

Moreover, Dubai's strategic location Free Zone Visa Dubai action at the crossroads of Europe, Africa, and Asia has made it a gateway to the world's fastest-growing markets. Furthermore, Dubai's position in global trade, finance, and e-commerce is a result of its strategic location, business-friendly policies, and future-forward infrastructure. 

Dubai pioneered Free Zones in the UAE, offering 100% foreign ownership, tax-free policies, and budget-friendly set-up and renewal structures, creating a trade-friendly environment. Dubai's Free Zones' strategic position is being capitalized on by businesses, including start-ups and publicly listed entities, as a gateway to economies across the globe. 
How to get a Free Zone Visa in Dubai?
Obtaining a Free Zone visa involves registering for E-channel services, selecting a visa package, and fulfilling visa requirements. Moreover, the free zone visa provides opportunities for individuals to work, live, and do business in Dubai's free zones, which offer benefits.  
Furthermore, the cost of the visa package varies based on the applicant's needs and the chosen free zone.  
The following are the steps to get UAE Free Zone Visa: 
Enroll in E-Channel services
To apply for a UAE free zone visa, the first step is registering for E-channel services on the government's portal, which streamlines the application process by minimizing paperwork. Moreover, the process is simple. The cost of a Dubai Free Zone visa varies depending on the package, with an average cost of AED 3,750. 
Furthermore, upon approval, an e-document will be emailed to the applicant. Although leaving the country during this period is allowed, it is not recommended as it may cause problems with the immigration file. 
Medical and Emirates ID
To obtain a free zone visa, a medical and fitness test is required, which includes a blood test and chest X-ray. After completing the test, you can get your medical reports in 3 working days and then apply for your Emirates ID, which gives you access to UAE services.  
Furthermore, with the reports, you can then apply for your Emirates ID, a mandatory identity card for residents in the UAE. Once you receive your Emirates ID, you can start enjoying the many benefits and services available in the UAE. 
What are the Dubai Free Zone Visa Rules and Regulations?
Dubai Free Zone Visa is a type of visa that allows individuals to work, live and conduct business in UAE and outside the Country as well. It offers numerous benefits such as 100% foreign ownership, tax exemptions, and streamlined business procedures. To obtain a Dubai Free Zone Visa, there are specific rules and regulations that must be followed.  
The UAE cabinet approved executive regulations for the Federal Decree-Law on Entry and Residence of Foreigners called the Advanced Visa System.

 

The new system boosts UAE's competitiveness and job market flexibility by attracting and retaining global talents and skilled workers.

 

The new visa and entry rules also incentivize Emirati SMEs and further develop the business sector in the UAE.

 
Free Zone Visa Cost in UAE 
Free Zone visa costs in UAE can vary depending on the specific free trade zone. The visa fees for each zone will depend on the Business you want to do in UAE. It is advisable for you to check the relevant website for updated information. 
Furthermore, knowing the cost of the visa beforehand can help you plan your budget and ensure that you have enough funds to cover the fees associated with your visa application. The cost of a Freezone Visa varies according to the free zone authority. 
Connect with Shuraa Advisors to know about the exact cost & Dubai free zone visa processing time.  
Documents Required for Free Zone Visa in Dubai
To apply for a Free Zone visa in UAE, you need to provide specific documents to support your application. The following is a comprehensive list of the required documentation for the application: 
Copy of your original valid passport

 

Photographs with a white background

 

Your Free Zone Trade License

 

Immigration Establishment Card

 
What are the Benefits of a Free Zone Visa in Dubai?
Getting a Free Zone visa in Dubai comes with numerous benefits that are advantageous for business owners and entrepreneurs. Here are some of the essential benefits you can expect to receive from a Free Zone visa in UAE: 
Eligibility to live, work, and travel in the UAE. 

 

100% ownership in the Free Zone business.

 

100% profit & capital repatriation.

 

Zero income & corporation taxes.

 

Zero import & export duty on business activities.

 

Rent & lease facilities for business.

 

Apply for a UAE driving license.

 

Ability to travel to international destinations.

 
Obtain Freezone Visa with Shuraa Advisors
In conclusion, obtaining a Dubai Free Zone visa can be a great opportunity for entrepreneurs and business owners looking to start or expand their businesses in the UAE. Furthermore, with various benefits, Dubai's Free Zones provide a favorable environment for business growth and development. 
It is important to note that the visa fees and required documentation may vary based on the specific Free Zone in Dubai. Additionally, it is essential to ensure that all legal and regulatory requirements are met before starting any business in Dubai. This includes obtaining the necessary licenses and permits and complying with the relevant laws and regulations. 
Overall, Dubai's Free Zone visa system offers a promising opportunity for entrepreneurs and business owners to grow and expand their businesses in a thriving market.  Furthermore, Dubai's location, business environment, and government policies make it a preferred destination for business in the Middle East.