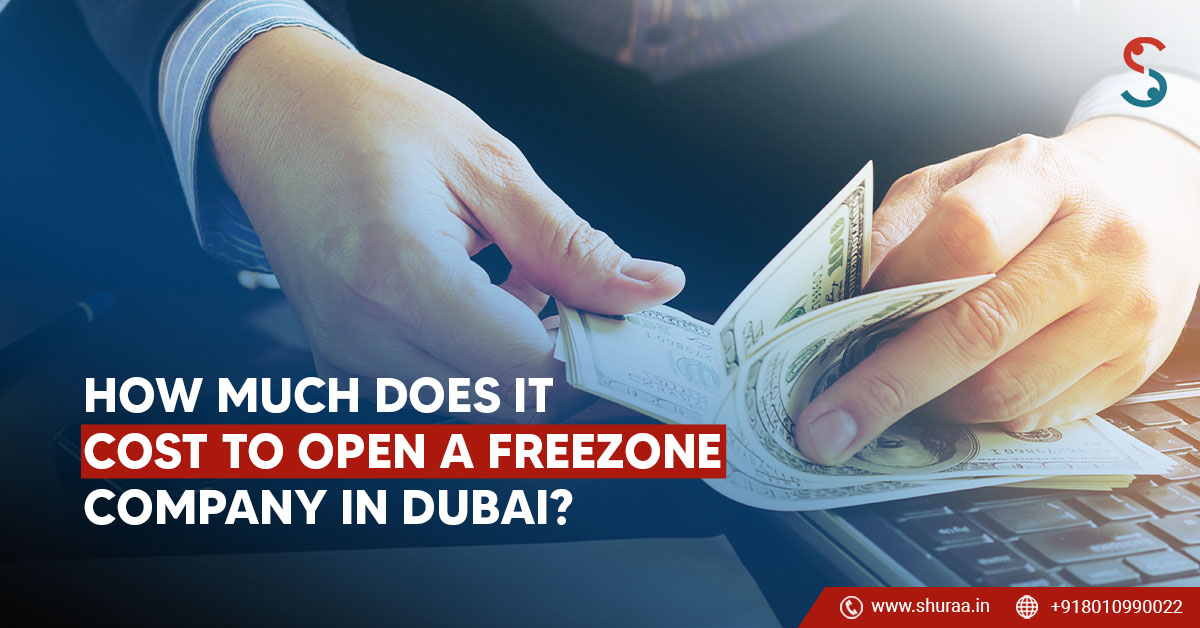 24 Jun

How Much Does It Cost to Open a Free Zone Company in Dubai?

When it comes to forming a business in Dubai, a free zone might be a cost-effective solution when you consider administrative fees, office space choices, tax benefits, and other benefits. These free zones have cultivated a business environment free of trade obstacles with a thriving community, state-of-the-art infrastructure, and top-notch services.

As a result, free zones have shown to be a potential trading ground for a wide range of commodities, including gold, diamonds, and precious metals, as well as tea, food, and industrial products. A free zone may be the ideal solution for you if your firm involves imports, exports, or re-exports. This blog explores Dubai free zone company setup cost.
What Are the Benefits of Forming a Company in a Free Zone?
Companies in Dubai enjoy cutting-edge digital infrastructure, world-class technological tools, and software, and well-qualified human capital potential. Moreover, Dubai allows you to have entire ownership of your company. In addition, profits earned and capital invested are not taxed. Dubai also offers a 100% tax-free environment. Thus, after forming your company, you don't need to pay any taxes.
Apart from these, there are many other benefits of forming a business in a Dubai free zone:
The activities each free zone provides differ from one zone to the other.

Free zones cater to specific industries, making it easier to go through the legalities of setting up a company in those industries.

Almost all business formation services are available online. As a result, the time it takes to handle documentation and requests for free zones has decreased significantly.

Thanks to the proximity of free zones to seaports and airports, your company can profit from convenient logistics. You can also take advantage of the accessibility to manufacturers, producers, and suppliers.
What Are the Documents Required to Form a Company in a Free Zone?
You will need to arrange correct and valid documents before starting the company setup process. This ensures a brief company formation process. Following are some of the documents you will have to submit to the relevant authorities:
Copies of passports and visas 

Two passport-size photographs 

Entry visa and stamp pages
The documents vary with the type of business activity, company, and free zone authority. Shuraa Business Setup experts can help you with the detailed list of required documents to the concerned authorities. 
What Is the Process for Opening a Freezone Company?
The process of starting a company in the free zone is straightforward. It is easy and relatively speedy. Following is a brief overview of the process that you will have to follow:
1. Deciding the Business Activity
The first stage in the procedure is to choose a business activity. The United Arab Emirates' free zones allow for a wide range of business operations. Every business has its unique set of financial requirements. Fixed, variable essential, or optional can be the costs incurred in a business, depending on the choice of activity. 
2. Registering Your Company's Name
Your company's name will represent its personality. Avoid the use of rude words or well-known corporate names. Also, check the name availability with the respective free zone authority. Subsequently, register the name of your business with the Shuraa Business Setup. The company registration fee is a one-time payment made to the free zone authorities during the registration process. 
3. Deciding Your Company Structure
Choosing the proper company structure is as crucial as any other business decision. The company's structure and chosen free zone also affect the free zone company setup cost.
You can set up one of the two types of companies in a free zone:
Free Zone Limited Liability Company (FZ LLC) or Free Zone Company (FZ Co.)

Free Zone Establishment (FZE)
Note.: Not all free zones may accept both types of businesses. Check with individual free zone authorities to see what kind of businesses they can register.
4. Applying for the Licence 
One of the critical costs is the Dubai free zone license cost when operating in one of the free zones. License costs, unlike the company registration price, are recurring expenditures. Free zones offer many license alternatives based on the type of business activity, including DMCC-designed license structures.
Shuraa's experts can help you avoid any confusion about the type of license you need or the fees you'll have to pay. You can get your trade license once you've completed all of the prerequisites.
5. Applying for Visa 
Once you obtain your license, you can apply for your own residence visa as well as any visas your family members may require. This one-time cost grants the applicant the legal status of an investor and allows them to conduct business in the free zone.  
Only a particular number of visas are issued as employee visas for free zone companies, based on the license package they purchase. Whereas opening a personal bank account, sponsoring family members, renting a property or applying for a driver's license requires a residence visa.
6. Choosing Your Office Space in A Free Zone
Check with the respective free zone for businesses they allow on their premises. For instance, DMCC allows businesses pertaining to energy, commodities, technology, construction, FMCG, shipping, education, and many more. Whereas in DIFC, you can carry out financial and non-financial businesses.
You'll incur buying or leasing expenses for your office spaces in free zones. Renting office space in Dubai is a mandate to get your business license. Each free zone offers a variety of desk spaces according to the number of employees and type of business activity of your company. 
What Is the Total Cost of Forming a Company in a Free Zone?
A vast range of criteria determines the Dubai free zone company setup cost. So providing a precise cost is not possible but the Basic cost starts from AED 12,900 and AED 30,000 These criteria include the activities you want to engage in, the requirements of your business, the workforce size you want, the type of license you need, rents, miscellaneous expenses, and more. 
Although some free zones in Dubai are more expensive, it's essential to think about how the free zone you choose will affect your company's long-term success. Experts at the Shuraa Business Setup will help you determine the exact cost of opening a free zone company in Dubai.
Start Your Freezone Company With Shuraa
Shuraa is transparent with Dubai free zone company setup cost. A large part of this is to ensure that we provide a variety of packages to fit your needs. We will assist you in selecting the exact choice you require, ensuring that you pay no more than the required amount. Get in touch with us to set up your company in Dubai!