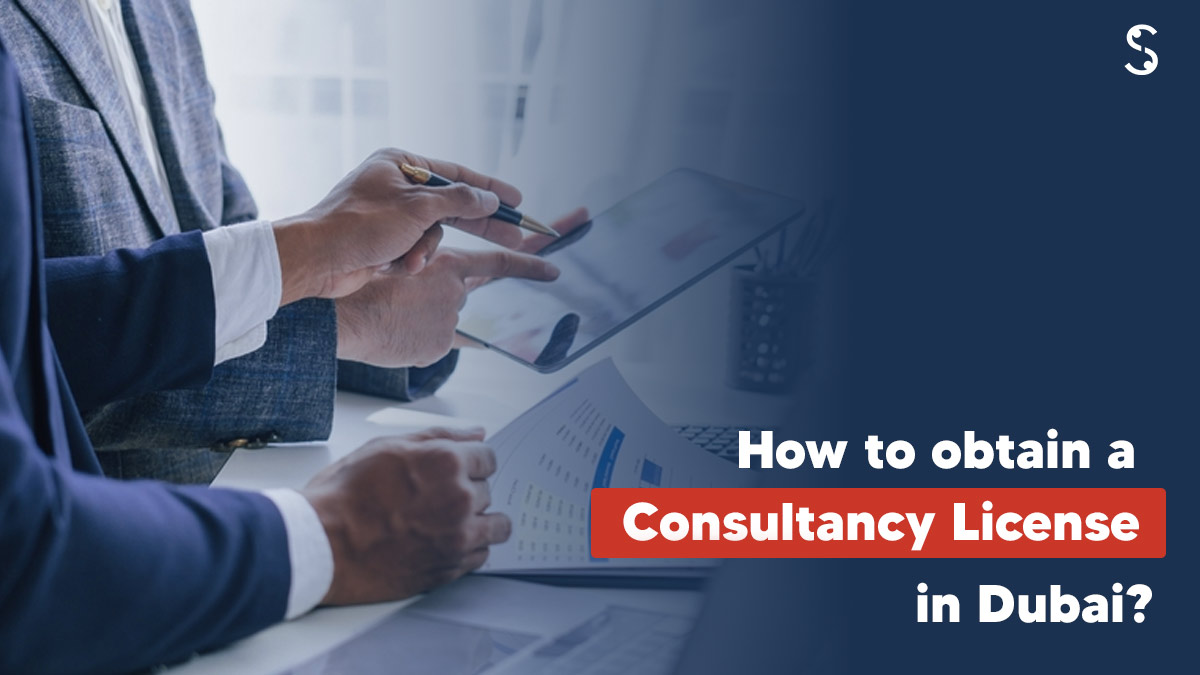 09 Nov

How to Obtain a Consultancy License in Dubai, UAE?

Dubai is the economic powerhouse of the United Arab Emirates (UAE). It has emerged as the global hub for business and innovation. The city's rapid growth and dynamic business environment have created a significant demand for consultancy services, as businesses seek expert guidance to get through the complexities of the local market and achieve their objectives. 

Consultancy services play a crucial role in supporting Dubai's economic development. Consultants provide businesses with specialized expertise, strategic insights, and practical solutions to address various challenges and opportunities. 

Therefore, we are here to discuss the essential steps and information you need to obtain a consultancy license in Dubai, understanding the vital role it plays in this bustling hub of commerce. 
Why do You Need a Consultancy License in Dubai?
There are several reasons why you need a consultancy license in Dubai: 
Legality
Operating as a consultant in Dubai without a license is illegal. The Department of Economic Development (DED) enforces strict regulations on consultancy businesses, and only licensed consultants are authorized to provide professional services. 
Professional Recognition
A consultancy license serves as a mark of professionalism and credibility. It demonstrates to potential clients that you have met the DED's standards and are qualified to provide expert advice. 
Liability protection
A consultancy license protects you from liability in case of negligence. If you provide negligent advice, your clients may sue you for damages. However, if you have a consultancy license, you are less likely to be held liable. 
Access to opportunities
A consultancy license allows you to apply for government contracts and other opportunities that are only open to licensed consultants. 
Tax Benefits
Consultancy businesses with a license may be eligible for tax exemptions or reductions, depending on their activities and location. 
Application Process to Get a Management Consultancy License in Dubai
Obtaining a Management Consultancy License in Dubai is a structured process that involves several steps to ensure that your consultancy business complies with local regulations.  
Here's a step-by-step guide to help you navigate the application process: 
Step 1: Business Activity Selection
Determine the specific management consultancy activities you plan to offer. These may include strategy consulting, financial consulting, HR consulting, or any other specialized service. 
Step 2: Register Your Company's Name & Obtain Trade License
Check the availability of your desired business name and reserve it with the Department of Economic Development (DED) or the respective free zone authority where you plan to establish your business. 
Submit the completed application form, along with the required documents, to the DED. Once the payment is processed, you'll receive your management consultancy trade license, which officially authorizes you to operate as a management consultant in Dubai. 
Step 3: Bank Account Setup
Open a business bank account in a reputable bank in Dubai to facilitate financial transactions. 
Step 4: Visa Applications
Apply for employment or investor visas for yourself and any employees. The number of visas and eligibility criteria may vary depending on your business's legal structure and location. 
Step 5: Compliance with Regulations
Ensure that your consultancy business complies with all local laws and regulations, including any industry-specific requirements. 
Remember that the specific steps and requirements may vary depending on your chosen business structure and location within Dubai. It's advisable to consult with a business setup consultant like Shuraa Business Setup to ensure a smooth application for your management consultancy license. 
How Much Does It Cost to Obtain a Consultancy License in Dubai?
The cost of obtaining a consultancy company license in Dubai can vary depending on several factors, including the type of license, the number of visas required, and the specific requirements of the Department of Economic Development (DED). However, you can expect the license cost generally starting from AED 14,999*. 
In addition to the license cost, you will also need to pay for ongoing expenses such as office rent, utilities, and salaries. 
Please note that the costs mentioned above are just an estimate and are subject to change. We recommend getting expert consultation from Shuraa Business Setup to know all the updated legal requirements and costs of establishing a Consultancy Business in Dubai. 
Why to Start a Consultancy Firm in Dubai?
Starting a consultancy firm in Dubai offers several advantages, including: 
100% Business Ownership
Dubai allows foreign investors to own 100% of their businesses, which is a significant advantage over many other countries in the region. This flexibility allows you to have complete control over your company's operations and profits. 
Tax Benefits
Dubai has a highly attractive corporate tax regime, with a 0% corporate tax rate for most businesses. This can significantly reduce the tax burden on consultancy firms. 
Ease of Business
Dubai is ranked as one of the easiest places to do business in the world. The government has streamlined the business registration process and made it easier to obtain visas and work permits. 
Opportunity to Expand Internationally
Dubai's strategic location and strong international connections make it an ideal base for businesses that want to expand internationally. You can easily reach clients in other parts of the world from your Dubai office. 
Let Shuraa Guide You!
The process of obtaining a consultancy license in Dubai might seem like a daunting task, but in fact, can be pretty straightforward. All you need is attention to detail and proper guidance from a business setup expert in Dubai.  
If you're ready to take the leap and start your own consultancy business in Dubai, Shuraa Business Setup is here to support you every step of the way. With over 22 years of experience and a proven track record of helping over 50,000 entrepreneurs establish their businesses in Dubai and the UAE, Shuraa is the trusted partner you need to sail through the complexities of the licensing process and ensure a smooth transition into your new venture. 
Our team of experts will guide you through each step, from choosing a suitable business structure to securing the necessary approvals and obtaining your license, and even PRO services. So, what are you waiting for? Get in touch today!