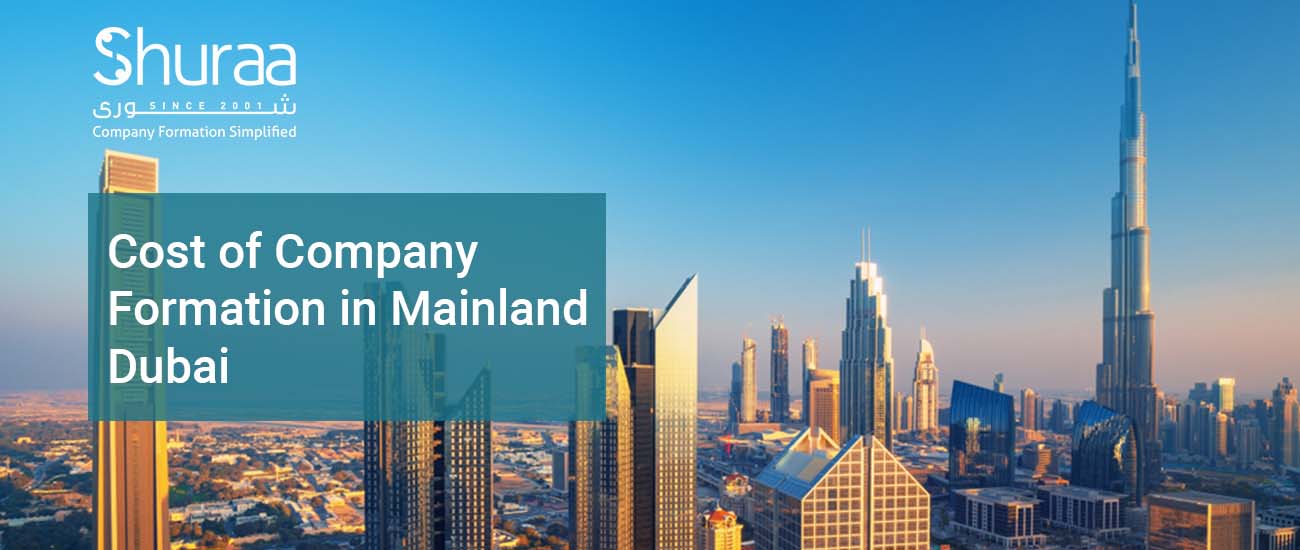 25 Feb

Cost of Company formation in Mainland Dubai
Dubai Mainland Company Formation Cost
The geographical location of Dubai makes it one of the most sought-after business locations in the world. However, to migrate for business to Dubai can prove to be a cumbersome task as the cost of setting up a Business in Dubai is one of the major obstacles for both the established business owners and more so for the budding entrepreneurs
However, if the business investor has a clear idea about the costs that will be incurred to establish a business in Dubai it can make the entire process much easier and smooth.
While deciding to set up a business in Dubai, an investor has broadly two choices- either to set up the business in Dubai Mainland or any one of the Free zones. The cost incurred depends on the choice made by the investor.
Set up a business in mainland Dubai
Following is the outline of the costs that will be incurred by an investor while deciding to set up a business in mainland Dubai:
The costs of setting up the business in Dubai Mainland depend on the nature of the business, visa costs, and rent or buying cost of office space. Starting a business in mainland Dubai comes with the mandatory government fees for notary, license, and registration at the government department along with the legal translations.
Such fees can be charged one time or can also be charged annually. The second mandatory fee that has to be paid by the investor is the Investor Visa fees that are to be renewed every three years. Moreover, an investor will have to pay an annual sponsorship fee, one-time legal fees and, commercial property fee along with the visa cost per person.
A one-time fee for getting initial approval from DED is paid for getting a license that will allow an investor to start the business. When the investor chooses a name for his business setup, a one-time fee is paid.
LLC Mainland Company Formation in UAE
A memorandum has to be signed by the partners of the company that has been started in the Mainland. Once the memorandum has been signed, the next is to draft a contract and get an agreement duly signed by the legal authorities. Memorandum can be drafted in both the English and Arabic languages.
LLC  mainland company formation requires a trading license to start its operation in Dubai formally. However, the fee may change depending on the type of trading license one wishes to obtain which in turn will depend on the type of industry one wishes to operate in for company formation in UAE.
Dubai company formation with a bank account will come at different costs depending on the type of accounts one needs to open and also on the banks as to which range of accounts have they kept on offer for the investors.