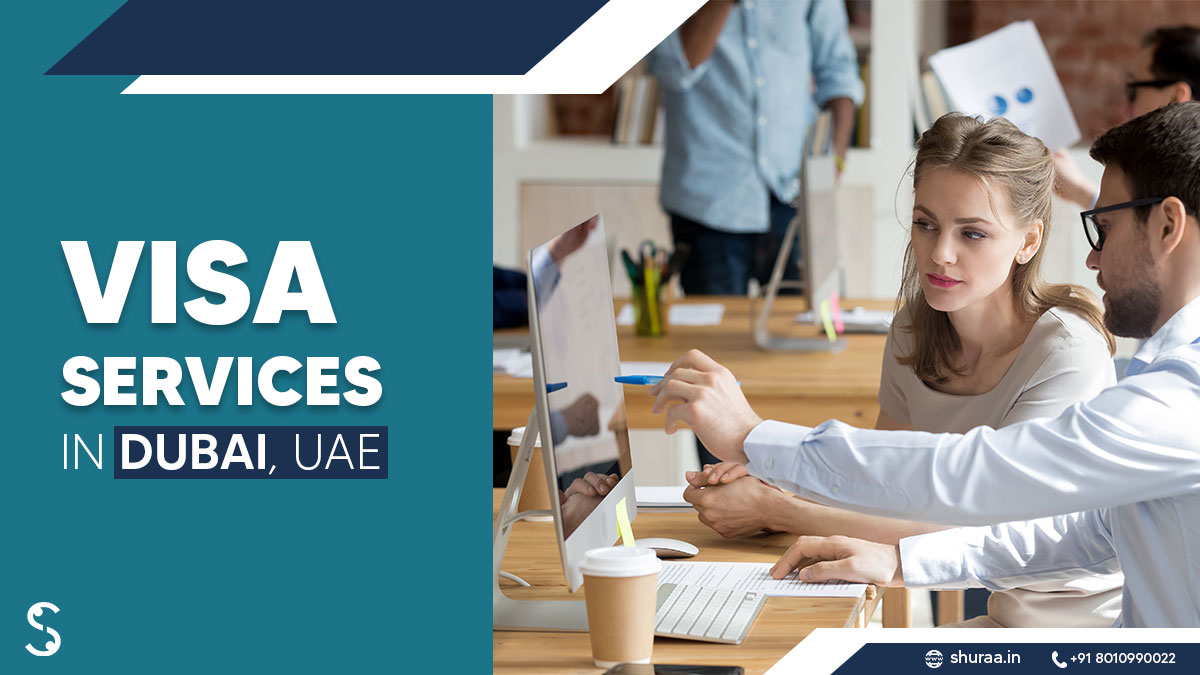 03 Aug

Visa Services in Dubai, UAE

Dubai has emerged as a global hub for commerce, tourism, and innovation, attracting people from all corners of the world with its awe-inspiring skyscrapers, luxurious lifestyle, and boundless opportunities. As an international destination, the city embraces diversity and welcomes individuals seeking to explore its wonders, whether it be for business, leisure, or settlement.

Amidst this bustling metropolis, the demand for visa services in Dubai has grown exponentially, catering to the needs of travelers, entrepreneurs, and professionals alike who wish to experience the city's charm and embark on new adventures.

However, navigating the visa application process can often be a daunting task, filled with complexities and uncertainties. Understanding the various visa types, requirements, and procedures is crucial for a smooth and successful journey to Dubai. In this blog, we aim to demystify the visa services in Dubai, offering valuable insights, expert guidance, and practical tips to help you embark on your Dubai adventure with confidence.

So, whether you are a wide-eyed traveler yearning to explore Dubai's glittering skyline and cultural treasures or a seasoned entrepreneur seeking to tap into the city's thriving economy, join our experts at Shuraa India Branch as we uncover the ins and outs of Visa services in Dubai, UAE, and unlock the doors to this mesmerizing city of dreams. Let's embark on this adventure together!
Types of Visa in the UAE
You should be aware of the many types of visas available in Dubai and how they differ from one another. Here, we've compiled a list of the various visas you can obtain before visiting Dubai.
There are various types of visas such as:
1. Investor Visa
To encourage foreign investment in the United Arab Emirates, expatriate investors are granted a Dubai investor visa. The investor visa makes the entire process of an investor's entry into the United Arab Emirates, residence, implementation of commercial ambitions, and eventual departure from the nation legitimate. The investor's visa gives them the freedom to engage in a variety of commercial activities in the UAE.
The investment visa is granted by the UAE Ministry for a two-year period. The investor must renew their visa when it is about to expire in order to continue receiving the perks. The investor has the right to revoke the specific visa if, for whatever reason, the expected Return on Investment was not achieved.
Numerous advantages come with obtaining an investor visa in Dubai, United Arab Emirates, including exemption from corporate taxes, simple corporate bank account opening, full profit and repatriation privileges, global recruitment authority, extendable visa duration, hassle-free acquisition of Residence visa, and Emirates ID, all without the requirement of a job offer from an organization based in the UAE.
Read More: How to Get Investor Visa in Dubai?
2. Residence Visa
A residency visa for the UAE is a document that allows visitors to stay in the nation permanently. The visa is renewable as often as necessary and is valid for two years. For years, many foreign families have developed roots in the Emirates, renewing their visas on a regular basis to keep their residency.
If you frequently travel or don't reside in the UAE, you must enter the nation once more every six months to maintain the validity of your visa. If you don't, the visa will be immediately revoked, and you'll have to start the application procedure all over again for a new one.
Read More: How can I get a Residence Visa in Dubai?
3. Employment Visa
Dubai, being one of the seven emirates in the UAE, has a distinct process for obtaining an employment visa, which may have some commonalities with the procedures in other emirates. Professionals with the necessary skills and qualifications who work as technicians, engineers, technical experts, senior executives, etc. for organizations, corporations, institutions, and business enterprises are granted a Dubai employment visa or a work visa in the UAE.
Before entering the Emirates, most foreign nationals would have a job lined up. Therefore, following admission, foreign people are not required to complete the official Work Visa issuing related processes by themselves. The employer of the employee is required to complete all visa-related paperwork. Additionally, it is required by law that the recruiting employer pay the costs associated with helping the employee obtain visa services in UAE.
4. Family Visa
If you meet certain criteria and are a foreign national residing in the UAE on a residence visa, you are permitted to bring your family along. If they make a minimum of AED 4000, expatriate residents may sponsor their spouses and children.
As of March 2019, all foreign workers, regardless of their employment category, are eligible to apply for family visas as long as they make the required minimum salary. If the father is unable or ineligible to sponsor the children, the mother may do so. After the dependent enters the UAE, the sponsor has 60 days to finish the necessary paperwork.
The sponsor's occupation, employment agreement, and capacity are only a few examples of the variables that affect the visa's duration. Age-related limits do apply, however, Shuraa, a well-known consultancy firm in the UAE, will help you easily get your UAE family visa.
5. Freelancer Visa
An individual can live and work in the Emirates while also securing resident visas for their family members with the use of a Dubai freelancing visa. One must first receive a freelancer license from one of the approved free zones, such as Ras Al Khaimah Economic Free Zone Authority (RAKEZ), Dubai Knowledge Park, Dubai Internet City, or Twofour54, in order to apply for this visa.
The freedom it provides, enabling professionals in a variety of fields like media, technology, and education to work on their own terms and schedules, is what's driving this expanding trend of freelancing. Freelancers can work from any location, making them their own bosses.
Their success is based on skills, job quality, experience, and client feedback. Due to its booming centre of innovation and economic opportunities, Dubai draws independent contractors from a variety of industries who want to take advantage of its potential.
In addition to enabling people to live and work lawfully in the city, obtaining a freelancing visa in Dubai also gives them the chance to bring their families along and take advantage of living in this vibrant Emirate.
Read More: What Are the Benefits of a Freelance Visa in Dubai?
6. Golden Visa
The UAE's 'Golden visa' is a game-changer, offering foreign talents an unparalleled opportunity to embrace a long-term and enriched life in the UAE. This unique long-term residence visa bestows a host of exclusive benefits, making it a sought-after option for those seeking to live, work, or study in this dynamic nation.
With an entry visa for six months featuring multiple entries to facilitate the residence issuance process, individuals can embark on a journey of boundless possibilities. The icing on the cake is the long-term, renewable residence visa, providing flexibility and stability for either 5 or 10 years.
Moreover, the 'Golden visa' offers the remarkable privilege of not needing a sponsor, granting independence and autonomy to visa holders. Not bound by the usual limitations, they can stay outside the UAE for extended periods, preserving the validity of their residence visa. What's more, this visa extends its generosity to families, enabling visa holders to sponsor spouses and children of all ages, as well as an unlimited number of domestic helpers.
Read More: How to Apply for UAE Golden Visa?
Navigating Dubai Visa Prices
Following are the prices of various visas available for Indians looking to explore Dubai's vibrant culture, pursue education, advance their careers, invest in the UAE's flourishing economy, or even join their families in this captivating city
1. Golden Visa
The Golden Visa, a coveted long-term residence visa, opens doors to exceptional opportunities in the UAE. For Indian nationals, the cost of obtaining a Golden Visa varies depending on the duration of the visa. Prices for a 5-year Golden Visa typically range from AED 2,500 to AED 5,000, while a 10-year visa can cost between AED 4,000 to AED 10,000.
2. Work/Employment Visa
Dubai's dynamic job market attracts many Indian professionals seeking to advance their careers. The cost of an Employment Visa for Indians varies, with fees ranging from AED 3,000 to AED 6,000. Employers or sponsors often bear these expenses on behalf of their employees.
3. Investor Visa:
For Indian investors eyeing lucrative opportunities in the UAE, an Investor Visa is a gateway to success. The prices for an Investor Visa can range from AED 5,000 to AED 10,000, depending on the type of investment and its value.
4. Freelancer Visa:
Dubai's thriving freelance community beckons many Indian professionals to pursue their passions independently. The Freelancer Visa typically costs around AED 17,000 to AED 19,000, granting freelancers the freedom to work on their terms.
5. Residence Visa:
For Indians seeking long-term residence in Dubai, the Residence Visa is a popular choice. The costs for a Residence Visa range from AED 2,000 to AED 4,000, depending on the duration and type of residence, such as family or employment-related visas.
5. Family Visa:
Reuniting with loved ones in Dubai is made possible through the Family Visa. Indian nationals can sponsor their families by paying approximately AED 4,000 to AED 6,000 for a Family Visa, enabling them to share the joys of life in Dubai.
Essential Documents for Dubai Visa for Indians
The documents required for a Dubai visa for Indian citizens typically include the following:
1. Passport
A valid passport with a minimum of 6 months validity from the date of intended travel to Dubai.
2. Visa Application Form:
Duly filled and signed visa application form. This can be obtained from the official website of the Dubai immigration authority or through an approved visa processing agency.
3. Passport-size Photographs:
Recent passport-sized photographs as per the specified guidelines.
4. Additional Documents (For specific visa types):
For business visas, an invitation letter from a company in Dubai is required. For family visas, a marriage certificate or birth certificate for dependent children may be necessary.
It's essential to note that visa requirements may vary based on the type of visa and the specific policies in place at the time of application. It is advisable to check with the official UAE embassy or consulate or consult with an authorized visa processing agency for the most up-to-date and accurate information regarding the documents required for a Dubai visa for Indian citizens.
Your Expert Guide to Visa Services in the UAE
As you venture forth into this mesmerizing city of dreams, let our experts at Shuraa India be your trusted companions, providing specialized assistance and making the visa application process simple and efficient.
Whether it's a business visa, investor visa, work visa, family visa, tourist visa, freelancer visa, or maid visa, our experienced visa specialists ensure compliance with UAE immigration laws and regulations, ensuring your journey to Dubai is both delightful and rewarding.
With our dedicated team and comprehensive range of visa services, including handling paperwork and ensuring compliance, we aim to simplify the visa application process and let you focus on making the most of your Dubai experience.
We take pride in being recognized as one of the best providers of Visa Services in UAE, and we look forward to accompanying you on your remarkable journey in the enchanting city of Dubai. Embrace the opportunities that await, and let's embark on this adventure together!