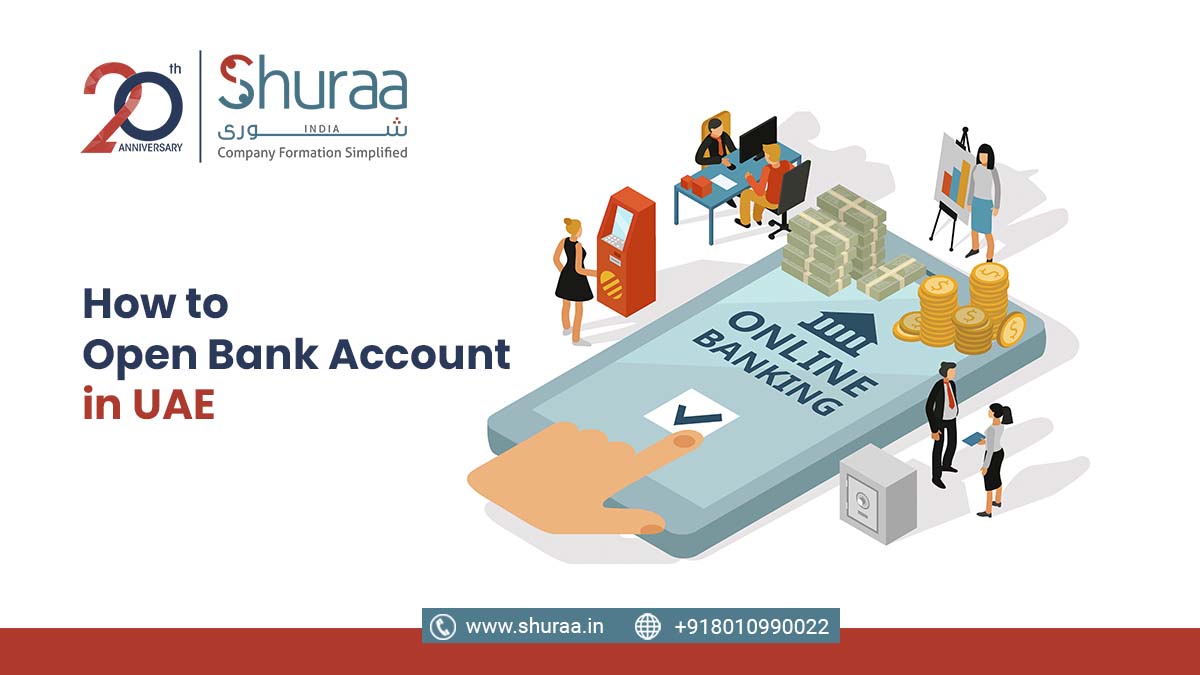 27 Aug

How to Open Bank Account in UAE

The United Arab Emirates is well known for its powerful banking arrangements and foolproof investment system throughout the world. UAE holds its place as one of the top international financial centers because it invites high amounts of investment with its tax-free policies. Such secure, reliable, and flawless services attract business people from around the world who wish to set up a business and open a bank account in the UAE.

It is important to keep in mind that each financial establishment has its specific policies towards a bank account. If you wish to start your business activities in the UAE, here is a guide for you on how to open a bank account in the UAE.
What Are The Types of Banks in The UAE?
There are four types of banks in the UAE:
Commercial Banks: Commercial banks are mainly classified into two categories, Locally Incorporated Banks and Branches of Foreign Banks. Commercial banks provide basic banking services such as savings accounts, loans, mortgages, investment services such as CDs, and safe deposits. Consumers and small to mid-sized businesses can enjoy the facilities available in a commercial bank.
Investment Banks: While commercial banks provide services to individuals and small-scale businesses, investment banks offer banking services to large-scale companies and investors. Merger and acquisition (M&A) strategies, corporate reorganization services, and brokerage services are a few of the many facilities offered to the owners of an investment bank account.
Industrial Banks: An industrial bank is generally owned by a commercial firm that is not associated with any federal banking agencies. Industrial banks, also known as industrial loan companies (ILCs) are famous for providing loans for consumers and small-scale businesses at a reasonable interest rate. This initiative allows small business owners and entrepreneurs to establish their firms with great ease in the UAE.
Islamic banks: Banking activities that adhere to shariah (Islamic law) are considered Islamic banks. The rules and regulations of Islamic banking are derived from the Qur'an(the religious text of Islam). The Islamic banks instead of charging any kind of interest on your loans, follow the principle of sharing the profits and losses with the lenders and investors.
How to Open a Bank Account in the UAE?
The first step to open a bank account in the UAE is to complete an account opening application supported by information about your company/business, Information such as business details and proof as well as information about the client's shareholders and suppliers involved, and much more. You can check out a detailed explanation of account opening in the UAE below:
Apply for Business License: To open a commercial bank account in Dubai, applying for a business license becomes necessary. Only business owners can apply for a commercial bank a/c in Dubai.
Visa Requirements: You and your company's shareholders are expected to have a valid visa as proof of citizenship in the UAE.
Choose the Bank: Choose a bank that suits your requirements in the UAE.
Prepare All The Necessary Documents: Arrange all your legal and corporate documents for the completion of the registration process in the bank you choose earlier.
Complete Your Application Process: Visit the bank and meet a branch manager/adviser for the completion of your registration process without any difficulty.
What are The Steps to Open a Bank Account Online in The UAE?
Visit the bank in which you want to open a company bank account in Dubai or the UAE.
Shortlist the type of bank accounts offered by banks
Enquire if they provide an option to open a bank account instantly.
Provide documents regarding name, age, phone number, occupation, and residency proof, etc.
Submit a few necessary documents online.
Once you can submit the required documents, your bank account will be opened instantly.
Requirements to Open a Bank Account as a Non-Resident for indian
passport with the UAE entry stamp (original and copy);
passport photo;
completed application form;
proof that your residency visa, or Emirate ID card, is being processed;
document stating your employer's name and salary details;
Documents Required by Foreigners(non-residents) to Open a Bank Account in UAE
Passport photocopy(photocopy immigration stamp).
Photocopy of your CV.
A reference letter from the bank of your country of origin.
Photocopy of your latest passbook.
Passport size photo.
Proof of income funds and source of income.
Valid visa proof.
Documents Required for Opening a Corporate Bank Account in UAE
Copy of MoA (Memorandum of Association) and AoA (Article of Association).
Trading license.
Photocopy of your as well as your shareholder's passport.
Proof of corporation certificate.
Emirates ID of shareholders (If shareholders have UAE residency).
Latest banking statement of shareholders(not older than 6 months).
Address proof of shareholders.
Corporate legal documents and bank statements.
Employer Identification Number (EIN) or Social Security Number (SSN).
Trade name certificate.
Some of the banks in the UAE also expect you to maintain a minimum amount of balance in your bank account. They charge an additional fee if the balance in your bank account falls below the minimum balance determined by the bank.
What are The Benefits of Opening a Bank Account in The UAE?
Although there is no such compulsion on whether you should have a bank account in UAE or not, having a bank account does have its perks. A wide range of benefits such as confidentiality, safety, reliability, easy withdrawal as well as deposit policies, and reasonable interest-earning is available. Many tech-savvy facilities such as online money transactions, recharge, and other online payments offered by a bank make life smooth and simple for the account holder.
Open Your Bank Account in UAE
Do you want to open a bank account in the UAE? If yes, the process to open one as an expat can be overwhelming. To decide which bank to open an account in and the type of bank account for your company, you can connect with business consultants and Shuraa Business Setup India Branch.
We will guide and provide you with all the necessary information to open a bank account in Dubai or the UAE. All you have to do is call us and we will take care of the rest.
Connect with Shuraa today by calling us on +918010990022. For chat assistance, send a WhatsApp message at +917303878183. You can also write to us at info@shuraa.in.