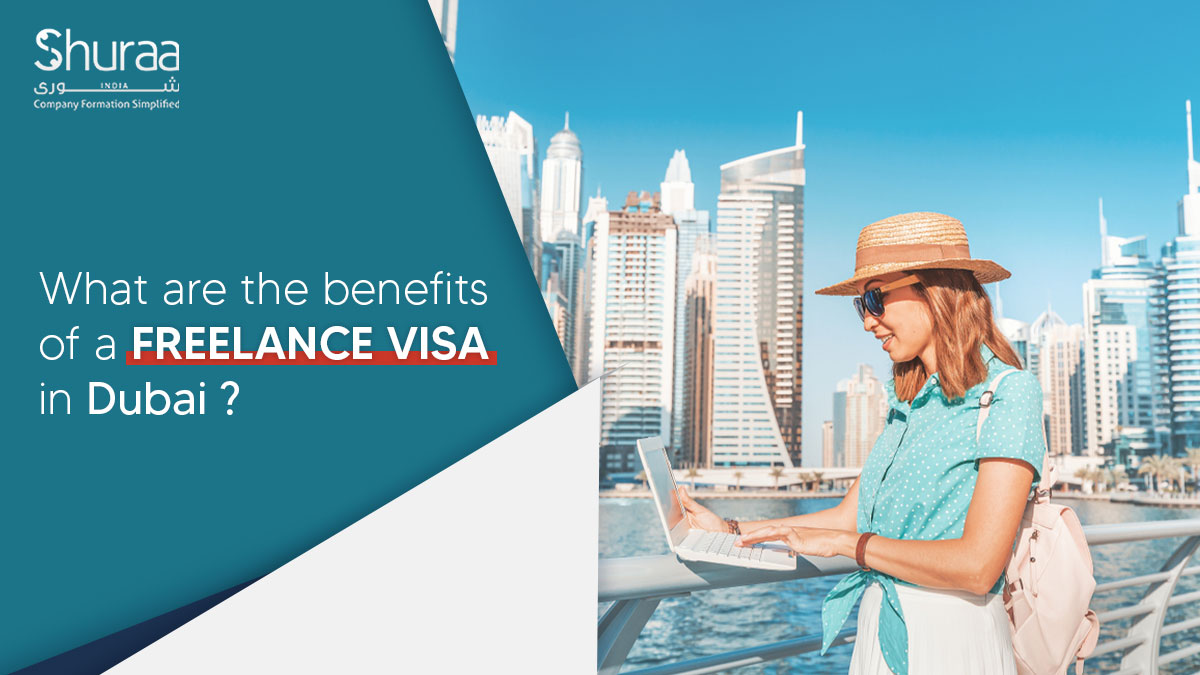 17 Feb

What Are the Benefits of a Freelance Visa in Dubai?

All Indian expats, independent contractors, business owners, and remote employees globally are being sought by the UAE. The UAE government developed the Freelance Visa Dubai in response to the global workforce shift, rise in freelance employment, and desire to be self-employed. Continue reading the blog to learn the Benefits of a Freelance Visa in Dubai.  

Additionally, you can become your own boss by launching your own business with the freelance visa Dubai. But what precisely is a freelance visa for Dubai.  
What is a Freelance Visa in Dubai? 
Numerous free zones in Dubai and the rest of the UAE grant freelance permits to Indian nationals. You don't necessarily need a sponsor to be employed by any organization in the UAE in order to obtain a freelance permit. It resembles a work permit for independent contractors in the UAE.  
Indian nationals are eligible to apply for a license or permission that would allow them to work as independent contractors in Dubai full-time. Therefore, Free zone authorities like the TECOM Group and twofour54, among others, provide freelance licenses.  
You can apply for a Dubai freelancing visa once you have the freelance permit. However, Freelancer's visa Dubai is a sort of UAE residency; thus, you are permitted to live and work in the UAE for a period of one to five years with your family. However, Nationals of the UAE, citizens of the UAE, residents, and non-residents can all obtain a freelance permit.  
Benefits of a Freelance Visa in Dubai 
The Benefits of a Freelance Visa in Dubai are numerous. You can run your business independently in addition to being your own boss by  
UAE resident visa is available. 

 

No local sponsor is required. 

 

Your spouse or members of your family may be sponsored. 

 

It's easy to apply for a visa. 

 

You can transition into a different line of work. 

 

No need to stress about bookkeeping. 

 

You can make extra money. 

 

One can take more time off. 

 

You don't need an office. 

 

Pace yourself as you work. 

 

Lastly, you can go anyplace and live there. 

 
What Can I Do with a Freelance Visa from Dubai? 
The Dubai freelancing visa holder is eligible to engage in a wide range of activities. Besides, if they have a freelance permit for their industry, they can:  
UAE or Dubai employment is possible. 

 

You can provide services to both individuals and companies. 

 

Working for people or companies as an independent contractor is an option. 

 

Working with government organizations is an option. 

 

Finally, for your effort and services, you can earn. 

 
What in Dubai is a Freelance License (Permit)? 
Indian nationals who want to work as independent contractors in Dubai or the UAE must obtain a license there. However, permits for working as a freelancer are offered in a particular free zone. Indian nationals, for instance, can obtain a freelancing license in Dubai through Shuraa India for a variety of design, technology, media, and educational activities. Let's Learn about the requirement and Benefits of a Freelance Visa in Dubai with us.  
Like this, other free zones provide a wide variety of activities to select from. And in Dubai, a freelance visa can be applied for using these licenses. However, residents of the UAE and other countries must apply for a distinct type of freelance visa in Dubai:  
Residents of the UAE 
You only need a freelance permit if you are already a resident of the UAE and are there on your spouse's or parents' visa. If you have had a full-time job in the UAE and want to work independently, you can also apply for a freelance permit.  
Although working for someone does not require sponsorship in Dubai or the UAE, you will need a No Objection Certificate (NOC) from your employer. If you choose to operate as a freelancer part-time, a NOC is also necessary. Additionally, inhabitants of the UAE or Dubai do not need to renounce their residency permission in order to obtain a freelance permit.  
Regarding Non-UAE Citizens 
Everyone is qualified for freelance permission and a freelance visa, as was already established. Additionally, the Dubai freelancing visa can be changed into a Dubai residency permit, enabling the holder to live and work there.  
Who Can Obtain a Freelance Visa for Dubai? 
Anyone who wants to work as a freelancer in Dubai can apply for both a visa and a freelance permit. However, a person's eligibility is contingent on whether they work in a profession that qualifies. You might, for instance, operate in any of the following sectors or businesses to qualify for a Dubai freelance permit:  
Media Activities 

 

Educational Activities 

 

Tech Activities 

 

Design Activities 

 
What are the Freelance visa Dubai requirements? 
From all the free zones, Indian citizens have a wide range of possibilities for the industries they would like to work in. Once that has been decided, applying for a visa is a rather simple process. You also don't need a long list of paperwork to apply for a freelancing visa in Dubai. However, the following records are required:  
Passport copy 

 

Passport size photograph 

 

Visa Page when travelled last time 

 
How Can I Apply for a Freelance Visa in Dubai? 
Although applying for a Freelance Visa Dubai is simple, it can be time-consuming and laborious. Before you can even apply for a Dubai freelance visa, there are a few requirements that you must complete. Following are the processes to obtain your Dubai Freelance Visa:  
Get in touch with our experts. 

 

Present the required documents. 

 

Acquire your freelance visa 

 
What Does a Dubai Freelance Visa Cost? 
The 2 years Freelance visa Dubai price varies depending on the urgency, the length of the permit, and whether you are applying inside of Dubai or outside of it.  
Indian nationals must also pay additional costs for the establishment card, the freelancer visa, and the license or authorization for independent work. However, the price for a freelance visa in Dubai starts from AED 19,000 with 2 years validity.   
However, after 2 years you only need to renew your Visa which is valid for another 2 years. To get to know more about renewal, kindly connect with Shuraa India.   
Conclusion 
Although it is inexpensive to apply for a visa and freelance permit in Dubai, you still need to have some type of financial security. You will probably need to spend the first few months to a year networking and again building a portfolio.  
Apply for the freelancing visa Dubai immediately if you're interested or investigate other residence options like the investor or business visa in Dubai.  
When you acquire your freelancing visa in Dubai, you may check the status of your visa online to see when it expires. Please review the new UAE family visa regulations if you intend to sponsor a family member. Connect with Shuraa India for more information on Freelance Visa in Dubai.