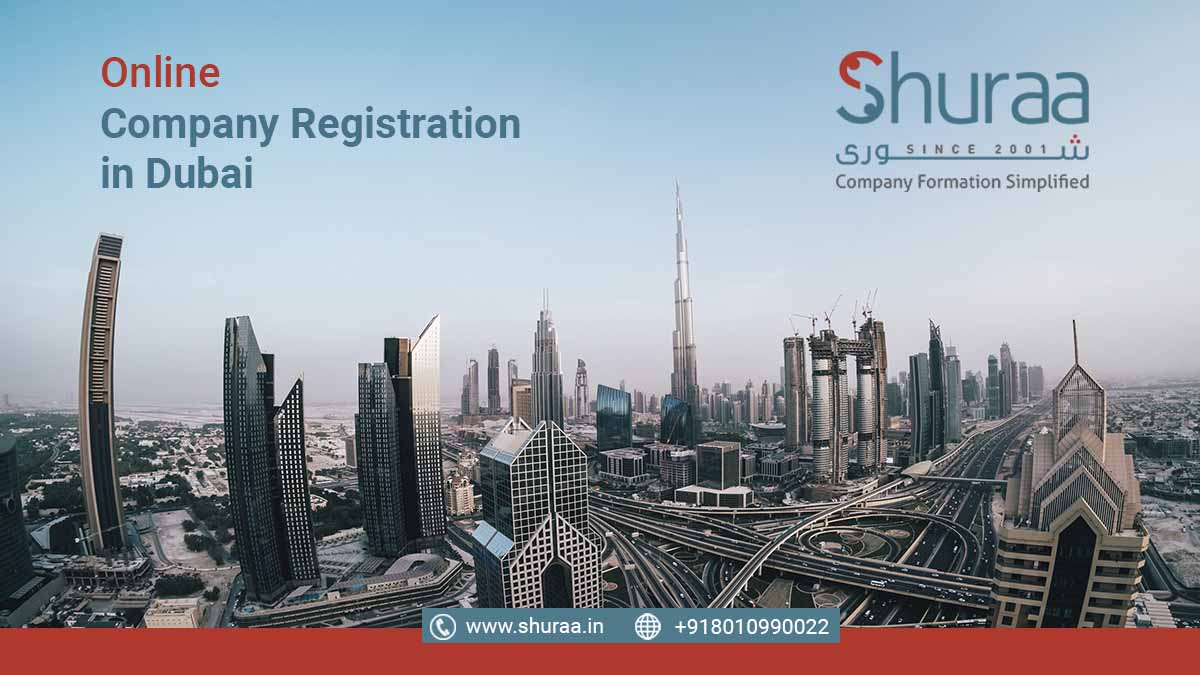 15 Apr

Online Company Registration in Dubai

If you're considering starting a business in Dubai, one of the first steps you'll need to take is registering your company. Dubai is renowned for its modern infrastructure, strategic location, and pro-business policies. The city offers an inviting environment for entrepreneurs and investors alike. 

However, the process of registering a company in Dubai can be complex and time-consuming if you're not familiar with the local regulations. 

While online company registration in Dubai seems like a daunting task, especially if you're unfamiliar with the process, fear not here we will guide you through the step-by-step process of registering a company in Dubai.  

From understanding the legal business requirements to choosing the right business structure, we will cover everything you need to know to get your company up and running in this thriving business hub. 
Here are the key steps to online Company Registration in Dubai
If you're an entrepreneur looking to register with a company in Dubai, there are several steps to follow.  By following these steps, you can successfully register your company in Dubai.  
Determine the Nature of Your Business Activity
Determine Your Company's Legal Structure
Register the Trade Name
Select Business Space and Location
Obtaining the Initial Approval
Applying for a Company License
Opening a Bank Account
The following are the steps for Company registration in Dubai, UAE:
1. Determine the Nature of Your Business Activity
Dubai free zones offer several types of business licenses to investors and entrepreneurs based on the nature of business. Some of them are:
Commercial Trade
Consultancy Services
Freelancer,
eCommerce
2. Determine Your Company's Legal Structure
Before beginning the registration process for your company in Dubai, it's crucial to determine its legal structure. Entrepreneurs can open a Limited Liability Company (LLC) in the mainland region to access the benefits of local markets while enjoying 100% foreign ownership.  Furthermore, the UAE government has amended the company's law to allow for over 1000 company activities and complete ownership. 
3. Register the Trade Name
The next crucial step in registering a company in Dubai is to register a trade name. Entrepreneurs must choose a suitable name for their company while adhering to the naming conventions issued by the government. Moreover, this helps to avoid delays in the registration process. Additionally, while selecting a name, it's important to ensure that it does not convey any offensive meaning or sentiments related to religion. 
4. Select Business Space and Location
The location of a business in Dubai can significantly impact tax regulations, infrastructure, resource availability, and exposure to diverse economies. After obtaining a tenancy contract, entrepreneurs can lease office space if it's necessary. Furthermore, it's important to consider the actual need for office space before making a decision. 
5. Obtaining the Initial Approval
Entrepreneurs registering their business in Dubai mainland must work with a Local Service Agent (LSA). Furthermore, he will provide assistance in obtaining licenses and approvals without interfering in business activities or decisions. Moreover, entrepreneurs can maintain full control of their business with LSA assistance and without giving 51% of shares to a UAE national.  
6. Applying for a Company License
To register a company on the mainland, entrepreneurs must obtain a license from DED. Local authorities will issue a license for companies registered under the free zone. Entrepreneurs must also obtain external approvals from other governing bodies if required after obtaining a business license. 
7. Opening a Bank Account
The next step for the company is to open a bank account after completing all necessary steps and obtaining all required paperwork, licenses, and approvals. Entrepreneurs should select a bank that best suits their business needs and demands. Furthermore, which can provide attractive benefits and offers to reduce business costs. 
Required documents for New Company Registration in Dubai
It's critical to submit all the required documents with your company registration application to ensure that the process is smooth and free of any blockers. Here's a list of documents you'll need during business registration in Dubai: 
Applicant passport-size photograph.
Form of the application.
All the legal participant's passport copies.
Notarised and attested documents of LSA and MoA.
Applicant's Tourist Visa.
Ejari Number (verification of business space agreement/contract)
Cost of company registration in Dubai
There's no single-figure value to illustrate the Dubai company registration cost because there are several business structures and a wide variety of business activities that you can carry out in the UAE. 
The cost for company registration in Dubai is around AED 12,500 for normal business activities, while it's a bit lower for the free zones. You also need to pay for maintenance, office space, visa, etc., so it's better to connect with the local business consultants in Dubai. 
The business registration process in Dubai involves a lot of paperwork for business security and compliance. 
Benefits of company registration in Dubai
Dubai is a popular destination for business registration, offering a number of benefits to foreign investors. These benefits include: 
1. Tax Benefits
Dubai has no personal or corporate income tax, and there are also no capital gains taxes or withholding taxes. This makes it a very attractive place to set up a business, especially for businesses that are looking to minimize their tax liability. 
2. 100% foreign ownership
Foreign investors can own 100% of a business in Dubai, either in a free zone or on the mainland. This makes it easy for foreign investors to set up and operate a business in Dubai. 
3. Liberal business laws
Dubai has very liberal business laws, which make it easy to start and operate a business. There are no restrictions on the type of business that can be set up, and there are also no restrictions on the number of foreign employees that a business can hire. 
4. Excellent infrastructure
Dubai has excellent infrastructure, including a modern transportation system, a world-class airport, and a state-of-the-art telecommunications network. This makes it easy to do business in Dubai and to connect with customers and suppliers around the world. 
5. Strategic location
Dubai is located in a strategic location between Europe, Asia, and Africa. This makes it a great place to set up a business that is looking to target international markets. 
Business Types in Dubai
Registering a company in Dubai involves several steps, and understanding the different business types available is essential for making an informed decision. 
1. Mainland Company
A mainland company allows businesses to operate anywhere in Dubai and even throughout the UAE. There is 100% foreign ownership for mainland companies in Dubai. As a result, foreign investors can now own 100% of mainland companies in Dubai, with some exceptions. 
2. Free Zone Company
Setting up a company in one of Dubai's numerous free zones offers 100% foreign ownership, full repatriation of profits, and exemption from certain taxes for a specific period. However, businesses operating in free zones are restricted to conduct business solely within the free zone or internationally, not in the local UAE market. 
Each free zone has its own set of regulations and benefits, allowing businesses to choose the one that best suits their requirements. 
3. Offshore Company
An offshore company is an excellent option for international businesses seeking privacy, asset protection, and tax optimization. While it allows 100% foreign ownership and has no requirement for a physical presence in Dubai, it cannot conduct business within the UAE. 
Offshore companies in Dubai are well-suited for international trading, holding intellectual property rights, and managing investments abroad. They offer a flexible and secure environment for businesses that operate outside the UAE. 
Register a Company in UAE today with Shuraa!
Starting a business in Dubai is a decision that can lead to endless opportunities and remarkable growth. However, the process of Dubai company registration can be complex, which is why seeking professional advice and assistance is crucial for a smooth and successful experience. 
At Shuraa Business Setup, we have been assisting entrepreneurs from start to finish since 2001, helping them establish over 35,000 companies in the UAE. Our comprehensive range of services, including Dubai company registration and UAE, documentation, translation services, sponsorship support, business licensing, rented office space, PRO services, and more, ensures that your business gets the expertise and support it requires. 
With Shuraa Business Setup, you can be assured of on-time, reliable solutions to kickstart your entrepreneurial journey in Dubai. 
Contact Shuraa Business Setup today and unlock the path to success in Dubai!