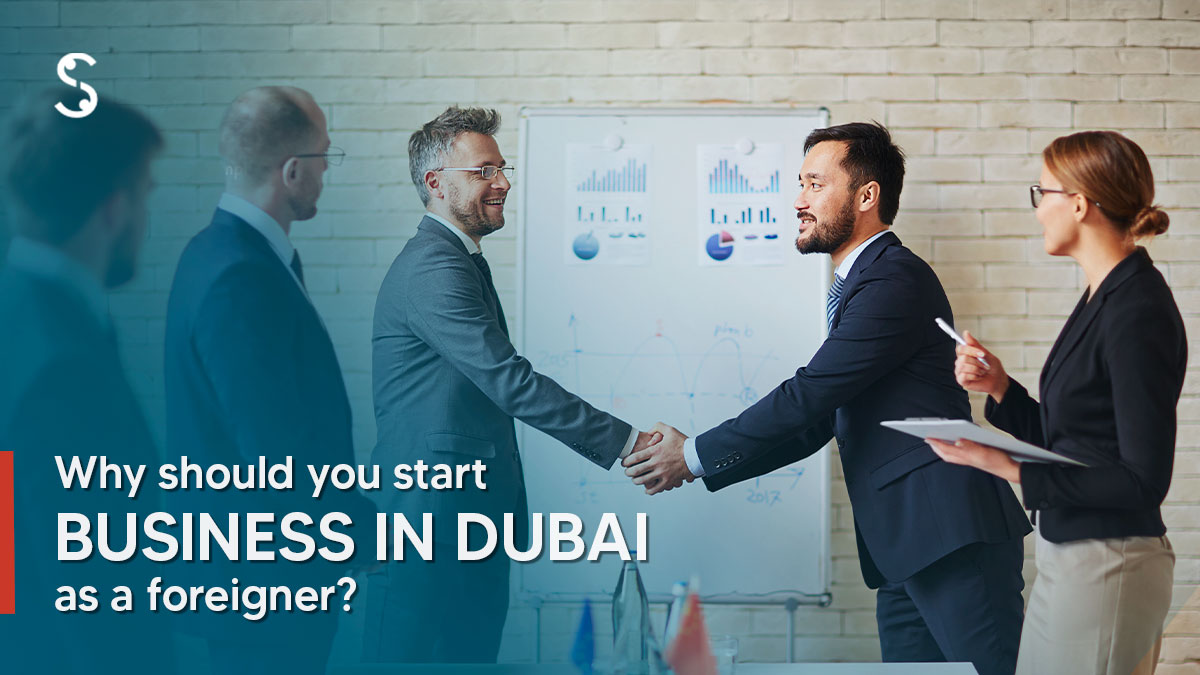 31 Oct

Why should you start business in Dubai as a foreigner?

Start a Business in Dubai as a foreigner with Shuraa Business Setup. Most of Dubai's residents are expatriates, many of whom run their enterprises. Dubai actively encourages foreign investors and entrepreneurs, offering support through setup agents and company formation experts who assist with licenses, visas, and incorporation procedures.

With benefits like tax exemptions, simplified startup processes, quick procedures, a thriving economy, and political stability, the UAE provides an attractive environment for foreigners launching businesses. In summary, expatriates can register new businesses in the UAE, making it a viable option for those seeking these advantages. 
Is Dubai Open to Non-Residents Establishing Businesses?
Dubai actively promotes foreign investment, allowing non-residents to initiate and own businesses. The government's policies are tailored to encourage foreign direct investment, making it a hotspot for global entrepreneurs. Here's a glimpse of recent developments: 
1. Get Ease at Business Licenses (January 2023):
In January 2023, the Dubai Department of Economic Development (DED) introduced simplified procedures for non-residents to obtain business licenses. These changes aim to enhance the ease of starting businesses in Dubai, attracting more international entrepreneurs. 
2. Local Sponsorship Waiver (April 2023):
Notably, in April 2023, the Dubai government eliminated the mandatory local sponsorship requirement for non-residents starting businesses in specific sectors. This exemption applies to critical industries such as technology, media, and healthcare. This move fosters a more investor-friendly environment, especially for those in innovative fields.
Dubai's government is committed to facilitating non-resident business ventures, striving to create an environment conducive to entrepreneurial growth. If you're contemplating launching a business in Dubai, stay updated on the latest news and regulations to make informed decisions. 
Why Opt for Dubai?
Dubai has emerged as a global economic hub at the heart of the Middle East, offering unparalleled business advantages. Its strategic location provides seamless access to suppliers across the Gulf, Asia, and Africa. Notably, 90% of its population comprises expatriates from diverse corners of the world. 
Dubai distinguishes itself through exceptional infrastructure, secure living conditions, favourable tax policies, and forward-thinking leadership emphasising technology and innovation. These factors create an ideal environment for entrepreneurs to thrive. For foreigners, initiating a business in Dubai opens doors to successful ventures and presents the opportunity to reside in this financially rewarding city. 
1. Choosing Your Corporate Structure:
When starting a business in Dubai as a foreigner, one of the initial decisions is selecting the appropriate company type. This choice is influenced by several factors, including your business's nature, purpose, and operational aspects. You can opt for two major corporate structures: Limited Liability Company and Sole Establishment. 
2. Understanding the Jurisdiction:
In Dubai, entrepreneurs can operate either on the mainland or within one of the many free zones. Understanding the difference between mainland and free zones is crucial for foreigners contemplating business setups in Dubai. 
Mainland:

Establishing a company on Dubai Mainland allows you to trade both within local markets and internationally. The company formation process is systematic, and obtaining a business license can be achieved within a day.

 

Free Zones:

Setting up a business in free zones is cost-effective and favourable for new enterprises. Prominent free zones in Dubai include Jebel Ali Free Zone (JAFZA), Dubai Airport Free Zone (DAFZA), Dubai Media City, Dubai Silicon Oasis,  Ras Al Khaimah ( RAKEZ), International Freezone Authority (IFZA), and Dubai Multi Commodities Center (DMCC). However, rules, regulations, and business setup timelines may vary among free zones, each governed by its respective authorities.

 
Start a business in Dubai as a foreigner: Advantages 
Dubai stands as a beacon for foreign entrepreneurs, offering a myriad of advantages: 
Stable Economy:

Dubai boasts one of the world's fastest-growing and most diversified economies, ensuring a stable business environment.

 

Tax Efficiency:

The UAE features a highly competitive tax regime, with minimal income tax and no VAT on residential property for businesses operating from free zones, enhancing financial viability.

 

Strategic Location:

Positioned at the crossroads of Europe, Asia, and Africa, Dubai provides effortless access to emerging markets, fostering international trade opportunities.

 

World-Class Amenities:

The city offers top-notch infrastructure, healthcare, and public spaces, elevating the quality of life for business owners and employees.

 

Safety:

Dubai consistently ranks among the safest global destinations, with low crime rates and stringent law enforcement measures.

 

Low Corporate Tax Rate:

With a corporate tax rate of 0%, the UAE liberates entrepreneurs from corporate tax burdens, allowing for maximised profits.

 

No Restrictions on Foreign Ownership:

Dubai imposes no constraints on foreign ownership, empowering entrepreneurs to retain 100% ownership regardless of nationality and fostering autonomy and control.

 

Global Hub for Trade and Commerce:

As a pivotal global trade hub, Dubai offers access to an extensive market of potential customers, facilitating business growth and expansion.

 

Business-Friendly Government:

Dubai's government is exceptionally business-friendly, offering enticing incentives to attract foreign investments and ensuring a smooth, efficient, and supportive business environment.

 
The benefits of establishing a business in Dubai as a foreigner undoubtedly outweigh the challenges. If you seek a business-friendly haven with a low corporate tax rate and unparalleled freedom in ownership, Dubai is an outstanding choice. 
Different Business Licenses for Foreigners in Dubai
Dubai offers various business licenses tailored for starting a business in Dubai as a foreigner, each catering to specific business activities. The appropriate license depends on the nature of the venture. Here are the primary categories: 
Steps to
Start a Business in Dubai as a Foreigner
Starting a business in Dubai as a foreigner involves a structured process aligned with the government's regulations. Here's a step-by-step guide for non-residents: 
1. Determine Your Business Type:
Decide on the nature of your business activity, which dictates your company's structure.

 

Options include sole proprietorship, where you are the sole owner, or a Limited Liability Company (LLC), providing a separate legal identity.
2. Choose a Unique Trading Name:
Reserve a distinctive trade name reflecting your business activity.

 

Legal advisors like Shuraa can assist in selecting a name that's unique, not previously registered, and aligns with your business activities.

 
3. Obtain the Necessary License:
Acquire a business license, a mandatory requirement for non-residents.

 

Obtain the license from relevant authorities, either directly from free zone authorities or the Department of Economic Development (DED).
4. Complete Business Registration and Incorporation:
Assemble all essential documents, including identity proofs, trade licenses, permissions, and bank account details.

 

Register your business with the appropriate jurisdiction, transforming it into a legal entity within Dubai.
5. Secure a Business Visa:
Apply for a business visa to facilitate international travel for business purposes.

 

Business visas also permit senior staff members to apply for residency.

 

Non-resident entrepreneurs can obtain long-term visas for themselves and their dependents by liaising with the local embassy.

 
By following these steps, non-residents can establish and operate a business effectively in Dubai, capitalising on the city's vibrant economic landscape. 
Documents Needed to start
a business in Dubai as a foreigner
The documents necessary for foreigners to initiate a business in Dubai vary based on the chosen business license. Below are the essential documents typically required: 
Passport Copy:

A copy of your passport is fundamental for all business-related activities in Dubai.

 

Visa Copy:

Non-UAE residents must provide a copy of their visa for verification.

 

Business Plan:

An in-depth document outlining your business objectives, strategies, and financial forecasts. It is integral to your business setup process.

 

Certificate of Good Conduct:

A document confirming your clean criminal record, a crucial part of the business setup process.

 

Financial Statement:

This document provides an overview of your financial assets and liabilities, demonstrating your ability to operate a business effectively.

 
Note: These requirements are specific to certain activities and may not apply to all business ventures. 
Essential Tips for Foreign Entrepreneurs Starting a Business in Dubai
Things to Consider as an Expat Before Starting a Business in UAE, Dubai  
1. Thorough Research is Key:
Before diving into the registration process, conduct extensive research. Familiarise yourself with the diverse business licenses available and understand the specific requirements for each category. 
2. Legal Guidance is Crucial:
Invest in legal counsel. A knowledgeable lawyer can guide you through the intricate legal procedures of starting a business in Dubai, ensuring compliance with local regulations. 
3. Network Effectively:
Forge connections within Dubai's business community. Networking with established businesses provides access to valuable advice and support from experienced professionals, enhancing your chances of success. 
4. Practice Patience and Perseverance:
Starting a business in Dubai may require time and effort. Be patient and persistent throughout the process. Welcome challenges with resilience, knowing that perseverance often leads to rewarding outcomes. 
Business Setup Choices in Dubai for International Entrepreneurs
For foreigners aspiring to establish a business in Dubai, there are diverse avenues to explore. These options can be broadly categorised into two main streams: Mainland companies and Free Zone companies. Let's delve deeper into each: 
Mainland Company:

Setting up a mainland company allows you to conduct business anywhere in the UAE, encompassing free zones. Legal structures like Limited Liability Company (LLC), Professional License (sole proprietorship), and Civil Company are available.


However, many mainland setups require a local sponsor or service agent. The local sponsor, a UAE national, holds 51% of the company shares, with the foreign investor owning the remaining 49%. In the case of a Professional License, the local service agent acts as a liaison with government departments without any ownership stake.

Free Zone Company:

Dubai boasts over 40 free zones, each tailored to specific industries such as technology, healthcare, media, and design. Establishing a company in a free zone offers advantages like 100% foreign ownership, complete repatriation of capital and profits, and exemptions from import and export duties.


Free zones provide a simplified setup process and do not mandate a local sponsor. However, these companies typically operate within their designated free zone or internationally unless they collaborate with a local distributor or establish a branch outside the free zone.




 
The choice of setup option depends on your business activities, preferred location for operations, and ownership preferences. Seeking guidance from a Shuraa Business Setup advisor is recommended to determine the most suitable option tailored to your specific requirements. 
Expenses Involved in Launching a Business in Dubai as a Foreign Entrepreneur
Starting a business in Dubai as an expatriate or foreigner entails costs determined by several factors, such as the nature of the business, license fees, chosen location, and necessary documentation. For instance, the trade license could range from AED 15,000* to AED 25,000*, varying according to the specific region. 
Furthermore, selecting a non-Arabic foreign name for your company incurs an additional fee of AED 2,000*. These costs are essential for expats planning to establish their entrepreneurial ventures in Dubai. 
Note: The expenses associated with your business are contingent upon its type and are subject to modification. 
Permissions Required to Initiate a Business in Dubai as a Foreign Entrepreneur
In Dubai, certain businesses must obtain approvals from diverse government bodies. For example, opening a restaurant requires a municipality permit concerning food safety. Similarly, specific industrial activities mandate leasing or renting factory space of a designated minimum area. 
Commencing a business in Dubai as a foreigner or non-resident holds significant promise due to the city's strong economy, strategic positioning, and favourable business climate. With proper guidance and preparation, you can effectively launch and expand your enterprise in this vibrant city, aided by the expertise of Shuraa Business Setup professionals. Reach out to Shuraa