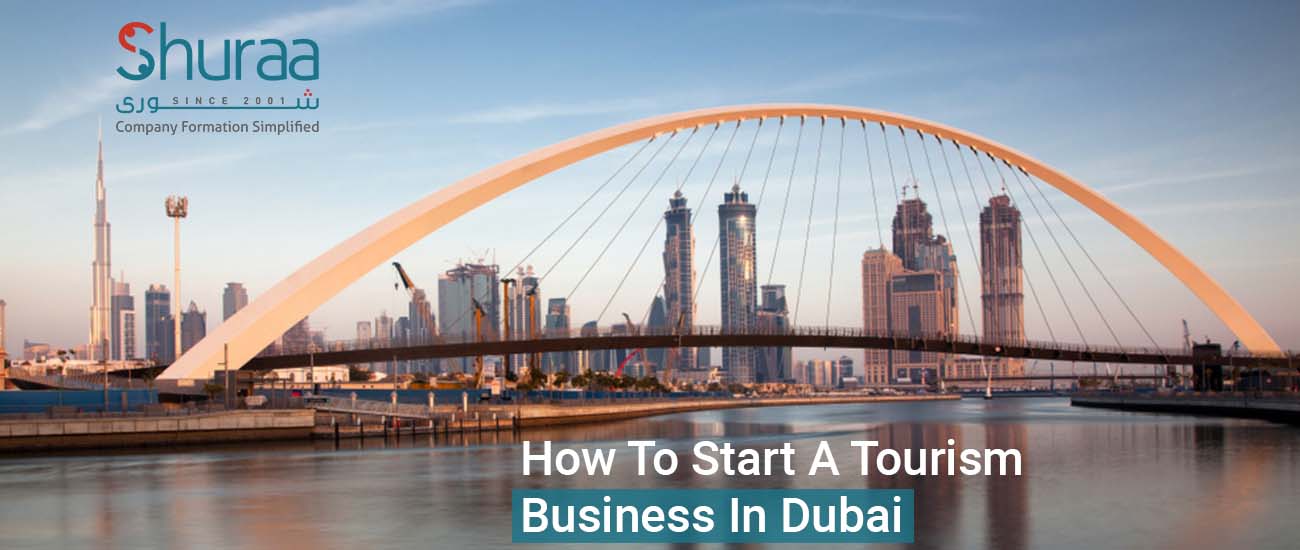 25 Feb

How to Start a Tourism Business in Dubai?

The business industry in Dubai is rarely affected considering various factors that arise from time to time. This form of advantage in business in Dubai gives investors one of the best opportunities for finding new investment areas.

It has long been an attraction for investors globally, seeing its worth and the opportunity it presents to new investors. Various reasons make Dubai a perfect destination for investors to set up a tourism business. It has become one of the globally recognized hotspots all over the globe for its modern architecture, good climate, and continuously evolving vacationing culture. 

Such factors become a vital part of the decision-making process when thinking of opening up a tourism business in Dubai as it will usher in a huge amount of profits for the investors since the industry has become evergreen.
How to Start a tourism business in Dubai? 
For setting up a tourism business in Dubai, one needs to get the business registered with the Department of Economic Development and the Department of Dubai Tourism and Commerce Marketing. 
To start a tourism business in Dubai, one needs to follow the process. Following is a general overview of the same:
Start by submitting the company's name to the Tas'heel Center's economic development section and obtain authorization for setting up a corporation.

Next, complete the paperwork at any typing center and get all the stakeholders to sign it. Submit this form to the DED. 

After DED's first approval, it will submit the form for site inspection. You must fill the form with the correct information since the officers will come for an inspection before granting you the license. 

Next, draft the LLC agreement ad get it notarized with the help of a legal translator. You will not need a legal translator's seal if the agreement is in Arabic. 

Following this, all partners must sign the court's agreement in front of the notary. 

Finally, submit all relevant documents, pay for the license, and get it.  
Following are a few other things you will have to look after: 
Choosing the right business license
An investor will require an appropriate tourism license to set up a tourism license in Dubai. This is to make sure that no illegal procedures are followed, and that everything is done following the legally binding process.
Consultancy
The investor can choose a consultancy that will help in setting up a tourism business in Dubai. If the investor is opening a business in Dubai for the first time, a good consultancy will make things easy. They will make him familiar with the process and provide him with knowledge regarding the various documents required during the whole process.
Renting office space
Once the investor has completed the formalities with various departments, it's time to rent a space for the office. It would be a necessity as the staff can work from there only.
Website
You can also start a modern and functioning website. It will help potential clients to view various offers, book tickets, confirm hotel reservations, and avail of all the other services.
What Document Do You Need for a Tourism License? 
Following are some general documents you will need to submit:
Passport copies 

Passport size photos 

Visa stamp or entry page copies 
Experts at the Shuraa Business Setup can help you with the full list of necessary and additional documents you must submit to the relevant authorities.
What are the different kinds of licenses you can apply for?
While setting up a tourism business in Dubai, investors can move an application for several licenses in the city. Following is a general overview of all the travel and tourism licenses for the tourism business in Dubai: 
Inbound Tour Operator License
This type of license will enable a company to manage travel within the city, help with attending events, visa services, and provide transport services to tourists. With this license, you can also arrange for tour programs. Additionally, an inbound tour license necessitates insurance coverage covering potential risks. This coverage must be in effect for the whole duration of your license.  
Outbound Tourist License
This license will enable the company to sell tourist packages outside of the country while employing the online medium or hiring offline agent workers to deal with such processes. With this license, you can also organize international seminars and events. However, you will also need insurance coverage. This insurance coverage will be valid as long as your license does not expire.
Travel Agent License in Dubai
This type of license will enable the company to perform the functions of the vendor that can cater for the tickets and book-related services for their clients. It encompasses ticketing services for flights, railways, buses, hotels, car rental services, and many other services as well. 
However, there is a pre-requisite for a travel agent license. You must obtain a NOC or a No Objection Certificate from the Department of Civil Aviation. Additionally, you must have a letter of request from your local sponsor in Arabic to apply for a NOC.
Tour Guide License 
In Dubai, a tour guide conducts and accompanies visitors to major tourist attractions and areas of interest. As a result, the tour guide should know about the UAE's tourist sites with their cultural legacy. This profession also necessitates the possession of a valid Tour Guide license.
The government body that issues the tour guide license badge is DTCM. For the badge, the candidate must first enroll in and complete the Tour Guide Award program. The license is only valid for a year and must be renewed annually. 
To renew their certification, the tour guide must attend the DTCM-approved yearly refresher program. If you fail to renew your tour guide license for 2 years back-to-back, you will be liable for the DTCM penalty. 
What Is The Cost of a Tourism License in Dubai? 
The final cost will depend on several factors like the size of your corporation, the license you choose, the activities you carry out, and more. Thus giving a concrete number is impossible. However, you no longer need a bank guarantee, making it easier to obtain the license. 
Experts at the Shuraa Business Setup will help you understand the costs of the license and ensure you do not pay more than what is expected.
What can you do after securing a tourism license? 
Following is a list of activities you can do once you secure a Tourism Business License in Dubai: 
Sell tourism packages offline & online.

Issue travel insurance.

Provide accommodation and stay options.

Provide supporting services related to visas.

Sell flight, railway & bus tickets.

Provide car rental services.

Sell adventure tour packages.
Start Your Tourism Business With Shuraa
Experts at the Shuraa Business Setup can provide you will all the necessary information and help you set up your Dubai tourism business. We will assist you at every step and ensure that all your documentation is in line to avoid any possible mishap with the application process. All you need to do is get in touch with us and let us take care of the rest!