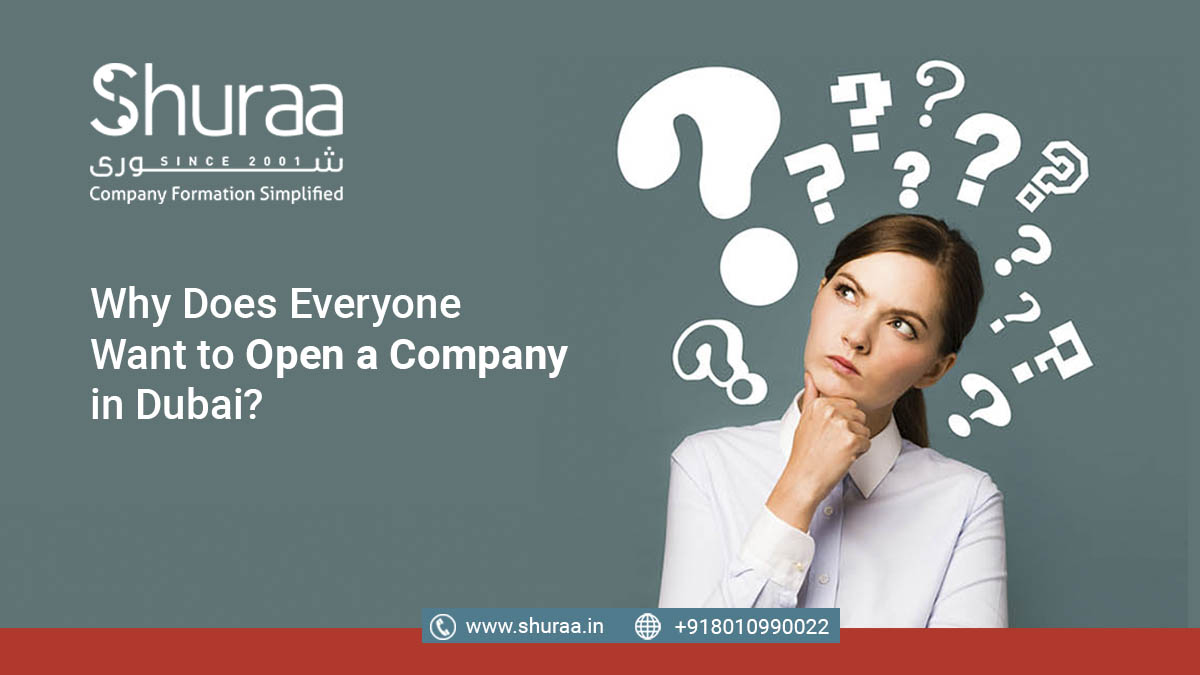 25 Feb

Why Does Everyone Want to Open a Company in Dubai?

If you're looking to open a company in Dubai, prepare yourself to leverage one of the top global commercial centers of the world. Dubai ranks 15th among the top commercial markets across the globe, making it an excellent opportunity for you to start and grow your venture. With a welcoming market and an ever-growing customer base, you can make your dreams come to reality in the city of gold.

While there are several regions in the world where you can start your business, Dubai offers the most attractive incentives to foreign investors. So, whether you're seeking to expand your existing business and open a business in Dubai or start a new venture, the UAE has a solution for all your needs. 
Here are the top reasons why Dubai makes for a perfect market to open a company.
1. Rapidly Growing Economy
If you've always looked for a welcoming economy that has a liberal trade regime for business, Dubai is where you should open your company. Dubai's economy is renowned for being open and warm to traders across the planet.
So regardless of your industry and budget, you can find plenty of options to open a company in Dubai and watch it grow unprecedentedly. Intuitively, opening a business in a growing economy has a more likelihood of success with customers. And Dubai outshines any other city in this area.
2. Friendly Laws
The government of the UAE offers plenty of opportunities for foreign investors to set up their businesses. Different legislations are put in place in the market to enable a comfortable environment for business across all industries and budgets.
Since foreign investments heavily drive Dubai's economy, the government keeps amending the laws, making them more favorable for foreign investors. In addition, the documentation and legal procedures are fast-tracked to ensure seamlessness in licensing, registration, and other processes.
3. Co-operative Workforce
You might have seen the workforce flock to Dubai to find jobs and livelihood options. With Dubai's vibrant economy, both skilled and unskilled workforce can find suitable job opportunities. For this reason, you'll find yourself with several options for the workforce when you open a company. While it is essential to have the right set of hands to grow your business, you'll never run short of them in Dubai.
4. Best-in-Class Infrastructure
With no stone left unturned to welcome foreign investors, the UAE government offers a world-class infrastructure which you can leverage for your own business in Dubai. Be it transportation, healthcare facilities, education, business parks, corporate spaces, and others, there is seldom anything you'll miss out on for your business in Dubai. 
5. Warm Environment
The people of Dubai are known for their hospitality and warm-hearted nature. Even if you've never been to the city, you'll find yourself quite comfortable and welcomed in the city. It's always a good idea to start a new venture in a company of supportive and optimistic people.
In Dubai, you can easily find the right partners, a supportive workforce, advisors, and friends that will help you grow and support you in challenging times. Additionally, it is a massive boost to the company if the natives welcome and treat everyone alike.
6. Strategic Location
One of the most critical aspects of setting up a business is the location. You might have an excellent idea, great suppliers, a hardworking team, and suitable investments. But, if you fail to find a good spot for your business, nothing else may matter. When it comes to Dubai, there is hardly any place that fails to be ideal for setting up a business. From the mainland to the free zone, the list of opportune locations to open a company is endless. 
7. Hassle-Free Connectivity
Transportation is another factor that entrepreneurs must keep their eyes on while setting up their businesses. You might need to travel outside the country often to conduct business meetings or transport your sellable goods.
This makes seamless transportation mandatory for carrying out business activities smoothly. Dubai has excellent connectivity by air, making it an ideal choice to open a company. You can easily find thousands of flights to and from Dubai across several regions of the world.
8. Exciting Opportunities
Every year Dubai offers exciting opportunities for entrepreneurs to explore their market. For example, the World Expo of 2020, held in October 2021, is set to provide a suitable market for small and medium sellers to expand their business and look for new opportunities. With the large footfall, sellers can explore possibilities, develop connections and find the best ideas to open a company in UAE.
9. Seamless Access to Markets
Another factor that makes Dubai a great city to open a company is its access to international markets. Since Dubai is a global center for commerce, you will find market giants from almost every industry and domain. This can facilitate global opportunities, international trading, abundant human resources, and unprecedented scope for growth. 
10. Tax Exemptions
Most investors with great ideas shy away from entering an international market because of its scary tax provisions. Dubai, on the other hand, is one of the most tax-friendly companies to establish a business.
If you're setting up your business in the free zone, you get a 100 percent tax exemption. Similarly, there are 0 percent corporate and income taxes along with a 30 percent reimbursement for internal cinema and TV-sponsored spending. As a result, you can make profits easily in Dubai. 
Hassle-free Business Consultation with Shuraa
With its lucrative policies and market opportunities, many budding entrepreneurs want to open a business in Dubai. Be it taking their existing business to the city or capitalizing on an entirely new idea, Dubai has solutions across industries, budgets, and ideas.
All you need is the right advice to position your company in Dubai's profitable market correctly. At Shuraa, we understand that a lot of strategic planning is required to open a company in Dubai, which is why you must leverage the best advice.
Our prolific business experts with years of experience understand the details of Dubai's market and all that it takes for a business to be successful. We help you make the right decision while entering Dubai's commerce so that you save your time and money early in the business. With Shuraa's expert consultation for your industry and budget, you can open a company in the UAE hassle-free.