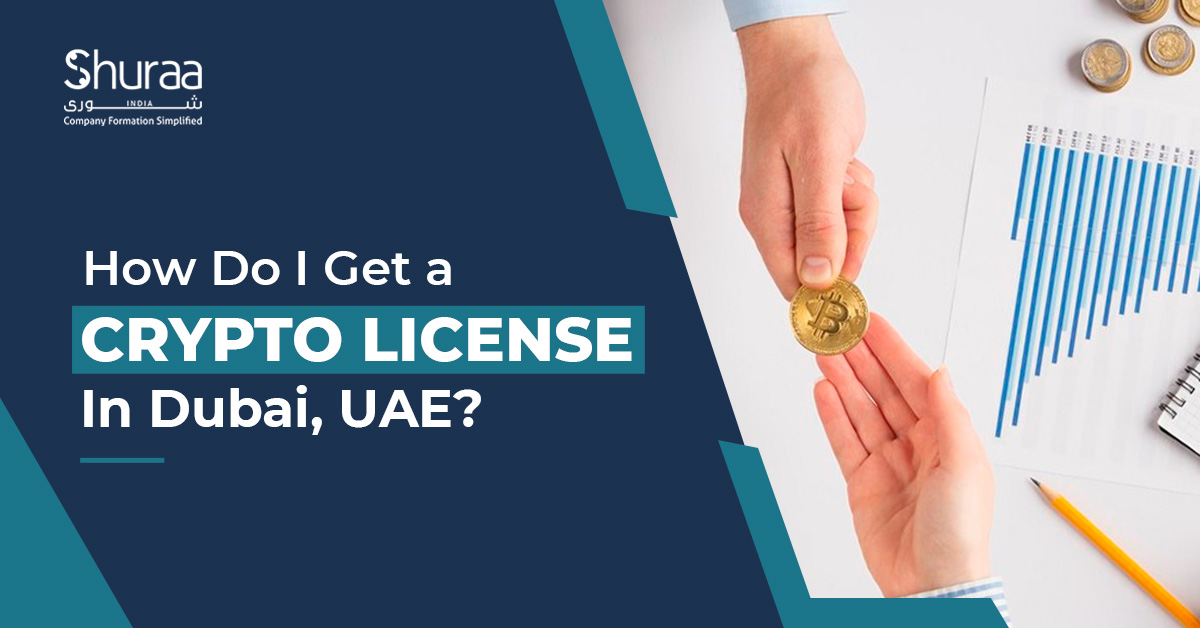 09 Nov

How Do I Get a Crypto License in Dubai?

With the advent of Web3, cryptocurrency has become the talk of the town. The underlying blockchain technology is being touted as a potential game-changer for many industries. For a city that's always been ahead of the curve, it is no surprise that Dubai is looking to dive into cryptocurrency and has already taken the required measures. So if you want to obtain a crypto license in Dubai, the time is now! 

But before we go deeper into the benefits and process, let's go over some numbers that will show you why getting a crypto license in Dubai can be extremely profitable!
The UAE is one of the top 4 countries ready to implement cryptocurrency. As per reports, the country's crypto readiness score is

6.2

out of 10. 

Also, the UAE ranks fourth on the list of nations with the highest bitcoin interest.

It is the third on the list of nations with the most blockchain technology-based businesses.
These statistics show how ready the UAE and Dubai are to embrace cryptocurrency. 
However, given that the concept of cryptocurrency has only recently attracted the eyes of many, it's important to fully understand what it is before applying for a cryptocurrency license in Dubai. 
So what are we waiting for? Read until the end to learn everything you need about getting a crypto license in Dubai. 
What is a Cryptocurrency and What is a Crypto License?
A cryptocurrency or crypto is digital money created to function as a means of trade across a computer network independent of a single governing body.
Peer-to-peer technology makes it possible for anybody, anywhere, to send and receive money. Payments made using cryptocurrencies do not exist as actual physical coins that can be transported and exchanged; rather, they only exist as digital records to an electronic database that details transaction data. A public ledger keeps track of all Bitcoin transactions that involve money transfers. 
A license is necessary to operate legally in Dubai or any other emirate of the UAE. As such, you must have a cryptocurrency license to be eligible to trade in them. This crypto license permits you to carry out all other significant cryptocurrency-related operations in Dubai. For most of it, you are only allowed to buy and sell. You are not allowed to engage in the following activities – 
Operating an exchange

Offering brokerage services
What Do You Need to Know Before Starting a Crypto Business?
Consider the following information before you launch your crypto business in Dubai – 
The Virtual Assets Regulatory Authority (VARA), set up under the Dubai World Trade Centre (DWTC), monitors and regulates all crypto-related ventures. These include representative offices, data mining companies, and consultancies. 

If you wish to set up a cryptocurrency Exchange business, your company must have 5 years of legal presence in the cryptocurrency domain in some other company. 

You may open a data mining firm for your crypto-based business by applying for an IT company license with extra permits for crypto business. 
What Are the Eligibility Criteria for a Crypto License?
The Freezone will issue you a cryptocurrency license form after you submit your business plan for the same. However, before you do that, ensure you meet the following eligibility criteria or requirements – 
Ensure your capital resources and all other operating costs are readily apparent for a minimum of six to twelve months.

You must have a perfectly clean record.

Include copies of each of your company partners' current passports.
How to Obtain a Cryptocurrency License in Dubai?
The cryptocurrency and blockchain assignments in the UAE are governed and regulated by three authorities – 
Financial Services Regulatory Authority (FSRA)

Dubai Financial Services Authority (DFSA)
To obtain a license, you must follow the required protocols. The Crypto Assets Activities Regulations (CAAR), published by the SCA, outlines the regulations that all crypto-asset companies and individuals must follow. These include anti-money and anti-terrorist laws, with the requirements for robust monitoring of KYC and AML.
What Documents Do You Need for Obtaining a Crypto License?
Cryptocurrency licensing is highly regulated in the UAE. Consequently, you must provide authentic documents to obtain a license. The following are some of them — 
Passport copies of stakeholders 

Passport sized photos 
Note.: You will have to submit a couple of more documents. For the full list of documentation, you can get in touch with theShuraa Business Setup. 
What Is the Cost of a Crypto License?
Acquiring a crypto license should not be a hassle if you meet all the necessary requirements. Although the final crypto license cost in Dubai will depend on the jurisdiction, it can roughly be anywhere around 21,500 – AED 35,000 and can go up according to the Activity.
What Are the Benefits of Obtaining a Crypto License?
A crypto license will bring many significant benefits to you. Some of them are – 
For tax residents of Dubai, there is no personal income tax on earnings from cryptocurrency. Capital gains, company income, and pay are all subject to zero percent taxation whether you actively trade or hold.

It significantly reduces your company's transactional costs due to the absence of gateways and service charges. 

Cryptocurrency trading offers high encryption, thus ensuring the safety of the transactions.

It will help you stand apart from your competitors since the cryptocurrency trends have just picked up. Thus not many companies have a valid license. 
Get a Crypto License With Shuraa
You may find obtaining a crypto license tricky with the involvement of multiple regulatory bodies and prerequisites. But don't worry! Shuraa Business Setup experts are updated on all the latest news about the UAE's crypto license and activity permissions. 
We can help you obtain a crypto license without music hassle by taking care of all the documentation and procedural needs. All you need to do is get in touch with us immediately and let us take care of the rest!