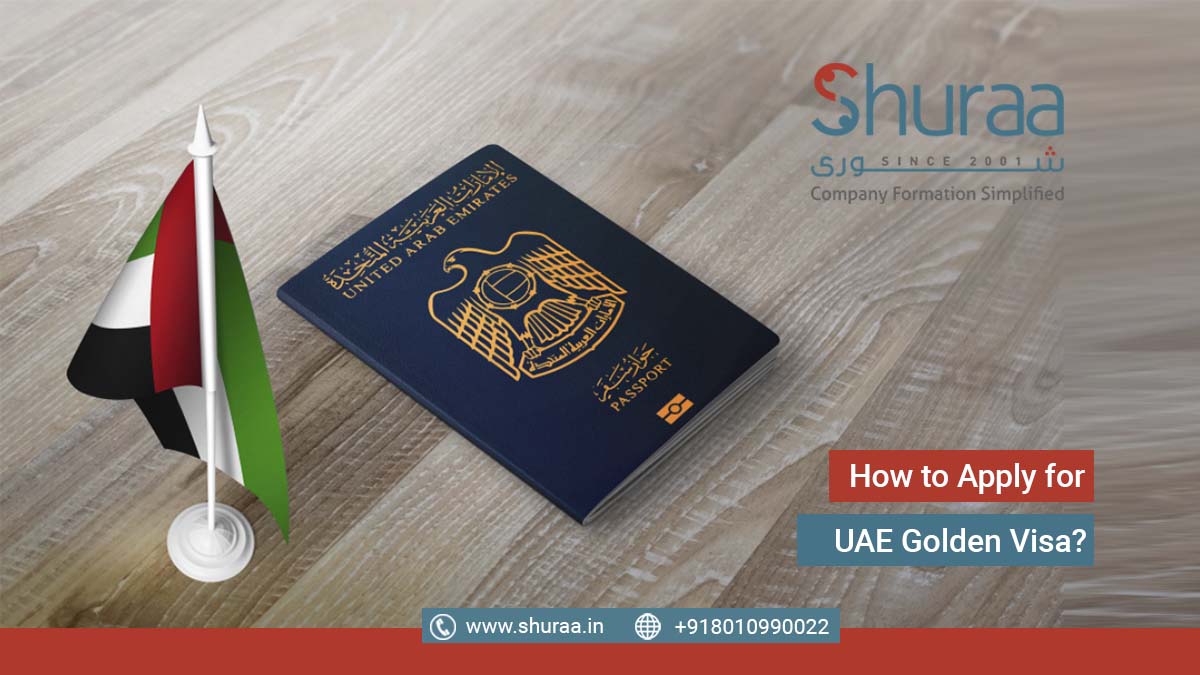 06 Jul

How to Apply for UAE Golden Visa?

The UAE Golden Visa was implemented in 2019. Since then, the system has generated quite a buzz among expats who wish to secure permanent residency in the Emirates.

The UAE Golden Visa allows people from other countries to reside, work, set up businesses, and study in the UAE without having to partner with a local sponsor. Foreign investors and business owners are also allowed 100% ownership of their business within the UAE. The Golden Visa is issued for 5 to 10 years and is automatically renewed.

Read More about: 100% foreign ownership in Dubai

In this article, you will know all about the UAE Golden Visa requirements and Golden Visa UAE prices. First, let's know what the Golden Visa offers.
What Does the
UAE Golden Visa
Offer?
The UAE Golden Visa offers long-term residency to people who have a high net worth. They must belong to specified groups; investors, entrepreneurs, researchers, medical professionals, educators, and bright students. The motive is to retain the talented people in the country. The main benefit is probably the security. The government is committed to providing some extra benefits to the UAE Golden Visa holders willing to permanently reside in UAE or Dubai.
What is the
Golden Visa UAE Price
?
A five-year UAE Golden Visa will cost you AED 650. AED 150 will be charged for application and AED 500 for issuance. The 10 year Golden Visa UAE will cost you AED 1,150. AED 150 will be charged for application cost and AED 1000 for issuance. 
What are UAE Golden Visa Restrictions?
It is not as easy as you might think to get a golden visa in Dubai. It is offered only to investors, entrepreneurs, individuals who bear prominent talents, medical professionals, and students with outstanding academic rank.
Apart from this, there are other legal requirements and a pile of paperwork. Interested people can apply through an online platform. It is not guaranteed that the application will be approved by the government. A few prominent restrictions to get a UAE Golden Visa are:
You need investment worth AED 10 million 

If you are an entrepreneur, you need a minimum capital of AED 500,000.

If you are a high school student, you must have a minimum of 95% 

If you are a graduate, you must have a minimum GPA of 3.75 or higher.

You must have health insurance. 

If you are a teacher or educator, you must have approval and a performance certificate from the respective school/university or educational organization. 
How to Overcome UAE Golden Visa Restrictions?
The easy way to get a Dubai visa is through company formation in UAE. By registering a company in Dubai, you can easily get a 3-year residency visa. You can also keep renewing your visa every 3 years easily. From company formation to visa application, Shuraa business consultants can help you at every step.
You can register your company in Dubai with DED. The process for opening a company in Dubai is simple. You must apply for a trade license and complete all the legal formalities on time. Company formation cost in Dubai will be approximately around AED 18,500. 
You don't have to pay personal or corporate tax.

You get 100% ownership of your company in a free zone.

You don't have to pay import-export tax.

No restriction on the number of visas that can be obtained.

You can repatriate your profits and capital entirely.
Because of mentioned restrictions for UAE Golden Visa, you may want to apply for other available Dubai visas. You can apply for a lifetime investor visa, employee visa, resident visa, transit visa, tourist visa etc. To resolve any of your queries, you can connect with the business setup consultants at Shuraa. We will answer all your issues related to Dubai visas, assist you throughout the whole process, and help you acquire it at a low cost.