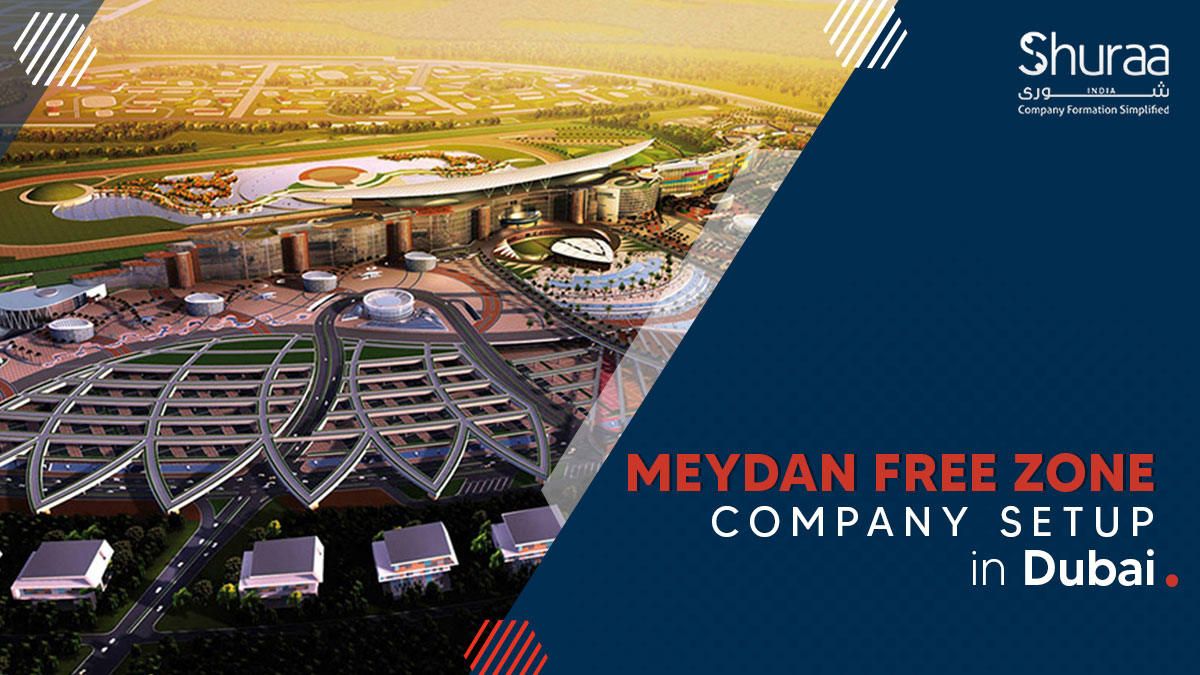 20 Feb

Meydan Free Zone Company Setup in Dubai  

Meydan Free Zone (MFZ), built around Dubai's famous Racecourse, is one of the most affordable locations for business formation and launch. The free zone is located in the heart of Dubai, and as it has grown, it has given rise to a large commercial area that is home to residential communities, hotels, entertainment centers, and commercial buildings. Connect with us for Meydan Free Zone Company Setup in Dubai.  

This free zone's major objective is to support entrepreneurs' development with low-cost enterprises. Besides, the Free Zone Authority is now a viable option for foreign investment in the Middle East's equestrian and international horse racing sectors.  

The ideal setting to support you in realizing your business objectives and positioning yourself for success. Moreover, MFZ offers adaptable office spaces in an environment that encourages performance and productivity.  
Advantages of establishing a business in Meydan Free Zone
Let's begin with the numerous advantages of conducting business in Dubai. However, one advantage of the Meydan Free Zone Company Setup in Dubai is that you'll be at the center of the Middle East, perfectly situated for trade with Europe, Asia, and Africa.  
Furthermore, the UAE enjoys a 0% personal income tax rate.  
The following are some additional advantages of the Meydan Free Zone business setup:  
Premier Place 
You are only minutes away from the city's important commercial and financial hubs when you are at one of Dubai's most sought-after centrally placed commercial properties. Downtown Dubai is 8 minutes distant from Meydan Free Zone.  
Simple startup 
At the press of a mouse on an award-winning digital platform, benefit from a simple registration process, priority government relations help, and a wide range of support services customized to your business needs.  
A fantastic place to work and live.
The exceptional chance to live, work, and play in one of Meydan's high-end mixed-use projects offers cutting-edge office spaces that support corporate growth, encourage family life, and feature a busy neighborhood with the newest attractions and malls.  
Meydan Free Zone's Features
100% ownership by foreigners. 

 

Shares with no paid-up capital. 

 

Unrestricted capital repatriation. 

 

No taxes on exports or imports. 

 

No taxes on individuals or businesses. 

 

More than 1500 license activities 

 

Easy to open a bank account. 

 

24/7 access to the office. 

 

Fast firm setup and residence visa processing. 

 
Meydan Free Zone Company Setup in Dubai and License
A "Business License" is the umbrella term used to describe a wide range of activities offered by the Meydan Free Zone, including specific and general trading, investing, consulting, service-related, and professional activities. Furthermore, Meydan FZ doesn't charge extra for combining up to three (3) activity groups in a single license.  
By guaranteeing the issuing of business permits in three to five working days, this free zone makes it simple for entrepreneurs to register their businesses.  
Meydan FZ provides affordable and cost-effective business setup options. They want to foster an environment that is supportive of businesses. Via frequent networking events, Meydan FZ provides access to a distinctive and thriving business community that fosters growth through innovation and cooperation. However, entrepreneurs from all around the world can obtain a business license and register their enterprises.  
Meydan FZ allows the incorporation of the following variety of businesses:  
Limited Liability Company in Freezone (FZ LLC). 

 

Either one or more shareholders. 

 

Shareholders can be either natural persons (individuals) or legal persons (entities) (company). 

 

Possibly a service- or trade-related activity. 

 

Lastly, liability is constrained to the sum that was invested in the business. 

 
Representative/Branch Office 
A "Branch/Representative Office" can be formed by any firm established outside of Meydan FZ if it is a legal entity of its parent company.  
Any business activity must be tied to providing services (E.g: marketing, consulting).  
International branches must be organized as a limited liability company in order to engage in trading activity.  
Process for Establishing a Meydan FZ Company 
Following are the steps for establishing up a Meydan FZ company:  
First, connect with our Business setup Advisors and convey them about your requirements.

 

Second, submit the application's required documentation. 

 

Lastly, we complete and send Meydan FZ the application. Finally, Meydan FZ will issue the license in three to five (3-5) business days.

 
Types of licenses available at Meydan Freezone Company
Activities offered by Meydan Freezone might be classified as commercial, consulting as well as media licensing.  
Consulting licenses allow for the provision of professional services such as management, business, and human resources consulting. 

 

Different sorts of items namely imported, exported, traded, and distributed with a commercial license. However, please be aware that Meydan Freezone does not currently provide warehouse space. 

 

Lastly, all forms of media, advertising, and communication services are covered under the media license. 

 
Groups of Activities Offered by Meydan Free Zone 
More than 1500 activities are specifically available through Meydan FZ's many activity groups. Please be aware that the list provided below is not all-inclusive.  
Advertising, specialist design activities, photographic activities, creative arts & entertainment activities are all specifically included in this category of activities. 

 

Education & Training: These activity categories cover pre-primary through secondary and higher education, as well as educational support, coaching, and recreational sports activities. 

 

Financial: This is a well-known activity category that specifically comprises financial intermediation, tax consulting, accounting, bookkeeping, and auditing operations. It also excludes insurance and pension funding activities. 

 

Holding: The activities of holding businesses make up this highly sought-after activity group. This activity group attracts a wide range of investors because of the tax advantages and simplicity of administration. 

 

Human Resources: This category of activities specifically comprises tasks related to HR. However, it comprises employment placement agencies, temporary employment agency activities, and other human resources interim activities. 

 

Construction of buildings: The building of roads and railways, the building of utility projects, the building of other civil engineering projects, demolition, the installation of industrial machinery and equipment, and other specifically construction operations are all included in this group.

 
Why Get A DET Permit for Your Meydan Free Zone License? 
But, with a DET Permit for your trade license in Dubai, you have the chance to legally deal with other businesses in Meydan Free Zone, other UAE-based free zones, and globally.  
The Dubai Economic and Tourism Department issues the DET Permit, which shields your firm from violations that could result in fines of up to AED 100,000 while also opening a bigger market of suppliers and customers.  
You can also apply for a letter of no objection, or NOC to Lease a Facility Outside the Free Zone, if you want Meydan Free Zone Company Setup in Dubai, to rent a space outside of the Meydan Free Zone for your company.  
Why Apply for a Meydan Free Zone Trade License? 
A bustling, conveniently situated economic sector, Meydan Free Zone has one of the most prestigious company addresses in the area. In addition, it is 15 minutes from Dubai International Airport and provides easy access to Sheikh Zayed Road and Downtown Dubai from its location in The Meydan Hotel. As a member of the Meydan Free Zone family, you will also have access to a fully furnished business center and regular networking events.  
Conclusion 
We provide our clients with a wide range of cutting-edge lifestyle and investment benefits in a safe, regulated setting that fosters productivity. We can also assist you in joining them. At Meydan Free Zone, it is also our goal to help new businesses to get started and develop into successful enterprises.
However, our team of professionals can help you with every step of starting a business in Dubai, including registering your company name and handling licensing and visa applications. Therefore, connect with Shuraa for Meydan Free Zone Company Setup in Dubai.