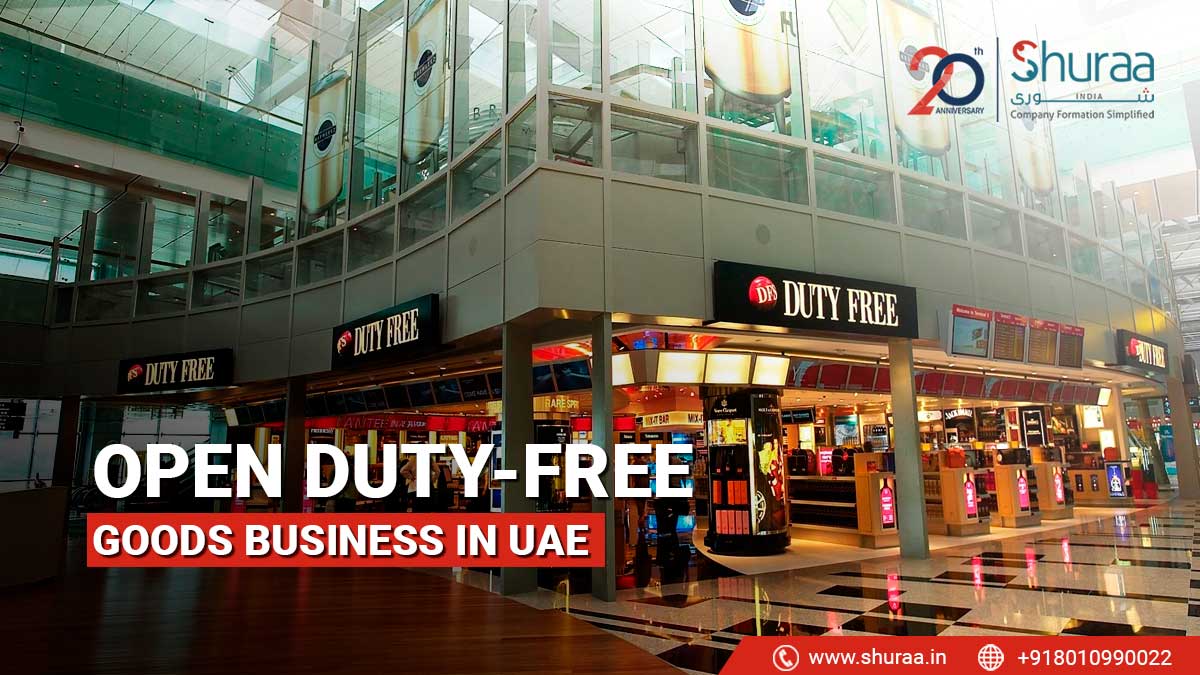 27 May

Open Duty-Free Goods Business in UAE

India and UAE have made it to the headlines of almost all leading tabloids and digital newspapers. UAE is undoubtedly the leading business hub in the world. 

The UAE consist of seven independently unique emirates. Each with its own distinct characteristic, offering attractive economic opportunities to investors and developing countries. 

Its intention to pursue bilateral economic agreements with countries like India, the United Kingdom, and Indonesia is a positive sign for businesses in both UAE and the respective countries. One such bilateral economic agreement of the UAE with India has now come into force in early May 2022, allowing open duty-free goods in UAE.  

The Comprehensive Economic Partnership Agreement (CEPA) signed by India and UAE aims to increase the bilateral trade from the present $60 billion to a whopping $100 billion in the next five years. This pact is believed to open new doors for both nations, helping them expand in the export sector and make the best of their strengths. Let's now look at the expected trade benefits, followed by how you can make the most of them. 
Which Sectors Will Be Affected by This Pact?
Amongst the many sectors that will be affected by this pact, the following are some of the prominent ones with the expected impact: 
Textiles and garments – The textile industry can expect extra exports worth approximately $2 billion.
Gems and jewelry – the export of gold jewelry, to be specific, is expected to surge to $10 billion by 2023-2024 from $1.2 billion in 2020-2021. 

Engineering goods – The export of engineering goods is likely to double, racing a whopping $9.2 billion. 

Agriculture – The agriculture sector, also the backbone of the Indian economy, is likely to witness extra exports worth $850 million.

Plastics – Plastic exports are expected to witness extra exports amounting to $1.3 billion. 

Auto – The auto industry is likely to witness additional exports worth $160 million. 

Pharma – The exports of the pharma sector may increase at 26 to 28% CAGR, hitting the $1 billion mark. 

Leather and footwear – The leather ad footwear industry is expected to witness additional exports worth $130 million.
What Are the Trade Benefits of This Pact?
To say that the trade benefits of the Comprehensive Economic Partnership Agreement (CEPA) are attractive will be an understatement. Among other benefits, this partnership agreement may create more jobs, which will leave a lasting impact, especially on India. 
Following are some significant benefits we can expect to see from this pact: 
90% of Indian exports will now be as

open duty-free goods in UAE.

New Delhi will permit 80% of UAE goods at zero tax.

Annual gold imports up to 200 tonnes,

or a fourth of its buys from all nations, from the UAE

, will be accepted at a concessional tariff by New Delhi. 

It may create 500,000 plus new jobs in India across several sectors. These include gems and jewelry, textiles, engineering products, pharma, medical devices, automobiles, leather, sports goods and furniture sectors. 

Duty-free access to the UAE markets for Indian gold exporters. UAE, before the pact, levied a 5% customs duty on such products.
What Are the Benefits of Starting a Business in the UAE?
The benefits of setting up a company or investing in a business in the UAE are many. Following are some of the many benefits: 
Expanding Economy 
In the Gulf, the UAE has the most free trade policy. Furthermore, it has been an open economy with a high per capita income and a large yearly trade surplus for the past 40 years. Also, it is home to some of the world's biggest companies and successful startups. 
Supportive Government 
The UAE government wants to boost the economy by attracting international investment. They have also altered their legislative framework for foreign investors. The paperwork is simple, and all legal procedures are expedited. There is little to no paperwork with a straightforward licensing and registration process.
Skilled Workforce 
The UAE hosts skilled and unskilled workers from all over the world. These workers come with diverse experiences and talents. As a result, company owners in the UAE do not need to be concerned about finding workers to manage their operations. 
It is a very favourable climate for both companies and employees because of cheap taxes and high earnings. Furthermore, you can also sponsor visas if you are hiring from outside the UAE. The process for the same is again simple and essay to complete. 
Favorable Tax System
The United Arab Emirates offers a variety of business ownership and tax structures. One that sticks out is the free zones, which offer tax breaks of 100%. There is no need to pay any further fees for clearing in the event of a corporate collapse. You have the option to withdraw your entire investment and earnings.
Strategic Location
The United Arab Emirates is strategically placed at the intersection of East-West, Europe-Asian trade lines with advanced sea and air transport firms, ports, and airports. They are connected to all of the major international transport centres and can convey products to and from anywhere.
Furthermore, the UAE's geographic location provides for rapid access to the nation from several countries, and residents of the UAE may easily travel to any country in Europe, Asia, or Africa.
How Can You Start a Business in UAE?
Now that most Indian goods are open duty-free goods in UAE, businesses in India and UAE are likely to skyrocket for the best. As a result, if you want to set up your own small business company or invest in a business in UAE, the right is right. 
The process to set up a business is straightforward. Following is a general overview of the same: 
Start by selecting your choice of business activity. 

Next, decide on the company structure. 

Choose a trading name for your business. UAE has laid down special rules for naming a business or a company that you must be aware of beforehand. 

Once you have decided on your trade activity, legal structure, and trade name, you must choose where you want to set up your company. The choice of location can be a make or break. 

The next step is to apply for the license. Your choice of license will depend on your business activity. 

Lastly, open a bank account, hire your workforce and start doing your business.
Start a Business in UAE With Shuraa 
Setting up a business or a company is a simple process. However, you must be aware of all the rules. Furthermore, since the UAE offers several licenses, you must decide which business license suits your trade activity the best. You will also have to submit a couple of documents for obtaining a license. Any small mishap in the documentation or a delay can hamper your business license. But worry not. Shuraa experts can help you. 
Experts at Shuraa know everything about the processes, documentation needs, and time frames. We will help you set up your business or your company in the most efficient manner. Furthermore, we will also ensure that you are not overpaying for your licenses. All you need to do is give us a call and let us take care of the rest.