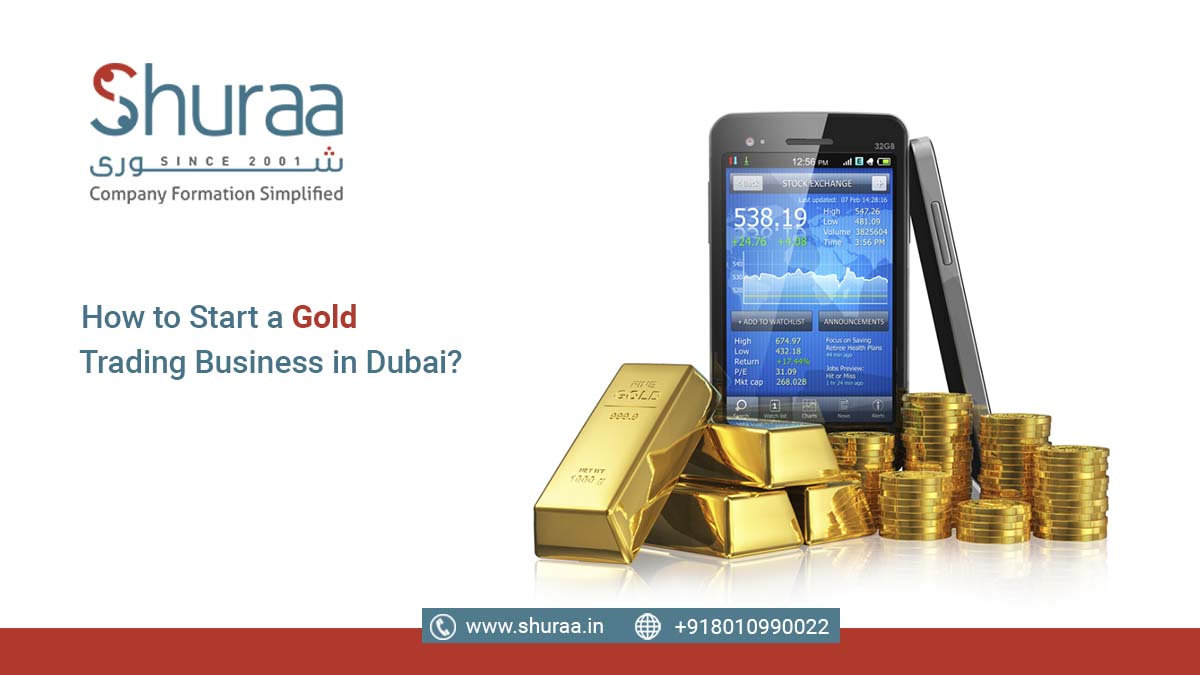 09 Jul

How to Start Gold Trading Business in Dubai?

Dubai's treasured metal market offers great opportunities for gold trading business in Dubai for budding entrepreneurs and even tycoons willing to expand their business. The gold trading business in UAE has been thriving for a very long time to attract traders from across the globe.

Today, the trading of precious metals like gold and diamonds is one of the most prominent imports in Dubai. With a trading contribution of up to 20% of the UAE's total non-oil exports, the gold trading in Dubai along with other precious metals and jewelry is an important division of the economy of the UAE.

If you wish to start a gold or jewelry business in Dubai, there are certain things you must know and consider for a proper plan to set up your gold trading company in Dubai.
What are The Top Locations for Gold Trading Business in Dubai?
Before starting gold trading in Dubai, you must understand the dynamics of the place from where you want to operate your trade business in Dubai. There are three available options –
1. DMCC Free Zone
The Dubai Multi Commodities Centre Freezone is a unique location for gold trading in Dubai. Established in 2002, today DMCC is one of the largest free zones in Dubai. It is a trade and commerce hub for R&D and refining to trading and investing. Trading gold, diamonds, precious metals and stones is a leading business in this zone.
2. Gold and Diamond Park
With around 90 retailers, Dubai Gold and diamond park is a commercial complex located in Sheikh Zayed Road in Dubai. This fully air-conditioned multistoried complex has various retail shops, offices, and small manufacturing units. This Gold and Diamond Park has been upgraded to 118 manufacturing units and 350 commercial offices under current expansion plans.
3. Dubai Mainland
If you wish to set up your gold trading company in Dubai Mainland, the Gold Souk market is the best location for the same. Here, you can directly sell your products to the public. The famous Dubai Gould Souk known as the destination of gold buyers is often on the checklist of tourists. It is a traditional gold market in the heart of the commercial district in Deira. Around 300 retailers exclusively trade here in jewelry.
Why Start Gold Trading in UAE?
Several factors make it a perfect fit for starting gold trading in UAE:
Get 100% ownership of your business and reap the maximum benefits of your gold trading business under free zones.
You can pull back all your profits incurred from the business activities back as capital without having to pay any taxes.
You get an exemption on corporate tax and income tax.
24/7 operational facilities give the benefits of an 'always open' business.
With maximum government assistance, it is very easy to hire ex-pat workers. It does not require heavy paperwork.
You get easy access to all supporting functions and business facilities almost all the time.
With centralized AC complexes, you never have to worry about the high-temperature conditions in Dubai.
It offers an exciting work environment with ventilation systems and an acid waste disposal system.
The owners of gold trading businesses in Dubai or jewelry businesses in Dubai are provided with 24/7 security personnel along with hi-tech video surveillance, fire alarm systems installed in all units.
All the gold manufactured and sold from Dubai Gold and Diamond Park is hallmarked.
The shuttle services are provided within and around the complex.
You get world-class retail center facilities to provide quality services to your customers.
What are The Required Documents to Start Gold Business in Dubai?
The list of documents required to register your gold trading company in Dubai is given below:
You need to submit valid passport copies of you and your business partners.
You must update the resume of the manager of your business.
Register your trade name and acquire the legal documents to show as proof.
You must obtain all the certifications, permissions, and documents for initial approval from the concerned legal departments.
Draft and get the memorandum of association signed. Also, obtain the article of association.
Get in touch with a power of attorney for legal representation of any lease agreement.
If you want to set up your gold trading business in Dubai free zone, a capital of at least AED 150,000 is required. You also have to pay rent to gold park management and deposit 15% of the annual unit rent (not inclusive of the maintenance fee) which is refundable. Also, you might have to pay the licensing and permit fees to the authorized legal body. It depends on the type of your business activity.
How to Get Your Gold Trading License in UAE?
You must follow the below-mentioned steps for a hassle-free procedure to obtain your gold trading license in Dubai:
Step 1. Decide Your Company Name
Deciding a catchy name for your company is an important step when establishing a Gold business in Dubai. Avoid using any offensive or complicated language or words in your company name. Do not use the names of already existing companies. If you are naming the company after the name of a person, make sure to use the full name of the person. Also, check for the availability of the name when registering. Business setup experts at Shuraa can help you with this step.
Step 2. Apply for Your License
The license application is the second most important step to acquiring your Gold trading license in UAE. If you are setting up your gold trading business in Dubai mainland, you can submit your application to the DED. If you want to start gold business in Dubai free zone, you must submit your application to the managing authority of the free zone you choose.
Whether drafting your application on your own or with help of company formation specialists, you have to only provide a few details and some basic documents, including:
A completed application form.
Passport copies of the owner and shareholders.
2 colored passport-size photographs.
Step 3. Apply for Visa
After you have applied for your trade license, you need to apply for a visa. One for you and your employees. There is a particular, yet straightforward procedure for the same. Once you get your UAE business license, you are entitled to sponsor others too. The maximum number of visas you can apply for depends on the size of your company and your business activities.
What is the Cost of a Gold Trading License in Dubai?
The cost of setting up a gold trading business in Dubai depends on the size of your company, business activities, and your official company location. A gold trading license in Dubai can cost you around AED 17,000 + service fee approximately. If you wish, you can get an on-site coworking facility which might cost you around AED 20,000.
Connect With Shuraa
Get in touch with the expert consultants at Shuraa Business Setup if you want to start a gold trading business in Dubai. With long-term experience in helping people form new companies in Dubai, we can assist throughout the procedure of the application, and documentation and help you acquire your gold trading license in UAE at a low cost.