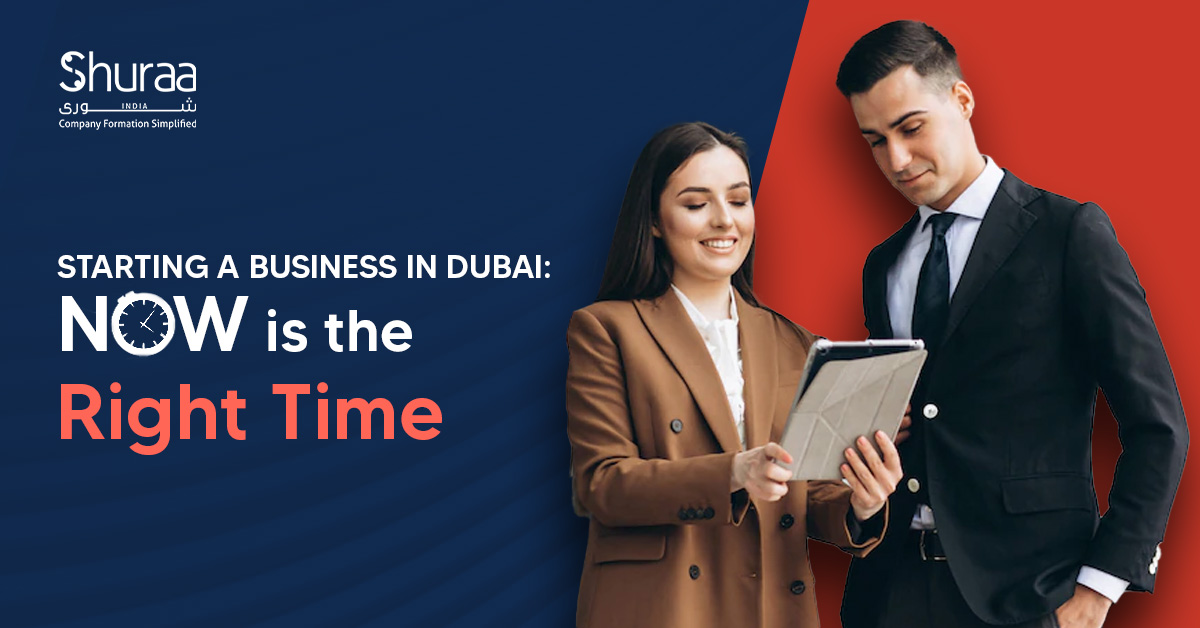 01 Dec

Starting a Business in Dubai: Now is the right time

Starting a Business in Dubai has always been encouraged. No wonder Dubai is catching the attention of business investors now that it has demonstrated its economic stability to the international market. 

A proactive step for an investor is to Start your own business in Dubai. The UAE's 100 percent foreign ownership, low tax rates, ease of doing business, improved infrastructure, e-government system, and business opportunities exceed all expectations. In Dubai, everything an investor needs to start a business is available. Shuraa has knowledgeable consultants who can help you with Business Setup in Dubai and the rest of the Emirates. 
Why Establish a Business in Dubai, UAE?
Dubai and the United Arab Emirates offer incredibly friendly and helpful business environments. In fact, Dubai alone saw the launch of over 20,000 new businesses in 2017. Unsurprisingly, many of these were registered by businesspeople from other countries. 80% to 90% of the workforce in the UAE is made up of foreigners. 
Thousands of business owners from all over the world travel to the UAE and Dubai to launch their enterprises for a variety of compelling reasons. The principal reasons are: 
Low tax
The UAE takes pride in the fact that both personal and corporate income is tax-free. The VAT was implemented in January 2018 and is currently set at a flat 5%. It is the only significant tax to be aware of in the Emirates.  
Dynamic economy
The second-largest economy in the Arab world is found in the Emirates. It ranks second to Saudi Arabia in terms of GDP, at around AED 692 billion. From healthcare and hospitality to technology and trade, there are many different industries in which you can launch a business. 
High quality of life
The UAE came in at number 23 on the list of the Best Countries. 
Support for start-ups
The United Arab Emirates is home to many funding programs and incubators for new business start-ups in Dubai
Business in Dubai has a very bright future. The UAE is anticipated to lead economic growth in the Arabian Gulf this year, increasing by 2.5%, according to the International Monetary Fund (IMF). This is far ahead of Saudi Arabia, which is expected to grow its economy by 0.4% and has the largest economy in the region. 
 This may have fascinated your interest in how to launch a business in Dubai, and you are not the only one. The good news is that if you follow the instructions in this manual, setting up a business in Dubai does not have to be challenging. 
How to Form a Company in Dubai: The Step-by-Step Guide
1. Select your Industry
The UAE has a wide range of industries and numerous opportunities for innovation. Although you might be tempted to start the actual setup process right away, we advise that you first decide what kind of business you want to run. 
 Many locations in Dubai and the UAE only permit selective types of business activities. Be careful not to launch a company in Dubai only to discover that you cannot operate there! 
In the UAE, a wide range of industries is thriving. New businesses that support this vision will be viewed favorably in 2023. Thanks to the commitment to diversifying beyond the oil economy. 
2. Select the Jurisdiction
Your next major choice, once you have chosen an industry, is whether to launch on the mainland or in a free zone. If you choose to establish your business in a free zone, you will gain: 
No personal or corporate tax

 

100% ownership

 

100% of the capital and profits

 

Zero currency restrictions and a complete exemption from import and export taxes

 
On the other hand, if you decide to establish a business on the mainland, you are free to conduct direct business with both domestic and foreign markets. 
3. Decide your company name
Make sure your company name is acceptable legally before committing to it because the UAE has some strict naming conventions. 
 Any names that contain offensive language or refer to Allah, Him, or other religious, sectarian, or political organizations like the FBI or Mafia are prohibited. The person must be a partner or owner of the business if you decide to name your company after them, and their full name must be used—no initials or abbreviations are permitted. 
4. Fill out the Incorporation paperwork
If you have read this far in your research on how to launch a business in Dubai, you have already made the most important choices. You should deal with the necessary paperwork at this time. 
You will need to fill out an application for your chosen company name and activity, which you will submit to the appropriate government authorities along with copies of shareholders' passports. 
A Memorandum of Association must specify the capital requirements of mainland businesses. 
You must first register your business activity and trade name with the Department of Economic Development of your preferred emirate before submitting the necessary paperwork. You will receive your business license once your application has been processed. 
 At this point, navigating the paperwork is arguably the most challenging task you will face. Shuraa's help is frequently invaluable at this stage of the process, even though it might take you time to fully comprehend and complete it. We strongly advise using our knowledge if you dislike tedious, challenging paperwork with lots of minute details. The time and money saved during this stage alone more than covers the cost. 
5. Submit a license application
The government will grant you a company license once it has processed your application. Regardless of setup location, you will typically only need a few common documents, such as a filled-out application form and copies of shareholder passports. Some Freezones asks for Business Plan.
6. Open a Corporate Bank Account
You will have all the necessary paperwork to open your business's bank account. There are numerous banks in the UAE, both domestic and foreign. 
In the United Arab Emirates, opening a bank account typically takes two to four weeks. The bank will inquire about: 
Your core business

 

Your projected currency amount

 

Total deposits

 

Levels of revenue &

 

principal clients and vendors

 
You will have all the necessary documentation once the government has returned your paperwork, at which point you can approach the bank of your choice. 
7. Apply for a visa
The last step in starting a business in Dubai is to apply for a visa. Many free zones allow you to submit applications for staff and dependents in addition to your own visa. 
It is best to seek professional advice if you want to sponsor someone for a visa, such as a spouse, child, house cleaner, or driver, to make sure that you and that person satisfy all entry requirements and that it is possible to do so in the free zone you have chosen. 
Assuming everything is in order, the procedure consists of four straightforward steps: 
Entry permission

 

Status modification

 

Test of medical fitness

 

Registration of Emirates IDs and stamping of visas

 
A mainland company may apply for as many visas as necessary. However, companies operating in free zones may be subject to restrictions that differ from one free zone to the next. 
Ready to Start your Company in Dubai?
Despite not being overly complicated, the steps required to start a new business in Dubai is to do necessitate some prior knowledge of the procedure. Furthermore, it is crucial to keep in mind that the application procedure will only be simple if your business application is complete and error-free while submission.
Therefore, it is a promising idea to work with a company formation specialist when starting a company in the UAE.
We can guarantee a trouble-free and straightforward experience with business incorporation because our business setup consultants are knowledgeable about and experienced with the company formation procedure. 
 Contact us to learn more about How to Start a business in the UAE's mainland or free zones.