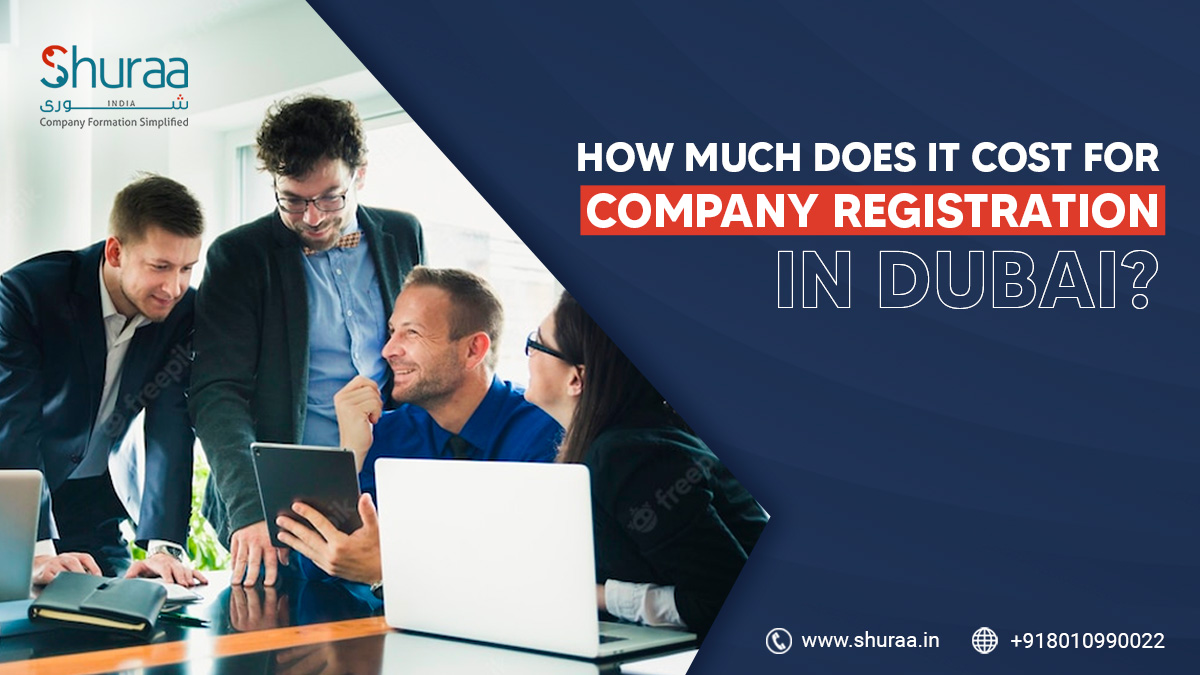 26 Sep

How much does it cost for company registration in Dubai?

Dubai, one of the seven emirates of the United Arab Emirates, is well-known for its thriving market, economy, and ease of company setup. If you use the right strategies and seek the advice of Dubai business professionals, you can save a lot of money on the cost of company registration in Dubai. 

The ability of a company to register in the UAE is influenced by factors such as location, trade name, leasing space, regional sponsors, commercial activities, and others. If you are familiar with the country's operating system, you can start your business in Dubai at a low cost. It would help if you decided whether to start a business in a free zone or on the mainland. Because free zones in the Emirates are independently governed by authorities, choosing the right one can save you a lot of money. But don't worry.

This blog will walk you through all you need to know about company registration – benefits, process, documents, costs, and more!
What Are the Benefits of Company Registration in Dubai?
Here are some of the benefits of company registration in the UAE:
1. Low Tax Rates
In comparison to other countries, Dubai has one of the lowest VAT rates in the world, at 5%. This implies that companies can make the same amount of money with lower tax rates. 
2. Booming Economy
The country is becoming more popular as an international business hub. It is a city well-known for its exceptional economic and technological growth. Some of the world's top international investors live in Dubai, where the thriving economy is expanding as more investors set up shops.
3. Strategic Location
Dubai's economy is not solely based on oil. Several businesses across many industries, including IT, banking, medical tourism, and hospitality, contribute to its economy. This is because of Dubai's strategic location between Europe and Asia. Since it sits at the crossroads, businesses can efficiently conduct trade with both regions and benefit from what each offers.
What Is the Process for Company Registration in Dubai?
The successful registration of any firm in the UAE requires the completion of numerous regulatory requirements and the acquisition of numerous certifications. This is how you do it:
1. Name and Activity Approval
Agents will submit the necessary paperwork to approve the business name and activity. The team of business consultants will assist you in clearing documentation and obtaining business activity clearance. It is one of the most critical steps in the Dubai company registration process.
The company's trade license will be used to carry out the chosen business operations. The relevant business operations will be covered by the Trade License, allowing the company to conduct legal business in the UAE.
2. Register a Legal Trade Name
The UAE government has a strict no-compromise policy when it comes to trade names that in any way offend people's feelings or intellect. As a result, ensure that your trade name meets the requirements.
After submitting your trade name application, you must wait for approval from the appropriate authority. If the name registration fees are not paid within three days, it will be considered a temporary trade name reservation.
3. Obtain a Business License
Many permissions are required for Dubai company registration, depending on the type of firm. Furthermore, some industries, such as banking, health care, and food, necessitate more permits and agreements than traditional corporations. So be cautious when selecting your license and make the same request to the appropriate authority.
4. Getting a Residence Visa
After obtaining licenses and clearances, apply for visas. Visas for shareholders, relatives, domestic workers, and others are available. If you need a lot of visas, you should form a mainland company because authorities give you some leeway in the regulations governing such matters.
5. Assistance in Opening a Bank Account
We successfully coordinated with UAE banks to open business and personal bank accounts. Shareholders must be present when a corporate bank account is opened as part of KYC Compliance. The investor can fly to Dubai, open a corporate bank account, and obtain an Emirates ID and medical card simultaneously. Opening a bank account paperwork can be completed online; physical presence is only required for verification.
If you find the process confusing, we suggest you collaborate with appropriate business consultants. Professionals will provide expert advice in all areas of business registration and related support services. They have professional PRO Service Agents to handle each investor's specific business needs. The team will organize the processing of documents, company registration, collection, and delivery without inconvenience to the investors.
What Documents Do You Need For Company Registration in Dubai?
Depending on the activity, you may be required to submit several documents to open a business in Dubai. Regardless of your line of work, you must provide a few copies. The following are some of the mandatory documents you must have:
A copy of your passport

Passport-size photographs

A copy of your entry visa
Depending on your company's requirements, the Dubai company registration setup experts at the Shuraa Business Setup can provide you with a detailed paperwork list.
What Is the Cost of Company Registration in Dubai?
The cost of company registration in Dubai varies depending on the company's size, type, and location, among other factors. The required legal license heavily influences the anticipated costs. 
Shuraa business advisors offer your company the most cost-effective business setup options. The cost of company registration in a Dubai-free zone is typically between AED 15,000 and AED 25,000. A mainland corporation typically costs AED 20,000 or more to establish.
How Can You Save Money on Company Registration Costs in Dubai?
The following are some tips to save money on the cost of company registration in Dubai:
Identify your company's needs and compare them to what the mainland or free zones offer. This will help you save a lot of money in the long run by lowering the extra charges for resources.

Seek advice from industry professionals on how to launch your company using their low-cost products. All-inclusive services include everything from licensing to visa and documentation assistance.

Rent an office if you don't need one. Flexi desks are available for purchase, and office space can be rented by the hour. As a result, your costs will be reduced, and the money saved can be used for other growth-related projects.
Register Your Company With Shuraa!
Higher business expenses may dampen your objectives. But this is never the case with the Shuraa Business Setup. We appreciate your contribution and ensure that the cost of company registration in Dubai is low and every penny is spent wisely. We develop specialized business packages and complete, cost-effective solutions to give you enough breathing room.
Furthermore, our low-cost approach is the best choice, whether it's a new business, a branch office, or a limited liability corporation. Shuraa can offer you an effective and fruitful company setup in Dubai that would be worth your time and money. Let's talk today and get started on growing your business.