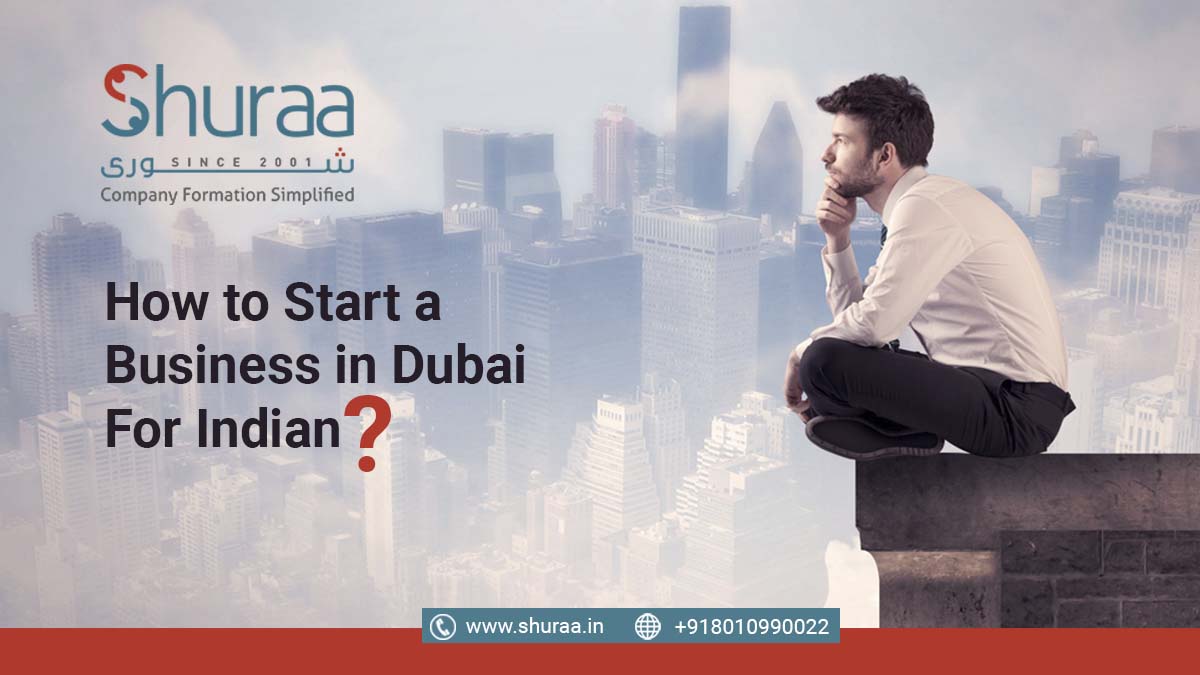 17 Jul

How to Start a Business in Dubai for Indian

Starting a business anywhere involves proper planning, making key financial decisions, and completing of various legal activities. For a business person, it is important to analyze everything carefully, from profits and losses to the kind of laws and policies applicable in the country for running a business. Known as the hub of investment, it is profitable to do business in Dubai for Indian investors. 

Indian investors have contributed a lot in creating business avenues and employment opportunities in Dubai. Hence, the government of Dubai provides great opportunities and facilities to set up a business in Dubai for Indians easily.

With all the required documents, permissions, and approvals, you can start your business within 3 days. There are low import duties, a free trade system, and no corporate taxation system.

This attracts a lot of Indians for starting a business in Dubai as a foreigner every year. However, If you are willing to start a business in Dubai, you must know about all the legal requirements. 
What is the Process to Start a Business in Dubai for Indians?
Decide Your Business Activity
Hire a Business Consultancy
Decide Your Trade Name
Acquire Visa
Register Your Company
Apply and Acquire Your Trade License
Membership at DCCI
Apply at the Ministry of Labor
Register Your Employees
Rent an Office Space
1. Decide Your Business Activity
You must be clear about the nature of your business. Having your business activities listed out will give you a steer and help you decide the location for your business setup. It will also help you select the right type of trading license for your business. 
2. Hire a Business Consultancy
Taking help from experts is very important before starting a business in Dubai for Indians. Business consultants will not only provide you with expertise in the field with the right ideas but will also assist you throughout the registration process. They are very helpful with various other services like educating you about potential costs involved, opening a bank account, etc. You can get in touch with expert business consultants at Shuraa Business Setup for affordable business setup services. 
3. Decide Your Trade Name
To start a business in Dubai, you must select a trading name for your company and get it legally approved. Your company name should not use violent, foul, or controversial words. This can lead to the rejection of your company name. If you are naming your company after the name of a person, make sure to use the full name. Whichever name you choose, it must be followed by the structure of your company. (Example – LLC, FZE). Once you have decided on a name, you have to get it registered with the DED.
4. Acquire Visa
You and all your business partners, as well as employees, must be eligible for acquiring a visa. Usually, visas in Dubai are granted to all types of business activities. The number of visas that can be acquired varies according to the nature of business and activities to be conducted. You must submit copies of your partners' and employees' passports along with other required documents to acquire your visa.
5. Register Your Company
It is mandatory to register your company in Dubai with the Department of Economic Development. You must draft an MoA (Memorandum of Association), get it signed by all the stakeholders, and get it notarized by the Department of Economic Development. You must submit and authorize all the documents with the department to get permission for the smooth functioning of your company.
6. Apply and Acquire Your Trade License
Every company must have a trade license for operating a business in Dubai. The DED mainly offers 3 types of trade licenses, namely, commercial, professional and industrial. Based on your business activities, you must select the appropriate license type. 
Apply along with required documents to the DED or in case of a free zone, to the managing authority. Your application will be thoroughly inspected and if it meets all the criteria, you will receive a confirmation mail with a payment link. Make the payment and acquire your trade license. 
7. Membership at DCCI 
Register online for a membership with DCCI. You can start a new business in Dubai right away with a low-cost membership. This membership helps you gain the trust and confidence of your customers. By serving on committees, you can easily influence the business events occurring in the city. You must complete an application process. It will be accepted if you have a good business idea. 
8. Apply at the Ministry of Labor
Apply to the Ministry of Labor to receive an establishment card. You must register the labor unit of your company with the Ministry of Labor before the commencement of any business activity. The ministry administers rules and regulations for both employers and employees of the company. It ensures the maintenance of stability and peace among them.
9. Register Your Employees
You have to register all the employees in your company with the General Authority for Pension and Social Security. It ensures their protection from any sort of exploitation before, after, or during their employment in your company.
10. Rent an Office Space
To set up a business in Dubai for you will require to rent a virtual office with a sustainability contract, Desk space, Office space, or warehouse to carry out specific business activities as per the nature of your business. You must then register with Ejari to get your tenancy contract. Obtain your unique Ejari number for future references. 
You can read the reviews of people on the Shuraa India Website also.
Massage business ideas in Dubai.
Gaming parlor business in Dubai.
Grocery store business opportunity in Dubai.
Coworking space business ideas In Dubai.
Car wash business in Dubai.
Connect With Shuraa
If you have ideas that require a minimum investment to start a business in Dubai, you can easily reap profits from it. With a lucrative business environment and rapidly increasing infrastructure, starting a business in Dubai as a foreigner is easier than ever before.
The process can get overwhelming but the expert business consultants at Shuraa can assist you with all of it and help you set up your business at a low cost. Complete your registration process without any hassle with help of our legal advisors. All you have to do is get in touch with us and we will take care of the rest.