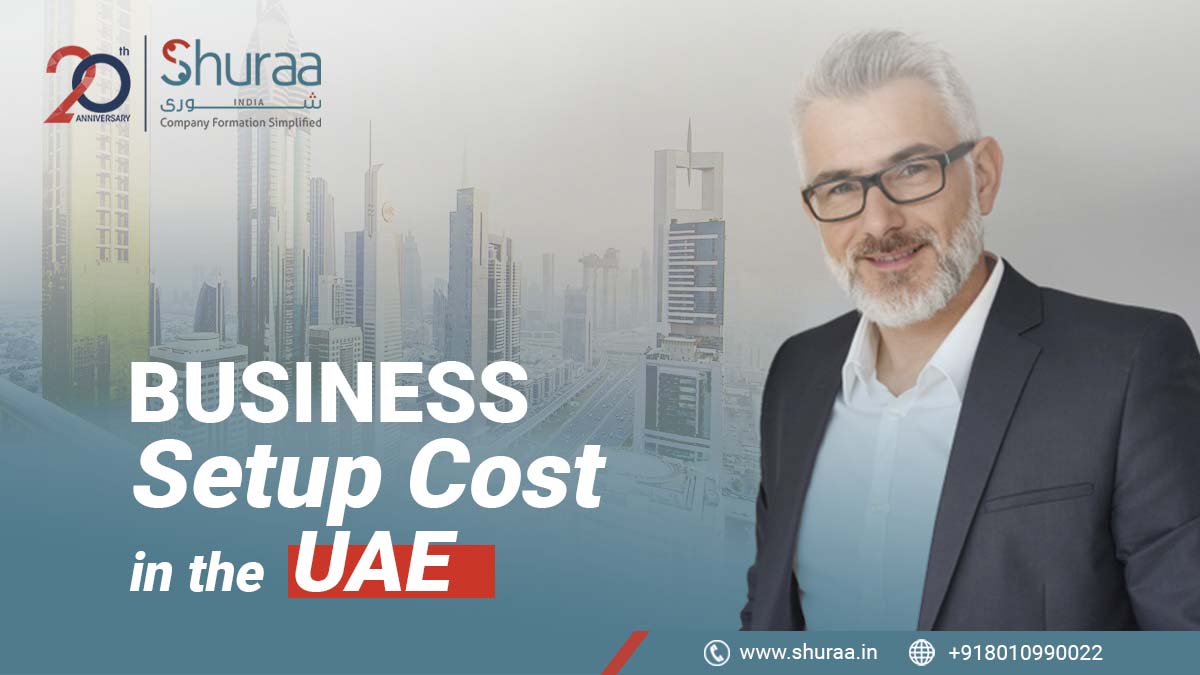 17 Dec

Business Setup Cost in the UAE

Indian entrepreneurs and business enthusiasts no longer have to be concerned about the business setup cost in the UAE. Why? Because the UAE government continues to lower setup expenses in order to provide lucrative business and investment possibilities.

Furthermore, Shuraa Business Setup business experts are on hand to oversee the overall business setup cost in Dubai. Therefore, this assures you don't have to pay anything additional to start your dream business in the United Arab Emirates.
What's the Cost of Starting a Business in the UAE?
Many factors influence the Dubai business setup cost. Your business operations, license type, location, and other factors are among them. In addition, a trading license can also be issued for as little as AED 10,000 – 25,000 depending on trading activity.
Therefore, any amount between AED 20,000 and AED 30,000 is considered a safe bet. Furthermore, it's vital to remember that if you require special privileges, the business setup cost in the UAE will rise.
For example, regulations like a foreign trading name or governmental approval add to the overall cost. However, you can reach out to Shuraa Business Setup company formation experts, and we'll ensure you don't overpay at any time during the company formation procedure in the Emirates.
Various Costs Involved in Launching a Company in Dubai
The various costs involved in incorporating a company in the Emirates include:
Fee for Registering a Business

Payment of the Business License

The Cost of Acquiring Office Space

Trade Name Reservation and Initial Approval

The LSA's Annual Fee
Here, we discuss each cost in detail:
1. Fee for Registering a Business
The number of stockholders, visa applications, and economic activities – all influence the Dubai business setup costs. In addition, Indian business owners can contact the DED to register their company with the economic department and pay any overdue fees.
2. Payment of the Business License
All legal entities in the UAE must obtain a valid license in order to conduct risk-free business in Dubai. Moreover, this safeguards them from any compliance concerns too. To start your ideal business in the UAE, you can apply for the following licenses:
Commercial License

Professional License

Industrial License

Tourism License

Agriculture License
A low-cost business setup in the UAE is determined by the kind of your enterprise and the jurisdiction you choose.
3. The Cost of Acquiring Office Space
It's critical to have a representation in Dubai. It's because it's your official address, and all legal documents and correspondence must be addressed to it. Furthermore, the best news is that you can acquire affordable office space in Dubai by consulting with Shuraa's business consultants.
In addition, we can help you find the right office space for your company. Moreover, it doesn't matter whether it's a fully digital office or a virtual office where you could start your business from anywhere.
4. Trade Name Reservation and Initial Approval
The initial approval certification costs around AED 150. Furthermore, you have six months to finish the business registration process in Dubai. Moreover, it's also a one-time government cost, similar to the AED 620 levied for a trade name registration. However, if you wish to use a foreign trading name, you'll have to spend additional money.
5. The LSA's Annual Fee
If your commercial activities meet the requirements, you can own your company completely, even if you're on the mainland. In this circumstance, all you need is the help of a local service agent who can assist you with a variety of legal formalities.
However, he/she will have no legal claim to your company. Furthermore, the LSA will only charge a nominal yearly fee to function as your business setup administrator.
What are the Benefits of Company Formation in Dubai?
The following are just a handful of the many benefits of forming a company in the UAE:
Businesses in Dubai are eligible for a variety of tax credits. Moreover, you won't have to pay any commercial taxes, and you're free to repatriate all of your revenues.

Furthermore, there is no statutory capital requirement, and enterprises simply have to pay a small VAT of 5%. Contact the legal experts at Shuraa Business Setup to understand more about the UAE's taxation regulations.

Expatriates now have full foreign ownership of their businesses, even if they are based on the mainland. Therefore, the credit for this should be attributed to recent changes to the Companies Law. Furthermore, you won't need a local sponsor (UAE national) who'll have legal engagement and 51 percent ownership of your company.

Accessibility to a diverse variety of sectors is one of the best aspects of launching a business in the UAE. 
The Department of Economic Development keeps a list of all lawful business operations from which you can select the ones that best fit your needs. Furthermore, you can also obtain external permits for operations not covered by the DED.
Documents Required for Setting Up a Business in Dubai
Here's a brief summary of the various documents you need for a low-cost business setup in the UAE:
List of trade names (3 to 4)

List of business activities

Passport copy of the shareholders

Entry stamp or visa page

Passport size photograph as per the protocols (size, background color, etc.)
Launch Your Company in the UAE Today!
The overall business setup cost in the UAE is determined by many factors. Hence, there's no one-size-fits-all estimate for the total cost of company incorporation. Furthermore, When you work with Shuraa Business Setup, you can launch any business you want at an economical rate.
Shuraa business registration experts give end-to-end business support. In addition, we also handle documentation, translation, licensing, banking, and a variety of other tasks. Moreover, the best part is that we can also act as your silent partners for a small fee.