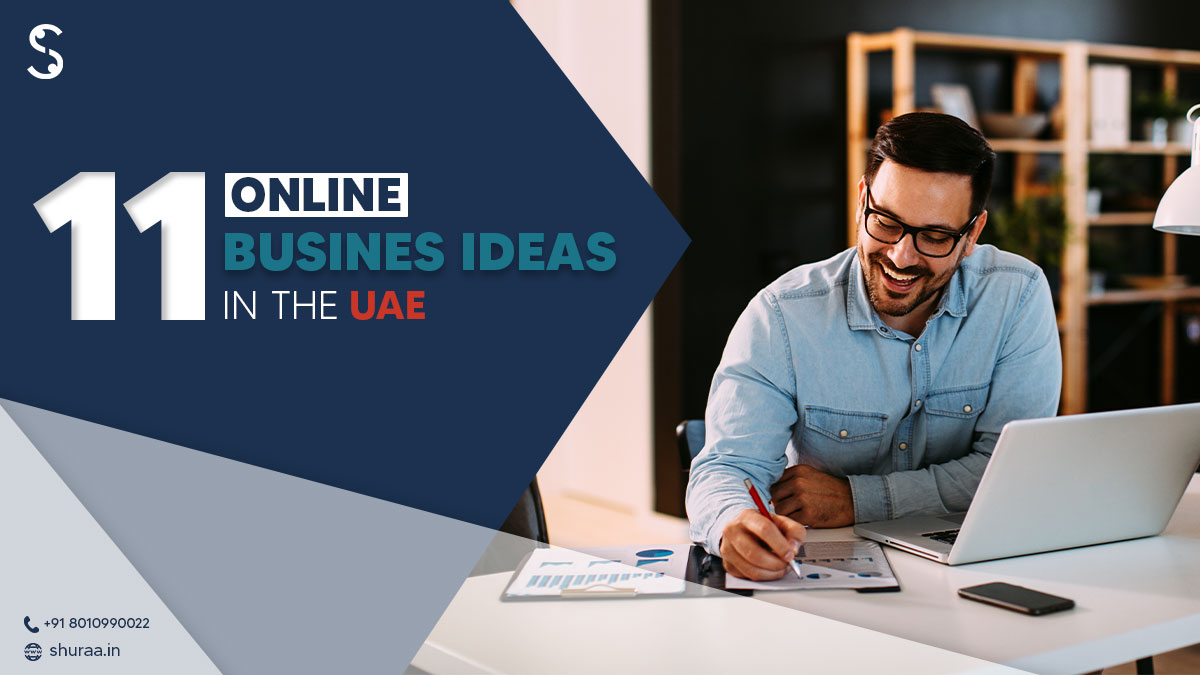 02 Aug

11 Online Business Ideas in the UAE

As one of the most dynamic and highly developed e-commerce industries in the world, the UAE stands tall as the beating heart of trade in the Middle East and the largest among the GCC countries. With a consistent upward trajectory in average trade volume over the past few years, the country is poised to achieve remarkable annual growth, projected to reach an impressive 23% by 2022.

In this landscape of boundless possibilities, let's explore a myriad of captivating online business ideas in the UAE that can be the gateway to success in the vibrant and ever-evolving market of the Emirates.

If you're an investor or entrepreneur seeking to capitalize on this unprecedented growth, Dubai, the jewel of the UAE, beckons with its strategic location and investor-friendly policies. Boasting zero personal taxes, custom tax exemptions in select free zones, and unrestricted currency flow, Dubai's business ecosystem is a fertile ground for ambitious minds.

In this blog, we will dive into the thriving landscape of online business ideas in the UAE. As the city embraces the latest trends in commerce and trade, there's no shortage of potential ventures that can flourish here. Whether you're a seasoned entrepreneur or a budding startup enthusiast, our curated list of 11 online business ideas is designed to inspire and guide you on your path to success.

So, if you're ready to set your sights on Dubai and ride the wave of its economic prosperity, join us as we explore these exciting online business ideas in Dubai waiting to be harnessed in the heart of the UAE. The journey to entrepreneurial success starts here, and we're thrilled to be your trusted companion in this exhilarating endeavor. Let's embark on this adventure together and unlock the boundless potential of online business ideas in Dubai.
11 Online business ideas in Dubai, UAE
The United Arab Emirates has one of the world's fastest-expanding economies. As a relatively young country of only 51 years old, the UAE has already implemented various philosophies aimed at creating a cohesive ecosystem of businesses. The UAE intends to present itself as a knowledge-driven economy rather than a hydrocarbon-driven one. As a result, now is the moment to capitalize on the diverse and robust UAE economy with these practical Internet business ideas.
Following are the top online business ideas in UAE:
1. Freelancing services
Dubai's flourishing market offers a golden opportunity for freelancers to thrive in the digital landscape. Embracing the freedom of choosing and managing their projects, freelancers in Dubai can reap the rewards of a handsome income while enjoying the flexibility of their work. To operate their services legally in the UAE, professionals must obtain a freelancer license, ensuring a seamless and compliant journey in this dynamic city.
With the vibrant market and growing demand for specialized skills, freelancing services in Dubai are a gateway to success for enterprising individuals ready to harness their expertise and embark on an independent and rewarding career path.
Read more: What Are the Benefits of a Freelance Visa in Dubai?
2. Online business consultancy
Venturing into the realm of online business consultancy presents an enticing and lucrative opportunity in the UAE, requiring minimal upfront investment makes it one of the best online business ideas in UAE. Armed with your expertise and a robust network, you can establish a thriving consultancy service either in the UAE Mainland or within a free zone, tailoring the location to suit your preferences and target market.
To kickstart your journey, obtaining a service license is essential, paving the way for the formation of your esteemed business consultancy firm in the dynamic landscape of the UAE. As you tap into the region's ever-expanding business ecosystem, your consultancy has the potential to flourish and become a go-to resource for professionals seeking expert advice and guidance to navigate the complex world of entrepreneurship and commerce.
Read more: Top Business Consultant in Dubai
3. Online translation business in Dubai
Foreign expats from all over the globe make up more than 90% of Dubai's population. Furthermore, there are thousands of firms owned by foreign corporations. Translation services are an integral aspect of such firms' operational demands if they are to succeed. As a result, professional document translation and other translation services are frequently overlooked as an Internet business opportunity in Dubai.
4. Social Media Specialist
In today's digital landscape, establishing a captivating social media presence has become a paramount goal for every business entity which makes it one of the best online business ideas in Dubai. From individuals to corporations, everyone strives to curate their unique social media handles, crafting a virtual identity that resonates with their audience.
At the heart of this online ecosystem, a social media specialist emerges as a multifaceted force, wielding the power to enhance sales, cultivate leads, fine-tune campaigns, weave compelling content, and orchestrate seamless social media management.
5. Digital marketing agency
Since the arrival of Covid, the digital market in Dubai has grown significantly and is now in top online business ideas in UAE. Website development, internet marketing, web design, and content creation are all in high demand for small and medium-sized enterprises. Digital marketing is without a doubt the fastest-growing business in the UAE today, with the least amount of start-up capital.
6. IT services
As part of the Smart Dubai 2021 initiative, Dubai is actively aiming to become a smart city. The city has enthusiastically embraced the future of technology and is now home to a plethora of tech startups and technology-based companies. Dubai has also developed specific free zones such as Dubai Internet City (DIC) and Dubai Media City (DMC) to strengthen the emirate's IT sector.
Read More about How to Start an IT Company in Dubai?
7. Book-keeping & Accounting
Given the enormous volume of business opportunities in Dubai, there will inevitably be a demand for financial services such as accounting, auditing, and bookkeeping. This is a fantastic internet business opportunity for professionals just starting out in the UAE. These services will become even more popular among all business kinds following the implementation of VAT and corporate tax.
Read more: Accounting and Bookkeeping Services in Dubai
8. Graphic design & video editing
Social media platforms are the modern business's future, with graphic design and video editing one of the top online business ideas in Dubai. Design is today a serious business, and organizations are working hard to develop their identity in the market. As a result, graphic designers and video editors are in high demand to develop visually appealing material for a diverse client base. Other advantages include flexible working hours, project selection, diverse applications across many industries, and more.
9. HR & recruitment
In the bustling metropolis of Dubai, an investor-friendly haven that attracts entrepreneurs from around the globe, the demand for skilled and talented professionals in the workforce is ever-increasing. As businesses thrive and expand, they seek a pool of exceptional individuals to join their ranks. This presents a golden opportunity for HR & recruitment agencies to establish themselves as online service providers, bridging the gap between companies and job seekers.
These agencies serve as dynamic mediums, meticulously matching the right talent with the right opportunities, and fostering mutually beneficial connections that drive the success of both employers and employees.
Read more: How to Get a HR Consultancy License in Dubai?
10. Online skill-based businesses ideas in UAE
In the fast-paced and digitally connected landscape of the UAE, skill-based online businesses are gaining tremendous traction, offering a world of opportunities for talented professionals to showcase their expertise. If you have honed your skills in a diverse range of services, the possibilities for venturing into a thriving online enterprise are boundless.
For those with a knack for fixing, repairing, and creating with their hands, the role of a handyman services provider emerges as an enticing and lucrative business idea in the bustling city of Dubai.
11. Online Education Business
The best approach to make education accessible to everybody is to take it online. Since the pandemic, online tutoring has grown in popularity. However, one of the simplest ways to start your online business requires you to have only your abilities and subject matter knowledge. To begin your online teaching career, all you need is a professional license from the Dubai Economic Department (DED), which may be handled by reputable company setup consultants such as Shuraa.
Why is the UAE an Attractive Haven for Online Businesses?
As previously said, the UAE is particularly appealing to online or e-commerce enterprises. They are one of the UAE's and the world's fastest-growing businesses.
Online commerce is a rapidly developing trend in Dubai. People in the United Arab Emirates are among the top ten in terms of internet usage and interest in online commerce.
In current times, the UAE has attracted many foreign and local businessmen to set up shop in Dubai, the majority of which are online or e-commerce. Many people are curious as to why, so let us explain why the UAE is ideal for virtual company ideas.
1. Modern infrastructure
The United Arab Emirates has one of the most advanced and modern infrastructures, with access to cutting-edge technology, education, and transportation.
High and modern infrastructure leads to modern culture, which explains why the people of the UAE are pleased with online business and even support ideas for online companies in Dubai, Abu Dhabi, or the entire UAE.
2. Robust E-commerce Industry
The UAE has witnessed a remarkable surge in e-commerce activities in recent years, driven by a tech-savvy population and a growing preference for online shopping. With a high smartphone penetration rate and an increasing number of internet users, the country's digitally connected consumers are actively embracing online platforms for their purchasing needs.
Major international e-commerce players have recognized this potential and established a strong presence in the UAE market, further fueling the growth of the industry.
Moreover, the government's initiatives to promote cashless transactions and digital payments have also contributed to the rise of e-commerce, making it a thriving sector for online businesses to tap into.
3. Multicultural Consumer Base
One of the most striking features of the UAE is its diverse and cosmopolitan population, comprising a rich tapestry of nationalities and cultures from around the world. This multicultural consumer base presents a unique advantage for online businesses, as it offers an opportunity to cater to a wide range of tastes, preferences, and buying behaviors.
Whether it's fashion, food, electronics, or lifestyle products, entrepreneurs can tailor their online offerings to suit the diverse needs of the population. Additionally, cultural diversity also promotes innovation and creativity in product development and marketing strategies.
Entrepreneurs can tap into this vibrant mix of consumers to gain valuable insights and build strong brand loyalty across different segments, ultimately contributing to the sustainable growth and success of their online ventures.
4. Beneficial topography
The UAE is considered as a business center, both online and offline. This is because the UAE has become a convenient commercial stop for countries in Europe, Africa, and Asia.
Along with the advantageous geography, the UAE has access to one of the largest airports, the Dubai International Airport, and multiple ports due to its proximity to the sea.
Because of its accessible position, the UAE has become a hub for Internet commerce, with access to billions of customers and an endless supply of goods and services.
5. Secure online payments
When conducting business online, it is critical to determine how you will be paid. This entails having an effective banking or payment system in place.
Accepting money from consumers is one of the most critical aspects of running an Internet business.
The UAE boasts a very secure and well-functioning online banking system. They are also trustworthy amid economic downturns in other regions of the world.
As a result, many businesspeople perform their internet company ideas in the UAE.
Let us now discuss some of the most effective Internet business ideas in the UAE that will help you become wealthy sooner than you think.
Discover Your Dubai Dreams: Launch Your Online Business Today with Shuhraa
Welcome to the gateway of endless possibilities! Shuraa Business Setup is your trusted partner in transforming your online business dreams into a tangible reality in the thriving business hub of Dubai, UAE. With our expert guidance, from acquiring your professional license to securing office space and managing visas, every aspect of setting up your venture is covered.
Dubai's exceptional lifestyle, futuristic infrastructure, and robust networking opportunities provide the perfect environment for your business to flourish. Benefit from free lifetime residency and 100% ownership of your business as you choose from our diverse range of specially curated company formation packages. Take the plunge now, and let's embark on this journey of success together.
Call us at +918010990022 to unlock the boundless potential of your online business in Dubai.