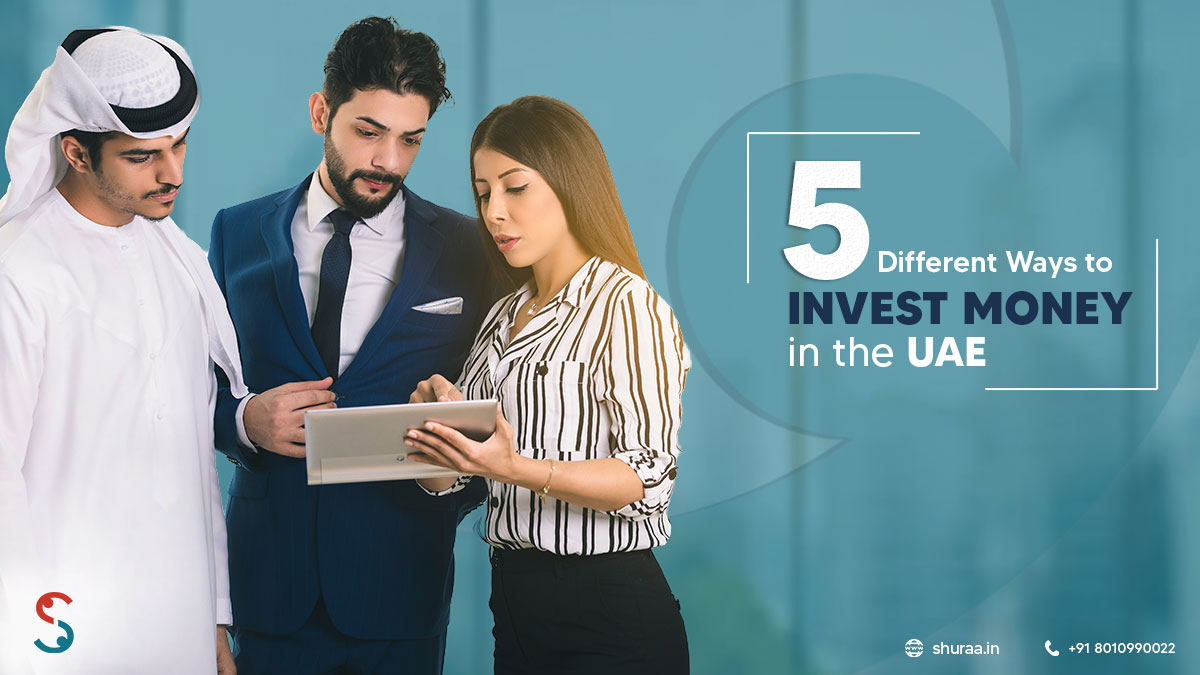 12 Jun

5 Different Ways to Invest Money In The UAE

Acquiring financial independence in the UAE begins with understanding how to invest in the nation. This knowledge is essential for both Emiratis and expats. However, investing in the UAE is not easy since it needs extensive study to choose the appropriate investment plan.

People in the UAE frequently make costly investing mistakes owing to a lack of adequate study and understanding of the industry. However, certain investing techniques might provide you with high returns. In this article, we will understand opportunities for small investment in Dubai for foreigners.
Things to Consider when Investing in the UAE
 There are certain things to consider before making a small investment in Dubai for foreigners:
Create an Investment Plan
The most important instrument for making successful investments is an investment strategy. To develop a sustainable and feasible plan, you must evaluate numerous factors, including your existing financial situation, investing goals, and investment budget, among others. When these considerations are made, the investment vision becomes clearer.
Long-term Investments
While many individuals desire to earn money rapidly, it is important to consider that the most favorable investment opportunities in the UAE are those that require a long-term commitment. If your aim is to produce cash to safeguard your future, avoid a short-term, quick-profit attitude. Long-term investment strategies are more resistant to inflationary pressures.
Diversify your Investment Portfolio
The optimal investing plan is always a well-diversified portfolio. Your bucket should contain a diverse range of investment assets. This decreases the total risk of your investment. If you want to get a solid return on your investment in the UAE, you should examine five distinct investment instruments: stocks, bonds, mutual funds, ETFs (Exchange Traded Funds), and REITs (Real Estate Investment Trusts).
Go for Good Returns and Balanced Risks
Before investing in the UAE, you should consider the risk. The biggest weightage in your basket should belong to an investment vehicle with a moderate risk level and a solid return rate. Investment choices with cheap fees and taxes are often regarded favorably.
Now lets get Started with the best options available to invest in Dubai
Digital Marketing/IT Services:
The UAE's digital transformation and emphasis on technology-driven solutions are driving tremendous development in digital marketing and IT services. Investing in a digital marketing agency or an IT services firm can be a good small investment in Dubai for foreigners and it is extremely advantageous for a variety of reasons:
Increasing Demand:
The UAE's digital environment is quickly expanding, with firms of all kinds investing extensively in online marketing, e-commerce, and IT infrastructure. The UAE Telecommunications Regulatory Authority predicts that the country's digital economy would contribute considerably to GDP in the future years. This creates several chances for digital marketing agencies and IT service providers to meet the rising demand.
Diversified Client Base:
The UAE is home to a wide number of businesses, including banking, tourism, and retail. You may offer a wide range of clients by investing in digital marketing or IT services, such as social media marketing, website building, cybersecurity, cloud computing solutions, and data analytics. This diversity helps to limit the hazards of relying on a single industry.
Scalability and Global Reach:
Scalability and worldwide reach are advantages of digital marketing and IT services. Businesses in these areas may grow their operations and serve foreign clientele with the correct strategy and experience, increasing their income potential. The UAE's strategic position and good connections make global growth even easier.
Real Estate
Because of the UAE's booming property market, real estate investment has long been a popular option and a good one for small investment in Dubai for foreigners. The following are some of the most important facts and benefits of investing in UAE real estate:
Capital Appreciation:
Cities such as Dubai and Abu Dhabi have seen significant capital appreciation in their property markets over the years and according to Knight Frank, Dubai's real estate market enjoyed an average yearly capital appreciation of roughly 5% between 2010 and 2022. This may result in huge ROI, particularly if you invest in important areas or rising neighborhoods.
Rental Income:
Rental income can be generated by investing in residential or commercial properties. The rental industry in the UAE is growing, with significant demand for high-quality housing and office space. Expatriates, who account for a sizable section of the population, frequently seek rental homes, providing a continual supply of possible renters. Investors can benefit from consistent rental income by owning and leasing buildings.
Favorable Regulations:
To encourage international investors to the real estate market, the UAE government has enacted a number of favourable policies and programs. Long-term resident permits, lower property registration costs, and the development of real estate investment trusts (REITs) are among them. REITs allow investors to acquire exposure to the real estate industry without having to own and manage properties directly. Such restrictions give real estate investors more freedom and transparency in their investments.
Cryptocurrency Trading:
Cryptocurrency trading has gained traction in the UAE, owing to a global spike in interest in digital assets. While it is vital to proceed with caution while investing in cryptocurrencies it can be a good option for small investment in UAE for foreigners, here are some facts and benefits of doing so in the UAE:
Growing Crypto Ecosystem:
The number of cryptocurrency exchanges and blockchain firms in the UAE has increased significantly. The government is aggressively researching blockchain technology and creating an atmosphere that is favourable to crypto-related firms. The Dubai Multi Commodities Centre (DMCC) has announced the Crypto Valley project, which aims to create a framework for firms to operate in a regulated environment. This expanding ecosystem reflects an increase in interest in digital assets.
Potential for High Returns:
The volatility of cryptocurrencies provides the potential for huge returns on investing. Cryptocurrency prices can fluctuate significantly, allowing traders and investors to profit from market movements. When investing in this highly speculative asset class, it is critical to undertake comprehensive research, be updated about market developments, and practice care.
Portfolio Diversification:
Including cryptocurrency in your investment portfolio can help you diversify. Because cryptocurrencies have a poor connection with traditional asset classes such as equities and bonds, their price moves are frequently independent of mainstream markets. By diversifying your portfolio with digital assets, you can possibly minimize risk while increasing possible profits.
Food Industry:
Because of the UAE's robust culinary culture and diversified population, the food business is an appealing investment opportunity. Here are some facts and advantages of investing in the UAE food industry:
Growing Demand:
The UAE boasts a varied populace and a thriving tourist industry, which fuels a high demand for different gastronomic experiences. The World Travel & Tourism Council predicts that the UAE's travel and tourism sector will contribute considerably to the country's GDP in the next years. You may tap into this demand and perhaps benefit from the country's burgeoning hotel and dining scene by investing in the food business.
Innovative Food Technology:
Innovative food technology firms focused on delivery platforms, cloud kitchens, and sustainable food production are emerging in the UAE. This creates chances for investors to assist and profit from the implementation of new food technology. Cloud kitchens, for example, have grown more popular as meal delivery services have expanded, allowing for more cost-effective and efficient operations.
Tourism Support:
The government of the United Arab Emirates is actively marketing tourism and portraying the country as a worldwide attraction. This assistance leads to a consistent flow of visitors and potential consumers for food-related enterprises. Furthermore, the UAE offers a variety of culinary events and festivals, increasing the exposure and demand for food enterprises.
Investment Companies:
Investing through renowned investment firms gives you access to expert management as well as diversification across many asset types. Here are some facts and advantages of investing through an investment firm in the UAE:
Expertise and Professional Management:
Investment firms in the UAE hire competent employees with an extensive understanding of financial markets. They analyze market trends, find good investment possibilities, and actively manage client portfolios. This knowledge may help investors optimize returns and manage risk efficiently, especially if they do not have the time or skills to handle their assets themselves.
Diversification:
Investment firms often invest in a diverse portfolio of assets such as stocks, bonds, commodities, and real estate. You may benefit from diversification across various industries and lessen the impact of volatility in any one investment by investing via these firms. Diversification spreads risk and can boost long-term gains.
Access to Exclusive Opportunities:
Investment firms frequently have access to exclusive investment possibilities that individual investors may not have. They have developed networks and ties with a variety of firms, governments, and organizations, allowing them to find and engage in novel endeavors. This exclusive access to prospects might open up new channels for prospective development and greater returns on investment.
A Final Perspective
Investors in the UAE have several options to increase their fortune. Because of the country's concentration on technology-driven solutions, digital marketing, and IT services are seeing tremendous development. Real estate investments provide the potential for financial appreciation as well as rental income, and they are backed up by favourable rules. Cryptocurrency trading allows for significant profits and portfolio diversity.
A cosmopolitan community and a growing tourist sector boost the UAE's culinary industry. Investing with reputed investment firms gives you access to competent management and diverse portfolios. By taking advantage of these investment opportunities and making educated selections, investors may benefit from the UAE's flourishing economy and safeguard their financial future.
Get in touch with Shuraa by calling on +918010990022