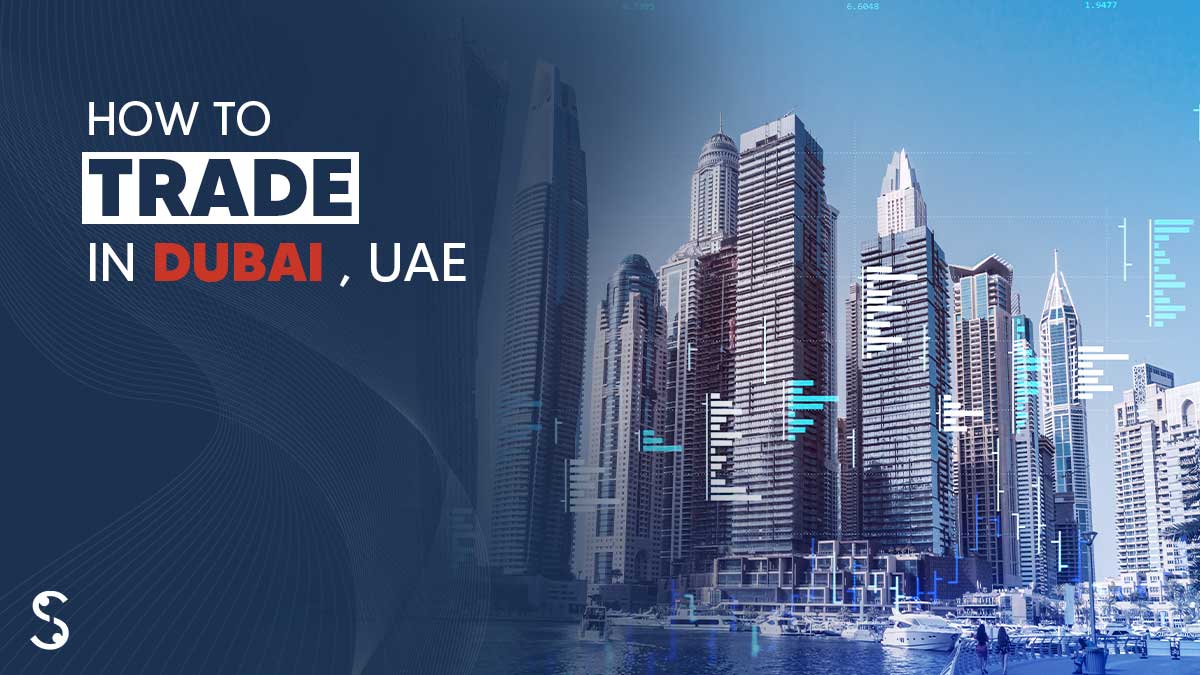 22 Sep

How to Trade in Dubai, UAE

Are you aware that Dubai boasts one of the world's most advanced and robust stock markets? If you're considering trading in Dubai, there are several key factors to consider. Established in the year 2000, the Dubai Financial Market (DFM) stands as one of the most well-regulated markets in the Middle East and North Africa (MENA) region, with a firm commitment to international best practices. 

The UAE authorities actively support potential investors by assisting them in obtaining the necessary documentation and trading accounts, all within a highly regulated and investor-friendly business environment. Today, we will provide you with a comprehensive guide to kickstart your trading ventures in the United Arab Emirates, enabling you to embark on your business endeavors on the DFM trading floor. 
Motives for Trading in Dubai
These compelling factors can instill greater investor confidence when considering trading in Dubai and participating in the Dubai Financial Market. 
1. Strong Economic Foundation
The United Arab Emirates boasts one of the world's most diversified economies, with non-oil GDP accounting for approximately 72% of its income—a stark contrast to many other Middle Eastern countries. Furthermore, the UAE enjoys one of the highest per capita incomes globally, and with substantial infrastructure advancements, it is swiftly evolving into a prominent global business hub. 
2.
Business-Friendly Environment
In the 2020 International Doing Business Index, a continuous assessment conducted by the World Bank to evaluate a country's business landscape and regulatory framework, the UAE secured an impressive 16th place out of 190 economies. 
The nation further enhances its appeal with a highly conducive business environment characterized by minimal taxes, straightforward company registration processes, and world-class infrastructure. Whether you operate during traditional business hours or engage in online or offline ventures, the UAE offers diverse avenues for profitable endeavors. 
3. Attracting Foreign Investors with Open Arms
In a bid to encourage foreign investors to settle and establish businesses in Dubai and the UAE, the UAE government has recently implemented investor-friendly policies. Here are key considerations: 
Ownership:

The UAE Ministry of Economy now grants foreign investors the privilege of owning 100% of their UAE companies.

Foreign Workforce:

Presently, a significant portion of the UAE's workforce, ranging from 80% to 90%, comprises individuals from other countries.

Workweek Shift:

To better synchronize with global trade and business practices, the UAE government has transitioned state-run

& private

offices' workweek from Sunday to Thursday to Monday to Friday, effective from

2021

.

Taxation:

The UAE boasts one of the world's most lenient tax systems as it does not levy personal income tax, apart from a flat 5% value-added tax.
Trading in Dubai: Available Markets and Indexes
Dubai offers two distinct financial markets where you can engage in trading activities involving securities, stocks, Sukuk, or Shariah-compliant bonds. These markets comprise: 
1. DFM (Dubai Financial Market)
The Dubai Financial Market primarily features businesses and companies based in the UAE, providing a platform for trading local assets. 
2. Nasdaq Dubai
In contrast, Nasdaq Dubai operates as a global stock and financial market, facilitating the trading of both international and local financial instruments, broadening your investment horizons. 
Key Stock Indices on the Dubai Financial Market
In Dubai, the DFM hosts companies that are part of three significant stock indices: 
DFM General Index:

The DFM General Index comprises a series of indices that reflect the performance of the UAE stock market as a whole.

DFM Shariah Index (DFMSI):

The DFMSI exclusively includes Shariah-compliant companies from the DFM S&P/Hawkamah, aligning with Islamic finance principles.

UAE ESG Index (UAEESGI):

The UAEESGI features leading sustainable businesses, emphasizing environmental, social, and governance (ESG) criteria in its selection.
Navigating UAE Stock Trading Information
Accessing market data for trading UAE shares is straightforward when trading in Dubai. You can easily obtain transparent pricing and industry insights through your chosen broker's app or website. Additionally, the DFM regularly publishes and updates broker rankings based on trading volume and quantity. This enables you to consistently monitor your broker's performance in relation to the market. 
Dubai's Prerequisites for Stock Trading
To engage in stock trading in Dubai, you must meet some basic requirements: 
Obtain a National Investor Number (NIN):

Initiate the process by acquiring a National Investor Number (NIN).

Open an Account with a DFM-Listed Broker:

The next step is to establish an account with a broker featured on the DFM's list.
The DFM and Nasdaq Dubai exchanges offer access to both domestic and foreign equities. Requesting a NIN through the Dubai Financial Market is a straightforward process. Simply complete an investor number request form and submit the necessary identification documents. Once your request is approved by the DFM, you will receive your NIN. Both the Nasdaq Dubai market and the DFM will recognize and accept your NIN for trading purposes. 
A Step-by-Step Guide: How to Commence Trading in Dubai
Trading stocks in the United Arab Emirates is a straightforward process, reflecting the government's commitment to fostering a highly favorable business environment. To embark on your trading journey in Dubai, follow these uncomplicated steps: 
Step 1: Obtain Your NIN (National Investor Number)
The NIN, or National Investor Number, serves as both your identity and a regulatory prerequisite for trading in Dubai. You can acquire this number through one of three straightforward methods: 
Option 1: Utilize the DFM App (the Easiest and Fastest Approach)
The DFM (Dubai Financial Market) recently enhanced its mobile app, making it the most efficient way to apply for your NIN. Using the app, you can initiate the application process, submit the necessary documentation, and swiftly obtain regulatory approval.
The entire application can be completed in as little as three minutes, and your NIN will be sent to you via SMS. During the process, you'll need to upload a scanned copy of your Emirates ID and take a selfie within the DFM app. Additionally, you'll need to specify whether you prefer to receive dividends through an investor card or a bank account. 
Option 2: Visit the Dubai CSD Investor Affairs Help Desk
If you prefer a more traditional approach or lack extensive tech expertise, the Dubai CSD Investor Affairs Help Desk at the Dubai World Trade Centre, Sheikh Rashid Tower, provides excellent services. You can either complete a paper-based or electronic application form, sign it, and submit it in person. The authority will expedite the verification process and notify you of your NIN via SMS. 
Option 3: Engage a Registered Broker
The third option is to open an account with a broker authorized to act on your behalf. Ensure that the brokerage firm you select is listed on the DFM's roster of authorized brokerage firms. The application procedure and document requirements remain consistent. You'll need to complete the official NIN request form and submit it through your chosen broker. 
Step 2: Establish a Trading Account with a Broker
With your NIN in hand, the next step is to select a registered broker. Ensure you conduct comprehensive research before making your choice. 
How to Choose the Best Broker in Dubai for Trading
DFM publishes and regularly updates a list of authorized brokers for Dubai Stock Trading. DFM requires every trading member to possess a bank guarantee of at least AED 1 million (USD 272,000) and paid capital of at least AED 30 million (USD 8,168,000). 
Consider the following factors when choosing your broker: 
List of Services:

Brokers offer a diverse array of services, including equities trading, margin trading, and online trading, among others. Some may even provide advanced options such as margin trading, direct market access (DPA), and derivative trading. Select a broker based on the level of service that aligns with your needs.

Technology

: Not all brokers offer online trading platforms equipped with real-time and historical pricing data or well-designed mobile applications. If you intend to trade independently without appointing someone to manage your portfolio, it's essential to have access to these technological features.

Fee Structure:

Brokerage fees vary and can encompass transaction fees, account opening fees, account maintenance fees, and portfolio management fees. Prior to opening a trading account, thoroughly review their respective websites to ensure you comprehend all associated fees.
Step 3: Commence Your Dubai Trading Journey
Once you've successfully opened an account with a regulated broker, it's time to embark on your trading adventure. Utilize either the DFM app or the DFM e-services portal to enroll for real-time data updates from DFM and receive pricing information. This data encompasses instruments listed on Nasdaq Dubai, as well as DFM. 
Upon enrollment, you'll gain access to the following trading options: 
Listed Equities:

You can currently choose from a selection of 116 listed stocks on DFM and Nasdaq Dubai. Explore and trade these stocks on the DFM website, where you'll find comprehensive market profiles and pricing details for each stock.

Derivatives:

Seasoned investors can diversify their portfolios and hedge against price fluctuations by engaging in derivative or futures trading with DFM. DFM collaborates with eight brokers, three market makers, and four technology partners as derivative trading members. Contracts with 1-, 2-, or 3-month expiration dates are available for purchase on DFM.

Market-Traded Funds (ETFs):

DFM also offers the opportunity to trade commodities, ETFs, and trading instruments with underlying assets. Trading ETFs boasts advantages such as low management costs, lower minimum investment requirements compared to mutual funds, and excellent liquidity.

Sukuk and Bonds:

For those seeking secure and low-risk investment returns, bonds and Sukuk are excellent choices. Sukuk and bonds can yield returns ranging from 3% to 7%. At the time of this writing, DFM had 175 Sukuk or Islamic bonds and 97 conventional bonds listed for trading.
Step 4: Monitor Your Investment Portfolio While Trading Stocks in the UAE
Having grasped the process of utilizing your trading account and an approved broker to engage in stock trading and manage other investment instruments in Dubai, your ongoing responsibility is to diligently oversee your investment portfolio. 
Summing Up Trading in Dubai
No matter your preferred trading schedule, Dubai welcomes you to a thriving and business-friendly environment once you embark on your trading journey. With the incorporation of cutting-edge technologies and streamlined trading processes, supported by local authorities, trading in Dubai is made convenient and efficient
Beyond stock market trading, Dubai and the United Arab Emirates present an array of innovative investment opportunities, including ventures into Web 3 technologies for Dubai's trade sector
Are you eager to explore how to initiate a business, acquire a trade license, and engage in commerce in Dubai promptly? Reach out to us without delay.
We are a dedicated team of business consultants well-versed in UAE company registration and business licensing. For investors entering the UAE, we offer a diverse range of tailor-made company formation packages to meet your specific requirements.