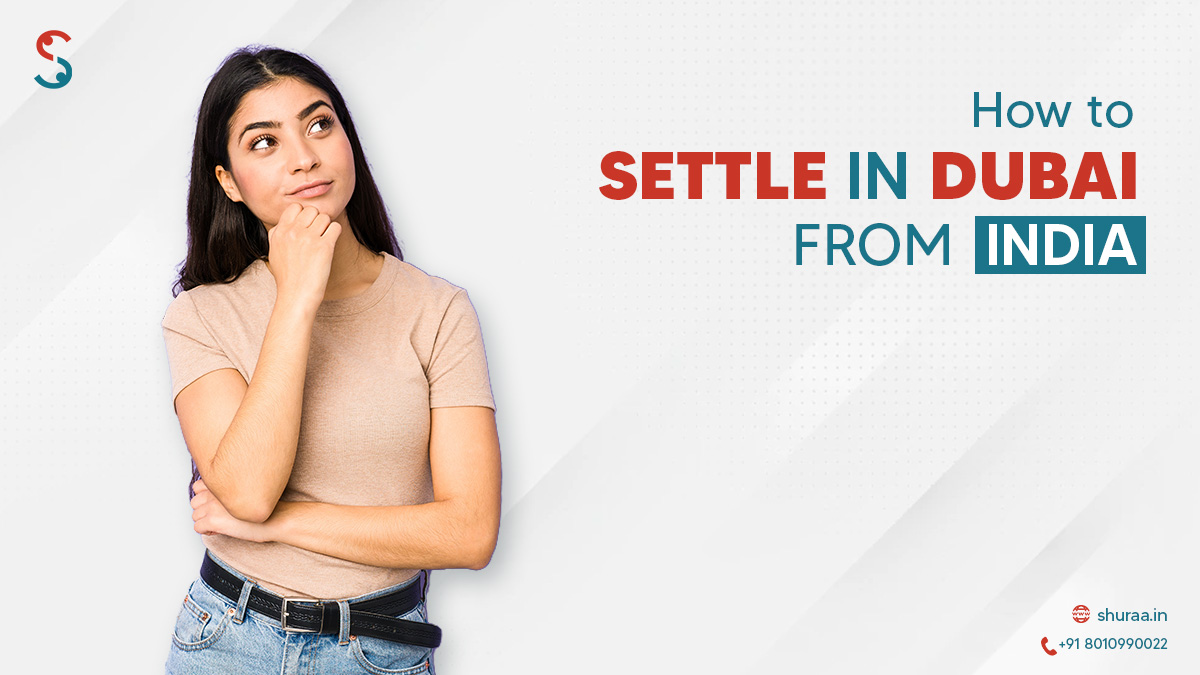 14 Jul

How to Move to Dubai from India?

Are you considering a move to Dubai from India? Whether you're a citizen, business owner, or entrepreneur, here we will help you to navigate the process of settling in Dubai. 

Dubai is a vibrant city known for its breathtaking architecture, thriving economy, and rich cultural heritage. The city offers a wealth of opportunities and a high standard of living, making it an attractive destination for many.  

From visa requirements and housing options to setting up a business and navigating the local culture, we have got you covered.  

So, if you're ready to embark on this exciting journey, let's discover everything you need to know about getting settle in Dubai from India. 
What are the Visa Options for Business Owners and Indian Entrepreneurs
When it comes to Moving to Dubai from India, understanding the visa options available is crucial. Indian citizens have several visa categories to choose from, depending on their purpose. 
The most common options include – 
Investors visa –

The visa is for entrepreneurs and business owners, allowing individuals to establish or invest in a business in Dubai. The investor Visa in Dubai presents an exciting opportunity for entrepreneurs seeking long-term residency in the city.

Freelancer visa

– Ideal for self-employed professionals, this visa allows individuals to work as freelancers in Dubai. It requires sponsorship from a UAE-based company or an authorized freelancer platform.

Retirement visa

– This visa is specifically for retirees who wish to reside in Dubai. It requires meeting a certain age and financial criteria, such as having a certain level of savings or a guaranteed pension income.

Employment visa

– This visa is for individuals who have secured a job in Dubai. It requires sponsorship from a UAE-based employer and is typically valid for the duration of the employment contract.
Each visa category has its own specific requirements and benefits. Therefore, we highly recommend getting an expert consultation and help at Shuraa Business Setup to thoroughly understand eligibility criteria, documentation, and procedures associated with each visa option to make an informed decision and ensure a smooth settlement in Dubai. 
What are the benefits of living in Dubai for Indians?
Dubai has emerged as a magnet for Indian citizens and entrepreneurs seeking new horizons. There are many benefits of moving to Dubai for Indian citizens and entrepreneurs. Here are some of the most notable: 
Dubai has a very attractive tax regime for businesses and individuals. This can save businesses and individuals a significant amount of money.

 

Dubai's business landscape is incredibly welcoming, with streamlined processes for company setup and licensing.

 

Dubai's infrastructure is second to none, offering top-notch healthcare facilities, modern transportation systems, and a secure environment, ensuring a high quality of life for residents.

 

Dubai has a diverse workforce, with people from all over the world.

 

Dubai is a major global transportation hub. The city is home to two international airports, a modern metro system, and a well-developed road network.

 

Dubai is renowned for its low crime rate and strict enforcement of laws.

 

The Dubai government offers a number of support programs for businesses and entrepreneurs.

 
Of course, there are also some challenges to moving to Dubai. The cost of living can be high, and the culture can be different from what you are used to. However, the benefits of moving to Dubai can outweigh the challenges for many people. 
Differences Between a Mainland and Free Zone in UAE
When considering settling in Dubai as a business owner or entrepreneur, it's essential to understand the different business setup options available. Dubai offers a range of options tailored to meet various needs and preferences. 
1. Free Zone Company
Free zones are designated areas with special regulations and incentives to attract foreign investment. Setting up a company in a free zone provides advantages such as 100% ownership, tax exemptions, and simplified import/export procedures. Each free zone may have specific activities and industries it caters to. 
List of best free zones in UAE: 
Jebel Ali Free Zone Authority (JAFZA)

 

Dubai Multi Commodities Centre (DMCC)

 

Fujairah Creative City Free Zone

 

Sharjah Media City Free Zone (Shams)

 

Sharjah Publishing City Free Zone (SPCFZ)

 

Ras Al Khaimah Economic Zone (RAKEZ)

 
2. Mainland Company
A mainland company allows businesses to operate throughout the UAE market. For investors, who move to Dubai from India looking for flexibility and autonomy in managing their businesses in the UAE, Dubai's mainland business setup comes highly recommended. 
It is important to note that each business setup option comes with its advantages & disadvantages. Free zone companies offer flexibility, ease of setup, and tax benefits, but have limitations on operating within the local market.  
Mainland companies provide access to the local market but require a local sponsor and adherence to local regulations. Offshore companies offer tax advantages and privacy but have limited business activities within the UAE. 
How to Move to Dubai – Essential Tips for Indians
Before settling in Dubai as a business owner or entrepreneur, it's crucial to familiarize yourself with the city's business landscape and the vast market opportunities it offers. 
Here are some of the key industries and sectors that present significant opportunities for business owners and entrepreneurs: 
Finance and Banking

– As a leading financial center in the Middle East, Dubai offers a thriving financial sector. The city is home to numerous banks, investment firms, and financial service providers, making it an attractive destination for businesses in finance, banking, and fintech.

 

Tourism and Hospitality

– Dubai's world-class infrastructure, iconic attractions, and luxury hospitality sector make it a magnet for tourists. This industry presents opportunities in areas such as hotels, resorts, travel agencies, entertainment, and event management.

 

Logistics and Transportation

– With its strategic location and well-developed infrastructure, Dubai serves as a major logistics and transportation hub connecting East and West. This sector offers opportunities in shipping, warehousing, freight forwarding, and supply chain management.

 
Researching market demand and competition is essential for business success in Dubai. Conducting thorough market research allows you to understand local consumer preferences, identify gaps in the market, and assess the competitive landscape. 
Essential tips for Indians while moving to Dubai
Here are some essential tips for Indian citizens and businessmen to ensure a smooth and successful transition. 
Before you move to Dubai, it is important to do your research and learn as much as you can about the city and the country.

 

While English is widely spoken in Dubai, it is helpful to learn some Arabic.

 

Respect and adapt to the local culture and customs.

 

Organize and carry all essential legal documents, including passports, visa papers, identification, and business licenses.

 

Obtain comprehensive health insurance coverage to access quality healthcare facilities.

 

Understand the traffic rules and consider obtaining a UAE driving license if needed.

 

Educate yourself on the legal and business regulations in Dubai.

 

Embrace the city's efforts towards sustainability and eco-conscious living.

 

Dubai is a hot city, so it is important to be prepared for the heat. Make sure to pack light clothing and sunscreen.

 

Dubai is a great city with a lot to offer. Make sure to enjoy the city and all that it has to offer.

 
Cost of Living in Dubai
Dubai offers a high standard of living but also comes with its own set of expenses to consider: 
1. Housing expenses
Accommodation costs can be a significant portion of your monthly budget. Dubai offers a wide range of housing options, from apartments to villas, with varying prices depending on the location and amenities. 
2. Transportation
Dubai has a well-connected public transportation system, including buses, metros, and taxis. Additionally, owning a car is common, but it comes with expenses such as car loans, insurance, fuel, and parking fees. 
3. Education and healthcare
If you have children, education expenses will be an important consideration. Dubai has a mix of private and international schools, each with its own fee structure. Healthcare costs should also be taken into account, as private medical services are commonly utilized. 
4. Utilities and groceries
Monthly utility bills for electricity, water, and internet services should be factored into your budget. Additionally, grocery expenses will depend on your lifestyle and dietary preferences. 
However, here's how you can plan your finance and budget effectively: 
As an Indian citizen, understanding exchange rates and converting your currency to the local currency (UAE Dirham) is crucial for managing your finances effectively.

 

Upon arrival in Dubai, opening a local bank account will facilitate managing your finances. Research different banks to find the one that best suits your needs and offers services such as online banking, international transfers, and savings accounts.

 

Dubai is known for its favorable tax environment, as it has no personal income tax or capital gains tax. However, it is important to be aware of any tax obligations you may have in India or other countries, as well as any applicable local taxes in Dubai.

 
Get Expert Assistance Move to Dubai from India
Settle in Dubai from India offers an exciting opportunity for citizens, business owners, and entrepreneurs alike. The city of Dubai has become a global destination for individuals looking to start a new chapter in their lives.  
However, it is essential to approach this journey with enthusiasm and optimism to explore the exciting business opportunities available in Dubai. To ensure a smooth and successful transition, seeking legal advice and consulting with a trusted business setup consultant like Shuraa Business Setup can provide valuable insights and guidance. 
With Shuraa's expertise, you can navigate local laws and regulations, set up your business effectively, and embark on a path to success in Dubai.