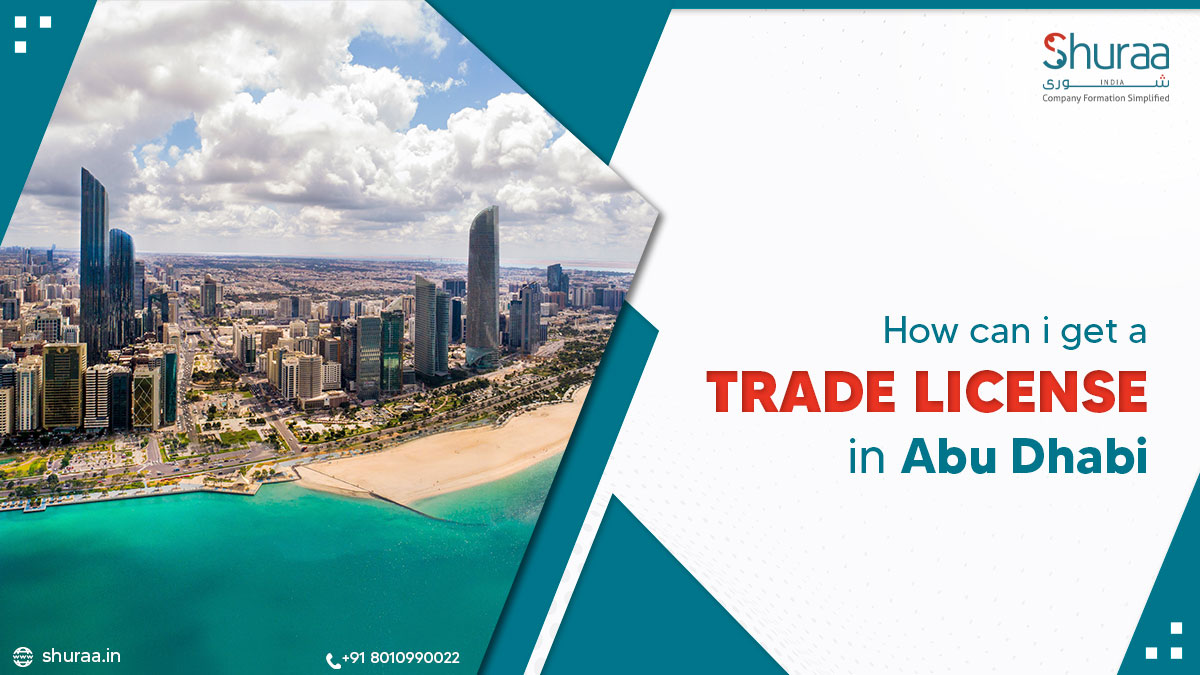 29 May

How can I get a Trade License in Abu Dhabi?

The UAE's commercial capital, Abu Dhabi, is becoming more and more well-known. There was a 21.5% increase in company licenses issued there, according to press sources, demonstrating how vibrant the emirate is for startups, investors, and business owners. 

To create a business in Abu Dhabi, you must first submit an application for a business license. If you wish to start any form of company activity in Abu Dhabi, you are required by law to get a business license. 

You will discover information on obtaining a trade license in Abu Dhabi in this blog. 
What is a Trade Licence in Abu Dhabi
A business or person needs an Abu Dhabi license to be authorized to engage in commercial activity in the UAE. The Department of Economic Development (DED) is in charge of policing and directing the procedure. The following actions are permitted if you have the license, which you can obtain. 
Following are some things you can do once you have a trade license: 
Trade your products with other countries.

 

Participate in many commercially connected activities.

 

Use adverts to spread the word about your services and goods to the public.

 
We advise receiving assistance from a professional business setup consultancy in UAE if you are new to the Emirates so they can help you obtain the trade license. This will speed up the procedure and assist you in avoiding any cultural or legal difficulties. 
Advantages of establishing a company in Abu Dhabi
Having a business in Abu Dhabi has many advantages for business owners. Here are some of the main justifications you ought to think about starting your company in this vibrant emirate: 
1. Expanding market
In the last 20 years, Abu Dhabi's economy has nearly multiplied by five. Because of this quick development, you will have access to a sizable market of consumers and corporate clients for your goods and services. 
2. Geographical location
With convenient access to the GCC region, the Middle East, South and Central Asia, Africa, and Europe, Abu Dhabi is the hub of international trade. You can easily access billions of customers and numerous business clients from your location in Abu Dhabi. 
3. Tax-friendly emirate
Due to Abu Dhabi's low rates of income and corporate taxes, you can keep more of your company's profits to reinvest and expand. 
4. Important industries' hub
Although Dubai may be more well-known as the largest commercial center in the United Arab Emirates, Abu Dhabi has an advantage over Dubai in several sectors, including the production of glass, plastics, steel and aluminum, automotive parts, and medicines. If you are headquartered in Abu Dhabi and work in one of these industries—or provide them—you will have easier access to these markets. 
5. Outstanding infrastructure
The world-class infrastructure in Abu Dhabi, which includes seaports, airports, road networks, warehouses, and internet and telecommunications, may help you launch your firm. 
How Do I Get a Trade License in Abu Dhabi?
Do you know how to obtain a trade license in Abu Dhabi? These are the procedures you must follow to obtain an Abu Dhabi trade license. The processes are rather simple, but if you don't know how to complete each one, you might have problems. You will be guided by a business setup specialist through each of these steps: 
1. Decide on a company name.
Choosing a name for your firm is the first step in establishing a business in Abu Dhabi. The name of your business must go by a number of laws and specifications pertaining to business names in the United Arab Emirates.
One requirement is that your company name must unambiguously state what your organization does. Any terms that could be offensive should be avoided, as should any titles that might be confusing or sound similar to those of other companies already in operation. 
2 Apply for a business license
The two types of business licenses available to entrepreneurs and investors are a mainland Abu Dhabi license and a free zone license. At Creative Zone, we can help you decide which license is ideal for your company. 
Free zone licenses offer zero income tax, quick and simple office establishment, and 100 percent foreign ownership of your company. On the other hand, setting up a mainland license in Abu Dhabi offers you immediate access to the local market and can be necessary in some sectors. 
3. Submit all the paperwork.
Several business documents must be submitted as part of the business setup procedure. 
4. Licensing for businesses will be provided.
Your company license will normally be issued in a matter of days if all your paperwork and documentation are submitted properly. At Creative Zone, our experts can help you with all the paperwork needed for the specific type of business you have and ensure that it is filled out correctly, so your business license is issued the first time. 
5. Start the visa processing
The process of applying for staff visas is the last stage in obtaining an Abu Dhabi business license. If any of your employees are foreign nationals, they will require a visa in order to work for your business. To apply for visas as part of your application for an Abu Dhabi business license, get in touch with Creative Zone. 
How much does an Abu Dhabi company license cost?
Depending on the complexity of your business application, the number of visas you seek, and your firm's location (free zone or mainland), an Abu Dhabi business license normally costs between AED 19,999 and AED 30,000. In Abu Dhabi, a free zone license is typically less expensive, although in specific circumstances, a mainland license will be more useful. 
Working with Shuraa
Since 2001, Shuraa has aided more than 40,000 businesses in applying for licenses to launch their enterprises in Abu Dhabi and elsewhere. We have experience working with business owners, startups, and overseas firms who require assistance with company creation in Abu Dhabi. We are familiar with all the necessary documentation and can help you choose the ideal mainland or free zone locations to start your business. 
Additionally, we can provide you with a number of other services that will help you successfully run your Abu Dhabi business. Make contact with Shuraa right away to get started on your path to creating a flourishing company in Abu Dhabi.