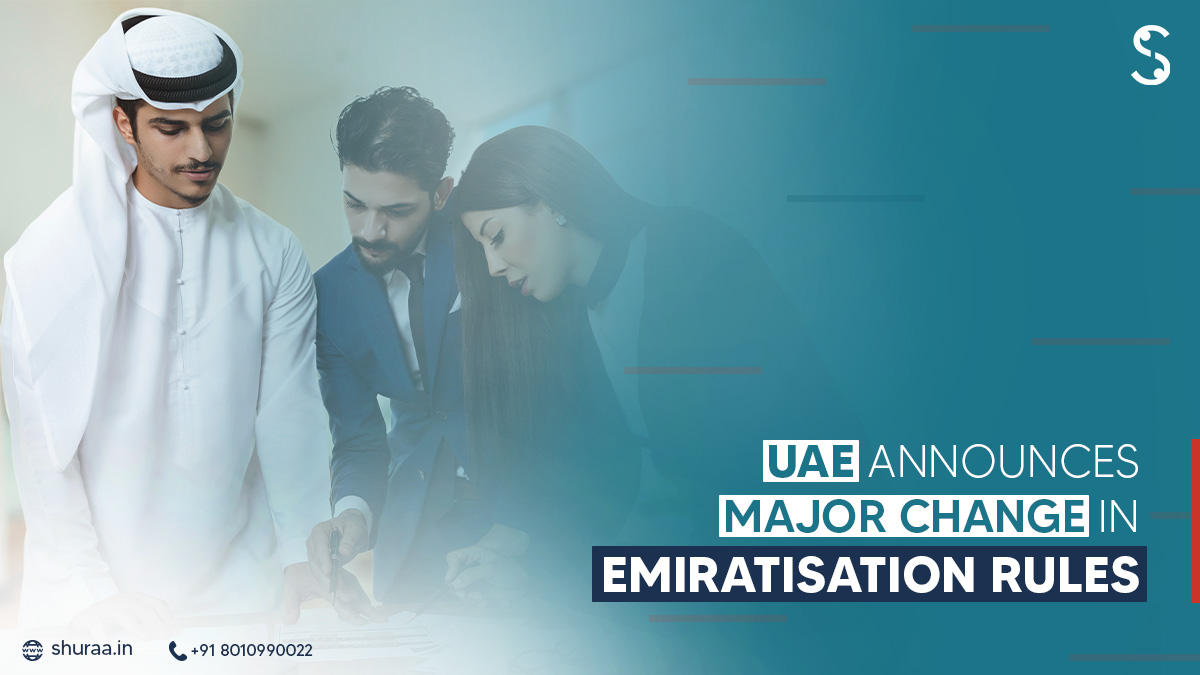 11 Aug

UAE Announces Major change in Emiratisation Rule 

In a strategic move, the UAE government has been actively implementing visionary regulations to promote Emiratization in the country's workforce. Innovative laws have been passed with the resolute goal of amplifying the engagement of UAE nationals in the private sector.

Specifically, private companies with a staff count of 50 or more are mandated to ensure that 4% of their workforce is composed of Emirati professionals. These dynamic measures invigorate the private sector and beckon Emiratis to seize skilled roles and excel in their careers. 

Recent developments have added a compelling twist to this narrative. As of February, an ingenious progression was introduced, requiring companies to escalate the ratio of Emirati employees by 1% every six months.

The journey towards progress is marked with milestones – a 4% benchmark by year-end, followed by an ascent to 6% by the culmination of 2024. This trajectory persists with an 8% target for the subsequent year and culminates with an ambitious 10% objective by the close of 2026. The UAE's workforce transformation remains a vision and a calculated and great evolution. 
Emiratisation New Rules in UAE
Emiratisation rules in UAE regulations signal a shift in the workforce landscape, accompanied by the following transformative changes: 
Expanding Small Business Inclusion:

In a significant stride, small businesses now find themselves under the Emiratisation spotlight. Companies with 20 to 49 employees are now mandated to participate in the drive. This expansion effectively broadens the Emiratisation initiative's impact, reaching previously unaddressed sectors.

 

Stepped Quota Implementation:

Tangible steps mark toward workforce diversification. Businesses falling within the 20 to 49-employee range face a new quota dynamic. They are expected to hire at least one UAE citizen by 2024 and an additional Emirati staff member by 2025. This gradual progression fosters an inclusive environment while allowing for strategic adjustments.

 

Sectors Under the Emiratisation Umbrella:

The scope of the initiative has expanded beyond mere headcount. Privately-owned companies across 14 sectors, spanning real estate, education, construction, healthcare, and more, are now subject to the Emiratisation mandate. This holistic approach ensures a comprehensive impact on the country's workforce composition.

 

Lower Threshold for Compliance:

The recalibration of the Emiratisation requirement sets a new threshold. Unlike the previous benchmark of 50 or more employees, the revised regulations encompass a broader spectrum of businesses. This proactive approach catalyses a broader spectrum of opportunities for UAE citizens in various sectors.

 
In essence, the evolution of Emiratisation laws showcases a dynamic and strategic commitment to fostering a diverse and prosperous workforce, encompassing businesses of varying sizes and industries.  
Enforcement of Emiratisation Quotas
UAE Emiratisation rules businesses is evident through new regulations. Starting in 2024, companies with a workforce of 20 to 49 employees must hire at least one Emirati employee or face a fine of Dh96,000 ($26,000). This fine escalates to Dh108,000 ($30,000) in 2025 for businesses failing to employ two Emiratis. Previously, only private companies with 50 or more employees were mandated to meet Emiratisation quotas, while businesses in free zones were exempt from this requirement.  
Which Sectors Experience Impacts from the Recent Ruling?
The sectors subject to effects from the recent ruling comprise: 
Information and Telecommunications

 

Financial and Insurance Operations

 

Real Estate

 

Professional and Technological Pursuits

 

Administrative and Assistance Services

 

Arts and Cultural Presentations

 

Mining and Excavation

 

Industries Undergoing Transformation

 

Educational Sector

 

Healthcare and Social Services

 

Building and Infrastructure Development

 

Wholesale and Retail Trade

 

Transport and Storage

 

Hospitality and Accommodation Services
Stay Informed with Shuraa Business Setup
As the UAE continues to welcome a steady influx of foreign investors, it has become vital for businesses to remain informed about essential laws and regulations to ensure their operations run seamlessly. Private sector companies employing 50 or more staff members are required to maintain 3 % of their workforce as Emiratis by the designated deadline. 
Shuraa Business Setup stands as the premier consultancy for company formation in the UAE, offering seasoned PRO services to investors. If your company seeks up-to-date information on the latest corporate developments in the UAE, our experts are prepared to lead you through the entire process. Feel free to contact us at +918010990022