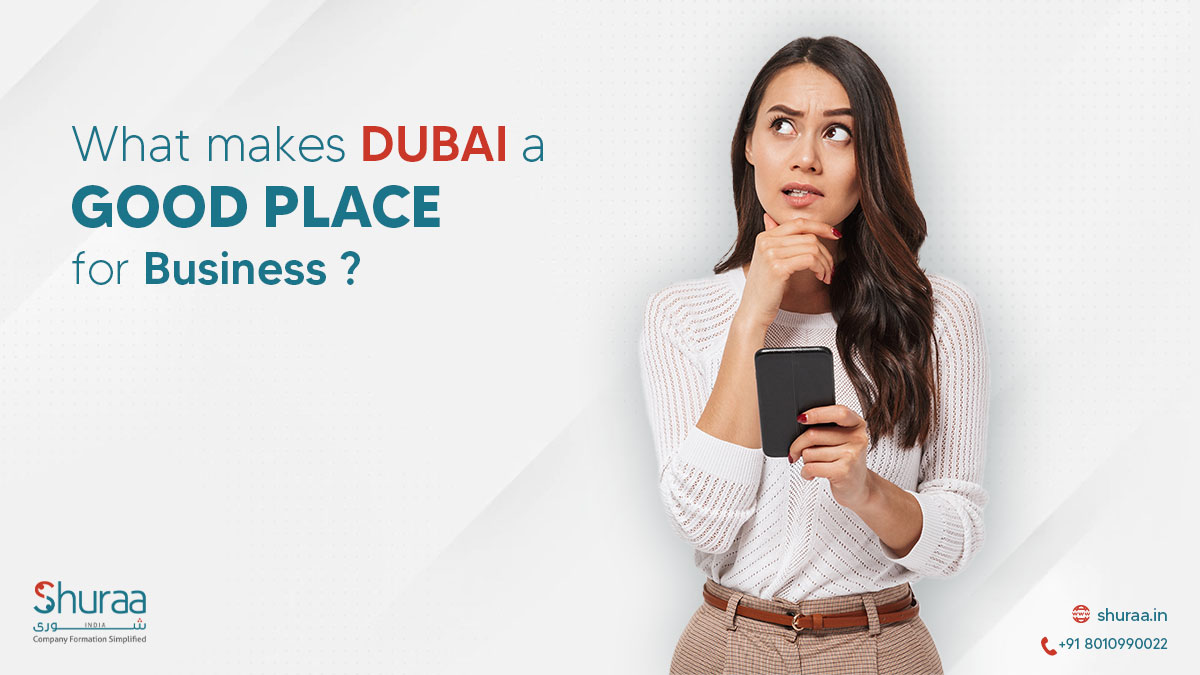 24 May

What Makes Dubai a Good Place for Business?

Let's take a shot at explaining what makes Dubai a good place for business. Modern Dubai is more than just a paradise for shoppers and tourists; it is also a rapidly rising global hub that offers a wide range of opportunities for contemporary companies and the best circumstances for entrepreneurial activity.

Nearly all of the local firms offer wonderful business centers and convention rooms with modern technology and good service for those businessmen who visit the Emirates without the intention of starting a business there.

And those businesspeople who have chosen to start a firm in the nation are given nearly endless options: offices of all types, storage facilities, manufacturing facilities, land, port and airport infrastructure, etc. It enables businesspeople to work in the most comfortable settings and to combine work with leisure and exercise. 
Top 9 reasons why Dubai is a good place for starting a Business
In several economic sectors, such as trading, import, export, logistics, tourism, hospitality, event management, financial services, construction, and so on, Dubai has changed into a major global trading hub and the best place to invest. There are several reasons why many businesspeople favour or want to conduct their operations in Dubai. Here are the top ten reasons to conduct business in Dubai. 
Strategic Location
Dubai is the perfect location to conduct a variety of business activities, including international trading, import and export, logistics, tourism, hospitality, event management, and more due to its strategic location between Europe, Asia, and Africa. Dubai is situated in the center of the 400-mile-long United Arab Emirates coast.
Due to its proximity to the sea and one of the biggest airports in the world, Dubai is able to facilitate the movement of commodities from the East to the West. As a result, Dubai has access to 2.5 billion consumers across the Gulf, Africa, Asia, CIS countries, and Europe. 
A Safe Place to Work and Live
Due to its reputation as one of the safest cities in the world, Dubai has a reputation for safety and well-being. Dubai has one of the lowest crime rates in the entire globe. Additionally, the UAE is regarded as one of the Middle East's most politically stable nations in general.
Some of the most important aspects that have attracted many foreign investments and enterprises to Dubai are security and political stability. In fact, a safe workplace is necessary for corporate growth. 
Residence Permit 
You will be qualified to obtain a UAE Residency Visa for yourself, your family, and your expatriate staff if you own a business in Dubai and/or other Emirates of the UAE. As a resident of the UAE, you can open a current account with a UAE bank, lease an apartment for an extended period, enter and exit the country multiple times, and obtain visas for other nations, including those in the Schengen region, more quickly. 
Infrastructure
You don't need to worry about finding an office, a retail store, a manufacturing facility, or a warehouse if you are opening a business in Dubai because everything is ready for you to move in. Over the past few decades, new, high-quality residential, commercial, industrial, and tourist facilities have been constructed quickly and in great quantities.
In addition, new airports, convenient public transportation systems, and highways are being built. The UAE's infrastructure has been ranked as having some of the best in the world, according to the WEF's Travel and Tourism Competitiveness Report. The nation ranked second in terms of road quality, third in terms of air quality, fifth in terms of port infrastructure, and eighth in terms of ground transportation network. 
Harbour and airports
There is no better alternative than Dubai if you want to launch a new import and export company. Due to the city's large airport and port, businesspeople and entrepreneurs have access to a wider range of markets. 
You can transfer shipments more easily and with less risk of time delays if such facilities are available within the city. No matter where in the world you are importing or exporting items from, you may do so easily through Jabal Ali Sea Port. Dubai is a great location for this industry that involves a lot of travel. 
Facilitation of professional visas.
The UAE as a whole, including Dubai, is doing a lot to entice the top professionals. The Retire in Dubai programme, the 10-year Golden Residency Visa, and the Dubai Virtual Working programme are just a few examples of how eager Dubai is to keep its talent and draw in foreign experts and entice them to settle here. Businesses and entrepreneurs from all around the world would benefit greatly from this. 
Multilingual and cultural society
More than 200 different nationalities can be seen living and working together in harmony in Dubai. This implies that Dubai will always feel like home, regardless of where your business comes from or to which region of the world you belong. Doing business is made simpler and much more socially satisfying because of the likelihood that individuals from your country are already residing and employed here. 
Exemplary leadership
Dubai's capable leadership is to thank for the city's incredible growth. The groundwork has already been done for Dubai to become a warm destination and a center for everything international. Every day that goes by, the leadership of the Emirate motivates everyone who lives and works here to improve. Business benefits from good leadership, which promotes human characteristics like empathy, compassion, and generosity. 
Future that looks optimistic and bright
Dubai intends to further solidify its status as a business, technological, innovation, and economic center. It works in tandem with plans like the UAE Centennial 2071 and numerous short-term objectives that set aims for each industry and sector in an effort to be the best in all sectors. There is no better place for your firm to expand than Dubai, which is set to do so. 
Why Shuraa's business setup services?
Since 2001, Shuraa Business Setup Services has been providing dependable services to local and immigrant business owners. We are among the best business setup services in the nation thanks to our open transactions, trustworthy services, and reputable performance. We take great pride in having spent more than 20 years assisting people with big goals. Since our inception, we have been molding people into entrepreneurs, as our caption indicates. 
Dubai has evolved into one of the most sought-after locations for conducting business, working, and residing for a variety of other reasons. Nearly 90% of the population in Dubai is made up of immigrants from more than 200 different nations. The Emirate's economic and investment potential draw foreigners, among other things.