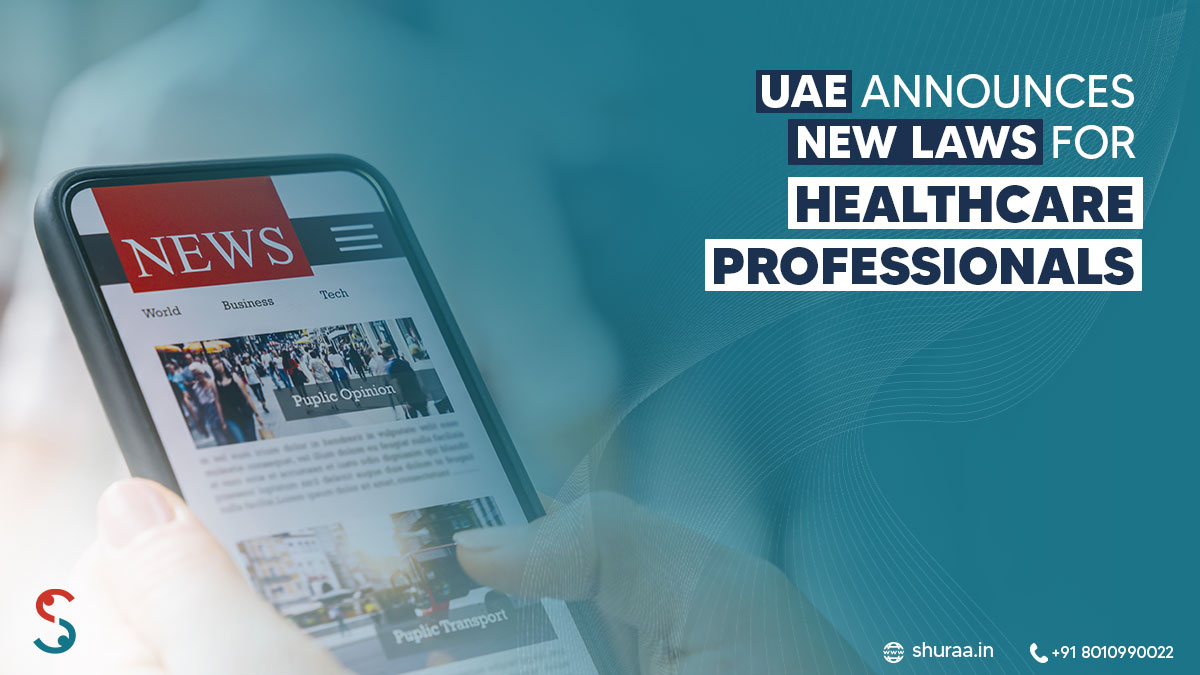 09 Aug

UAE Announces New Laws for Healthcare Professionals

United Arab Emirates (UAE) government has recently announced a series of federal decrees and amendments for healthcare professions, healthcare providers, and veterinary medicine within the nation. 

These new laws come as part of the government's ongoing commitment to improve the quality of healthcare services, regulate non-doctors and pharmacists practicing healthcare professions, and promote foreign investment in the veterinary sector. 

The objective of the new regulations is to effectively manage the activities within various healthcare fields such as nursing, laboratories, medical physics, functional therapy, physiotherapy, aesthetics, anesthesia, audiology, and radiology, focusing on individuals who are not medical doctors or pharmacists. 

The UAE government recognizes the critical importance of maintaining high standards of care to safeguard the health and well-being of its citizens and residents.  

The amendments have also imposed penalties for individuals who engage in healthcare practice without obtaining the necessary healthcare professional license in Dubai or failing to meet the prescribed criteria. These penalties now range from AED10,000 to AED100,000. 
UAE new laws for healthcare professionals' highlights:
Enforcing oversight on various healthcare professions such as nursing, medical laboratories, medical physics, functional therapy, physiotherapy, aesthetics, anesthesia, audiology, and radiology.

 

Increasing penalties for unlicensed healthcare practitioners who fail to meet the necessary requirements.

 

Incorporating a range of medical ethics and professional guidelines for healthcare workers within the law.

 

Disciplinary measures based on the severity of violations, while ensuring the continued operation of private healthcare establishments.

 

Introducing a national registry to record licensed healthcare professionals across the nation.

 

Mandating that health practitioners possess sound moral character and meet medical fitness standards to carry out their responsibilities.

 

Allowing foreign entrepreneurs and enterprises to invest in the veterinary sector by establishing and owning veterinary facilities.

 
One of the transformative changes introduced by these laws is the establishment of a national medical register for healthcare professionals in the UAE.  
The Ministry of Health and Prevention will supervise the maintenance of this register, which will serve as a repository of licensed and authorized healthcare professionals in the country. Health authorities at the emirate level will also create their own registers linked to the national register. 
The revised laws and monetary penalties also include a formal written warning, a monetary fine ranging from AED 1,000 to AED 500,000, and a temporary license suspension of up to six months. These actions will be implemented when the law is breached by individuals in leadership positions, administrators, or staff within healthcare establishments. 
In addition, private healthcare facilities found in violation of the regulations will be subject to fines ranging from AED 1,000 to AED 1 million, or in more severe cases, could face a temporary shutdown of the entire or partial facility for a duration not exceeding six months. 
Healthcare professionals who obtained their DHA license in Dubai prior to the implementation of these regulations are not granted an exemption. 
They are required to adjust their status in accordance with the updated guidelines either during the remaining validity of their current Healthcare license or within six months from the date when the executive regulations of the law come into effect. 
Opening Doors to Foreign Investment
The scope of these new laws extends beyond human healthcare, with a keen eye on the veterinary sector as well. These laws have widened the way for foreign investors and entrepreneurs to establish and own veterinary facilities within the UAE.  
This strategic decision holds the promise of increased foreign investment in the veterinary industry, contributing not only to its financial growth but also to its professional development.  
By inviting external expertise and capital, the UAE aims to elevate the quality of veterinary services, enhance animal care practices, and broaden the range of options available to pet owners and animal enthusiasts. 
Why is UAE a great option for foreign entrepreneurs and healthcare professionals?
The UAE is a great option for foreign entrepreneurs and healthcare professionals looking to start a healthcare business for the following reasons:

 

The UAE has a high standard of healthcare, with world-class hospitals and medical professionals.

 

The UAE's population is growing rapidly, and with it, the demand for healthcare services.

 

The UAE government is supportive of the healthcare sector and offers a number of incentives to foreign investors.

 

The UAE has a large pool of skilled labor, including doctors, nurses, and other healthcare professionals.

 

The UAE is a popular destination for medical tourism, with patients coming from all over the world for treatment.

 

The UAE is also a hub for healthcare technology companies. These companies develop and provide innovative solutions to improve the delivery of healthcare.

 
The UAE is a great place to start a healthcare business. The country has a strong healthcare infrastructure, a growing demand for services, and a supportive government. If you are a foreign entrepreneur or healthcare professional seeking a healthcare license in Dubai or to start a business in the UAE, we encourage you to explore the opportunities that are available. 
Healthcare Business in UAE with Shuraa
When it comes to establishing your healthcare business & obtaining a DHA license in Dubai and other parts of the UAE, Shuraa Business Setup stands as your trusted partner. 
Our comprehensive suite of services is designed to guide you seamlessly through the process of venturing into the healthcare sector in the UAE. We have an expert team of business setup consultants, lawyers, PRO executives and company formation experts.  
Our services include company registration, documentation, translation services, sponsorship support, business licensing, rented office space, PRO services and so much more. 
Partner with Shuraa Business Setup today and witness your healthcare dream take flight in this land of opportunities.