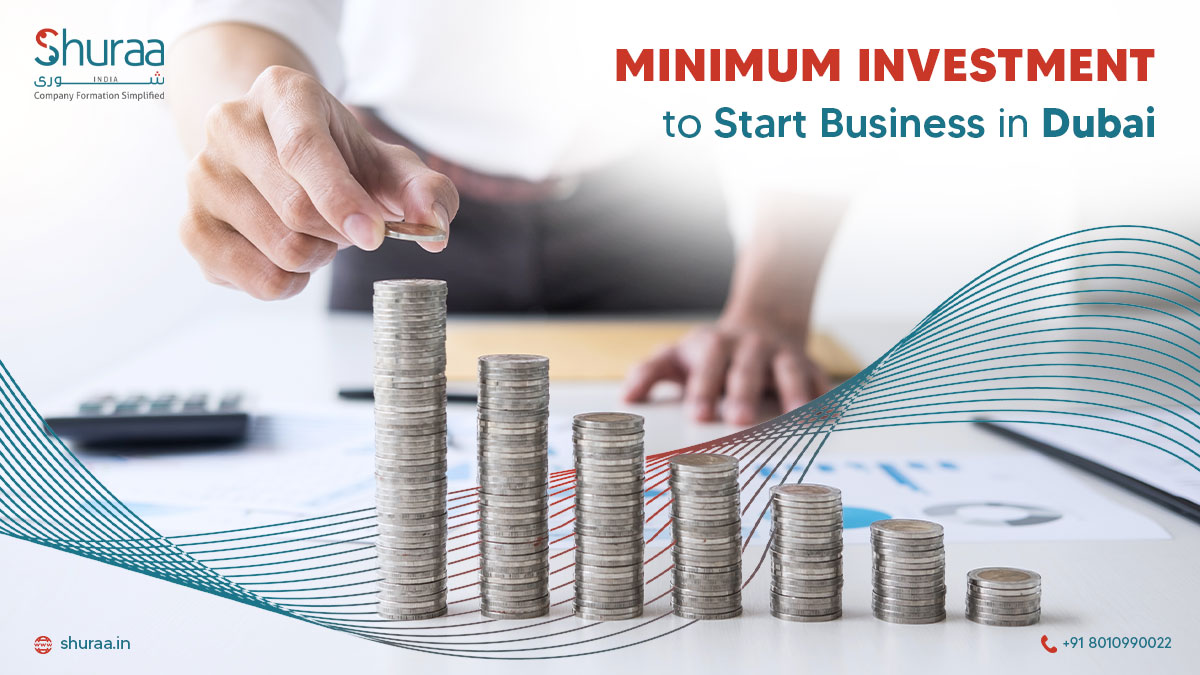 26 May

Minimum Investment to Start a Business in Dubai

Many potential investors think "What is the minimum investment to start a business in Dubai?". Starting a business in Dubai with minimum investment is a dream for many entrepreneurs seeking to start a business in a foreign country. Dubai is a low-cost business location.

Because of its highly engaging business regulations & the cost of establishing a corporation in Dubai is quite minimal when compared to many other major nations across the world. If you establish your firm in a free zone, your operating costs will be considerably lower. Regardless of the location, Business Setup in Dubai is straightforward and can be completed in a few simple steps. 
Why select Dubai to launch a business?
Numerous small and medium-sized businesses that engage in a variety of commercial endeavors may be found in Dubai. For the launch of their business, entrepreneurs in Dubai have access to a wide range of company formation alternatives. 
The Mainland, Free Zones, and Offshore firms make up the UAE's business jurisdiction. Due to its advantageous location, low required company investment, and pro-business legislation, Dubai is the most sought-after business destination for investors. 
Starting a Business in Dubai with Little or No Money
The cost of doing business will vary depending on whether you set up your firm on the mainland or in a free zone. Perhaps you can accomplish a cheap company setup cost at both locations in Dubai. Still, establishing your business in a free zone is one of the most cost-effective options. 
Aside from the budget, there are other benefits to establishing your business in a free zone. However, if you wish to engage in government commerce or contracts with the UAE's local market, you must establish a firm on the mainland exclusively. Depending on the type and size of your firm, you may still accomplish this for a low cost. 
Experts and professionals in business formation can help you choose the structure that best meets your budget and needs. 
What Is the Minimum Investment Required to Start a Business in Dubai?
Business Address
The location of your business is one of the most important elements influencing the total capital necessary to start a business in Dubai. There are two primary sites to choose from: the mainland and free zones. 
For Companies Located on the Mainland
The cost of starting a business on the mainland in Dubai is determined by a variety of criteria, the most important of which are the kind and location of your firm, as well as the number of visa permits necessary. The lowest investment required to establish a business on the mainland in Dubai is AED 18,500 for a Service based Company. 
For Businesses Located in a Free Zone
Unlike the comparatively high cost of establishing a business on Dubai's mainland, establishing a firm in a Dubai free zone requires a minimum expenditure of roughly AED 12,900 for a company license with no immigration quota and no office space. However, the cost of starting a business in a free zone or on the mainland varies depending on the type of firm, the number of visas necessary, infrastructural needs, and other factors. 
Fees incurred
Although the location of your business and the cost of rent are primarily responsible for defining the minimal investment necessary for starting your business in Dubai, there are four expenditures that will invariably be included in the overall cost required for establishing a business in Dubai. 
Application Fee
You must submit a one-time payment to the free zone authorities during the initial step of registering your firm in the free zone. This will be defined by the legal form of your firm. However, we can estimate that registration expenses will start from AED 5000. 
License Fee
A business license is required to start a firm in one of Dubai's free zones. Three of the most prevalent business licenses are the trade license, the services license, and the production license. However, unlike the registration price, the license fee is an annual charge starts AED 12,900  
How to Save Money When Starting a Business in the UAE?
Any investor may start a business in Dubai at a reasonable cost by following the procedures outlined below. 
Understanding your company's demands and aligning them with the offers of the mainland or free zone can help you reduce further spending on resources and save a significant amount of money in the future.

 

Establishing your firm after consulting with business professionals via their affordable packages. Their packages include visas, licensing, and documentation support, among other things. It costs a lot of money to deal with them.

 

Don't spend money on office space if you don't need one. You may get a virtual address or rent an office or desk by the hour. This can lower your spending, and the same amount of money can be used for business growth efforts.

 

Make a point of documenting all contracts and agreements. Furthermore, with the support of the local authorities, notarize all papers such as the AoA and MoA. In the event of deviations, this can save you a lot of money and deliver you trouble-free conflict resolutions.

 

Always check the background of any local service/local sponsor person. A real business creation will aid you in establishing all of the legalities at a reasonable cost. Despite this, making the wrong option here might lead to future issues.

 
How Shuraa can help to set up your business in UAE?
We have walked you through some of the fundamental charges you'll need to pay to start a business in Dubai, as well as the minimum investment required. It's time to launch your business in the city of dreams and achieve the success you desire. 
In a nutshell, establishing a company in Dubai, United Arab Emirates, is a simple process, especially with Shuraa's help.  
With minimal investment in Dubai, foreign businessmen can easily establish their businesses there and build their global footprint. The UAE has everything businesses and investors need to operate, live, and settle their successfully and peacefully for a very long time. 
Contact our skilled Business Consultants right away to learn more about company formation in Dubai, UAE!