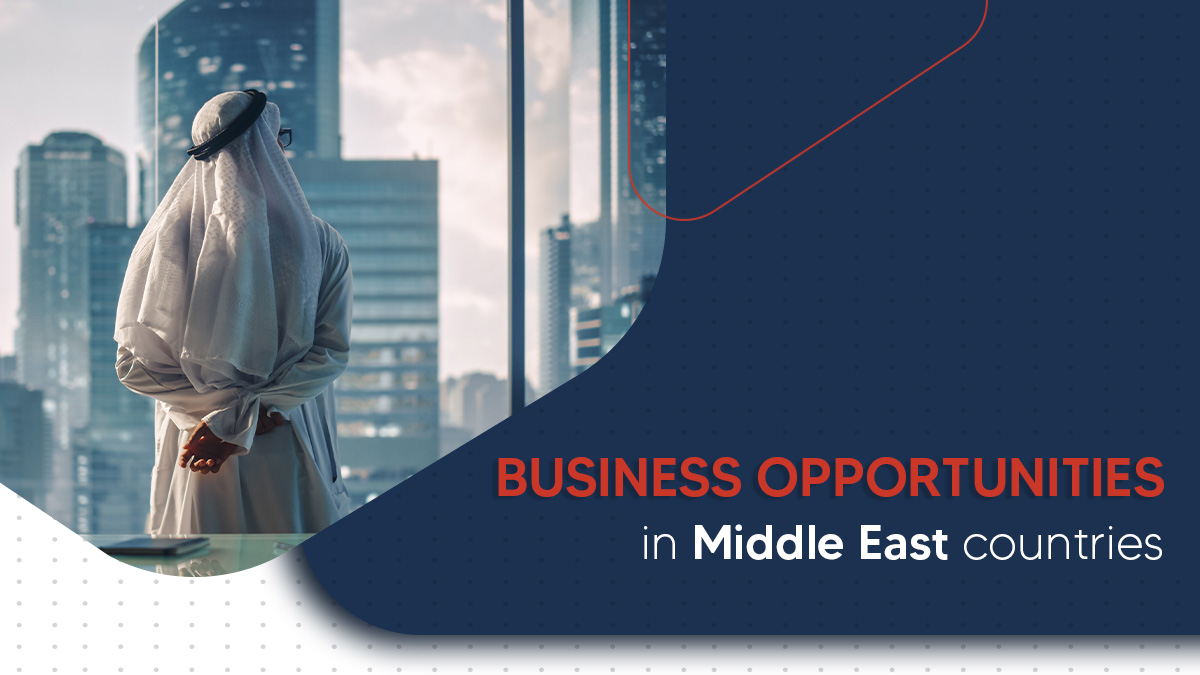 01 May

Business Opportunities in Middle East Countries

The Middle East region offers a plethora of business opportunities due to its rapidly growing economies, and abundant natural resources. Moreover, the governments of many Middle Eastern countries have taken steps to encourage and promote economic development. In this blog, we will learn about business opportunities in Middle East countries in detail. 

Dubai, located in the United Arab Emirates, is a highly attractive destination for businesses looking to expand their operations. Furthermore, with its favorable tax environment and abundant trading opportunities, Dubai provides a highly conducive environment for business growth. 

Overall, the Middle East region presents a promising landscape for businesses looking to expand and diversify their operations. With its growing economies and business-friendly policies, the Middle East offers ample opportunities for growth and profitability. 
Advantages of Setting Up Business in Middle East Countries
Setting up a business in the Middle East can offer several advantages to entrepreneurs and investors. With a large population, strategic location, and booming markets, the region presents a wealth of opportunities. Additionally, the governments in the Middle East are making efforts to create a business-friendly environment.  
Here are the advantages of setting up a business in the middle east countries: 
Tax Incentives:

Governments offer tax incentives to businesses to promote economic growth.

 

Strategic Location:

The Middle East is geographically located between Asia, Europe, and Africa making it a strategic location for businesses.

 

Booming Markets:

The Middle East has a large population with a high disposable income creating a demand for goods and services.

 

Access to Resources:

The region has an abundance of natural resources such as oil and gas, which businesses can leverage from.

 

Business-Friendly Environment:

Governments in the region are making it easier to do business by improving regulations and offering incentives.

 

Infrastructure:

The Middle East has invested heavily in infrastructure, creating a modern and efficient transportation network.

 

Diversification:

The region has been diversifying its economy, moving away from dependency on oil and gas and developing other sectors, creating opportunities for businesses.

 
Top 10 Business Ideas in the Middle East Countries
The Middle East is a region with a rich cultural heritage and a diverse economy. As a result, there are many opportunities for entrepreneurs and investors looking to start a business in the region. Furthermore, whether you are interested in technology, tourism, or manufacturing, there are several business ideas that can be successful in the Middle East.  
The following are the top business opportunities in Middle east countries: 
Information Technology and Web Development
Dubai leads the MENA region in the Smart Cities Index, demonstrating its commitment to technology and the future. Furthermore, more than 1,200 tech startups call it home, attracting many tech-based businesses. This opens opportunities for various IT and web development innovations, online marketing, and online security.  
Read More about how to start an IT company in Dubai?
Business Consultancy Service
With numerous entrepreneurs and startups attracted to the region, business consultancy services are a highly promising business opportunity in the UAE. You can assist other businesses if you specialize in global expansion. Nevertheless, it is vital to obtain all the necessary licenses before starting operations. Moreover, this will ensure your business consultancy services operate smoothly and legally. 
Financial Services
Business opportunities in the UAE fuel the high demand for financial services, such as bookkeeping, accounting, and auditing. Furthermore, by targeting small businesses and startups, you can capture a portion of the market share. With the introduction of VAT in 2018, the need for assistance in making necessary calculations and accounting reports has increased. 
Read More about Detailed Guide to UAE VAT Registration Services in Dubai
Advertising
Dubai is a prime location for establishing an advertising agency, given its significant share of the USD $579 billion global advertising in the MENA region. Furthermore, digital advertising comprises a large portion of this, with over $50 billion spent in the region. Developing a strong social media presence and brand is crucial in this industry. Moreover, setting up in the area can facilitate better networking opportunities with local businesses. 
Read More about How to Start a Digital Marketing Agency in Dubai?
Transportation and Logistics
Dubai's prime location and world-class infrastructure make it an ideal location for logistics operations. Meeting the city's transportation needs, including trans-city and local taxi services, is also in high demand. Furthermore, to start a business in this area, experts can assist you in obtaining the necessary licenses and approvals. 
Read More about How to Start a Logistics Company in Dubai?
Healthcare Industry
The healthcare industry in the UAE is thriving, drawing people from neighboring countries with its more affordable healthcare options. The Dubai Healthcare City free zone offers a dedicated space for healthcare businesses. Furthermore, to start a healthcare clinic in Dubai, expert assistance is crucial in obtaining the necessary licenses and visas to operate legally. 
Read More about How to Start a Healthcare Business in Dubai?
Education
As the majority of Dubai's population consists of expats, there is a high demand for educational services in the area. However, obtaining the necessary certifications and licenses is required to establish a school, college, or education service. Furthermore, digital learning in the UAE is also growing, offering a business opportunity with lower capital requirements. 
Travel Agency
Dubai is a popular tourist destination with more than 15.8 million visitors in 2022, and the tourism industry is expected to surge after the lockdowns are lifted. Opening a travel agency in the near future may be a profitable opportunity due to the city's attractions. Furthermore, to get your agency's trade, a reputable company can assist you with the process. 
Read More about How to open a travel agency in Dubai?
E-Commerce
The e-commerce sector in the MENA region is still developing, leaving ample opportunity for growth. The surge in online sales in 2020 has made it even more attractive for companies to sell their products online. Furthermore, this type of business is especially appealing to entrepreneurs who want to start with minimal resources. However, technological advancements make it possible to set up an e-commerce business in Dubai. 
Read More about How to Start eCommerce Business in Dubai?
Retail Businesses
Dubai's economy, high standard of living, and tourism have increased retail businesses. However, to open a retail establishment in the UAE, decide on the type of establishment, such as a storefront, warehouse, or sales office. Research the location and the permits required to operate. Moreover, find suppliers and design an appealing space for customers.  
Read More about how to open a retail shop in Dubai?
Learn about Business Opportunities in Middle East Countries with Shuraa
In conclusion, the Middle East region is full of business opportunities across a variety of industries. The region's strategic location and strong economic growth make it an attractive destination for entrepreneurs looking to expand their businesses. It's crucial for entrepreneurs to thoroughly research and understand the specific requirements and regulations of the country they wish to operate in.  
Additionally, language and cultural barriers can be a challenge, but there are resources and services available to help navigate these issues. Moreover, partnering with a reputable local business can also be a beneficial way to gain insight and connections in the region. Overall, the Middle East presents ample opportunities for those looking to start or expand their business.