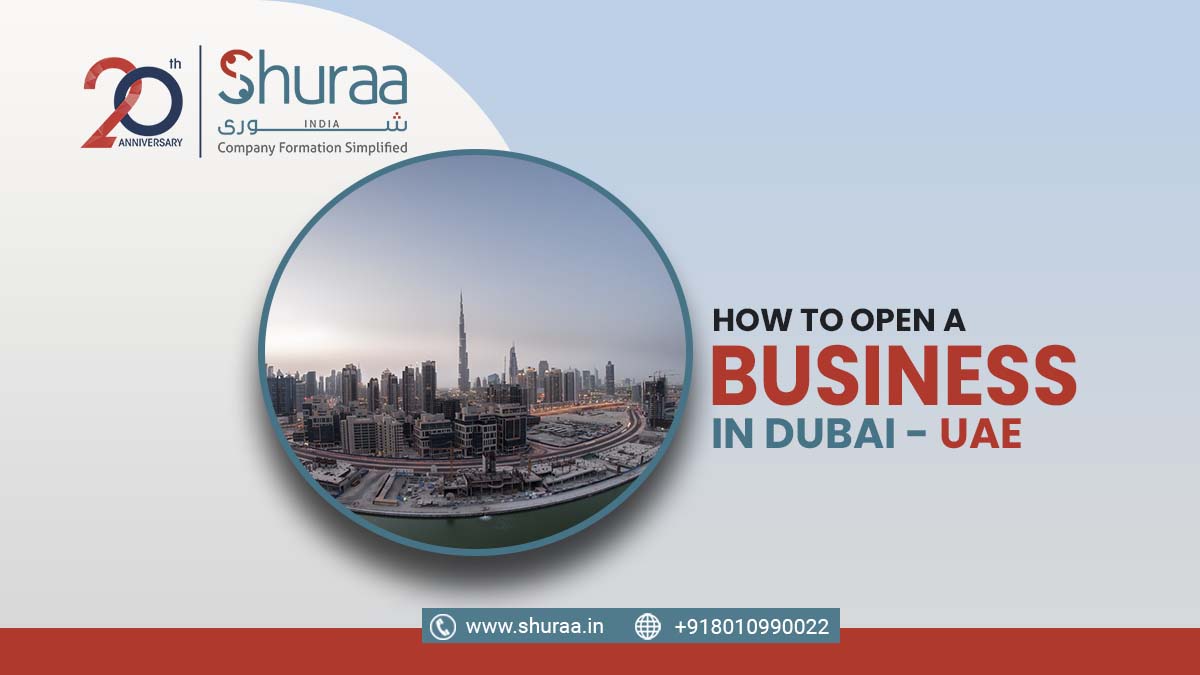 30 Sep

How to Open a Business in Dubai?

The UAE's proactive administration deserves credit for the country's dramatic improvement in commercial prospects. To open a business in Dubai today, you don't have to compromise on your company's ownership status, commercial operations, or legal structure. 

The United Arab Emirates economy is the fifth largest in the Middle East, with a GDP of US$501 billion (AED 1.84 trillion) in 2022. The benefits of opening a business here are several, including full repatriation of profits, exemption from certain taxes, unrestricted access to the Dubai market, and much more. Furthermore, starting a business in Dubai is a completely streamlined process, so if you take the necessary steps, you will be able to launch your ideal firm in a short period. 

So if you want to open a business in Dubai, continue reading. This blog will walk you through all you need to know about a business in Dubai.
What Are the Benefits of Opening a Business in Dubai 2023?
Here are some of the benefits of opening a business in Dubai:
Dubai provides several tax breaks to businesses. Entrepreneurs are not required to pay corporation taxes, and you can keep all of your profits. Furthermore, there is no minimum capital requirement, and the VAT rate for businesses is only 5%.

The best feature of starting a business in the UAE is the availability of diverse sectors. All significant industries find profitable business opportunities in this area, and MNCs and new startups find a home in Dubai.

Dubai has one of the most advanced digital infrastructures in the Emirates. The city has launched several technological initiatives to reduce traffic, provide high-quality internet services, change healthcare services, eCommerce, and so on. This expands the potential of the country's internet business.

Dubai serves as a natural link between global suppliers, producers, and manufacturers due to its strategic location at the intersection of the East, West, North, and South. Airports and seaports are both located in areas with high connectivity which makes logistics simple. Therefore, it encourages the development of import-export, re-export, and tourism industries.

Once you start a business in Dubai, you may also obtain a residence visa. After receiving your visa, you will be able to travel between countries, rent or lease property, and purchase automobiles.
What Documents Do You Require to Open a Business in Dubai?
Every business operating in the United Arab Emirates must abide by the regulations regarding documentation set forth by the regulating bodies. You need the following documents to file to open a business in Dubai:
A copy of your passport

Passport-size photographs

A copy of your entry visa
Depending on your business's operations, organizational layout, and chosen location, additional documentation can be needed. Our professionals might help with numerous business documents.
What Is the Procedure for Opening a Business in Dubai?
Dubai has a well-defined procedure for business incorporation and associated paperwork. The following are the steps to take if you want to open a business in Dubai 2023:
1. Choose the Business Activities and Legal Structure of the Company
For a successful company establishment, you must be aware of all daily business operations you will conduct in the UAE. This is significant because you must obtain permission from the appropriate economic department for every action. 
Furthermore, business owners can obtain outside permissions for any desired actions. Your corporation's legal structure must then be decided. You can establish an LLC (limited liability company), a branch office, and more in the UAE.
2. Reserve a Trading Name for Your Company
This is a requirement for all businesses entering the UAE's business framework. You must ensure that the trading name you choose is unique. Furthermore, the company name should include no references to deities or religion. It must be free of any derogatory or offensive language. But that's not all. The list is extensive and may be difficult to understand. Expert consultants can help you understand the same and choose a name. 
3. Choose the Most Suitable Business Location
To start a business in Dubai, you must select an appropriate location. Set up a company in a location where your target market is. Free zones can be beneficial if you work in a specific industry and require a more lenient legal system. Whereas if you want to pitch for government projects, Mainland is your ideal location. There are more advantages and disadvantages to each of these locations. Compare them and then choose wisely.
4. Rent an Office Space
Renting office space in the UAE is preferable to purchasing real estate. If you rent the office space, you won't have to worry about selling it if you decide to relocate. Dubai is also proud of its sophisticated commercial infrastructure, which includes abundant office spaces for various industry sectors.
5. Get a Business License
You are prohibited from conducting business operations unless your license is expressly authorized. As a result, business owners must obtain authorization for all functions covered by their business license.
To operate your business in the UAE without risk, you must renew your license at least one month before it expires.
6. Manage Visas
The number of visas you can obtain in Dubai highly depends on your company's size. The UAE government allows you to apply for visas for your family, domestic helpers and employees. All applicants must undergo a simple process to obtain the necessary visas.
7. Open a Business Bank Account
With the help of a corporate bank account at a well-known bank, you can manage all financial business transactions. Always choose a bank that offers dependable banking services, first-rate facilities, and long-term business benefits. 
You can work with the legal advisers at Shuraa Business Setup to find the right bank for you by matching your business needs with the products offered by various banks.
How Much Does It Cost to Open a Business in Dubai?
Anywhere between 18,000 and 30,000 AED is a safe bet. It is critical to remember that if you require special privileges or indulge in highly regulated activities, the cost of forming a company in Dubai will rise.
Having a foreign trading name or receiving clearance from a governing authority are two examples of regulations that raise the overall cost. You can contact the business incorporation experts at Shuraa, and we'll keep an eye on your finances throughout establishing your business in Dubai.
Start Your Business With Shuraa
If you want to open a business in Dubai in 2023, the opportunities are virtually limitless. It makes perfect sense if all of these fantastic benefits have piqued your interest in starting a business in the UAE. 
Contact the business advisers at Shuraa Business Setup, and we will assist you in establishing a company in Dubai at a reasonable cost. We will also take care of the documentation needs, pre-approvals, and any other requirements during the setup process.