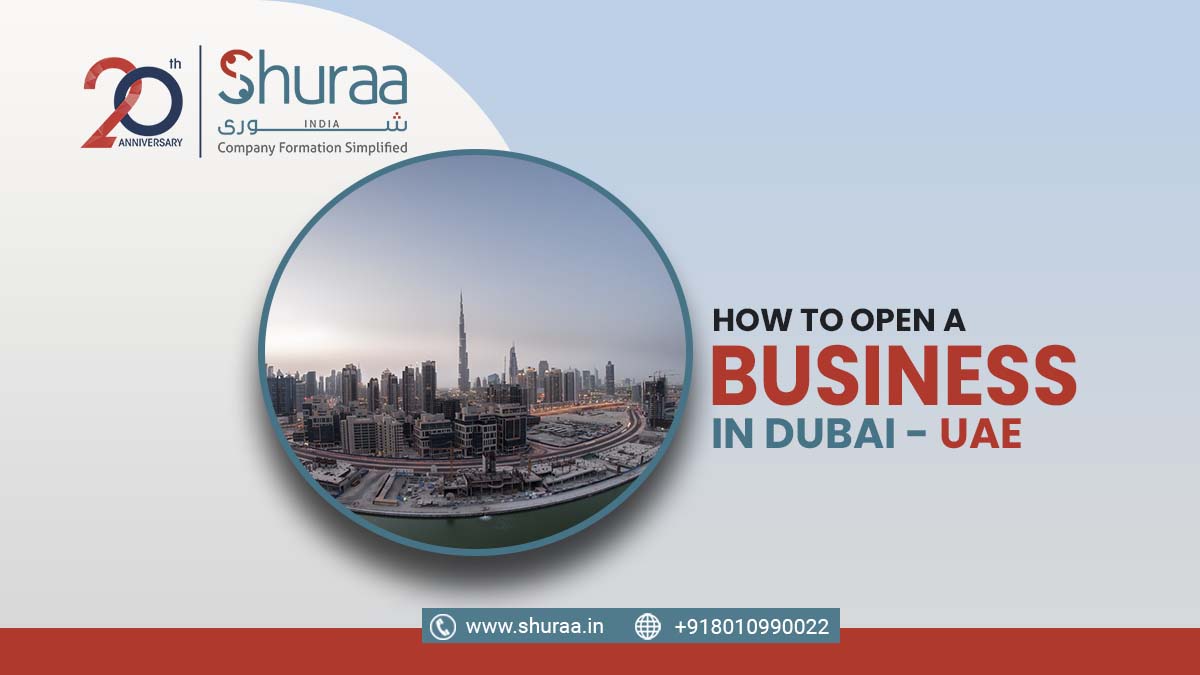 30 Sep

How to Open a Business in Dubai?

The credit for the exponential rise in business opportunities in the UAE goes to their proactive government. Today, you can open a business in Dubai without making any compromises with the legal structure, business activities, and ownership status of your company. You can enjoy complete repatriation of profits, exemptions from various taxes, access to Dubai's local marketplace, and a lot more.

Moreover, the process to start a business in Dubai is completely streamlined, and you can get started with your dream venture in a quick time if you follow the right steps. You should get in touch with the business experts at Shuraa India if you want to start a business in Dubai as we do all the heavy lifting for you so that you don't need to worry about any legalities in the UAE.
Key Steps to Open a Business in Dubai
Dubai has a well-defined process for business incorporation and associated documentation. Follow the steps mentioned below if you want to start a business in Dubai:
1.
Determine the type of legal entity.
You must know all the day-to-day business activities that you'll be carrying out in the UAE post successful business establishment. It's critical because you need to get approval for each and every activity from the concerned economic department. The DED maintains an exhaustive list of more than 2,000 permissible business activities.
You can choose the ones that match your business requirements. Moreover, business owners can also apply for external approvals in case any desired activity isn't covered in DED's list. Next, you must finalize your company's legal structure. You can launch an LLC (limited liability company), branch office, online business, and a lot more in the Emirates. A local service agent (LSA) will help you form your company without having any legal participation in your activities.
2.
Choose a trade name.
This is a mandatory step for all new companies entering the UAE's business framework. You need to ensure that the trading name you choose should be unique and not a gimmick of any other established brand. Furthermore, the business name should not have any references to a god or religion. It should be free of any derogatory terms or insulting words as well.
You can list down the names that you wish to keep as your official business name. The curated list needs to be submitted to the concerned authority for evaluation. You'll get a confirmation from the governing body quickly, and you can keep the approved name as your legal trading name. 
3. Finalize the Ideal Business Location
You must find the ideal location for your company to open a business in Dubai. You can launch your company in the mainland region if your target audience resides there and you want the freedom to trade freely within Dubai and all across the UAE. Free zones are beneficial if you have a niche market and your business activities require a lenient jurisdiction.
Industry-specific free zones cater to distinct business requirements. Therefore, you can open your finance firm in the DIFC (Dubai International Financial Center), and your healthcare venture can find a home in DHCC (Dubai Healthcare City). 
4. Choose an office space
Renting an office space in the UAE is beneficial when compared to purchasing a real estate property. You don't need to worry about selling the property when you decide to relocate if you have rented the office space. Moreover, Dubai boasts of advanced business infrastructure that consists of lavish office spaces for various business sectors.
The best part about renting an office space is the amount of money you're able to save. You don't need to invest hefty sums of money, and the same can be invested in other growth-related activities.
5. Apply for a Business License
Once you're done with all the steps mentioned above, you can apply for a trading license to open a business in Dubai. You aren't allowed to carry out any of the business activities without them being covered in your license. Therefore, business owners must obtain external approvals for all the activities that aren't listed in their business license.
Moreover, you must renew your license from time to time to maintain its validity. It's advised to renew your trading license at least one month before its expiry to enjoy risk-free business functioning in the UAE. The business experts at Shuraa India help you secure a trading license for your dream venture by taking care of documentation, processing, banking, and more.
6. Manage Visas
Your company's size has a critical role to play in the number of visas you can procure in Dubai. The UAE's government permits you to apply for visas for your family members, relatives, and domestic staff too. It's a straightforward 4-phase process that all applicants must follow to obtain the desired visas.
You need to submit the required documents to the concerned authority for identity verification and data validation. You'll receive your visa permit once the authority has duly examined your application. Next, you need to collect your original passport at the end of this process.
7. Open a Corporate Bank Account
A corporate bank account in a reliable bank helps you take care of all the monetary business transactions. Always choose a bank that offers robust banking services, top-notch facilities, and long-term business benefits. You can collaborate with the legal advisors at Shuraa India, and we'll find the best bank for you by matching your business requirements with the offerings made by several banks.
What Paperwork Goes Into Forming a Company in Dubai?
Documentation plays a pivotal role in obtaining the initial approval, business license, and external certificates too. Here's a curated list of documents that you must have:
Duly filled application form

Passport copies of all the business partners

Payment receipt of trade name reservation

The lease agreement document to verify the registered address of your business

A descriptive document of your business plan and associated activities

Details of shared capital (for industrial trade license)

A copy of the registry identification form notarized by the concerned council
Open your Business in Dubai Today!
You get endless business opportunities if you want to start a business in Dubai and make a name for your brand in the marketplace. The government is very supportive and continues to introduce new reforms to upscale the business ecosystem in the UAE. All you need to do is get in touch with the business consultants at Shuraa India, and we'll help you open a business in Dubai at low costs.
Connect with us today by calling on +918010990022. For chat assistance, send a WhatsApp message at +917303878183. You can also write to us at info@shuraa.in.