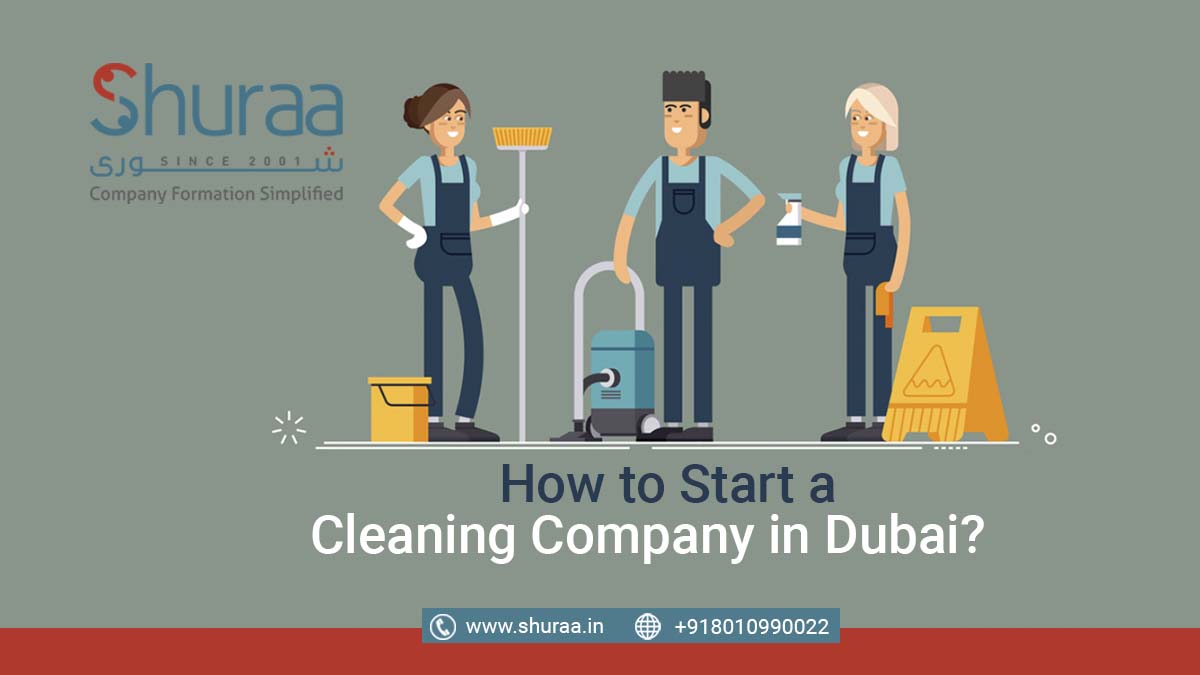 02 Jul

How to Start a Cleaning Company in Dubai?

If you are thinking of starting a business in the UAE, you can start a cleaning company in Dubai. It is high in demand and has minimal up-front and no operating costs. Usually, starting a cleaning business in Dubai costs less than other businesses during the initial phase and can get into operating mode immediately after the launch.

Starting a cleaning services company in Dubai doesn't require any special cleaning supplies, chemicals, equipment, any form of formal training, or certifications. It only requires common cleaning products and skills to clean a household. It's a very remunerative business for budding entrepreneurs as it can scale up from one-person operations to multi-million national chains, making it easier to open a cleaning company in Dubai.
Different Types of Cleaning Services in Dubai
Cleaning services in Dubai usually include residential, commercial, and industrial cleaning, further categorized into individual special activities. You can acquire your cleaning company license in Dubai as per the type of cleaning services you choose for your company.
1. Residential Cleaning Services
You should get a residential license if your company will provide cleaning services to houses and residential places like apartments, bungalows, and villas. The special cleaning activities include cleaning bedrooms, bathrooms, kitchens, storerooms, and other house spaces. The fact that residential cleaning services require very basic cleaning products and equipment, makes it best suited for SMBs and Startups. 
2. Commercial Cleaning Services
If your company will offer cleaning services to commercial places like offices, hospitals, retail stores, etc. you should get a commercial license. These spaces require heavy-duty equipment and special cleaning supplies because they are bigger than residential places.
3. Industrial Cleaning Services
Acquire an industrial license for your business if your cleaning services company will offer sanitization and maintenance of industrial buildings, factories, and warehouses. These places may have very specific requirements like commercial and hazardous waste cleanup. They also need special cleaning machinery, chemicals, specific cleaning supplies, and other industrial solvents.
What is the Cleaning Company Cost in Dubai?
The cost of a cleaning business license depends on the size of your company and the type of license you apply for. However, the start-up costs are usually low. The approximate cleaning company cost in Dubai can be around AED 10,000 – AED 20,000.
Steps to Register your Cleaning Company in Dubai Municipality?
There is a straightforward process to register a cleaning company in Dubai municipality. It won't take much of your time if you follow the steps mentioned below:
Register yourself as a customer on Dubai Municipality's official website. Then log in with the same credentials once the account is successfully created.



Once you have logged in, click on the 'Company Registration' tab and you'll be directed to a new page.


Fill in all the mandatory fields of the form. Don't forget to tick the 'Security' check box at the button on your screen.




Double-check all the information you have provided and then click on 'Register'.




Once your registration is processed successfully, you will get an email confirmation from the Dubai municipality.




You must have the company's logo files, trading license, etc. that needs to be uploaded on the registration portal. 
How to Open a Cleaning Company in Dubai?
We know that starting a cleaning services company in Dubai can be super profitable and you can start one of yourself by following these steps:
Step 1. Submit the Passport and Visa Copies
To start the process of registering your cleaning services company, you need to submit copies of your and other partners' passports and visas.
Step 2. Select Company Structure
Decide on an appropriate company structure for your business. This will either be a sole proprietorship, a civil company, or an LLC depending on the type of your business.
Step 3. Get Trade Name Approval
According to the government of the UAE, it is mandatory to submit 3 trade name options. One of these three will be approved by the government. Avoid using abbreviations and controversial words in the trade name for a hassle-free registration procedure.
Step 4. Sign the LSA Agreement
Once you get the initial approval from the government of UAE to start your cleaning services company, you should connect with a local service agent and sign the LSA agreement. You can then draft and sign the MoA. 
Step 5. Do Market Research
Research the demands in different localities and then plan the services you want to offer accordingly. Then target the customers as per the services your company offers. If you have a huge team and good transportation facilities, research the demands in long-distance areas too.
You can offer special and personalized services for various localities around the city. If you have a small team and prefer to offer your services within a walking distance, restrict your research to that particular area.
Step 6. Rent an Appropriate Location
Select a location for your cleaning services company that is close to commercial localities with corporate buildings, offices, or suburbs. These places always need frequent cleaning services.
Choose a location that is highly active and where your company can be easily visible. The UAE offers different business zones like the mainland, free zone, and offshore.
You can choose to set up your company in any of the three zones as per your business needs. Once you have chosen your location, get the tenancy contract and your unique Ejari number for future references.
Step 7. Complete the Documentation and Acquire a License
Once you are done with all of the above, you need to complete your documentation and get all the required approvals from the Dubai Municipality and DED. In addition to that, acquire necessary permissions and valid visas. After you have got all the approvals from the concerned legal authorities, pay the required fee and get your business license.
Connect With Shuraa
Starting a cleaning company in Dubai is a simple yet profitable business. The only real challenge can be the business registration and setup process. We highly recommend you to connect with Shuraa Business Setup to know more about the cleaning services and for guidance on the company incorporation. The business consultants at The cost of a trade license in Dubai also depends on factors like a partnership with a local sponsor, multiple business partners, business activity, region of establishment, and the structure of your business, among others. will assist you throughout the whole procedure to start a cleaning business in Dubai.
Contact us at +91 80109 90022