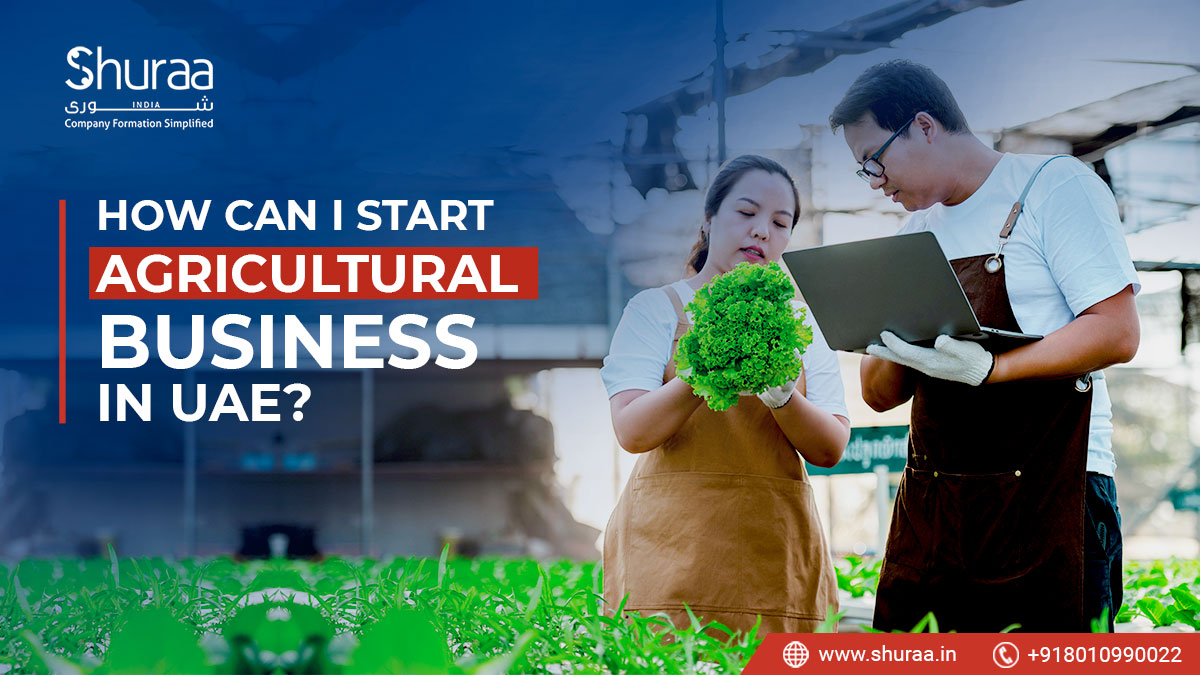 08 Aug

How Can I Start Agricultural Business in UAE?

Lately, there have been many opportunities for agricultural business in the UAE, thanks to its government's emphasis on food security in the last few years. The government aims to improve the nation's food and agricultural production capacities.

So, if you're an Indian entrepreneur looking to launch an agriculture-based enterprise in the UAE, keep reading. This blog will take you step-by-step through the benefits, procedures, documents, and costs of starting an agricultural business in the UAE.
What Are the Benefits of Starting an Agricultural Business in the UAE?
The following are some of the benefits an Indian agricultural business can leverage in the UAE:
Through the intelligent application of green technologies, the UAE has been revising its approach toward food security. As a result, there have been many developments in agricultural technology, urban agriculture, sustainable agriculture, and precision agriculture.

Apart from economic and political stability and efficient supply chain management, the UAE has an impressive ease of doing business ranking. Thus, setting up an agricultural company is hassle-free with almost no paperwork.

The UAE is a land of impressive technological advancements, infrastructure, and amenities. Moreover, it has an efficient transportation network within and beyond the country. 

In addition, your agricultural business can leverage the UAE's strategic location on the new Southern Silk Road between Asia, Europe, and Africa, providing favorable trading conditions.

Your business can reap benefits from seminars and courses on cutting-edge farming practices that the Ministry of Climate Change and Environment conducts.

Most farmers and farm owners are incapable of producing customer-centric commercial products. Your

agricultural business in UAE

can facilitate their production, adding value to their products.

The UAE has one of the world's most talented workforces specializing in supply chain management, value-addition, marketing, distribution, and microfinance, among others.

Recently, there has been a significant change in consumer needs. The rising demand for premium organic goods in Dubai has increased the scope for

agricultural business in Dubai

.

You can enjoy almost 0% taxes, full ownership of your business, and 100% repatriation of your invested capital and profits. But, entrepreneurs must pay a 5% import duty on a few products.
What Documents Do You Require to Start an Agricultural Business in the UAE?
A legitimate and accurate collection of documents will make it easier for you to set up your business. Here are some of the documents you need to establish your agricultural business in UAE:
Copies of passports and visas 

Two passport-size photographs 

Entry visa and stamp pages
Since an agricultural enterprise can encompass a wide range of activities, you'll need a few more documents depending on your business activity. Moreover, the type of documents also varies with the chosen company structure and location. You can get assistance from our professionals in organizing all the necessary paperwork and approvals.
How to Start an Agricultural Business in the UAE?
1. Pick Your Agricultural Business Activity
Agricultural business activities include cultivating agricultural goods, offering farming-related products and services to farmers, enhancing agricultural commodity value, and streamlining agricultural goods sales through marketing, distribution, and safety.
Hence, you can choose from vast options of business activities such as organic farming, food processing, poultry farming, flower business, livestock farming, and so on. Also, decide whether your business would produce, market, store, distribute or process agricultural products. For that, research your competitors and target audience. This way, you can decide your business activity.
2. Register Your Agricultural Company's Name
Once you've decided on your business activity, the second step is to name it. Your business name should leave a lasting impression on your target audience. Moreover, it should sum up everything about your business. So, consider your products/services, niche, and future growth while naming your business. 
Brainstorm unique but simple and decent names as they can go a long way in building a brand. When you've chosen a name, register it with the relevant authorities. 
Note: The UAE authorities have formed guidelines for company names. You can acquire advice on the norms and name availability from our expert advisors.
3. Decide on a Company Structure
A proper company structure clarifies authority and responsibility. Moreover, it establishes the company's operations, upkeeping, existence, and legal status. So, choose a company structure accordingly. In the UAE, your business could be a sole proprietorship, a Limited Liability Company (LLC), or a foreign company's branch office.
4. Choose a Business Location
The UAE allows the establishment of agricultural businesses either on the Mainland or in one of the free zones. So, choose a location considering its distinct amenities and infrastructure. In fact, some free zones in Ras al-Khaimah, a prominent farming area, and Jebel Ali, with its proximity to ports, have built a reputation for housing agriculture-related businesses.
Moreover, find a location providing the best conditions for your plant-based or animal-based products. Planning according to the harshest climatic conditions can ensure less risk to your products. Accordingly, choose a location considering factors like rainfall, temperature patterns, storage conditions, accessibility, transportation, and technological facilities. Also, contemplate your budget to lease or rent the place.
5. Apply for the License 
An agricultural business can be product-based or service-based, or even both. Hence, you'll need a professional or a commercial license. Submit the required documents and pay the fee to apply for an appropriate agricultural business license in Dubai or any emirate.
Furthermore, you may need additional licenses and approvals, such as an environmental permit, veterinary license, aquaculture license, livestock farming license, or permission to import live animals. Our professionals can help you with the same based on your chosen activity.
6. Launch Your Agricultural Business
After you have the mandatory license(s) and approvals, you can launch your agricultural company. You can onboard clients, recruit a workforce, obtain raw materials, processed commodities, carry out marketing campaigns, and so on.
What Is the Cost of Starting an Agricultural Business in the UAE?
You'll face different business expenses primarily depending on your agricultural business activity. While a business license may cost more than AED 15,000, the cost of approvals may further add to the business setup cost. Apart from that, the cost of starting your agricultural business in the UAE depends on your chosen office space, warehouses, utilities, vegetation surveys, soil surveys, marketing, biological monitoring, and so on.
So, coming up with an accurate number is not possible. But, our experts can help you with the precise cost of an agricultural business setup in the UAE. Hence, understanding your expenses will help you plan your business activities. 
Start Your Agricultural Business With Shuraa
Shuraa consultants can give you a hand in setting up your agricultural business. We can ease your entire business setup process. Moreover, we can make you sail through the many legal agricultural business setup requirements, such as appropriate documentation, licenses, approvals, and permissions. Apart from our business setup solutions, we can create special packages geared for your specific business needs. You just need to get in touch with us!