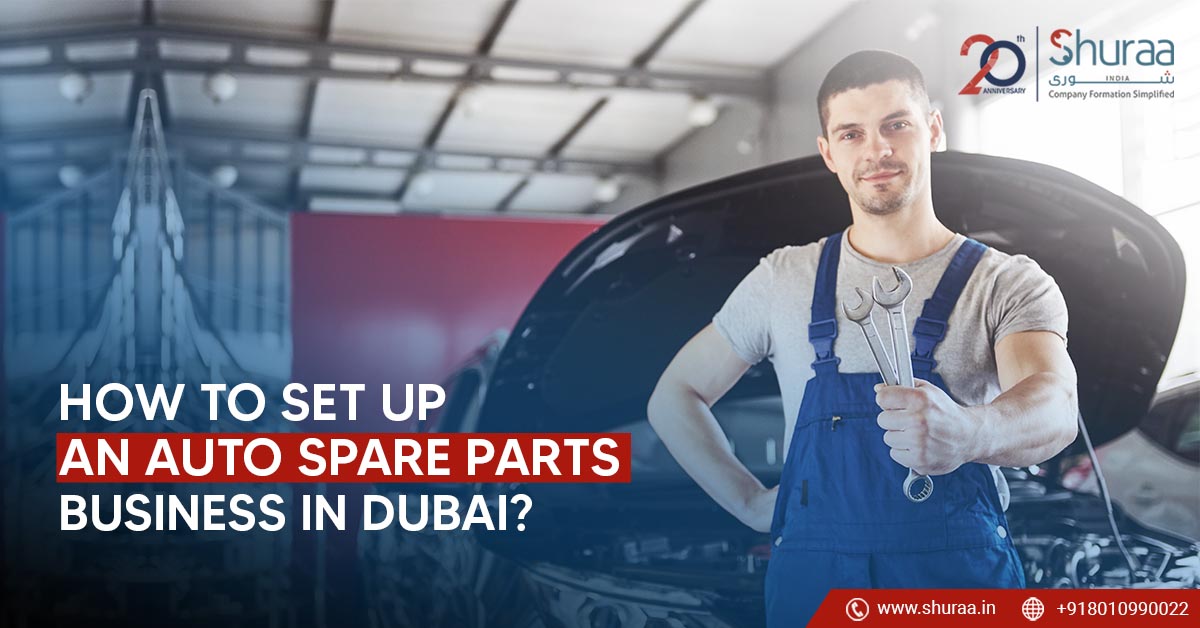 31 Mar

How to Set Up an auto spare parts Business in Dubai?

Are you an Indian investor wishing to set up an auto spare parts business in Dubai? UAE is the 2nd largest automobile market in the GCC (Gulf Cooperation Council). This excites Indian entrepreneurs and investors to start an auto spare part business in Dubai. Furthermore, UAE offers an ideal environment for business developments in different market areas.  

Moreover, the need for auto parts service in Dubai will remain strong, considering certain factors such as increased competition, population growth, and desired improvement in automobile sales going forward. In this article, you will gain information on how much an auto spare parts trading License in Dubai costs to Indian investors, business benefits, and easy methods to set up an auto Parts Store In UAE. Let's begin.  
Benefits of Starting an Auto Parts Trading Business in Dubai
If you are an Indian businessman, willing to set up a retail business in the automobile sector in Dubai, then do consider opening an auto spare part business. Dubai offers a platform for growing business locally and internationally. Here is a list of benefits you enjoy if you set up an auto spare parts business in Dubai:  
1. Favorable Free Zone Locations 
Dubai's free zones are a business platform that allows Indian investors with favorable business conditions in the UAE. You get to be the 100% owner of your auto spare part business. Furthermore, there is 100% repatriation of profits and capital in Freezone. And if you wish to setup Auto Parts Store In UAE quickly, then do open your store in the Dubai free zone.  
2. Developed Car Manufacturing Sector
Dubai people have a special attraction for luxury cars. Dubai people like to modify their cars and make them unique. Demand for car modifications is high in Dubai where the youngsters want their automobiles to look different & give better performance. So, with the higher development of the car-making sector, it is the best platform for Indian investors to do business relating to motor vehicles, spare parts, and automobiles. 
3. Supportive Government 
The Emirate Government of Dubai supports the growth of the automobile sector and attracts global investments in the economy. In addition to this, the Dubai government also provides localized production of auto spare parts via OEMs.
This further reduces the costs and boosts sales of auto parts country-wide.  Moreover, the well-established logistics & global transportation hubs of Dubai serve as an additional benefit for Indian investors to set up an auto spare parts business in Dubai.  
4. A Great Location to Work & Live 
Owning an auto spare part business in Dubai can let you afford a luxury living in the porch locations of the city. Working in any part of Dubai can be amazing for Indian investors and business owners. With low taxes, high quality of living, and amazing lifestyle- you will surely feel lucrative to be living here.
The rate of improvement in Dubai's lifestyle is higher than in other fast-growing countries of the world. Dubai offers top-class infrastructure & quality products that let you live a life as you want to.  
What Are the Steps To Set Up an Auto Spare Parts Business in Dubai?
Any Indian investor can set up an auto spare parts business in Dubai if he/she is familiar with the processes of establishing a business here. When setting up an auto spare part company in Dubai, you have to consider many factors. So, you can follow the below-given step-by-step process in order to set up an auto spare part business in the UAE.  
1. Select the Business Activity
You need to decide your business activity first. It can be doing auto parts trading physically or offered via an online retail store, with 24 by 7 active services, etc.  
2. Register the Company Name
As there are certain norms for a business name in Dubai like it should be unique and attractive. Further, it should not be offensive or should not relate to any particular religion. So, keep such points in mind while finalizing the name of your auto part business.  
3. Select a Business Location
As per your company's needs, you can select a business location. Certain needs for your auto spare parts trading can be client demography, transportation access, number of employees, and so on.  
4. Avail the Primary Approval
You can obtain a pre-approval certificate by submitting the required paperwork and documents to the DED (Department of Economic Development). However, this certificate is again needed to be approved by other legal authorities too.  
5. Obtain a Legal Business License
An Auto spare parts trading License in Dubai is a commercial License. So, your business activities and approvals decide which license you will require to run your company legally in Dubai.  
Documents Required to Start an Auto Parts Trading in Dubai
When applying to set up Auto Parts Store In UAE, any Indian investor or businessman needs to submit the below-mentioned documents:  
Passport copies of the shareholders

 

Entry stamp or Visa page

 

Passport size photograph

 
What Is the Cost of Starting an Auto Parts Trading Business in Dubai?
The cost needed to Start an auto parts trading business in Dubai is about AED 10,000 and AED 30,000. However, the cost depends on the nature and size of your company. Moreover, you may have to pay additional costs on purchasing equipment, paying custom taxes (if you like to import certain parts), renting premises, etc. 
Conclusion
Starting an auto spare parts business in Dubai is one of the best decisions any Indian investor or entrepreneur can ever make. Dubai is home to one of the most growing automobile auto parts markets in the UAE. Moreover, opening an Auto Parts Store in Dubai gets easy when you connect with the right business consultant.  
Yes, you can now reach out to us, as your local business consultant specialist in Dubai and we will guide you with the easy process of setting up the auto-spare part store in Dubai. From company formation, and location decisions to licensing producers- everything gets sorted by specialists at Shuraa Business Setup. Feel free to call us for more details!