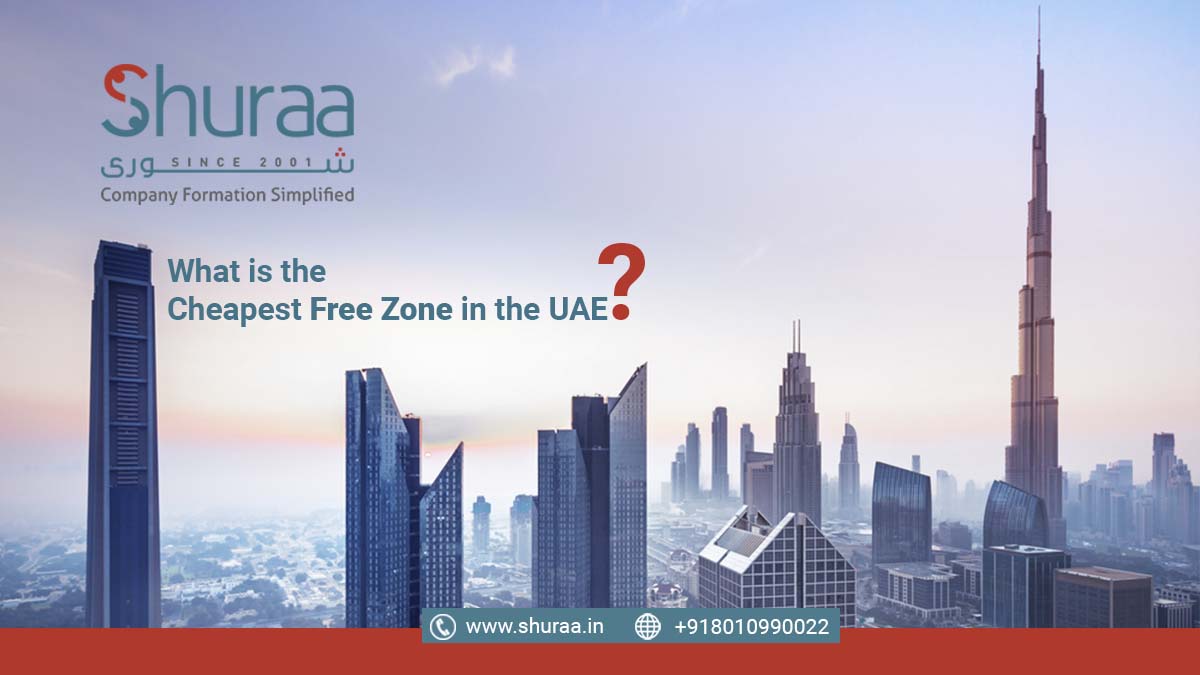 16 Jul

What is the Cheapest Free Zone in the UAE?

Ranking 16th worldwide in the World Bank's Ease of Doing Business 2023 report, the UAE is the ideal business place owing to several reasons such as being the cheapest free zone in UAE. Its strategic location and 0% tax policy attract a huge number of foreign and local investors. Whether you're looking to expand your business or start a new one, UAE offers an accelerated business environment.

Apart from the attractive advantages the emirates offer, another reason why the UAE is becoming a global business hub is the 'free zones'. With the increasing rate of business in the UAE, free zones are gaining much popularity. However, company formation experts at Shuraa can assist new-age investors to select the best and cheapest free zone in UAE.
What is a free zone?
Free zones are the special economic areas in the UAE where businesses can be set up at privileged tax and customs rates. Each free trade zone is defined by a geographical area within the particular emirate. Besides, each free zone has a different set of laws and jurisdiction governing the businesses.
The purpose of free zones is to boost foreign business by offering numerous benefits such as 100% business ownership. With over 40 free zones in the UAE and many of them categorized based on business activities, it is essential to understand your business requirements while selecting the cheapest free zone in UAE 2023.
Why set up your business in a free zone?
Before selecting a Freezone, business owners must be aware of what Freezones can offer. There are plenty of benefits that compel expats to obtain the cheapest free zone license in UAE 2023. Here are the 5 top benefits of setting up a business in a Freezone:
1. 100% Foreign ownership
One of the most attractive benefits of establishing a business in a free zone is full ownership rights. In a free zone, an investor can enjoy 100% ownership without the help of a UAE sponsor. 
2. Corporate and personal tax exemptions
UAE's tax regime makes it one of the most evident reasons to set up a company here. You can obtain the cheapest free zone license in Dubai as the free zones offer 100% exemption from personal and corporate taxes. 
3. Easy setup
Getting a free zone license in Dubai is a straightforward process. However, the exact company formation process may depend upon the type of business activities chosen by you. But, in most cases, basic documentation and paperwork are enough for you to start.
4. Import and export duties exemption
The jurisdiction of the UAE exempts business owners from paying import and export duties along with no currency regulation restrictions. Flexibility in currency exchange makes financial transactions easier.
5. Support from the government
Powered with excellent infrastructure, the UAE government is very supportive and welcoming to new-age investors. The Free Zone authorities assist new businesses in getting a free zone license in Dubai and thereafter. 
Top 4 Cheapest free zones in Dubai
Free zones are becoming a popular choice for investors owing to the variety of benefits they offer. While selecting the cheapest free zone in UAE 2023, it is imperative to go through the information about where they are based and the benefits they offer. 
Here are the top 4 free zones which are relatively cheap and offer similar economic benefits as the other free zones.
1. International Free Zone Authority (IFZA)
Located in the Silicon Oasis Area in Dubai, IFZA is one of the competitive free zones in the UAE. It offers a vast choice of low-cost company setup packages, making it one of the cheapest free zones in the UAE to establish a business. 
The Dubai Department of Economic Development decides the range of business activities that can be conducted in this free zone. You can choose a maximum of 7 activities under one license. The types of licenses offered in the IFZA free zone are:

Establishing a business in IFZA can minimize the capital requirements for your company and save on your annual audit costs.  Another advantage of setting up a business in IFZA is that you can set up your office, warehouse, and residential apartment on the same premises.
2. Raz Al Khaimah free
zone (

RAKEZ)

Another jurisdiction offering one of the cheapest free zone licenses in UAE 2023 is RAKEZ. This free zone at present houses more than 14k companies under more than 50 niche sectors. The close proximity to RAK airport and seaport makes this free zone a lucrative option for aspiring entrepreneurs.

RAK is renowned for its customizable warehousing solutions. You can choose from low, medium, and high-sized warehouses depending upon your business activities. It also provides readily available staff and labor accommodations. Providing the largest list of business activities in the UAE, the below heads encompass them all:
Commercial

Service

Industrial

Media

Educational

Professional
Setting up a business is cheap as well as quick. A company can be formed within a week.
3. Ajman Media City (AMC)
Offering an extremely quick and simple company formation process, Ajman Media City is a brand-new investment destination in the UAE. This free zone attracts businesses from all across the world by offering easy and cost-effective services. AMC incorporates a wide variety of media and entertainment-related activities.
It also offers Flexi-desks and small sharing workplaces. This free zone makes it an ideal place for small and mid-sized business owners to set up their businesses. The cost of a trade license in Ajman Media City depends upon several factors. Get in touch with our experts to know more about the cost.
Along with media-related activities, AMC allows some trading activities as well. Majorly, the business activities shall fall under the below heads:
Service and Consultancy

Media related training

E-commerce.
4. Sharjah Media City free zone (SHAMS)
Housing some of the biggest businesses and companies, SHAMS is UAE's fastest-growing media-free zone. Sharjah fosters a vibrant and growing atmosphere for budding entrepreneurs. That being said, SHAMS is now one of the ideal free zones for new-age investors as well as established businesses. 
SHAMS offers a vast list of business activities. Unlike the name suggests, business activities are not only related to the media sector. You can undertake multiple business activities per license. The types of business licenses offered in SHAMS are:
Trading

Professional

Holding and other types

Social media influencer
This free zone is ideal for people wanting to set up a business remotely, without having to visit UAE in person.
Conclusion
Company setup in Dubai as well as across UAE is much easier now, thanks to government policies. However, while embarking on your search for the cheapest free zone license in Dubai, prior knowledge of the free zones and the license application process is required. To reap long-term profits and growth, invest your time with Shuraa's reliable company setup experts and enjoy hassle-free incorporation.