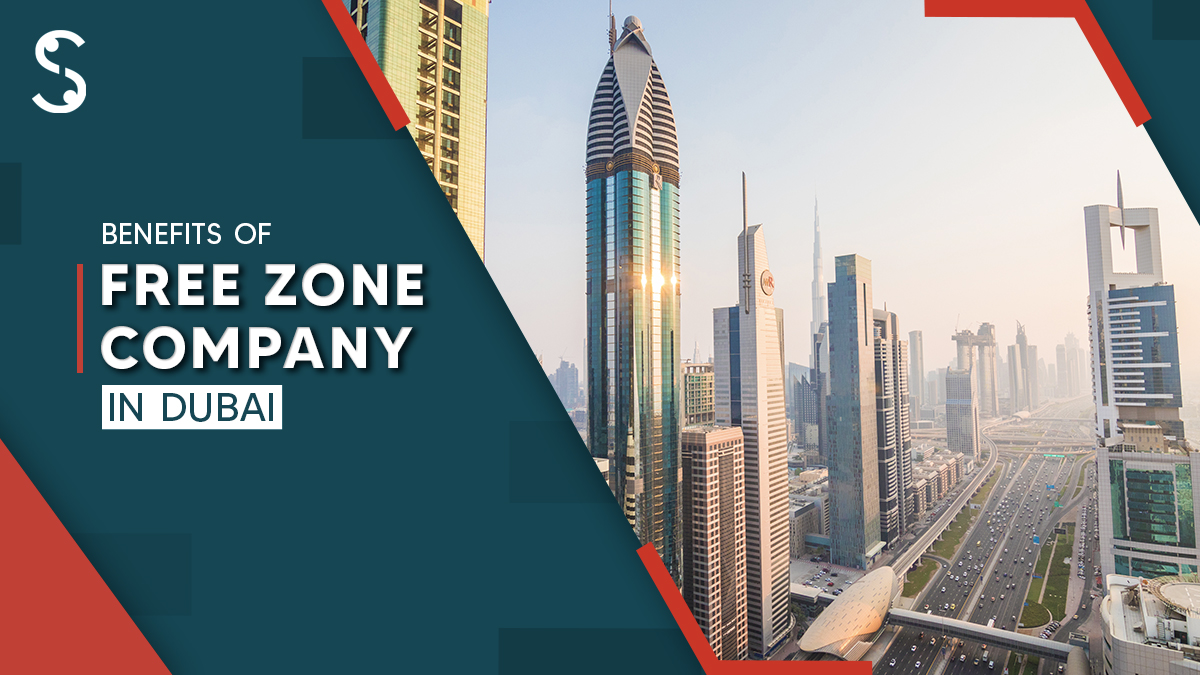 06 Jan

Benefits of Free zone company in Dubai

You've come to the right place if you're thinking about starting a business and want to learn the top benefits of a free zone company in Dubai. Take a moment to review some crucial information about doing business in the UAE before learning more about the benefits of free zone company formation in the UAE. 

For many years now, the UAE government has taken the initiative to attract foreign investment to the Emirates from all over the world. The UAE's economic advancement is primarily attributable to a forward-thinking government, business-friendly policies, and the entrepreneurial spirit of its citizens. We'll get a quick overview of the Free Zone jurisdiction in this blog, along with some advantages. 
What are the UAE's free zones?
Free zones are special economic regions or jurisdictions that grant financial and tax exclusions as well as operating licenses for commercial establishments. The seven Emirates are home to over 50 free zones in total. The Free Zone Authority is the name of the administrative unit in charge of a free zone. The governing body in charge of the crucial tasks related to free zone operations and license issuance is known as the Free Zone Authority or FZA. 
 In a UAE free zone, an investor may establish one of the following three business entities. 
Free zone company (FZCO)

 

Free zone establishment (FZE)

 

Branch of a foreign company

 
UAE Free Zone Company Benefits
First and foremost, free zones in Dubai are essentially national boundaries. Without the interference of onerous customs regulations, commodities, services, and other goods can be traded in these areas. Companies in Dubai's free zones pay no taxes or very little tax, depending on the specific arrangement. 
This promotes economic activity and a higher rate of successful business operations without having to worry about paying taxes or capital gains to the government. In Dubai Mainland, every free zone is a separate legal entity with its own free zone authority. Within the boundaries of that free zone, this authority is in charge of administration, registration, and license issuance. 
The establishment of a business in a UAE free zone has many advantages, including: 
1. Foreign ownership at 100%
Acquire total control over your business in a free zone. In the United Arab Emirates, a foreign investor or a group of foreign nationals may fully own a free zone company. For their company, a local sponsor is not required. The ownership of businesses in free zones is open to all nationalities. 
2. Confidentiality
The highest level of confidentiality is maintained by free zone authorities when it comes to information on assets owned by free zone businesses. 
3. No trade restrictions
There are no limitations on trade or the volume of business that free zone businesses can conduct with businesses outside the zone as well as within it. 
4. No currency regulations
Currency regulations are governmental restrictions on the exchange of foreign currencies. There are no currency regulations in the free zones. In UAE free zones, there are no currency restrictions of any kind. This facilitates financial transactions. 
5. Exemption from import and export taxes
In the UAE, the free zone jurisdictions are exempt from import and export taxes. This aids in advancing global trade. 
6. Workspaces are easily accessible
Free zone jurisdictions have access to a variety of warehouse and office options. UAE-free zones are excellent for startups and SMEs. 
7. Easy incorporation of a business
The processes for incorporating a business in a free zone are easy and straightforward. In comparison to other jurisdictions, the licensing process can be completed in fewer days. 
8. Immigration procedures that are trouble-free
Immigration facilities connected to UAE Free zones are effective and save time. 
9. Excellent infrastructure and communication
UAE free zones have the most modern infrastructure and communication systems.  
Dubai Free Zone Company Setup in 5 Simple Steps
Can my new company be established in the Dubai Free Zone? You most certainly can. By taking the following crucial actions: choose a business venture, choose your corporate structure, keep your paperwork close at hand, and leave the rest to us. Your company formation in the Dubai Free Zone will be assisted by our committed team members from beginning to end. 
1. Choose your Business Activity
Choosing the kind of business activity, you'll conduct is the first step in setting up a free zone business in Dubai. You must first determine your business activity before you can submit an application for a business license. 
2. Select a Free Zone
You must choose the type of Free Zone that is best for your business after deciding on your business type. In Dubai, there are more than 20 free zones. Sector-specific zones include those for IT, healthcare, trading, etc. 
3. Pick a company name
You'll then need to decide on the name of your business. You must fulfil a number of conditions in order for your name to be approved. You can choose to start with a name that is already taken. Additionally, you must refrain from mentioning any political parties, religious institutions, or blasphemous language. 
4. Compile all the documents and apply for a free zone license
Next step, you need to apply for your business license. The type of license you need depends upon the chosen business activity. You need to fill in the application form, compile all the required documents, and submit it all. You will receive your license in about 1-2 weeks. Hereinafter, you can also apply for your visa. 
List of best free zones in the UAE:
RAKEZ – Ras Al Khaimah Economic Zone
Meydan Free Zone
SHAMS – SHAMS – Sharjah Media City
Conclusion
Unquestionably, establishing a company in a free zone is one of the best moves an entrepreneur can make. This is so that businesspeople looking to enter the UAE's business market can take advantage of the free zones' many advantages. Additionally, the advantages of a free zone business in Dubai outweigh any potential drawbacks. 
One of the top companies in the UAE for business setup is Shuraa. We have been assisting business owners in the nation to establish and grow their enterprises for over 21 years. We guarantee that the setup of your business will go off without a hitch. Our knowledgeable consultants will walk you through every step of the procedure, from setting up your business to figuring out how much a free zone license will cost.