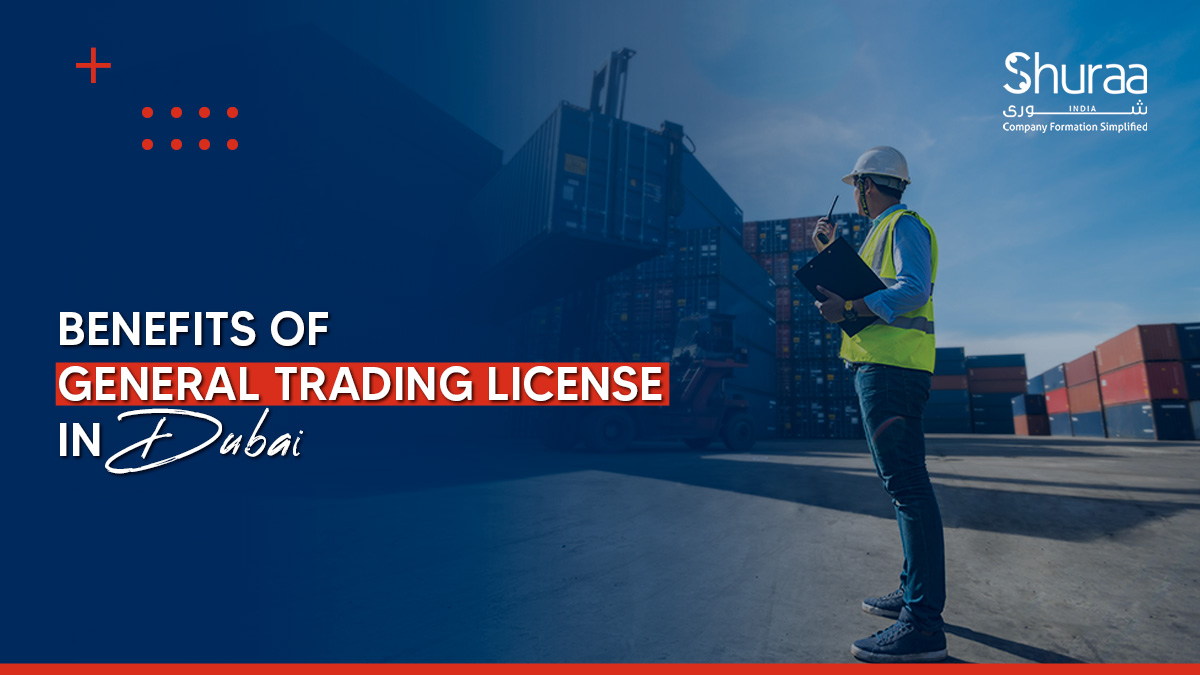 06 Feb

Benefits Of General Trading License in Dubai

Do you want to relocate to Dubai as a foreigner to start a business in one of the region's rapidly developing economies? When it comes to running a business in Dubai, there are countless options. In Dubai, you can obtain a general trading license that enables you to combine several business activities in a variety of sectors, including food, electronics, furniture, clothing, and fashion, among others. However, in order to form a general trading firm in Dubai, you must first acquire a general trading license. 

Explore the guide to find out what a general trading license is and how to obtain one for your company in Dubai. 
What is a General Trading License?
A general trading license in Dubai is required only if you're a foreign national and wish to launch a trading business that sells unrelated goods. This type of trade license is a requirement, especially if you intend to engage in a variety of trading operations.
A general commerce license will cover them even if they span several different sectors. For this reason, obtaining a general trade license ought to be one of the crucial procedures in a simple and straightforward company creation process in Dubai. 
Once you have obtained your general trading company license in Dubai, your new firm is able to carry out all its trade operations in Dubai under the same license. When you complete this crucial step in company creation in Dubai, your firm will be well-positioned to dominate the supply and trading sector and supply items to companies in Dubai and even other nations. 
Procedures for Obtaining a General Trading License in Dubai
For a general trade corporation, the Department of Economic Development (DED) now provides speedy license processing. The following actions must be taken during business registration in order to receive a general trading license in Dubai: 
Choose Your Trading Activities
A list of legal business operations that are permitted in the UAE is provided by the Department of Economic Development (DED). However, depending on the type of business, you must select the activities you intend to carry out and submit a list of your choices to the appropriate government. Keep in mind that you can only choose up to 10 activities per license (from the same category). 
Legal Framework of the Company
Decide whether you want to establish your business in the mainland or one of the free zones as well. If you want to launch your business on the mainland, you can take advantage of Dubai's thriving local market. Additionally, a free zone & mainland company formation allows you to have complete company ownership. 
You also need to decide if your business will be a new entity, an international branch, or a subsidiary. 
Make a business name reservation
The legal trading name for each general trading company in Dubai must be registered. However, you must refrain from utilizing any god's name in your trading name and stay away from names that are similar to those of established businesses. Additionally, you are not permitted to insult anyone or use language that offends their religious or social values. If you want to name it after someone, make sure to use their complete name. 
Acquire the initial approval
You need to get the initial permission after your business name is approved. For your general commerce license in the United Arab Emirates, you must contact the relevant authority. To obtain this approval, you will need the trade name registration payment receipt in addition to a few other necessary legal documents. 
You can enlist the help of local legal advisors to make the process of getting the initial approval easier than ever. You will receive the initial permission certificate, which declares that the government has no issues with you creating a company in the UAE, providing all the necessary paperwork is in order. 
Submit a General Trading License application
Once you have completed all the processes, you can quickly apply for your trading license. Along with other relevant legal documents for verification, you'll need the original approval document at this phase. In addition, make sure you accurately complete the business license application and double-check before submitting it. 
Complete the necessary payments in the allotted time. Additionally, if some of the business operations aren't covered by your general trade license, you could need to seek additional permits. 
Documents Needed in Dubai to Obtain a General Trading License
You must provide important documents to the relevant authority in order to obtain a general trading license in Dubai for your business in order to launch a general trading firm. The documents that you must submit are listed below: 
Passport copies of shareholders.  

 

Visa page or Entry stamp.   

 

Passport size Photograph.   

 
Operations covered by a General Trading License
The proprietor of a general trading company in Dubai is entitled to import, deal in, and re-export any of the approved goods, according to the Dubai Department of Economic Development (DED).
Furthermore, it allows you to trade in almost everything, except for a few forbidden sectors like oil or cigarettes. Almost any other combination you may think of, including sweets and toys, diamonds and shoes, and pet supplies and jewels, is acceptable as a trade. 
In Dubai, a single-owner business, an LLC can conduct activities that call for specific licenses and agreements. 
General Trading License for Dubai Mainland
A general trading license can be obtained in any of the jurisdictions, including the Mainland or a Free Zone. However, the Mainland and Free Zones of the UAE provide affordable packages that can be tailored to your specific needs. 
License for General Trading in Dubai Free Zones
Any Dubai free zone jurisdiction allows foreign investors to establish a business there as well. To be given a general trading license in the Dubai Free Zone. Nevertheless, depending on the business and the jurisdiction, the cost may change. 
Benefits of Establishing a General Trading Company in Dubai
Are you interested in learning more about the advantages of establishing a general trade company in Dubai? An organization with a general trading license in Dubai has countless advantages for business owners or investors. 
High-quality infrastructure 
Companies may conduct their activities in the most effective way possible thanks to the availability of office spaces with flexible rent or lease options and the best infrastructural features. 
Easy Business Setup 
Establishing a corporation in the UAE is a simple process. However, the License can be obtained in 7-10 working days and all the paperwork is prepared and in order. 
No Trade Barriers
In Dubai, starting a business requires very little money and time. Additionally, companies with mainland trade licenses are excluded from any requirements for paid-up share capital or recurring audits. The company's profitability and affordability go above and beyond as a result. Therefore, there are no trade restrictions when running a business in the UAE. 
Conclusion 
Shuraa specializes in the formation of LLC companies in the UAE's free zones and on the mainland. Your General Trading License in the UAE will be obtained as smoothly as possible with the help of our knowledgeable Business Consultants, who will guide you through the company creation procedure. 
Depending on your business needs, we will provide you with the appropriate company formation package. We will register the business for you remotely when you send us the required paperwork online. For more details about Company Formation and Getting a General Trading License in the UAE, get in touch with us. 
To learn more about company formation in UAE, contact our specialists.