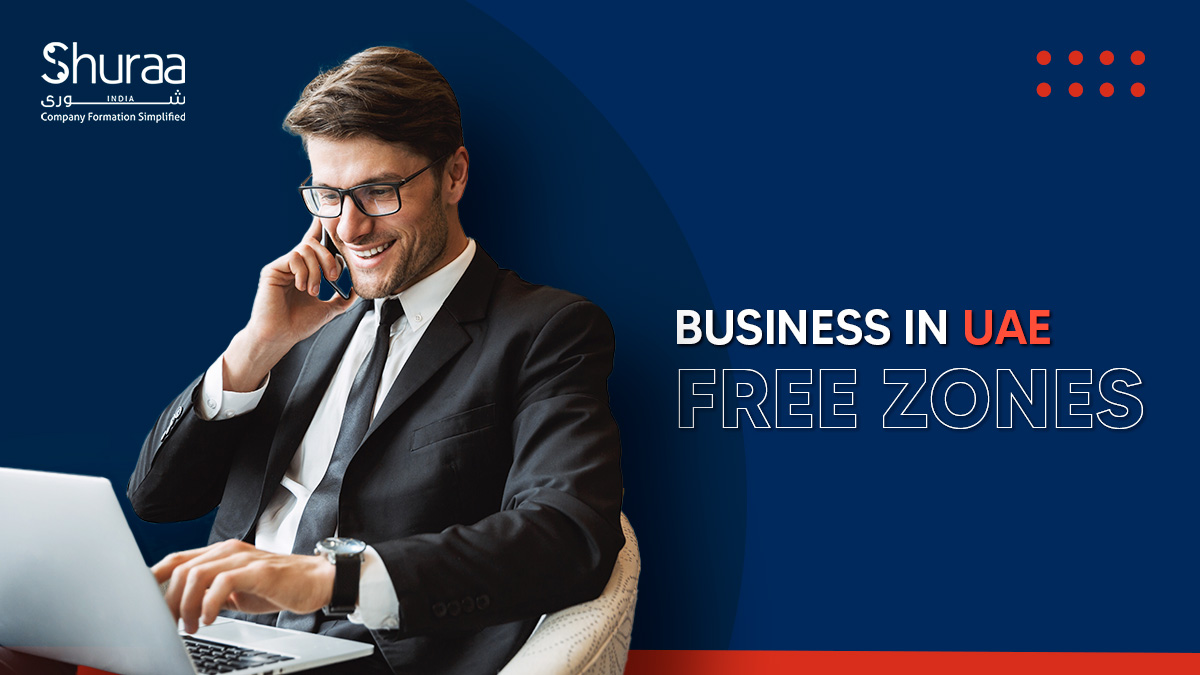 19 Jan

Business in UAE Free Zones

The United Arab Emirates has long been a popular travel destination for businesspeople everywhere. Investors in Dubai have been looking for alternative business ventures and potential income opportunities as there has been a noticeable shift away from the oil trade. Fortunately, free zones are a significant factor in why so many people travel to Dubai and the UAE's coastlines to conduct business. And what exactly is a free zone? Discover what a free zone is and how to do business in UAE Free Zones by reading on! 

There are amazing advantages available to hardworking professionals in the UAE. The economy of the United Arab Emirates is booming, offering more opportunities than ever for investment and income sources. It's not surprising that this location has such a strong appeal on a global scale. 

The definition of a free zone, information on free zones in the United Arab Emirates, the legal system, rules, and various benefits are all covered in this article. We also outline all the advantages a free zone can provide, both for businesses operating within one and for individuals using a free zone like Dubai. even just for those who are interested in learning more about Dubai's free zones. Questions and answers about any free zone company are the focus of this article. Read on to learn all there is to know about free zone businesses. 
What is a "Free Zone"?
Free zones are commercial hubs for the exchange of goods and services. These areas are additionally referred to as free trade zones or free zone authorities. Free trade zones offer zero percent tax rates, preferential customs duty rates, and a complete exemption from import and export taxes. 
Free zones are especially well-liked by businesspeople who value their privacy. This is due to the company having 100% foreign ownership and having no public directory of company information. Sensitive corporate information, such as shareholder information, is never made public when a company has 100% foreign ownership. 
Investors and businesspeople have easy access to the busy neighborhoods and services in Dubai thanks to each industry. There are numerous corporate activities that can be carried out within each free zone and its authority. For instance, some of the businesses that can be established within free zones include those in infrastructure, media, education, construction, and retail. Using the free zones in Dubai for your business needs is unquestionably worthwhile. 
Look no further than IFZA if you're thinking about forming a business in a free zone with a Middle Eastern location. Free zones are common, heavily utilized, and accessible in Dubai, making the formation of a company focused on a free zone an easy venture for your business. In the South Asian region of the Middle East, free zones are an excellent business choice. 
Why set up in a free zone?
There are many reasons to establish your business in UAE free zones once you understand what it is. Additionally, it is simple to set up a business or engage in freelance work in the UAE free zones. In the South Asia region, a free zone company in a Dubai free zone or within a Dubai multi-commodities center can be a fantastic business venture. The Dubai and UAE economies are booming thanks to the variety of trade sectors they can operate in. So why use free zones in Dubai to establish a free zone company? Continue reading to learn more about the benefits of Dubai free zones. 
The nation has low taxes and is conveniently situated in the middle of the biggest emerging markets in the world. The region's proximity to Africa and Europe helps import and export businesses make sizable profits. Additionally, the UAE government is dedicated to encouraging business expansion. 
Simple Setup
The procedure for setting up a free zone authority is incredibly simple. The exact course of action will depend on your chosen zone and line of business. In many instances, providing some basic documentation is the only important requirement. A passport, official business documents, and credentials are frequently required. Typically, the entire process takes a week or two. Additionally, many free zones provide virtual and flexi-desk packages. 
Taxes and Duties
Tax exemptions are arguably the strongest argument in Favour of choosing a free zone. Establish your business in a free zone to enjoy 0% corporate and personal tax as well as VAT exemption for your line of work. VAT is currently set at 5% and is applicable to all products and services in Dubai and the surrounding area. Profits and capital can be fully repatriated in free zones as well. 
Additionally, since businesses operating in free zones are not subject to import or export taxes, they are free to transact in any currency. 
Trading within the United Arab Emirates
The prohibition of direct trade within the UAE's domestic market is one of the rules that companies operating in the free zone must follow. Fortunately, once significant networks have been established with investors in your industry, this obstacle can be easily overcome. 
Accessing and working with a locally appointed distributor is a fantastic option. For a fee, they will be able to market your products and services. As an alternative, you could start your business and later open branch offices of your free zone company all over Dubai and the Emirates. These satellite offices can be used to promote the products on the mainland of the United Arab Emirates. 
Ongoing Assistance
Authorities for the free zone are on hand to provide assistance both during and after setup. The majority of free zones assist shareholders and any applicable dependents, such as spouses or domestic staff, with visa applications. 
 Many offer advice on the best institutions to meet your needs and help open corporate bank accounts. It is common for a specific free trade zone to provide networking opportunities and expert advice as part of ongoing support. Several zones also provide access to startup hubs and growth initiatives to aid new businesses in getting off the ground. 
What does it cost to establish a business in the Dubai Freezone?
In Dubai, there are about 30 free zones. The price to establish a business varies by free zone. This has to do with the fact that a company can have up to 50 shareholders, and they are all qualified for visas. It is necessary to pay the visa application fees separately for each person, including any employees for whom work visas are requested. Then there are the expenses associated with renting offices, whose rates vary between free zones. Charges will vary depending on your choice, which can range from a single desk in a co-working space to a sizable, enclosed office. 
Conclusion
The Shuraa Business Setup team of professionals has years of experience in company formation in the United Arab Emirates. They can be counted on to contribute their knowledge to anything related to business setup in the UAE. They have a variety of backgrounds, including management, law, and finance, and they are willing to give you advice on the best strategy for establishing a business in Dubai. You can rely on them to help you with all the paperwork and the filing process for the new business set up in Dubai so that your company registration goes smoothly. 
Shuraa Business Setup is the ideal business setup consultant for you if you're looking at low-cost options for Business in UAE Free Zones.