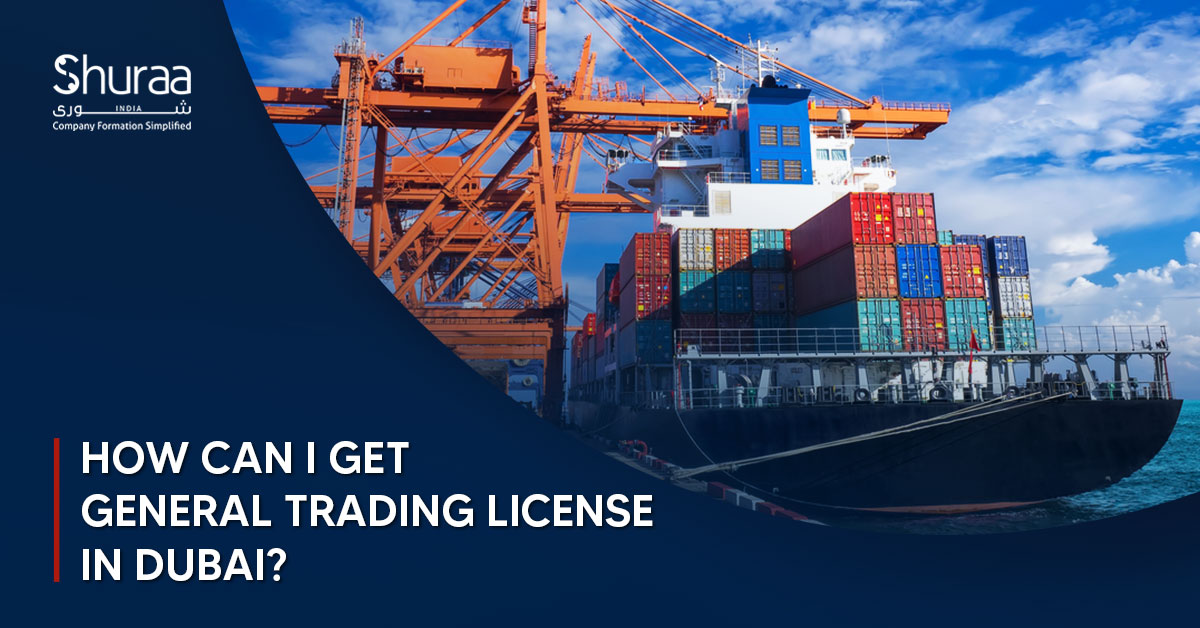 14 Feb

How To Obtain A General Trading License in Dubai?

Dubai is known for being a global trading hub, attracting businesses from all over the world. To engage in trading activities within the city, companies are required to obtain a General Trading License. This license allows businesses to import, export, distribute, and trade a wide range of goods. In this blog, we will learn in detail about the General Trading License in Dubai. 

Moreover, obtaining a General Trading License requires businesses to meet specific legal requirements, including registration with the Dubai Department of Economic Development (DED) and compliance with local laws and regulations. In addition, businesses may also need to provide proof of their financial capability to conduct trading activities. 
What is a General Trading License in Dubai?
A Trade License in Dubai, UAE is a legal document that authorizes a company to carry out specific business activities within the UAE. Furthermore, a General Trade License outlines the scope of business activities that a company can undertake in the UAE.  
Depending on the type of license obtained, a company may be authorized to conduct one or more business activities, such as manufacturing, trading, or services. It is important for businesses to obtain the correct type of Trade License that matches their intended business activities. 
With a General Trading License in Dubai, companies can engage in a wide range of commercial activities, including importing, exporting, and distribution of goods. This license allows companies to conduct business locally and internationally, providing them with greater opportunities to expand their operations and increase their revenue. 
What advantages of a General Trading License in Dubai?
There are several advantages to obtaining a General Trading License, including: 
Greater flexibility:
A General Trading License allows businesses to engage in a wide range of commercial activities. 
Access to a global market:
Dubai's strategic location and world-class infrastructure provide businesses with access to a global market. 
Increased revenue:
With a General Trading License, businesses can take advantage of the lucrative opportunities in the trading industry. 
Strong business relationships:
Dubai's reputation as a global trading hub means that businesses can establish strong relationships with clients from different parts of the world. 
Cost-effective setup:
The cost of setting up a business in Dubai is relatively low compared to other major trading hubs. 
Documents Required for Trade License
The government has carefully drafted the paperwork requirements for establishing a general trading company in Dubai. Here's a list of documents you'll need to obtain a general trading license in Dubai: 
The following are the documents required for a new trade license in Dubai: – 
Passport copies of the shareholders.

 

Entry stamp or Visa page.

 

Passport size photograph

 
How to Get a Trade License in the UAE?
Getting a UAE trade license involves completing five essential steps. These steps are necessary for any business or individual who intends to operate in the UAE market legally. Furthermore, by following these steps, applicants can obtain the appropriate trade license type.  
The following are the steps to get a Trade License in the UAE: 
Select Your Business Activity
To select the appropriate business activity, applicants should research the market demand and consider their resources. It is worth noting that the selected business activity can determine the type of license required and the associated fees. Therefore, applicants should choose wisely based on their intended trading activities. 
Choosing a Trade Name 
An appropriate trade name that accurately reflects the nature of the business. It is crucial to avoid using any offensive or blasphemous terms that may lead to the rejection of the trade name application. Additionally, including acronyms with the applicant's name is not allowed. The chosen trade name should be unique and not registered by any other business in the UAE. 
Choosing Business Location
When choosing a business location, applicants should consider factors such as accessibility, market demand, and competition. Depending on the chosen location, applicants may be required to obtain specific licenses or permits. For instance, a mainland license is necessary for businesses located in mainland Dubai, while free zone licenses are issued to companies located in free zone areas.  
Complete Your Application and Pay the Fees
Applicants must ensure they provide all necessary documents and meet the requirements for their chosen license type. After applying, applicants must pay the associated fees, which may vary depending on the license type and location. Furthermore, the licensing authority will review the application, and upon approval, issue the trade license. 
Receive the License and Open a Business Bank Account
Upon approval of the trade license application, the licensing authority will issue the license. Once the license is received, business owners can proceed to open a business bank account in Dubai. Furthermore, having a business bank account is necessary for financial transactions and to meet the requirements for the renewal of the trade license. 
What is the Cost of a General Trading License?
When starting a business in the UAE, one of the crucial steps is obtaining a trade license. Moreover, understanding the cost of a general trading license is essential for businesses to plan their finances and budget effectively. 
The price of a general trading license is also marginally higher in Dubai. This is due to the fact that it enables you to trade in many items under a single license and also offers more room for business expansion and diversification. Thus, when compared to a single-activity license, it is a more affordable option. 
In Dubai, a general trading license may cost anything from AED 15,000 to AED 50,000 (about) or even more. The location of your business, the size of your warehouse, the size of your office space, any additional approvals, the business jurisdiction, and any visa applications will all affect the overall cost of your license. 
What Kinds of Business Activities Are Allowed with a General Trade License? 
The following are some of the popular Dubai general trading license activities: 
1. Import and Export of Goods and Commodities
Because of the efficient system and first-rate transportation options for trading goods and commodities in the UAE, you can sell foods, decorations, electronics, accessories, beauty products, and other items if you have a general trading license. 
However, keep in mind that prescription medications, alcohol, automobiles, and other items are not covered by this license and will require additional approvals. To benefit from risk-free company operations in the Emirates, obtain customs clearance in addition to your trading license. 
2. Grocery Store
With this license, you can open a grocery store in Dubai and sell a wide range of food, trinkets, and other consumables. It is advisable to design the business structure to prevent last-minute glitches, including the investment plan, reserve funds, inventory, and so on. 
The following step is to reserve a trading name for your supermarket and obtain the preliminary approval required to apply for a general trading license. A general trade license in Dubai allows this store to engage in operations such as buying, selling, and trading various grocery-related goods. 
3. Retail Establishments
There are numerous retail establishments in Dubai and the UAE. High-end goods and services are sold in breweries, jewelry stores, general accessory stores, and more. All you need to do to participate in the UAE's retail sector is obtain a general trading license. 
Buy a rental shop in Dubai, stock it with the necessary merchandise, obtain the required licenses, and voila! You are good to go. 
Partner With Shuraa for Obtaining Your General Trading License
You made the right decision in obtaining a general trading license in Dubai because it is one of the best business sectors in the UAE and will continue to grow in this fast-paced world. It's essential to keep in mind, though, that the process is only straightforward if your general trade license application is complete and free of errors when it's submitted. 
Furthermore, the cost of a General Trading License can vary based on your specific business needs and requirements. With the right preparation and understanding of the process, you can successfully start trading in Dubai and take advantage of its thriving economy and business opportunities. 
Working with Shuraa Business Setup is the best way to obtain this license. Our business specialists will handle all paperwork, licensing, banking, and other details for you. Connect with us and let us handle the rest!