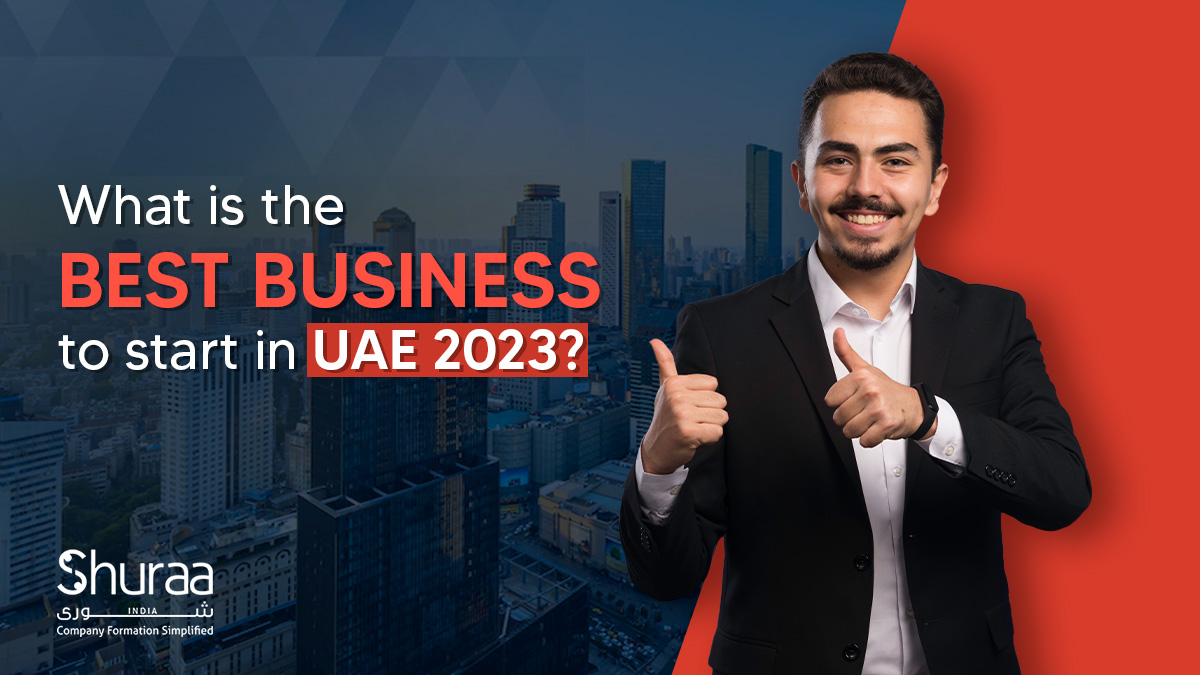 21 Dec

What is the Best Business to Start in UAE 2023?

Are you looking to start a business in Dubai? If so, the following list of 50 start-up business and investment ideas in the United Arab Emirates can help you. More than half of the population of the UAE are foreigners, proving what a great place, it is to launch a business. 

The stable political climate of the nation has contributed to the abundance of resources as well as the overall favorable business climate. This does not mean that no business can operate because there are strict regulatory agencies in place to ensure that all businesses follow the country's rules and regulations. Here is a few best business in UAE to consider for starting your business.
Most Profitable Business in UAE 2023
Following is the list of the best business in UAE 2023-
Food Stuff Trading
The city's large concentration of immigrants and workers creates countless opportunities for the food industry. After realizing this, you discover that many businesses, including global powerhouses, are engaged in the trading of foods. 
To establish a business firm focusing on the subject business and start operations, you must submit an application to the Dubai Economic Department (DED) and obtain a foodstuff trading license in Dubai. Analysis shows that the potential of the food industry is not fully realized. It also has areas where investors can make a killing by selling high-quality food ingredients and food products. 
Read More about: How to Start a Foodstuff Trading Business in Dubai?
IT Services
There has been a demand for information technology services such as IT firms, web development, mobile apps, and software. The government of Dubai has also been making serious efforts to improve the nation's IT infrastructure and aid in the efficient operation of businesses. To successfully launch your business in Dubai, you must choose one of the most lucrative industries. To do this, though, you must consult with the best-consulting services provider. 
Read More about: How to Start an IT Company in Dubai?
Garment & Textile Trading
One of the largest consumer markets for clothing and accessories, including traditional and multicultural clothing as well as casual and formal attire, is found in Dubai. 
Although establishing a business in Dubai is not difficult, it is advisable to call a qualified agent for setting up a textile business in Dubai because many foreign businessmen lack knowledge of local laws. 
You can use our company formation services in Dubai to assist with the company's registration if you want to start a clothing business there. 
Read More about: How to start a garments Trading Company in Dubai?
Real Estate
Numerous immigrants, both those with families and those without, have opened the real estate market. Start a company in Dubai that offers real estate services for industrial, residential, and commercial properties. 
During the forecast period, the market is expected to grow at a CAGR of about 5% and be worth USD 5.4 billion. Due to the dramatic rise in the buying and selling of properties in the UAE, this sector is one of the most in-demand ones. In Dubai, you can now launch a real estate company with 100% foreign ownership. 
Read More about: How to start a Real Estate Business in Dubai?
Marketing Agency
The industry of digital marketing offers tremendous investment potential. As a result, there are numerous reasons why you should start a digital marketing agency in Dubai in 2023. Dubai's economy is booming, recent reforms have made starting a business for expats much simpler, and there are many other benefits. Therefore, the time has come to start your digital marketing firm in the UAE. 
Read More about: How to Start a Digital Marketing Agency in Dubai?
Business Consultancy
In the UAE, the growth of business consulting services has been exceptional lately. Due to the industry's tremendous advantages and high revenues, investors are voluntarily choosing to invest in it and launch their businesses. In Dubai, starting a consulting firm is simple. 
Read More about: How to Choose a Business Consultant in Dubai?
Financial Services
In Dubai, the market for financial services audit is already well-established. A financial service provider offers businesses and organizations all the essential financial consulting services they need to run their operations successfully and profitably. Opening an accounting and bookkeeping firm in Dubai is one of the related businesses you can launch there. 
Read More about: Detailed Guide to UAE VAT Registration Services in Dubai
Technical Services
Dubai is a place where business opportunities abound. The emirate has been the most developed in the UAE, experiencing an unprecedented influx of foreigners looking for work and starting businesses. With the desire to work hard, any business in the area can make you wealthy quickly. You can launch a business in your preferred industry and work toward financial success. If you want to offer technical support and services in Dubai, you must first obtain a technical services license. 
Read More about: How can I Get A Technical Service License in Dubai?
Construction
By 2026, the industry is projected to grow to a value of USD 133.53 billion from its current USD 101.45 billion. This demonstrates that Dubai's construction sector is suited for generating reliable revenues. To set up your business in the industry successfully and firmly, you must work with a reputable business setup consultancy service provider like Shuraa. One of the best business setups in Dubai is starting a construction company. 
Read More about: How to start a Real Estate Business in Dubai
Cosmetics
By the end of 2025, it is anticipated to grow at a CAGR of 4.5%. The sector includes cosmetics stores, cosmetics studios, and others… One of the business sectors in which investors can quickly invest and increase their profits is the cosmetics industry. One of the best low-investment business ideas in Dubai is operating a cosmetics business because of the large number of tourists the city receives each year. 
Read More about: How To Start a Cosmetics Business in Dubai?
Perfume Business
In this emirate, starting a perfume shop will put you on the path to success. According to reports, the average value of the UAE's perfume industry will exceed $500 million. Additionally, it is anticipated to increase to almost $700 million by the end of 2023. 
Read More about: How To Start a Perfume Business in Dubai?
General Trading 
Trading in Dubai is profitable because of easy access to resources and excellent transportation options. Applying for a general trading license will allow you to engage in a variety of business endeavors, such as trading in commodities, and operating grocery stores and retail stores, among many other things. 
Cryptocurrency
Many young Indian investors and businesspeople are looking for ways to increase their wealth, and the cryptocurrency market is growing in popularity on a global scale. The new digital currency will likely be used in transactions more frequently in the coming years. So, it makes perfect sense to launch a cryptocurrency business in Dubai. 
Read More about: How Do I Get a Crypto License in Dubai?
Sports Management 
Dubai is renowned throughout the world as a place to work hard and play hard. And the emirate's enthusiasm for sports is undeniable proof of that. It is estimated that more than one million people watch sporting events each year in Dubai, with the Dubai Horse Racing World Cup drawing more than 80,000 live spectators. Numerous other sporting events, such as football, tennis, and cricket. 
Read More about: How Do I Start a Sports Equipment Company in UAE?
Forex Trading
Many foreign businesspeople and investors in Dubai turn to forex trading as a source of income. Forex trading in Dubai is well-regulated by the local authorities, just like all other industries in the United Arab Emirates. 
 In actuality, the UAE government provides adequate support for the forex industry. Dubai has a sizable forex sector that traders from all over the world can benefit from thanks to the foresight of government officials. 
Read More about: How to a Start Forex Trading Company in Dubai?
Project Management Service
For talented entrepreneurs looking to leave the traditional workforce and strike out on their own, project management presents an excellent opportunity. You have more control over the projects you take on and have a higher earning potential when you are your own boss. And those are just the beginning. 
Starting a business in Dubai gives you immediate access to the emirate's thriving business community and 0% corporate and personal income tax rate. 
The advantages of setting up a shop in a free zone in the UAE continue to include no currency restrictions as well as capital and profit repatriation. 
Read More about: Starting a Project Management Services Company in Dubai
Interior Design
In Dubai, starting an interior design business is one of the most profitable investments ever. In Dubai, there is always a rising demand for both commercial and residential properties. The interior design and maintenance industries have expanded in this area as a result. 
Dubai's opulent way of life and infrastructure facilities draw in foreign investors. The construction industry in Dubai is fundamentally dependent on interior design. 
Read More about: How to Start an Interior Design Company in Dubai?
Restaurant & Café
The market is expected to expand at a CAGR of 5.22%. The market for restaurants, which includes cafeterias, coffee shops, tea shops, juices, and cold drinks, is very lucrative financially. The majority of expats make Dubai their second home due to the growth in tourism. Due to this, opening a restaurant in Dubai is a profitable and promising business venture. 
Read More about: How to Open a Restaurant in Dubai?
Salon
The beauty parlor industry, which includes hair salons, spas, and barbershops, is one that is expanding in Dubai, United Arab Emirates. A CAGR of 4.2% is predicted for the market. These numbers demonstrate that there are more opportunities for investors to make a good living in Dubai. 
Read More about: How to Setup a Beauty Salon in Dubai?
Spa
In this line of work, you relax customers who have hectic schedules and pamper your clients. Before beginning this type of business, you would need to conduct a demographic analysis of your market. 
Education
The most popular and in-demand business sector operating in Dubai is the education sector, which includes schools, tutoring services, training centers, and training institutes. Every small and medium-sized educational establishment in the nation can be set up by anyone. 
Read More about: How to Start a Training Institute in Dubai, UAE?
HR Consultancy
This License includes researching the functional, technical, psychological, or behavioral issues an employee may be experiencing. Diagnosing those issues and offering solutions. It also involves writing reports, giving advice, creating professional and administrative programmes, and suggesting training that will help employees overcome obstacles and improve their performance.  
Note: It is not permitted for an HR Consultancy license to hire people on a temporary or brokerage basis. 
Read More about: How to Get an HR Consultancy License in Dubai?
Car Rental
One reason is that the emirate is home to a sizable expat population who might decide against buying a car while living in the UAE and opt to use public transportation instead for daily errands and rent a car for longer journeys. 
Then there are the increasing visitor numbers to Dubai, which have grown by about a million annually and are anticipated to reach 20 million this year. For the most part, these visitors will need a car to get around and are willing to pay for the privilege. 
The vast and expanding car rental market in the emirate is caused by all of these factors and more. 
Jewelry
Dubai is known for its opulent jewelry stores and for exporting jewelry to numerous nations worldwide. In Dubai, the jewelry market generated about 12 billion dirhams in revenue last year. The business will increase even more in the coming years. For this reason, you can consider the jewelry sector to launch a successful business in Dubai. 
Read More about: How to Start Gold Trading Business in Dubai?
Drop Shipping 
In essence, drop shippers act as a middleman between vendors and clients. These retailers receive deliveries of goods to customers from other parties. 
Obtaining your drop shipping license in the UAE and possibly creating a website to display the products are the only investments you need to make. You don't need to manage your own product inventory, storage facilities, or supply logistics. 
Read More about: How to Start a Dropshipping Business in Dubai?
Advertising and Marketing
It is simple to start a business in Dubai that provides advertising and marketing solutions, but these businesses must adhere to the Advertising Standards published in the UAE Official Gazette. Advertising and Marketing is one of the best business in UAE.
All marketing agencies submit their advertisements to the Regulations and Compliance Commission in accordance with the standards established by the Knowledge and Human Development Authority (KHDA) in Dubai. 
Read More about: How to Start a Digital Marketing Agency in Dubai?
Event Management
The act of managing all the events or functions that take place at a specific location and time is event management.  Even though event management has lost some of its novelty in the business world, it has had tremendous success in recent years. 
Dubai is a stunning location, and there is a fantastic opportunity to launch an event management business there. There are many different kinds of events, from rock concerts to team-building exercises, festivals to training sessions. 
Read More about: How to Start an Event Management Business in Dubai?
Tourism Business
Over time, Dubai has risen to the top of the tourism pyramid. Every year, thousands of foreign tourists vis to the emirate's elegant and alluring attractions. The travel and tourism industry in Dubai has many opportunities, as is the case. Enter a world filled with fantastic opportunities to grow and profit greatly. 
 Are you an entrepreneur hoping to succeed in the travel and tourism industry? 
Then, you should think about whether opening a company in Dubai's tourism industry would be a good idea. The country's travel and tourism industry will serve as the gateway to a prosperous future. As a result of this realization, more and more foreigners are moving to Dubai to start businesses. 
Read More about: How to Start a Tourism Business in Dubai?
Conclusion
We recognize that starting a business in Dubai can entail attending to a lot of details. At Shuraa, we assist you in laying the groundwork for your ideal company in the United Arab Emirates. Our business experts can help you with everything from finding the best business in UAE to assisting you with documentation and setup process. 
We can talk about and resolve whatever is preventing you from putting your startup ideas into action. Contact Shuraa to talk about putting your business ideas into action in the UAE.