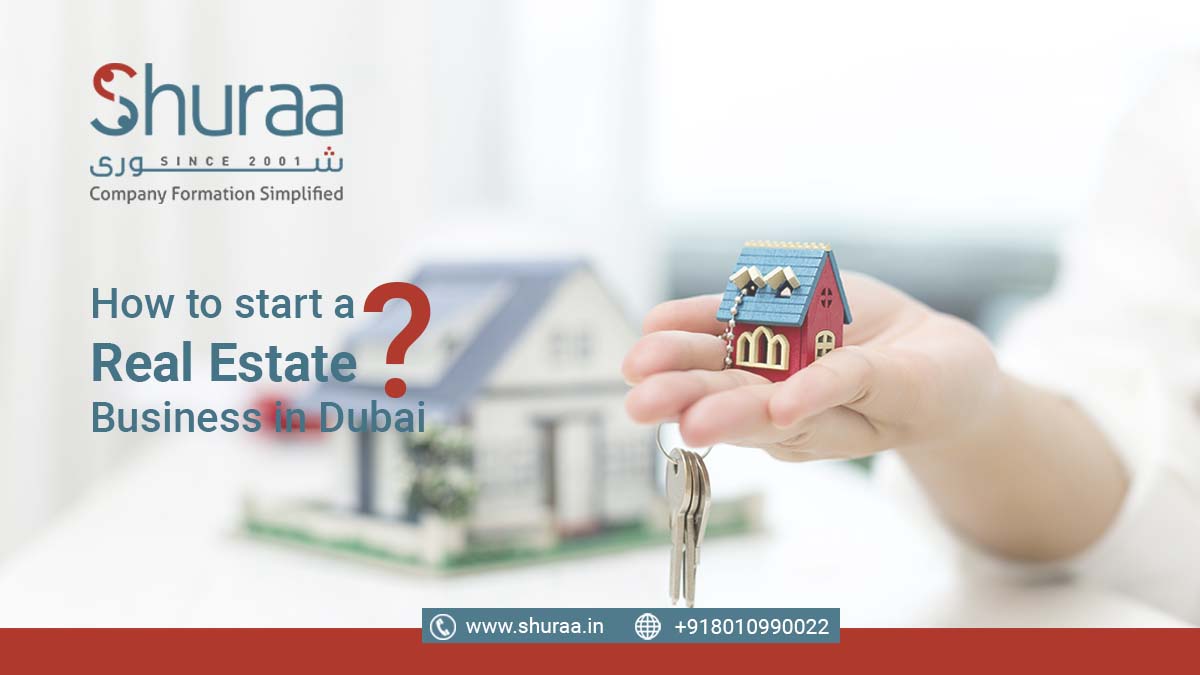 16 Jun

How to Start a Real Estate Business in Dubai?

Setting up a real estate business in Dubai can be a lucrative opportunity for you. With its world-class infrastructure, breathtaking skylines, trading opportunities, and tourism, Dubai has emerged as one of the world's top regions to attract foreign investments. Renowned for the world's highest building Burj Khalifa or the beautiful Marina101, Princess Towel, among others, Dubai's property market is continuously growing at an unprecedented rate.

Dubai's thriving real estate market also generates one of the highest returns compared to other popular regions around the world. Moreover, with e-Government services making the entire process seamless online, obtaining certifications and trade licenses, making payments, and getting visas have become more accessible than before. 
How to Set up a Real Estate Company in Dubai?
In this article, you will also get to know the cost of opening a real estate brokerage in Dubai. Let's start with the steps to set up a real estate business.
1. Understand the market
If you want to be a successful real estate entrepreneur in Dubai, you need to understand the market. Look at the areas you want to set up your business and know everything there is to know about them.
Don't just rely on virtual information, instead conduct a physical inspection and explore the surroundings. Another great way to understand your real estate market is to talk to the neighboring property owners, who usually have great insights about day-to-day engagements and livelihood. 
2. Choose a business model
If you're a foreign national trying to set up a real estate business in Dubai, you'll need to choose your business model wisely. If you want complete ownership of your business, you'll need a license in the free zone, which comes with restrictions. You'll need to partner with a local service agent to conduct trading operations in the UAE.
The other alternative is to set up a business in the mainland, where you'll have a 100%  percent stake of your company & UAE citizen will be local Service agents only. The citizen acts as a sponsor and ensures you run your business and trade as per your wishes. No matter what type of ownership your choose, your business model can be:
Professional Company

Limited Liability Company
At Shuraa, we help you find a suitable business model for your business in a hassle-free way. You can reach out to us for a free consultation.
3. Complete the company registration process
Upon deciding on a type of business, you'd need to register it in Dubai. Along with the business, you'll also have to think of a trading name under which you'll conduct operations. Try to come up with names that remind people of real estate and immediately click with them.
You will be required to submit your business and trading documents to the Department of Economic Development in the UAE. Once you submit the documents, the concerned governing body will grant you the commercial license to conduct operations related to the buying and selling of real estate.
4. Get Your qualifications
One of the essential criteria of a real estate business setup in Dubai is to obtain the relevant qualification. As an entrepreneur, you must appear for the qualification issued by the Dubai Real Estate Institute (DREI). Ther certification, Certified Training for Real Estate Brokers, follows a four-day training schedule and an exam. This forms the fundamental requirement for your real estate license in Dubai. 
5. Apply for relevant company certifications
Dubai has a Real Estate Regulatory Authority that issues the licenses for establishing a real estate business. You'll need to get your business approved and authorized by this organization by undertaking a professional training course.
Usually, different types of real estate activities require specific kinds of licenses, which is why it is advised to check RERA's website before you get started. 
6. Establish a professional office
Once you obtain the necessary certifications, you'll need to set up your office space. A physical office gives your business credibility and helps buyers reach out to you anytime they want. Lookup for a good location for your office as it can help create an impression with your customer.
You can choose to rent or purchase spaces allocated for offices in Dubai mainland. Make sure you have a landline at your office, where you receive your business calls. You can also choose a desk space / Office space from a range of Shuraa UAE Business Centers
7. Outsource specific services
When you're just Setting up a real estate business in Dubai, it is advised that you outsource some of your operations. For example, your company will require accounting services, and hiring a full-time employee can cost you a lot.
If you outsource these services to a reputed agency, you can work on a pay-as-you-go model and use your money judiciously. 
You can outsource VAT & Accounting services to Shuraa Tax & Accounting Services.
8. Step into the client's shoes
When it comes to the real estate business, quick commissions might seem lucrative. As someone who is starting afresh, you might want to seal a deal just because it helps you make some instant money. However, this idea might get you on the wrong side of the market in the long run.
Remember that the purpose of the real estate business is to help your buyers find the right property, which makes it essential to understand their needs. Unless you're offering what's suitable for the customer, you'll not be able to establish your brand in the time to come. Good deals not just help in building an excellent customer experience but also help you get referrals eventually. 
9. Keep up with the latest trends
Dubai's real estate business is ever-growing, which also makes it quite competitive. If you want to sustain your business in the long run, it's best to stay ahead of the curve. Try to stay aware of the latest property laws and changes in the market structure.
At the same time, you'll also need to keep a close eye on your competitor's offerings. Since the markets are rapidly evolving, staying on top of recent initiatives will help you gain an edge with your buyers.
Real Estate Brokerage Business in Dubai with 100% Ownership
If you want to launch a real estate brokerage business in Dubai, you should be aware that the government of Dubai now permits 100% foreign ownership, as opposed to the previous standard of 51% with local Emiratis – 49% with the expat. Many investors are unaware of these modifications and perhaps have doubts about the most current law.
Some claim that it is hard to own a real estate company in Dubai with full ownership. Due to the UAE residents owning 100% of the real estate brokerage firms in Dubai, many investors were reluctant to open one. Don't wait; this is the perfect opportunity to launch your own real estate agency in Dubai.
What is the cost of opening a real estate brokerage in Dubai
To open a real estate brokerage in Dubai, you need to have a real estate brokerage license. For an LLC, the minimum cost for a real estate brokerage license starts at AED 18,500 approx. 
And to acquire the license, you have to clear the registration exam by the Real Estate Regulatory Agency (RERA). The exam fee which is included in the cost of opening a real estate brokerage in Dubai is different based on your educational qualification!
The total cost of opening a real estate brokerage in Dubai varies based on your location and business activities.
Connect with Shuraa
Thanks to the fantastic market opportunities and ever-growing investments in the city, starting a real estate business in Dubai can prove to be fruitful. All you need is the right support to get started with your business plan. At Shuraa , we help you establish your real estate brand in the Dubai marketplace.
Our team of expert consultants helps you every step of the way with documentation, banking, licensing, etc., so that you can focus on building the backbone of your business.
In the past few years, we've helped several budding entrepreneurs carve a niche for themselves in the UAE's real estate sector and assist them with their business setup in Dubai. Connect with our business professionals today!
Steps of Starting a real estate business in Dubai
Name Approval
Initial Approval + Tasheel
Memorandum of Association
UAE local partner
Real Estate Brokers Registration Services
Good Conduct Certificate
Dubai Land Department Approval
Dubai Rented Office Space.
You can get in touch with our expert team for a free consultation and learn more about the real estate business in Dubai.