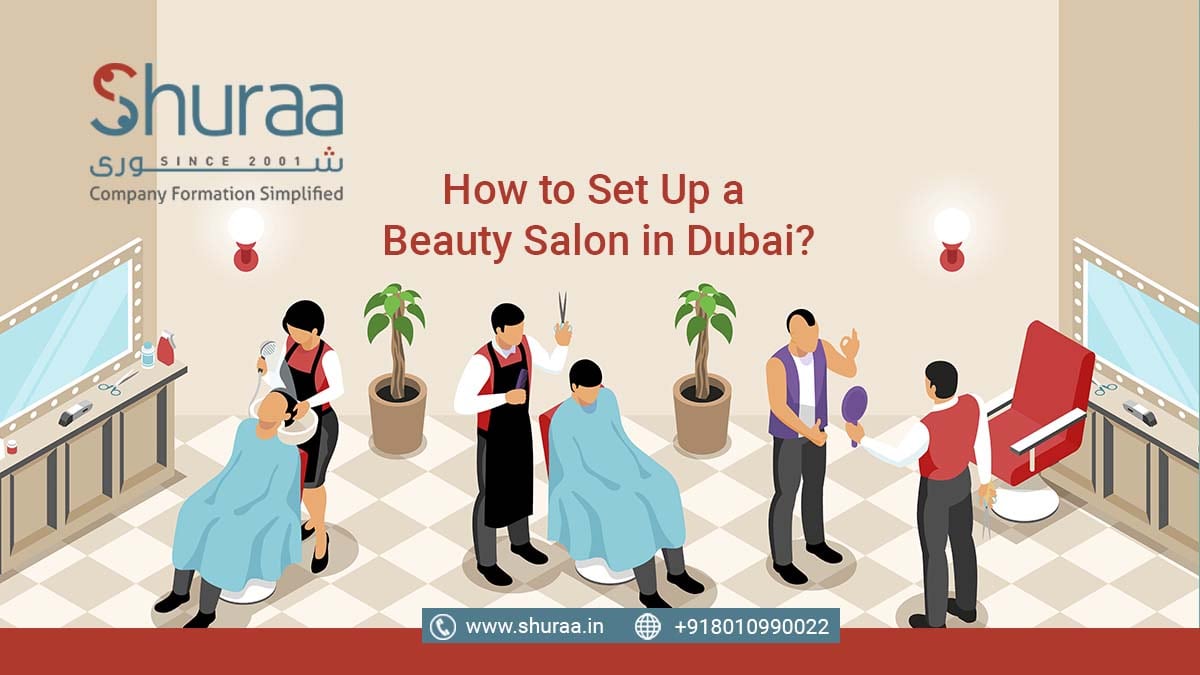 01 Jul

How to Setup a Beauty Salon in Dubai?

Willing to enter the beauty and grooming market? You should plan to open a beauty salon in Dubai. A large expat population and high standards of life are among the prominent reasons that set Dubai apart from other cities in the world.

Given the high standard of living, people in Dubai, especially women, take great care of their looks. This is why starting a beauty salon business in Dubai is a tremendous source of income and a risk-free venture with regard to profitable capital investment.

You can either start a beauty salon business of your own or get a franchise, but first, you need to know about the various legal formalities you need to fulfill to open a beauty salon in Dubai. Therefore, you should get in touch with the business experts at Shuraa Business Setup, and we'll guide you throughout the process so that you don't face any difficulties in establishing your unisex salon in Dubai. 
What Are The Two Kinds of Licenses to Set Up a Beauty Salon in Dubai?
There are essentially two kinds of licenses to open a beauty salon in Dubai:
1. License for Men's Salon in Dubai
A men's beauty salon license in Dubai is issued to perform hair care and beautification activities. Haircare mainly includes hair washing, cutting, dyeing, dressing, and other activities to maintain and strengthen hair quality and growth. Moreover, cosmetic treatments can include skin cleansing routines, hair removal, foot care, facial care, and makeover. The activity group comes under 'Gent's Salon', activity code – 930201.
2. License for Ladies Salon in Dubai
To open a beauty salon, a license is issued to perform cosmetic, beautification, and hair care treatments. Haircare mainly includes hair washing, cutting, dyeing, straightening, henna services, and other hair care treatments. Furthermore, cosmetics and beatification include various activities for skin purification, manicure, pedicure, makeover, hair removal, and other facial care routines. The activity group comes under 'Ladies Salon', activity code – 930203.
What are The Steps to Set Up a Beauty Salon in Dubai?
The process for setting up a salon business in Dubai is straightforward when you're aware of all the steps involved in the business incorporation process. Therefore, here's a stepwise summary of the same to make it easier for you:
1. Submit Passport and Visa Copies
The first step is to submit copies of your and other investor's passports and visas. This will set the process in motion to acquire the license for your beauty salon business in the UAE.
2. Approval of Your Salon's Business Name
It's time to decide on a name for your beauty salon. Ensure that the name is catchy and can gain popularity and credibility in the marketplace. Be careful when choosing a name for your salon. It must not breach any business name reservation laws set by the government. Furthermore, an important thing to remember is that abbreviations don't form a legal business name. Use the full name and send the final name to the Department of Economic Development (DED) for legal acceptance. 
3. Sign the MoA
Once you submit the above-mentioned documents, you will get an initial approval certificate. The next step is to appoint a local service agent (LSA) and sign the LSA agreement. The local partner will help you draft a Memorandum of Association (MoA), and once done, the concerned parties can proceed for an official signature.
4. Rent a Salon Shop
Do you want a simple and compact beauty salon, or do you want one which is spacious for you to set up multiple booths with a premium interior? Therefore, the kind of facilities you want to provide plays a significant role in choosing the right place for your beauty parlor in Dubai. Once you have finalized the location, register with Ejari to get a tenancy contract and generate your unique barcode for future reference.
5. Beauty Salon License in Dubai
Ensure that you complete all your pending paperwork and make sure to check all your documents before applying for your beauty salon license in Dubai. After a thorough evaluation, if the governing body finds no dispute with the paperwork and certifications, you will get your beauty salon license in Dubai. The process takes around 2 to 4 weeks to complete, and once done, you can collect your salon's license from the jurisdiction to commence with business operations.
6. Get Approval From Various Authorities
Obtain legal certifications from the Dubai Municipality's Planning Section to successfully establish your beauty salon in Dubai. These approvals allow you to perform many other legal business activities that come under your trade license.
What Are The Requirements to Start a Beauty Salon in Dubai?
In addition to the above-listed steps to open a beauty salon in Dubai, you need to take care of the requirements mentioned below to avoid any interruptions in the business registration procedure:
Staff Requirements: occupational health card from DM and uniforms.
Location's approval from DM: planning department and signboard should be there at the entrance of the salon. The size for the saloon should not be less than 3.0m width x 3.5m length for one dressing chair. If you want to add more chairs, the distance between chairs should be at least 1 meter.
Furniture: furniture must be clean and suitable with sufficient lighting.
Water source and drainage: it's imperative to have a proper water source and drainage facility.
Floor and ceiling: the floor and ceiling height in the work area should be at least 2.30 meters.
Separated area: if you want to keep a separate area for activities like manicure, pedicure, hair removal, henna designing & facial, it must not be less than (2.50×1.50) meter provided with proper partition.
Fireproof materials: the preparation areas for cosmetic materials prone to catch fire must be made from fireproof materials.
What is The Cost of Setup a Beauty Salon in Dubai?
If you wish to start a beauty salon business in Dubai, the salon license cost in Dubai will be anywhere around AED 9,500 along with 2.5% as market fees. The annual market fee is the rent for your shop. This percentage can vary according to the geographical location and the size of your salon. 
Connect with Shuraa Business Setup
The procedure to set up a beauty salon in Dubai can be a bit overwhelming for an expat with so many documentation and approval procedures alongside other business-related activities. Therefore, it's better to take help from company formation experts.
The business consultants at Shuraa assist you to get the desired license at nominal costs and help you set up your business in Dubai relieving you of all your business worries. All you need to do is get in touch with us, and we'll take care of the rest.
Click here to book a free consultation with our experts and know more about opening a unisex salon in Dubai or call +91 80109 90022.