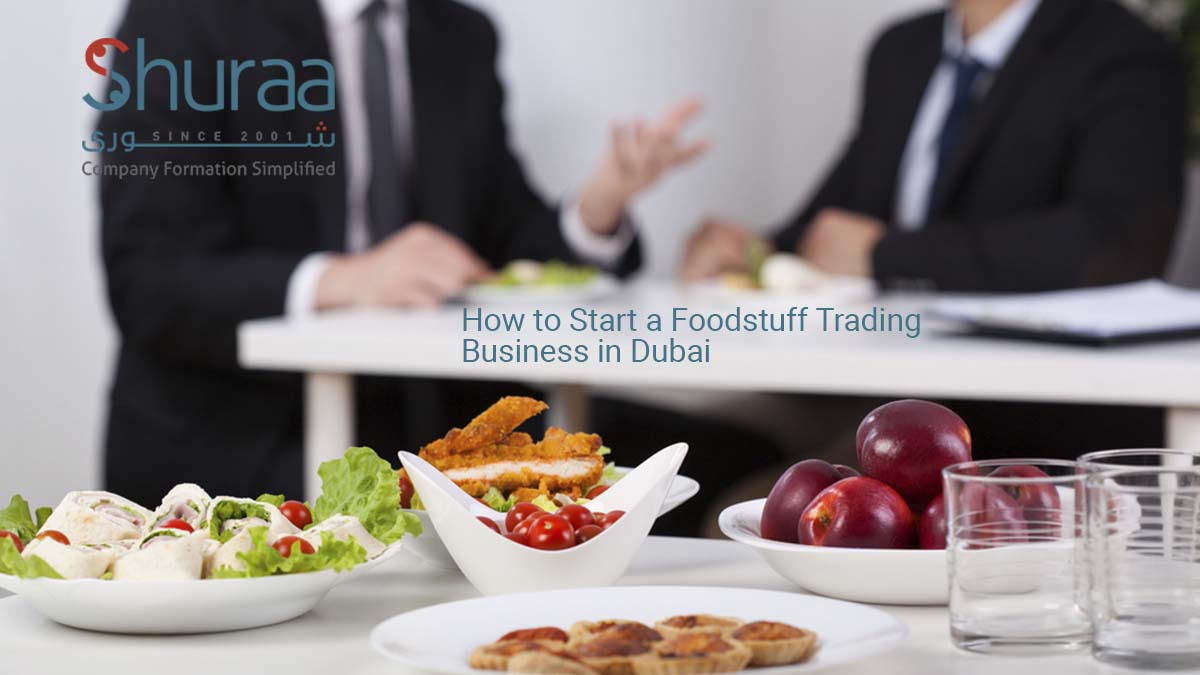 25 Feb

How to Start a Foodstuff Trading Business in Dubai?
Foodstuff Trading Business in Dubai
If you're planning to start a foodstuff trading business in Dubai or you're able to get a DED food trading license in Dubai, then you've made the right decision. The food trading industry in Dubai is an ever-growing business.
The company has enormous potential since most food supplies in the UAE are exported, manufactured, packaged, and distributed. Starting a foodstuff business in mainland Dubai comes up with a huge number of opportunities.
Foodstuff business holders in mainland Dubai can trade with anyone and anywhere and also outside the country.
However, there is a definite process that needs to be followed for the purpose of documentation by the traders who are thinking about how to start a trading business in Dubai mainland.
foodstuff Business setup in Dubai requires a process to be followed as defined by the Dubai regulating authorities. This process is a necessity for the foodstuff trading business Setup in Dubai as rule violations are strictly dealt with by the authorities.
Documents required for foodstuff trading business license in Dubai
Passport copy of shareholders
Noc letter in case of a shareholder is holding a resident visa
Emirates ID if the shareholder is in possession of a resident visa
Visa page of the shareholder
Role of Dubai Municipality regarding business set up in Dubai
A foodstuff trading business license is subject to Dubai Municipality rules and regulations, which solely holds such rights. The food control department has the authority to provide the foodstuff trading business license in Dubai mainland.
Rules for foodstuff trading business in Dubai
A foodstuff trading license in Dubai will make sure that suitable resources are provided for carrying and holding the foodstuff as well as provide facilities for food transport; moving vehicles, bins, and boxes, in order to protect food from pollution including dust and smokes, to protect damages and with it a proper food setting is given.
The container is to be made up of material to keep the problem of contamination away
The mover has to be free from germs and clean
The food products are to be arranged in proper partitions.
Proper conditions for temperature, humidity, and air for keeping the food items fresh
The container has to come with a temperature monitoring device.
Vegetable trading business in Dubai
Vegetable trade in Dubai
Vegetable trade in Dubai is a booming area of business in Dubai mainland as most of the vegetables are imported from other countries. However, executing your vegetable business plan requires some formalities to be completed and few conditions that have been set by Dubai municipality have to be adhered to. Setting up a vegetable trading business in Dubai gives one a chance to reach out to a bigger consumer market.
Since people from all over the world are traveling to Dubai either as tourists or immigrants. In order to set up a vegetable trading business, one needs to register the business with relevant authorities in Dubai which otherwise accounts for a violation of the law.
For setting up a vegetable business in Dubai one has to obtain a license from DED i.e., the Department of Economic Development. Once the license is obtained the business can be started, afterwards, the owner has to take care of the things like containers which have to have a material that can tackle the problem of contamination.
Fruits and vegetable trading companies in Dubai
Dubai has a huge market for both fruits and vegetables as domestic production is on the lesser side. The consumer base is also very wide, ranging from almost every part of the world, with people having different tastes as per their culture. As such a number of reputed companies are working in this field.
Saadi vegetables and fruit trading
Barakat vegetable & fruits co LLC
Choithram supermarkets
Falcon global general trading LLC
Aaref supermarket
Abbar zainy trading est
Fruits and vegetable importers and wholesalers in Dubai
Wholesalers in Dubai
Domestic production of both commodities being on the lesser side, most of the items has to be imported from all over the world. The imported items should be fresh and free of pollutants and germs. The various prominent fruit and vegetable importers and wholesalers in Dubai are.
 Yalda trading company LLC
 AAK middle east LLC
 Al Khalil trading establishment
Aj haj Ibrahim Samari co LLC
Allan Foodstuff Trading LLC Dubai
Alan foodstuff trading company is one of the Middle East's leading importers and exporters of fresh fruits and vegetables, having expanded operations all over Dubai.
it is one of the main importers and distributors of fresh fruit and vegetables being sourced from all over the world. Allan trading company supplies fresh fruits and vegetables to supermarkets, pre-packers, re-exporters, and wholesale fruit and vegetable markets all over Dubai ranging from national brands to smaller independent retailers.
Vegetable suppliers in Dubai
Dubai being mostly import-dependent, various vegetable suppliers are operating in the market to supply fresh produce to its consumers. The suppliers establish a network of suppliers who provide fresh vegetables grown in different parts of the world. Some of the vegetable suppliers in Dubai are:-
Alan Foodstuff Trading LLC is one of the main suppliers.
Al Aweer central vegetable market
Abdulla bin Khatatr Foodstuff LLC
Floral Fruit LLC
Foodstuff companies in Dubai
Foodstuff trading companies in Dubai
The procedure for setting up foodstuff companies in Dubai is already discussed in this article. The Dubai business directory provides a list of some well-known foodstuff companies in Dubai.
Al Douri Foodstuff Trading Co LLC
International foodstuffs company
La Noisette Foodstuff CO. LLC
Royal Foodstuff Co LLC
Sawhney Foodstuff Trading Company LLC
Foodstuff trading license Cost in Dubai
Before starting and excelling, all businesses need investments and funding. The foodstuff trading license cost in Dubai is between AED 15,000 and AED 25,000. However, the world is changing and might change in the future.
However, you must account for additional expenses when creating your budget. For instance, there are expenses associated with obtaining work permits and other documents, whether for you, your family, or any potential employees. Of course, there are a variety of other expenses to take into account when starting a food business, such as purchasing or leasing real estate, outfitting the space with equipment, employing personnel, and stocking shelves.
Contact Shuraa for more detailed information about foodstuff trading in Dubai and get a personalized quotation for a food trade license in Dubai.