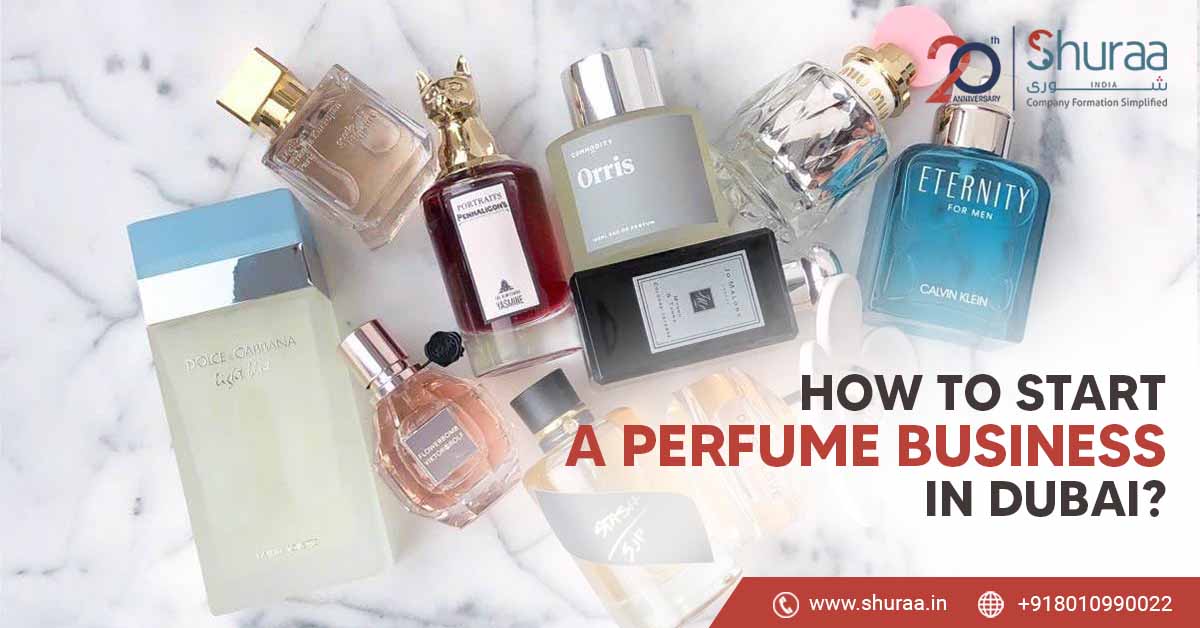 09 Mar

How To Start a Perfume Business in Dubai?

Are you an Indian entrepreneur planning to start a perfume business in Dubai? Opening a perfume business will lead you on the path to success in Dubai. On average, the UAE perfume industry is said to be more than 500 million dollars and is expected to touch nearly 700 million dollars towards the end of 2023. 

Moreover, the perfume industry offers Indian investors an international market area to deal with. It opens the door for global customers that is a profitable perfume business proportion. The most popular perfume in UAE is "Attar" which is seen as the future of Dubai's perfume sector.

With so many advantages, the perfume business in Dubai is very attractive for Indian investors to get into. In this article, you will get a detailed look at the perfume market of Dubai and understand all the terms and conditions that you need to setup a perfume business in Dubai.
What Are the Key Benefits To Start a Perfume Business in Dubai? 
There are several benefits Indian entrepreneurs, businessmen and investors can enjoy on opening a perfume business in Dubai. Check them below: 
1. Variety Of Products 
Being an Indian investor in the perfume business offers you to deal with a variety of fragrances in Dubai. Consumers living in Dubai currently prefer rich, warm, and natural forms of fragrances. So, you can make products using popular ingredients like oud, amber, exotic flowers, musk, etc. 
2. Low Tax Rates
One of the best parts of doing perfume business activity in Dubai is the low tax rate. Moreover, foreign investors are not required to pay any type of corporate taxes. As well as the VAT rate is also very affordable i.e. 5%. Moreover, the VAT is only applied when you sell perfumes within the UAE. On the other hand, you pay 0% VAT when you sell perfume products outside of the UAE. 
3. Flexible Business Location
Being an Indian entrepreneur opening a perfume business in Dubai, you are free to rent a workplace and get started with the business operations. Moreover, the relocation of business is hassle-free and does not cost a lot. 
4. Supportive Government
Dubai is one of the multicultural places that gets a high inflow of Indians every year. The Dubai government continues to make new policies to encourage and empower Indian investors to set up and run perfume businesses in Dubai.
5. Hassle-Free Licensing
Launching a perfume business is hassle-free as the approvals and licensing methods are cost-effective and well-defined. Also, getting a perfume business license in Dubai becomes easier when you connect with a business consultancy firm. 
6. Technological Advancements
Dubai has one of the most updated digital facilities. Moreover, Dubai is on the way to a technologically-advanced future and to be called the world's best digital hub. With the help of technology and the internet, you can list your perfume business in eCommerce and social media. It will help you increase brand awareness about your perfume business. 
What Are the Steps To Start a Perfume Business in Dubai?
Similar to other businesses, starting a perfume business in Dubai involves certain rules and regulations. The process to start a perfume business in Dubai for Indian investors is simple, beginning with planning, followed by implementation, and getting business approval by the authorities. 
Step 1: Make A Business Plan 
Start with a business strategy, formally write down your perfume business mission, objectives, and products you wish to sell, the business capital, and your budget plan. 
Step 2: Innovation 
Appoint experts and researchers who will assist you in inventing your unique perfumes. You can research different perfume recipes or form an exclusive blend by buying some essential oils in smells of your interest. After blending and experimenting with a few fragrances, start with the most-liked ones on a large production. 
Step 3: Purchase Bottles & Design Packaging 
Research on scent testers, samples, and bottles through wholesalers and then design the containers or packaging that is of your choice. You can even select the size and shape of the bottle that speaks for your perfume smells. 
Step 4: Build A Brand 
Make a logo of your perfume business and also get the trademark registration done from the assigned authorities in Dubai. To make a creative logo you need to hire designers who help you give an appealing perfume logo that attracts the target audience. 
Step 5: Obtain Business License 
The most important part to start a business is to get a perfume business license in Dubai. A business Setup consultant from Shuraa will help you get the perfume trading licenses and set up your company in UAE
Step 6: Set Up A Manufacturing Facility 
If you are an Indian investor looking to set up a perfume business in Dubai, there are many free zones available for you. Dubai free zone and Jebel Ali Free Zone are some areas that offer facilities to establish perfume manufacturing units. 
What Are the Documents Required To Setup a Perfume Business in Dubai?
Along with a perfume trade license from the Department of Economic Development, any Indian investor needs to have a few more documents to set up a perfume business in Dubai. Such documents are:

Laboratory Test Report of Perfumes

The registration certificate of your company

Analysis report on the perfumes you wish to sell

Certificate of free sales
What Is the Cost of Opening a Perfume Business in Dubai? 
The average cost to start a perfume business in Dubai is about AED 40,000 and more. If you are an Indian investor, you must determine the cost of a new perfume startup in Dubai. The cost depends on fragrance creation, assembly, filling, designing, and packaging for your perfume brand. 
Moreover, you may have to bear additional costs including salaries to employees and rent of your business outlet in Dubai. However, the Indian investors and expatriates require to pay one-time & recurring costs as a section of the establishment costs. 
Conclusion 
The perfume business in Dubai is a booming industry for local and foreign investors. Dubai is a famous tourist destination and customers from all across the globe find the desired perfume brands here. Furthermore, the diversification of perfume products in Dubai is unparalleled in comparison to other fragrance hubs. 
In addition to this, Indian investors enjoy free trading in Dubai and other Emirates with the business formation in the mainland area. To start a perfume business in Dubai is a profitable venture that can be done by Indian entrepreneurs and other expats. For easy set-ups, you can connect with experts at Shuraa to help you take care of banking, licensing, and transaction work for your convenience.