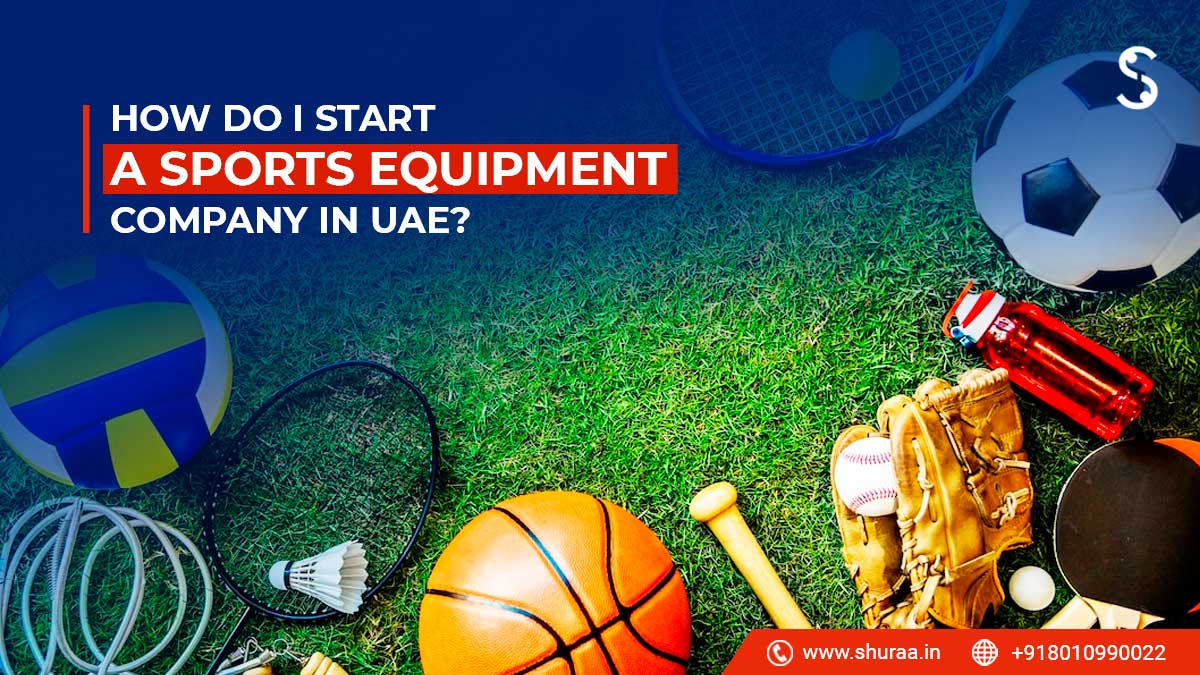 29 Aug

How Do I Start a Sports Equipment Company in UAE?

It is an excellent time to start a sports equipment company in UAE. UAE residents are not only fond of traditional sports but also play modern sports, such as football, badminton, and golf. Also, the government has established many sports clubs and training centers to promote sports activities. Furthermore, sports-centric events like UAE Pro League Summer Camp have been a massive success among children.

So, if you want to start a sports equipment company in UAE, continue reading. This blog will walk you through the process, paperwork, and costs of setting up a sports equipment company in the UAE.
What Are the Benefits of Starting a Sports Equipment Company in the UAE?
The UAE offers a prosperous environment for growing a sports equipment business. Here are some of the benefits of setting up your sports equipment company:
The UAE has become a sought-after location for many sports and international competitions. In terms of hosting cricket, football, Formula One, tennis, and golf tournaments, the nation has proven its prowess on an international platform.

The urban and multicultural population of cities like Dubai and Abu Dhabi prefers premium products and services. With access to many government-promoted sports clubs and training centers, they indulge in many sports activities for fitness and recreational purposes.

The UAE has a supportive government and advanced technology. Moreover, it has an ease of doing business score of

80.9 out of 100

. So, starting

sports equipment trading in Dubai

only requires a short amount of paperwork and a simple business setup process.

In addition, the UAE offers a tax-free regime. You can also enjoy 100% business ownership and complete repatriation of profits earned from your business.

According to the Ministry of Economy and LinkedIn, the nation has the world's most

significant talent inflow

per capita. Additionally, it maintains enacting visa reforms to draw and keep talent. 

Dubai is an airport and seaport hub that facilitates business activities. It is instrumental if you plan to export your sports goods. Moreover, the transportation network within the country is commendable.
What Documents Do You Require to Start a Sports Equipment Company?
Before you process all formalities to set up your sports goods company, ensure you have all the necessary documents. It will not only ease the setup process but will also ensure that your business adheres to all legal norms of the UAE. Some of the documents you will need to submit are as follows:
Copies of passports and visas 

Two passport-size photographs 

Entry visa and stamp pages
Your company's structure, location, and preferred business location all affect the type and number of documents. Our specialists can give you a detailed list of all the paperwork needed to set up your sports equipment business.
How to Start a Sports Equipment Company in the UAE?
To start a sports equipment company in UAE, the government has a streamlined process. Proper pursuance of the procedures ensures a smooth setup and operations of your sports equipment business. The following steps can help you comprehend it better:
1. Research Your Market
Undoubtedly, the UAE has potential for sports businesses. Consequently, you might face many competitors catering to the sports sector. Thus, before you enter the sports market, do ample research. It's critical to understand how your competitors work and what kind of demand exists for particular sporting gear. Additionally, keep up with the newest sports trends in the UAE. Then, you can plan your sports business accordingly or even choose a niche market.
2. Decide on Your Sports Company's Name
Consider your target audience while choosing a name for your sports equipment business. More specifically, the youth and children. Pick a catchy and unique name so that youngsters can easily remember it. 
But, you must also ensure that the name is legally compliant. The UAE authorities have laid detailed naming guidelines. Our professionals can help you with naming your company according to the guidelines.
3. Choose a Company Structure
If your sports business has the proper company structure, it will run more smoothly. So, based on your company's legal existence, choose a company structure that works for you. You can have a limited liability company (LLC), a branch office, or a sole proprietorship in the UAE.
4. Choose a Business Location
You must choose the location and office space that will best serve your requirements. Every business location in the UAE has distinct characteristics and offers valuable benefits. You have the option of choosing either the mainland or one of the free zones. 
The UAE government has established sports complexes in a few business locations. Zayed Sports City, Hamdan Sports Complex, Dubai Sports City, and Dubai Motor City are some of them. These mixed-use facilities have sports clubs, stadiums, training centers, residential sections, stores, and restaurants, among other amenities.
When choosing a physical office, think of your workforce size, the space needed, accessibility, amenities, and budget. Additionally, you will have to enter into a rental or lease agreement.
5. Apply for the Licence 
In the UAE, your sports goods company needs a valid trading license. You need to apply for it and renew it every year. So, apply for a business license by submitting the necessary documentation and license payment.
Furthermore, depending on your sports business operations, you might need to apply for additional permits. Our professionals can help you obtain the license and approvals required for your firm. 
What Is the Cost of Starting a Sports Equipment Company in the UAE?
The cost of a sports goods business establishment depends on many factors, such as the number of business partners, the nature of the business structure, the type of license, the number of visas, further approvals, and more. Moreover, the expenses associated with obtaining a company license in a free zone will differ from those on the UAE mainland. Therefore, it is not easy to estimate the exact cost. Nonetheless, it may take above 25,000 AED to start a sports equipment company in UAE.
But, with our knowledgeable personnel, you can ascertain the exact setup costs associated with your sports company. To calculate your company establishment cost, they will look at every area of your business and account for your unique needs. A large part of it will ensure you get a location of your choice, along with required approvals and visas.  
Start Your Sports Equipment Company With Shuraa
You can get all the tools you need for a successful sports equipment business setup from the consultants at the Shuraa. Plus, we can develop tailored setup solutions if your sports business has particular needs. Take the step and get in touch with us!