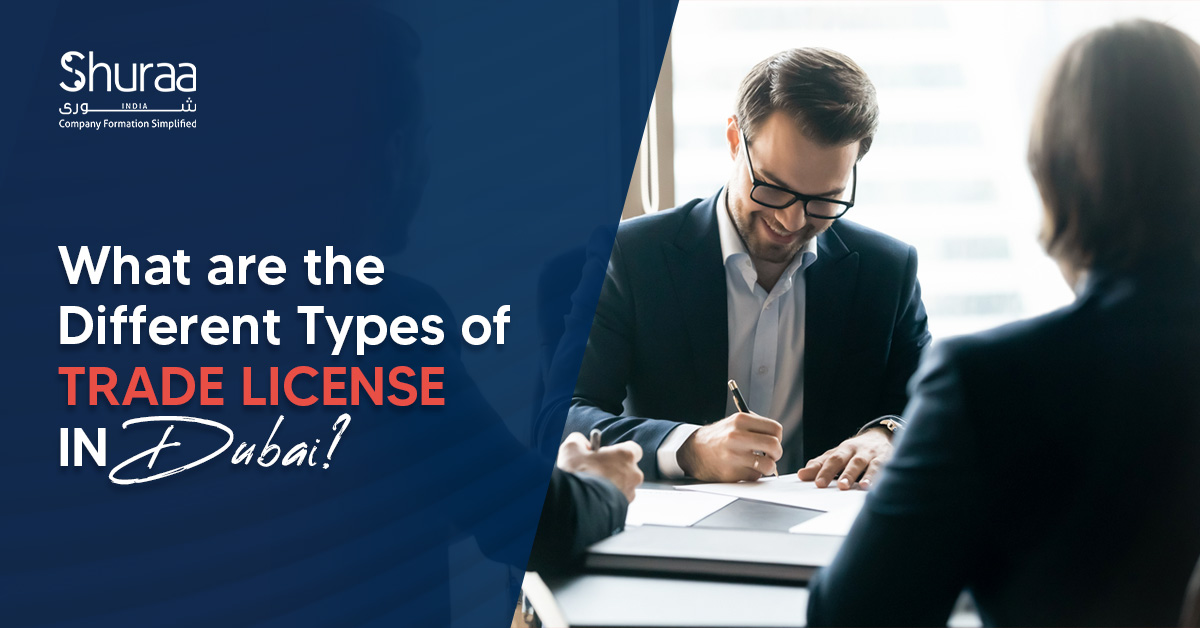 16 Dec

What are the Different Types of Trade License in Dubai?

When conducting business in the UAE, a trade License is required. The Licenses are issued by the UAE Economic Department, and the process varies from one emirate to another. Commercial, industrial, and professional Licenses are the three main categories of Licenses in the UAE. However, the government also grants a number of additional Licenses that are particular to other kinds of activities. 

Each company will need a unique Dubai trade License depending on the type of business. The cost of a Dubai trade License will vary depending on the kind of business and the License that is being sought. 

Commercial, industrial, and professional Licenses are the three main types of trade licenses in Dubai. However, depending on the business activity, more licenses are available. 
So how many types of Trade Licenses does Dubai offer?
One of the most crucial elements of company formation in Dubai is a trade License. With proactive assistance and direction from knowledgeable consultants, obtaining a business License in Dubai is not at all a difficult task.  We have compiled a list of the various types of Trade Licenses which you can get in Dubai: – 
Professional License
In Dubai, professional licenses are provided to those who meet the necessary academic standards and intellectual and technical proficiency requirements. For instance, individuals who offer IT services, professionals, artists, and craftsmen, among others, can apply for a professional license in Dubai. The company entity can also be registered as a Civil Works Company if there are multiple owners. 
Persons wishing to work in the following fields can apply for a professional license in Dubai– 
Information Technology Network Services

 
Information Technology Consultancies

 

Marketing and Research Consultancies

 

Human Resource Consultancy

 

Commercial Brokerage

 

Marketing Management

 
Industrial License
For businesses and individuals engaged in the production of goods for the industrial sector in Dubai, an industrial license is required in order to start and operate without any hindrances. For an industrial license to be granted, it is a must that the concerned business should have a physical location in the UAE. 
The types of industrial licenses available in Dubai are mentioned below- 
Appliance and Machinery Factory

 
Furniture Manufacturing

 

Dairy Products Manufacturing

 

Animal & Birds Feed Manufacturing

 

Meat Products Manufacturing

 

Carpet Production

 
Commercial License
Dubai issues commercial licenses to people and businesses engaged in the purchase and selling of goods. Companies are able to carry out trading operations both inside and outside of the UAE with the help of a Commercial License. In Dubai, there are various commercial license categories available depending on the type of business activity.
For instance, there are numerous company license types and business activity listings in Dubai for the trade of particular products like computers, automobiles, equipment, and building materials. When registering the company with the relevant free zones, whether on the mainland or offshore, the investor must select a specific business license in Dubai. 
The Commercial Trade Licenses that are offered for your business operations are listed below- 
Trade related to Automobiles

 

Trading of Safety Gear

 

Trading of used furniture

 

Trade in oil and gas

 

Trading in spare parts

 

Trading of publishing and media materials

 

Trading in precious metals and gold

 

Trading of Chemicals

 
Tourism License
Individuals and businesses that offer travel and tourist related services in Dubai are awarded a tourism license. This license is the one that companies utilize the most, as Dubai is one of the UAE's most popular tourist destinations. They are made available to business owners that run establishments that offer services including hotel rentals, campgrounds for tourists, cruise ship rentals, dining establishments, bed and breakfasts, and travel agencies, among others. 
Travel Agent

 

In Bound Tour Operator

 

Out Bound Tour Operator

 

Sell tourism packages offline & online.
Issue travel insurance.
Provide accommodation and stay options.
Provide supporting services related to visa.
Sell flight, railway & bus tickets.
Provide car rental services.
Sell adventure tour packages.
How can I renew my existing Trade License in Dubai?
The Department of Economic Development (DED) in Dubai mandates that the holder of a trade license should receive all necessary permits and authorizations from pertinent governmental and local bodies. This step is taken in order to renew the trade license annually to keep operating hassle-free. The necessary paperwork includes a renewal form, tenancy contract, authorizations and approvals, as well as identification and photocopies of shareholders and directors. 
Can I change the Business Activity of my existing Trade License? 
Follow the below mentioned process to get your Business Activity changed- 
Send the application to the appropriate government agency so that it can review it because the business is under its jurisdiction.

 

Annexure of necessary paperwork

 

Pay the fee for altering the activities covered by your trade license.

 

Obtain your new license.

 
A company's ability to modify its trade name is subject to a number of requirements. The business location of the entity must be in line with the activities that are desired to be added (subject to approval of UAE authorities), and the trade name must be modified if necessary. It must also make an announcement and have it published in any of the local media for a day. 
You will be required to furnish the below mentioned documents as well- 
The company's Memorandum and Articles of Association must state the new activities (this requirement applies to all kinds of enterprises that intend to add, remove, or change their operations).

 

The board of director's decisions to change the activity (for companies)

 

The original Trade License issued by the government

 

Government's approval for the requested operations

 

After changing a company's economic activity, the UAE Ministry of Economy certifies the company's memorandum of association.

 
Conclusion
In Dubai, operating a business without a trade License is against the law and can result in a steep fine or even a ban. In light of this, it is essential to ensure that the Dubai trade License renewal is complete promptly to avoid further fines. 
 All of this may seem complicated or time-consuming, but there are numerous businesses in Dubai that are skilled in managing all trade license-related processing. 
 Working in tandem with knowledgeable consultants can help you save time and money because they can maintain workflow while your company concentrates on expanding your business. And Shuraa is a great place to start when looking for a trustful consultant.